Here's YOUR Sneak Peak at some of the HOTTEST Corvettes at the Mecum Indy Auction!
With so many of us locked down at home, living vicariously thru our televisions and the internet, this weekend's Mecum Indy Auction from Indianapolis is just the thing to cure those COVID blues.  What makes it even better is the collection of amazing Corvettes that will be crossing the auction block!
Hosted by the Indiana State Fairground in Indianapolis, Indiana, the Mecum Indy Auction has a lineup of some amazing classic, sport and exotics cars slated to be sold this weekend that'll make you wish you were there.  The auction starts TODAY – Friday, July 10th at 1pm!  Better still, this marathon event will run for an entire week before ending next Saturday, July 18, 2020.
Each of these truly remarkable cars – and some absolutely incredible Corvettes – will find their way to the auction block throughout the three-day event, with the best of the best showing during the coveted Saturday evening auction hours.
You don't need to wait that long to get an early "fix" on some of the many beautiful Corvettes that will be showcased this weekend.  Instead, we thought we'd present you with a sneak-peak a few of our favorites…and while we have no idea what these beauties will sell for, we look forward to watching them cross the auction block this weekend as well!
LOT K13 – A 1996 Chevrolet Corvette Grand Sport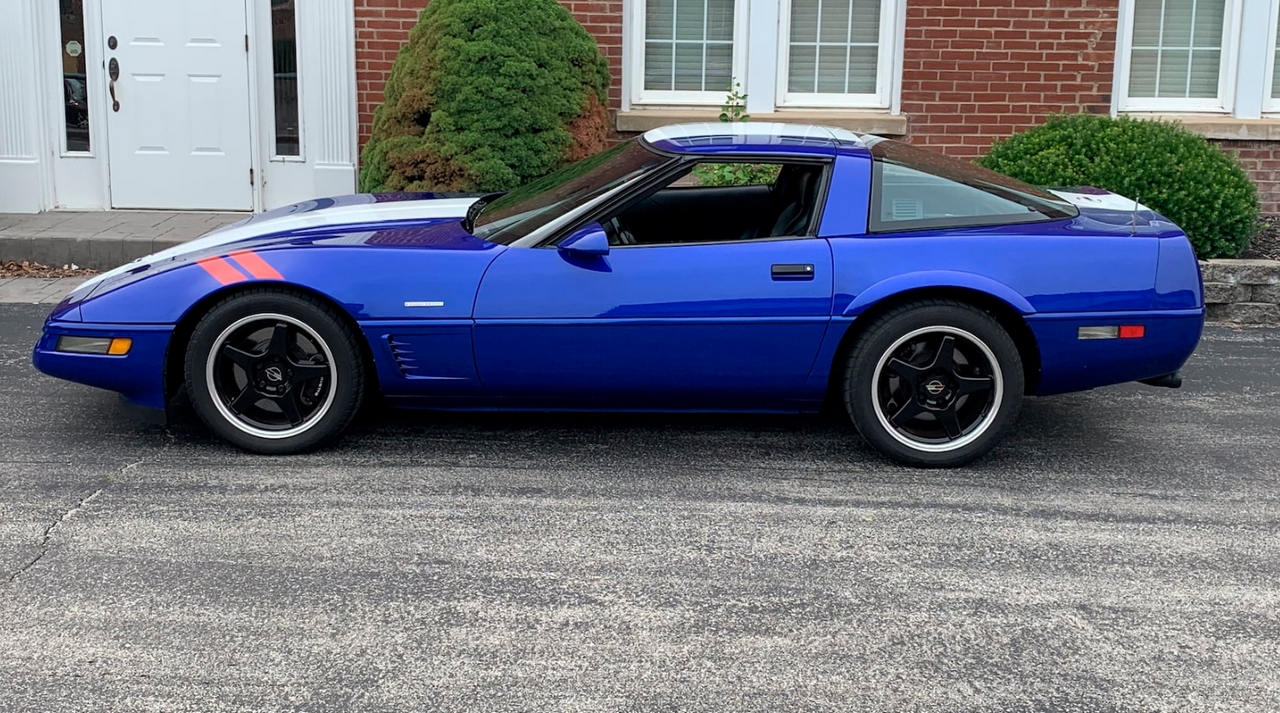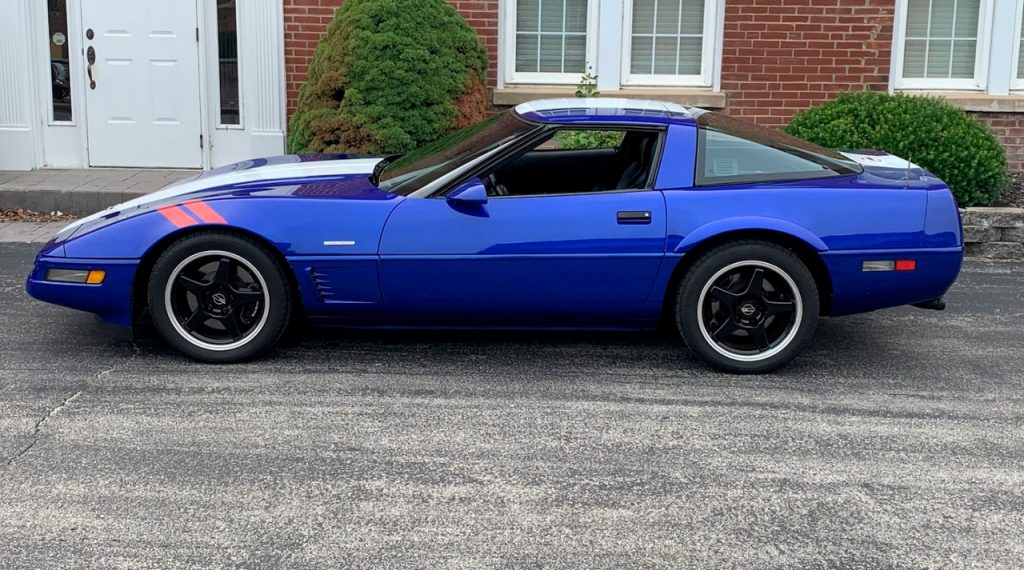 We realize that many of the early auction cars showcased at a national car auction like Mecum are considered the "cheap" cars.  They sell for less to get the bidders' juices flowing and are often not featured during prime-time viewership.  However, we think this Grand Sport is one that any investor would be foolish not to look at.
This 1996 Corvette Grand Sport is one of just 810 Grand Sports produced in 1996.  It features the LT4 engine rated at 330 horsepower and comes equipped with a six-speed manual transmission.  While the car shows some nominal wear, this is a beautiful example of the Grand Sport.  What makes it even more desirable is that it is part of a private, NO RESERVE collection.
And (for those not in the know) what does a "NO RESERVE" auction mean?
It means that the car will sell for whatever the highest bidder offers at the gavel drop.  Right now the car has a current bid of just $1,100 (yes, you can bid online in advance of the actual auction.)  While the experts believe this car will fetch between $20-30,000, this auction could prove to be an amazing opportunity to purchase one of the most sought-after C4 Corvettes ever produced!
You can see/bid on this Corvette by clicking here.
LOT K122 – A 1969 Corvette L88 Convertible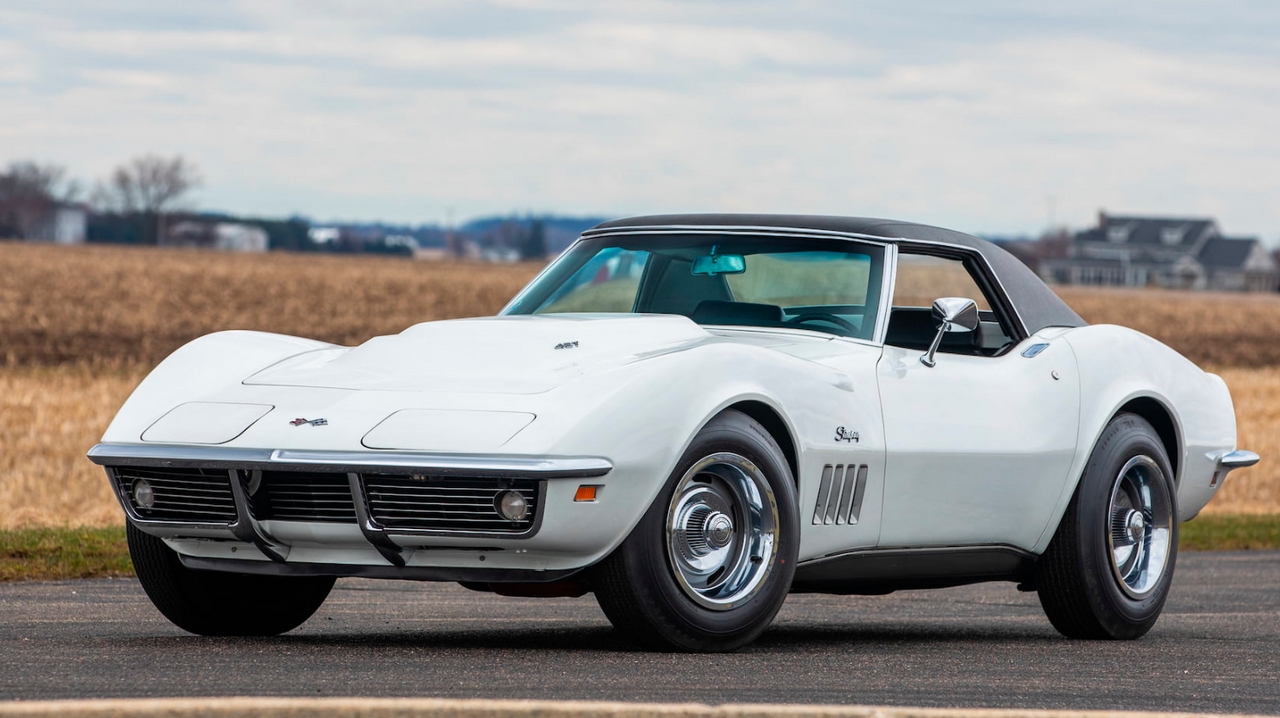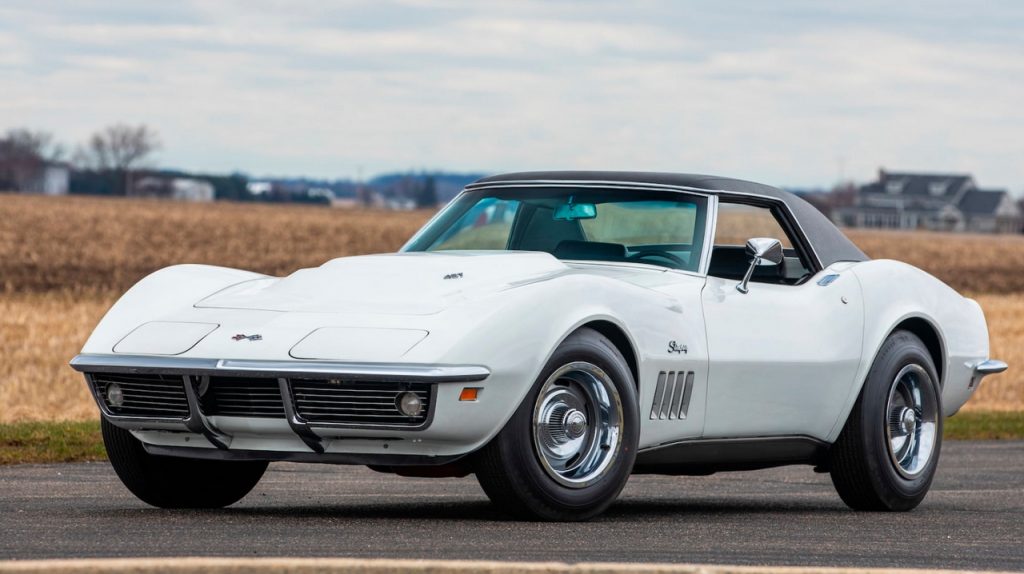 This Corvette is a 100% prime-time collector's dream car…and it will show as such this Saturday when it crosses the block!
The L88 is one of the rarest and treasured of all Corvettes.  What makes this 1969 L88 Convertible is even more unique in that it was owned by Corvettes at Carlisle co-founder, the late Chip Miller.  The car was part of Miller's collection for 24 years.  This fact alone vastly expands the value and collectability of this car.
But if that weren't enough, let's take a quick look at the car itself.
To start, the car has just 6,453 original (documented) miles on the odometer.  It features a numbers-matching 427 cubic-inch, 430 horsepower L88 engine, an M22 4-speed manual transmission and a 3.70 Positraction rear-end.  The car also features the original exhaust system, the J50 and J56 brake packages, the F41 suspension and the K66 transistorized ignition.
This Corvette is one of just 116 L88 Corvettes produced in 1969.  It has had four owners since new and has only had 253 miles put on it since it was sold to Chip Miller in 1980.  Since that time, the car has been part of Chip Miller's collection from 1980 to 2004, and part of the Ed Foss Collection from 2004-2015.  To say it has been preserved is an understatement…and the anticipated sell price certainly reflects it.
At the time of this article's publication, the car has a current bid price of $101,000 and is expected to sell for between $650,00 and $800,000 by the time all is said-and-done!  However, if you are looking for one of the ultimate examples in collector's Corvettes, this is definitely a car you want to consider!
You can see/bid on this Corvette by clicking here.
LOT G169 – A 2007 Corvette Z06 Ron Fellows Edition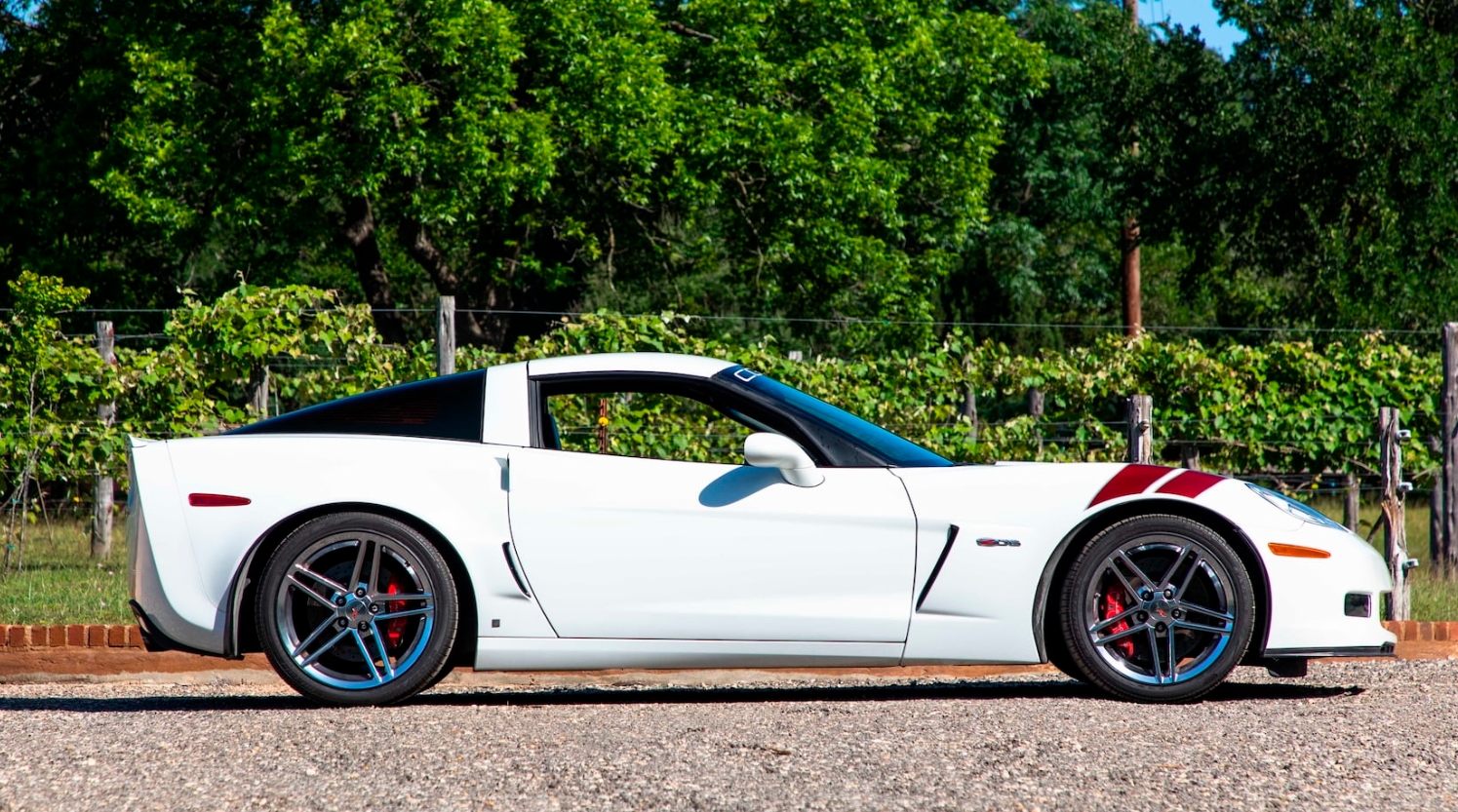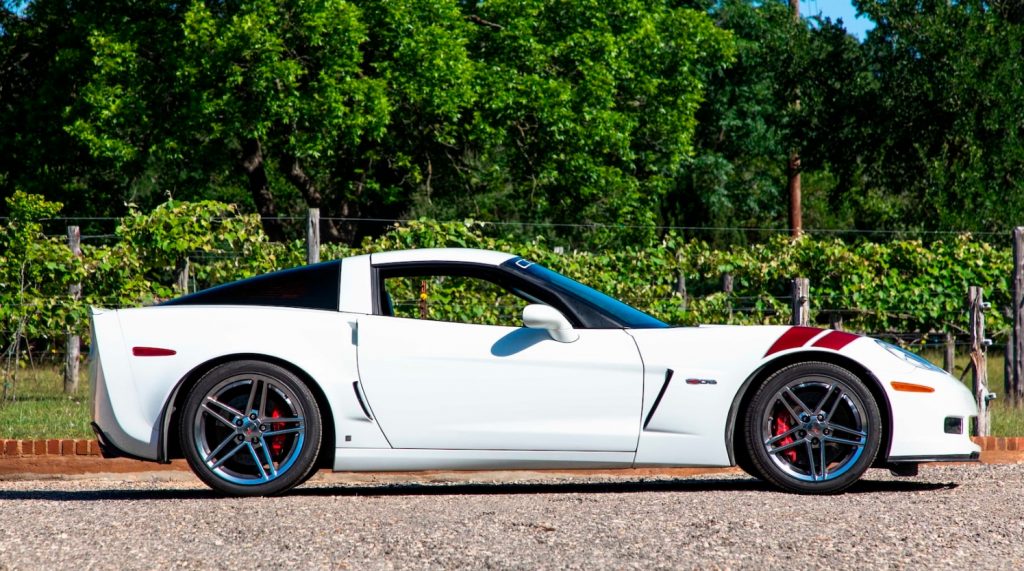 We realize that, at first glance, this might not be on-par with some of the other cars in this article or the obvious choice for one of the "best in show" Corvettes being sold at Mecum Auctions next week.  However, we believe that this Corvette deserves a place in this article because of what it represents.
This car was specifically designed to commemorate Canadian racer Ron Fellows for his many accomplishments with the Corvette Racing program.  Ron's contributions to Corvette Racing cannot be overstated, and this car is a lasting legacy to the pioneering work he performed with Corvette both on-and-off the racetrack.
This particular example of the 2007 Ron Fellows Z06 Corvette has just 6,443 miles on the odometer.  It is being sold as part of the estate of Larry W. Smith Gulf Coast Classic Car Collection.
Keep in mind that this Corvette is one of just 399 examples ever produced (this one happens to be no. 315).  It features all the goodies that were offered in 2007 and would make a great addition to a Corvette collection or a great cruiser for any Corvette enthusiast – especially our brothers and sisters up in the "Great White North."
You can see/bid on this Corvette by clicking here.
LOT S140 – A 1967 Chevrolet Corvette L88 Convertible – MAIN ATTRACTION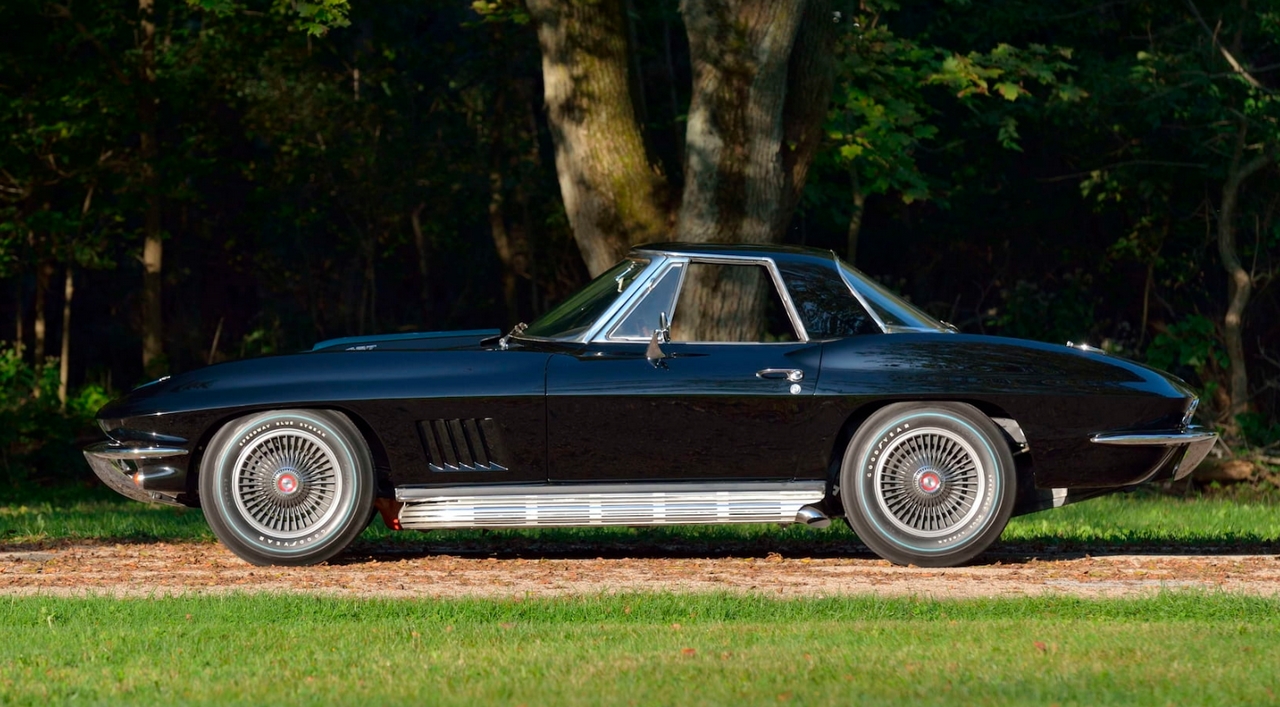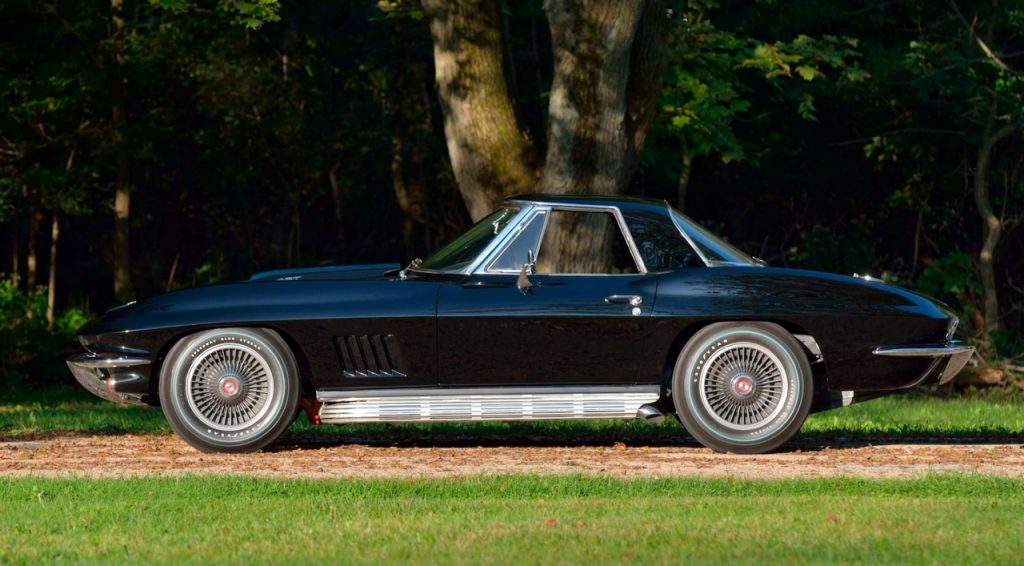 When it comes to the absolute pinnacle of all collector Corvettes, this is the car you've been looking for!  And as we said at the start, this incredible – and incredibly rare – Corvette will cross the block on the evening of Saturday, July 18th in prime time.  The best part of this particular car – it is one of a small handful of MAIN EVENT automobiles showcased during the entire auction!
This 1967 Corvette Convertible was the first Corvette ever produced with the L88 option package!  It was driven in competition by Tony DeLorenzo Jr., son of (then) GM Public Relations Executive Anthony G. DeLorenzo, and one of the most successful Corvette racers in history.
Being the first L88 Corvette Convertible is certainly reason enough to make this car a true collector's item.  However, this car also has a pedigree that makes it even more desirable – and valuable.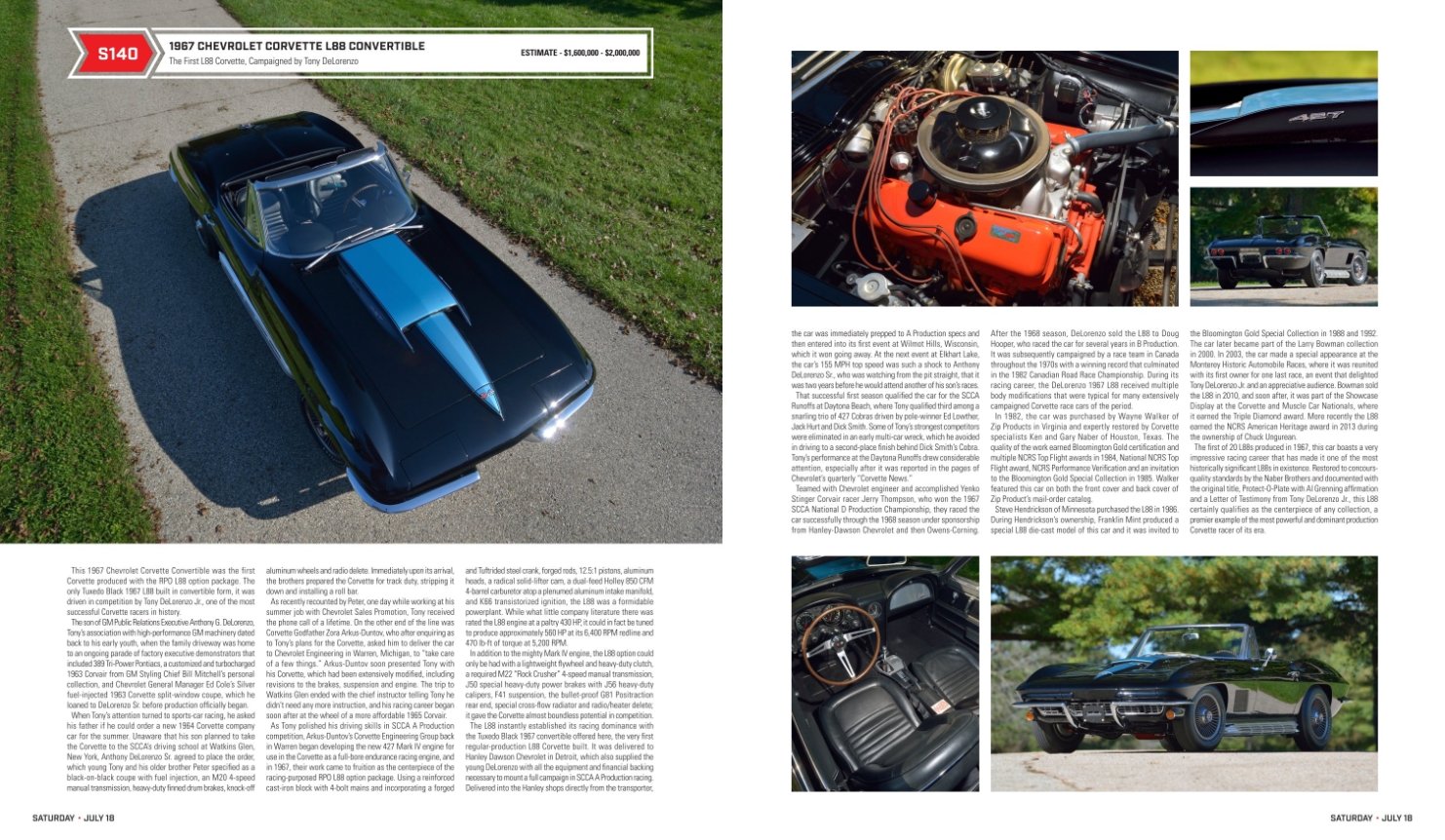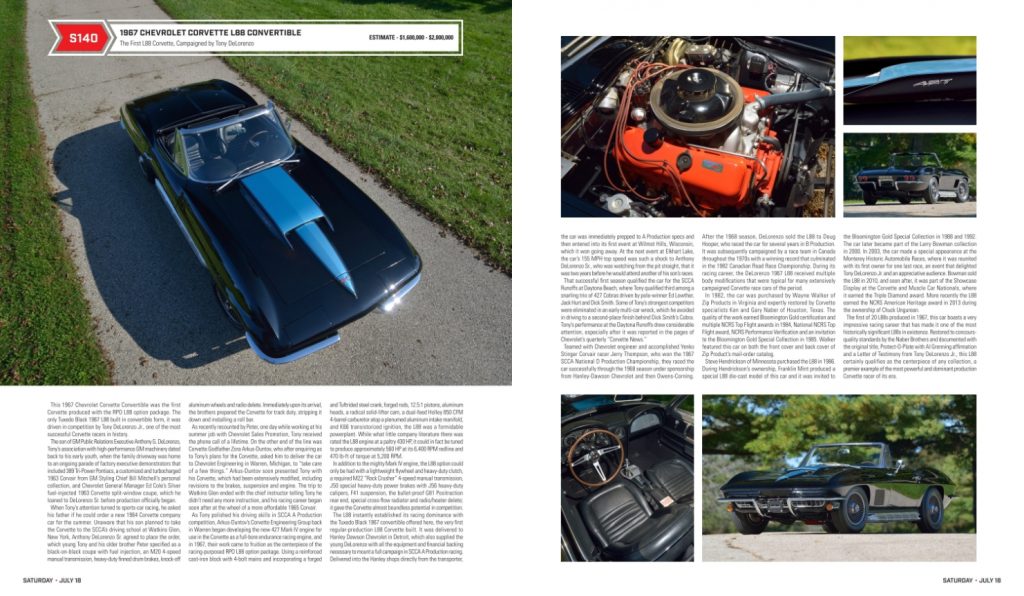 This is the only Tuxedo Black 1967 L88 Convertible built, making it a genuine one-of-a-kind Corvette.  Better still, as one of only 20 L88's produced in 1967, this car boasts an impressive racing career that makes it one of the most historically significant L88's in existence.  It took second place at the 1967 Daytona Beach SCCA Runoffs. This car also raced in the 1968 SCCA season under sponsorship from Hanley-Dawson Chevrolet and then Owens-Corning.
After the 1968 season, DeLorenzo sold the L88 to Doug Hooper, who raced the car for several years in B Production. It was subsequently campaigned by a race team in Canada throughout the 1970s with a winning record that culminated in the 1982 Canadian Road Race Championship. During its racing career, the DeLorenzo 1967 L88 received multiple body modifications that were typical for many extensively campaigned Corvette race cars of the period.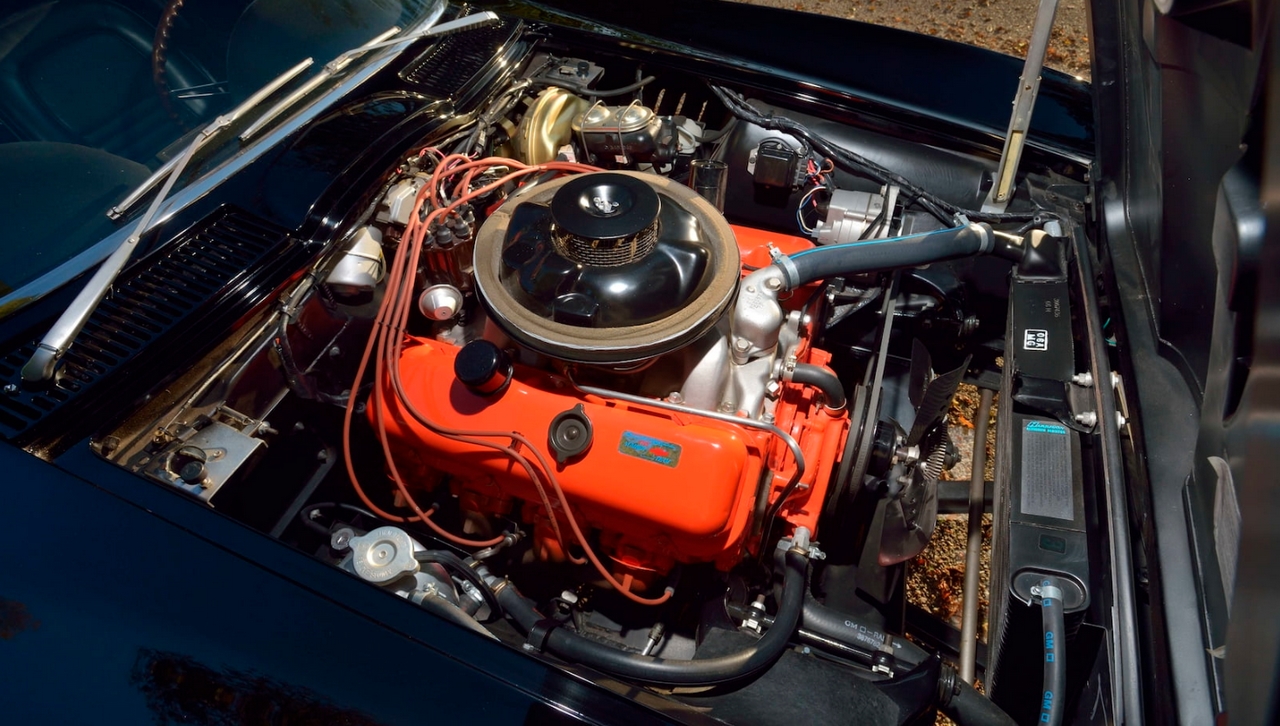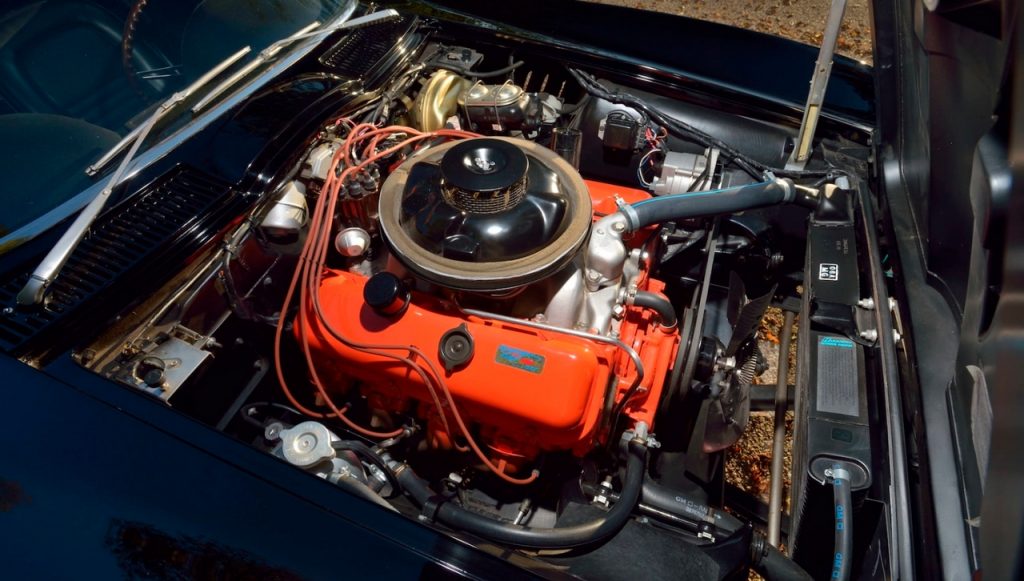 At the completion of its racing career in the early 1980's, this Corvette was restored to concours-quality standards by the Nabar brothers and was documented with its original title, Protect-O-Plate with Al Grenning affirmation and a Letter of Testimony from Tony DeLorenzo Jr.  This Corvette was Bloomington Gold Certified in 1984, has made multiple Bloomington Gold Special Collection appearances in 1985, 1988 and 1992, won multiple NCRS Top Flight Awards in 1984 and 1985, won the NCRS American Heritage award in 2003, won the MCACN Triple Diamond Award in 2010, and was reunited with Tony DeLorenzo at the 2003 Monterey Historics.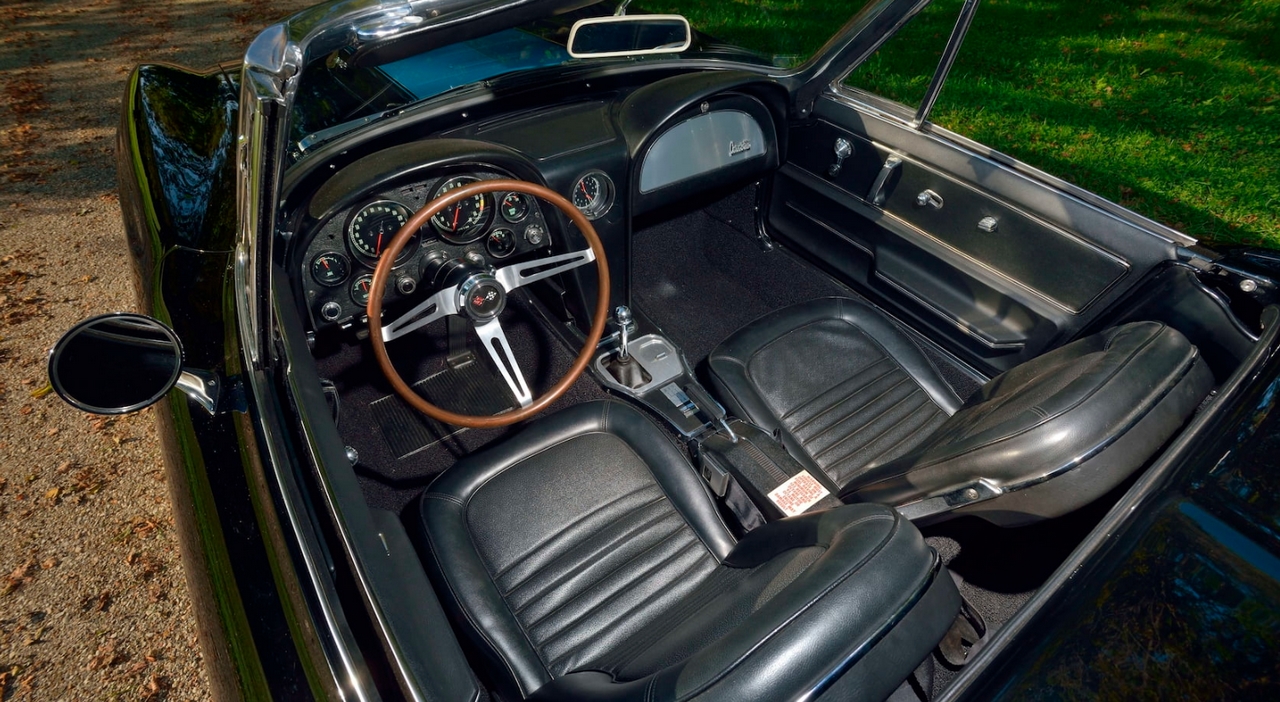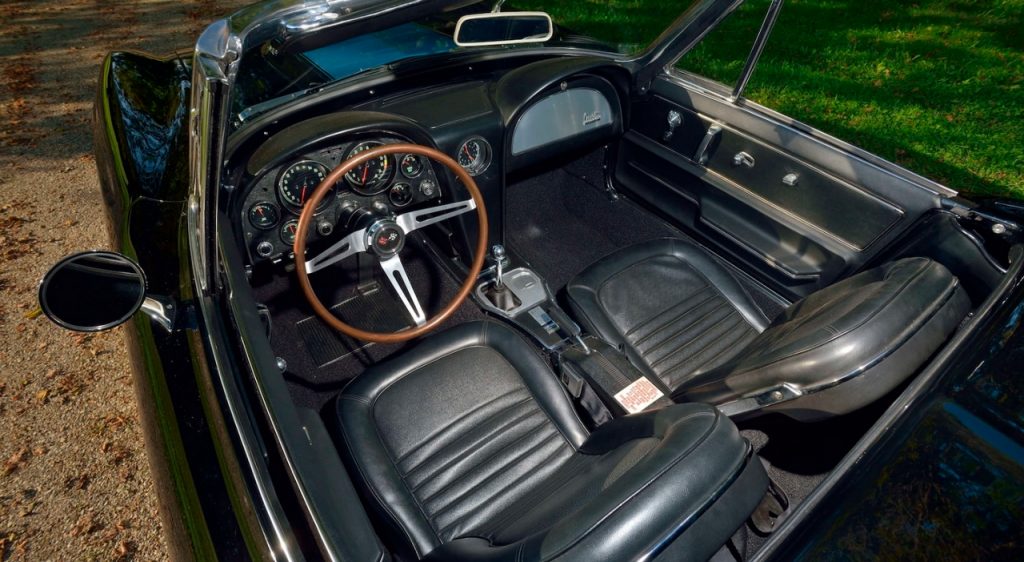 This incredible 1967 L88 Corvette Convertible most definitely qualifies as the centerpiece of any Corvette collection, and it remains the premier example of the most powerful and dominant production Corvette racer of its era.
At the time of this publication, the bidding on this car is already at $200,000 and is expected to sell for between $1,600,000 and $2,000,000, making it one of the most valuable cars at Mecum Indy this year!
You can see/bid on this Corvette by clicking here.
LOT G181 – A 1965 Corvette Convertible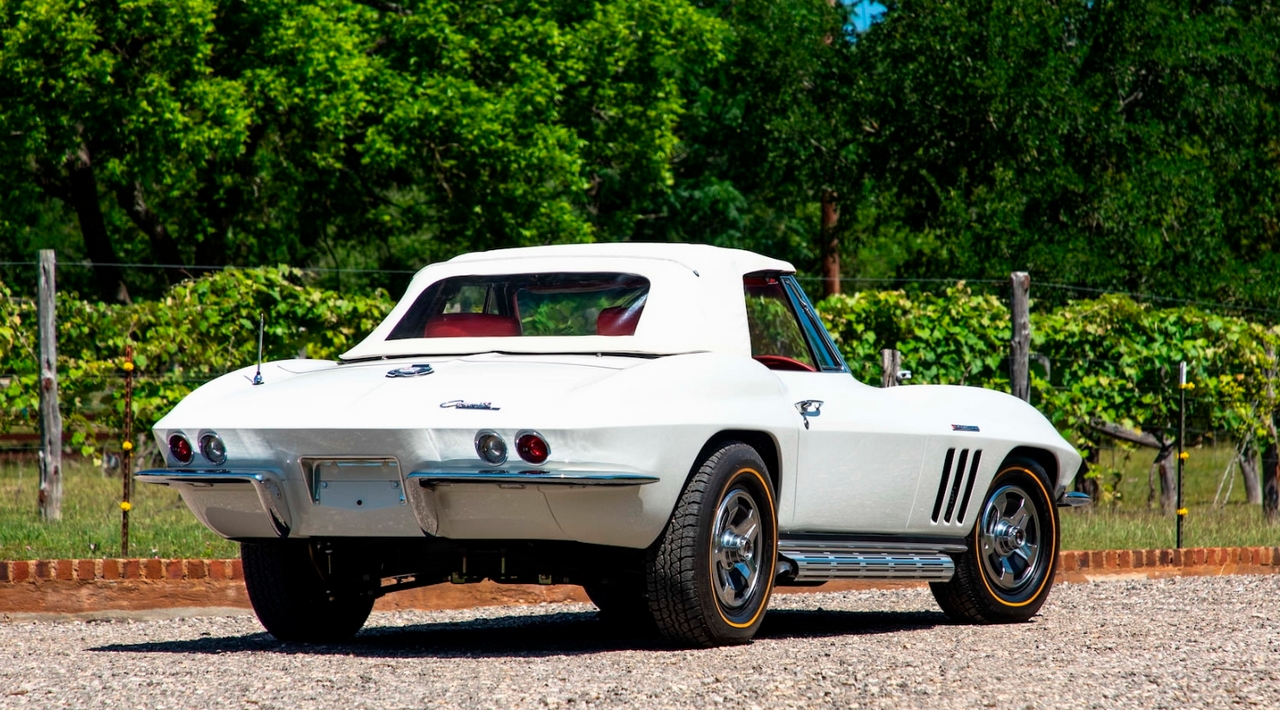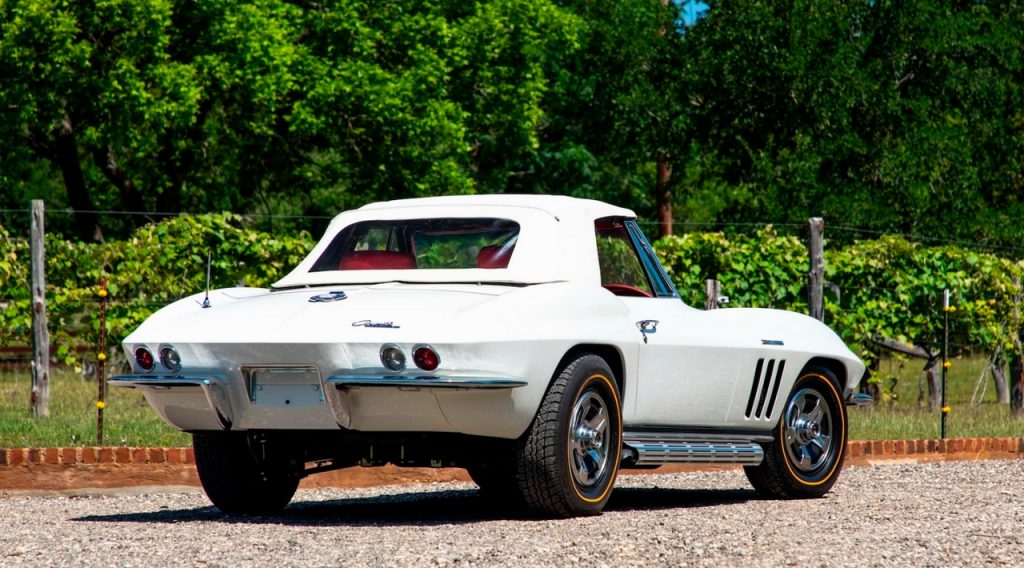 Here's another Corvette from the estate of Larry W. Smith Gulf Coast Classic Car Collection.
This 1965 Corvette Convertible features a fuel-injected 327 cubic inch / 375 horsepower engine and four-speed transmission.  It features the classic Corvette combo of a white exterior over a red interior with a white convertible top.  The car also features finned valve covers, side exhaust, full-size spinner wheel covers and gold-stripe tires.
While this car lacks the pedigree (in the way of accolades and awards), it is nonetheless a beautiful example of the second-generation Corvette…and, with a current bid price of just $21,000 (at the time of this publication) and a NO RESERVE on the auction, this might be a very affordable way to get behind the wheel of a truly remarkable Corvette!
You can see/bid on this Corvette by clicking here.
LOT F55 – A 1963 Split Window Coupe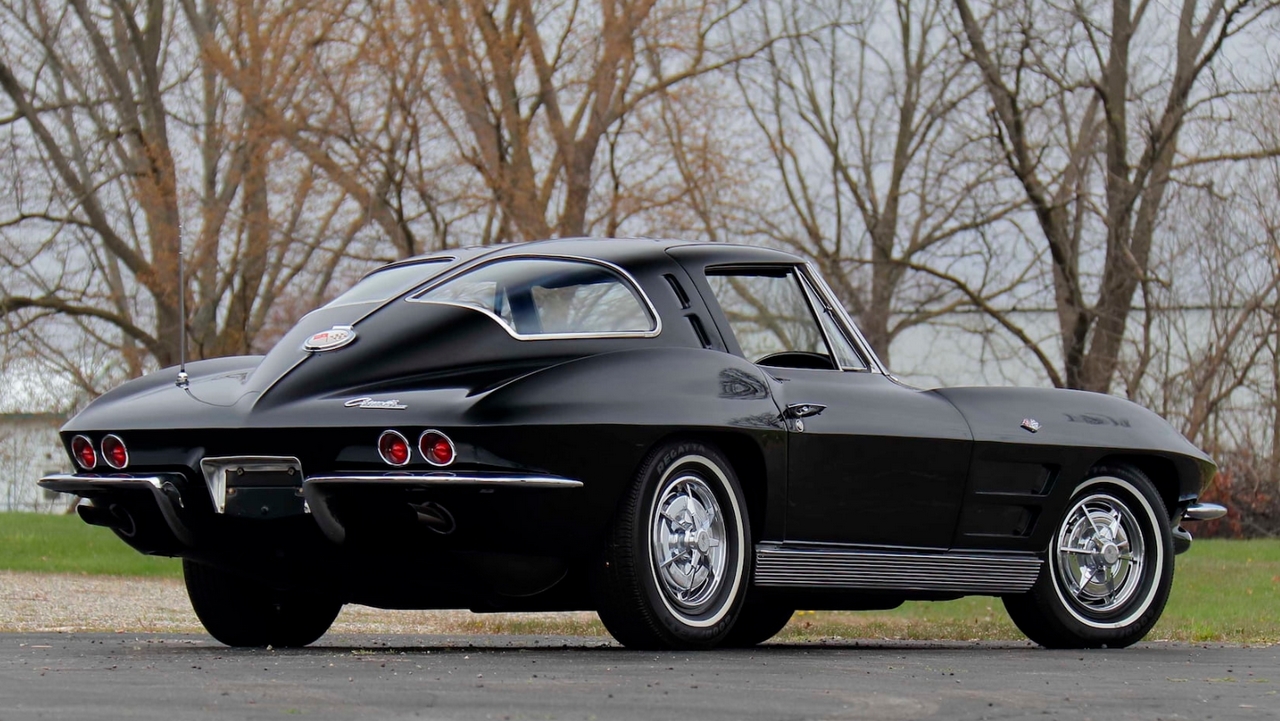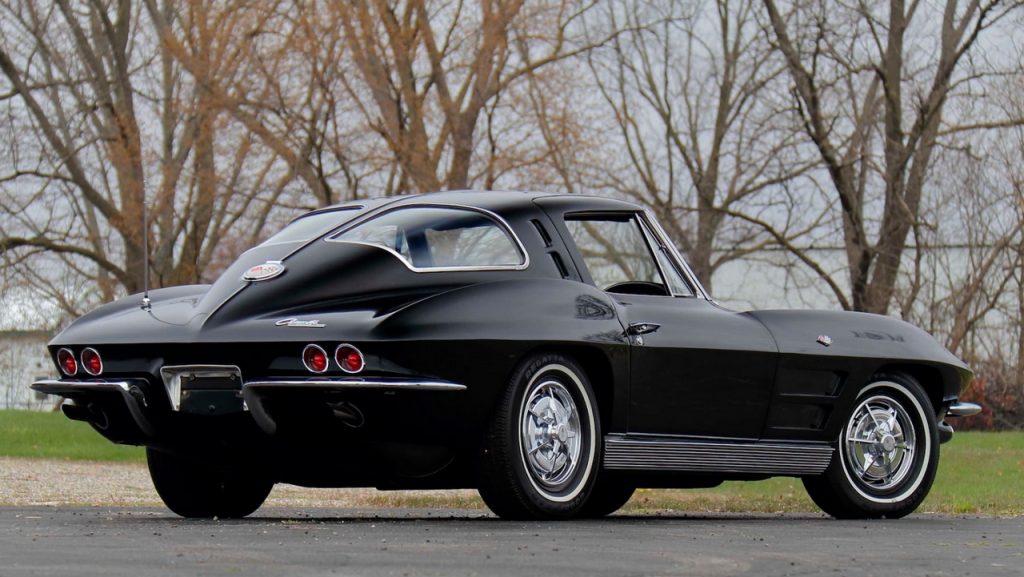 And now we jump ahead to the final day of this week-long auction event to share some of the final gems of this incredible week of automotive auctions!
We present this beautiful 1963 Corvette Split Window Coupe.  This car, which comes from the collection of Dalla and Ammit Hawkins, features a 327 cubic-inch/340 horsepower engine paired to a four-speed manual transmission.  This car is stunning both inside and out, with its factory Tuxedo Black exterior and matching black interior, both of which appear to be in excellent shape.
What makes this car worth looking a little more closely is that, despite being a 1963 Split-Window Corvette, the experts at Mecum expect it to sell for between $90,000-110,000, making this a fairly respectable deal on one of the most legendary examples of the Corvette ever produced.  Of course, with pre-auction bids already driving the price on this car up to $15,500 at the time of this publication, it's entirely possible it will sell for a whole lot more!
You can see/bid on this Corvette by clicking here.
LOT F123 – A PAIR of 1969 L88 Corvettes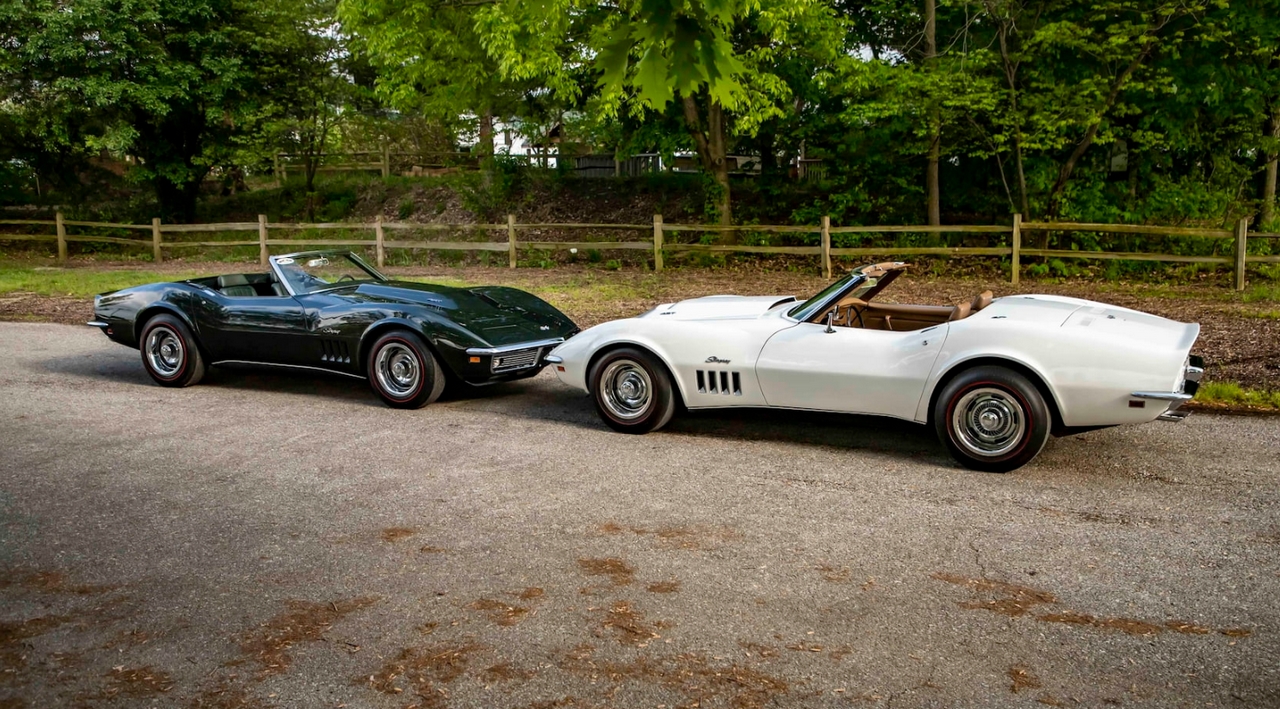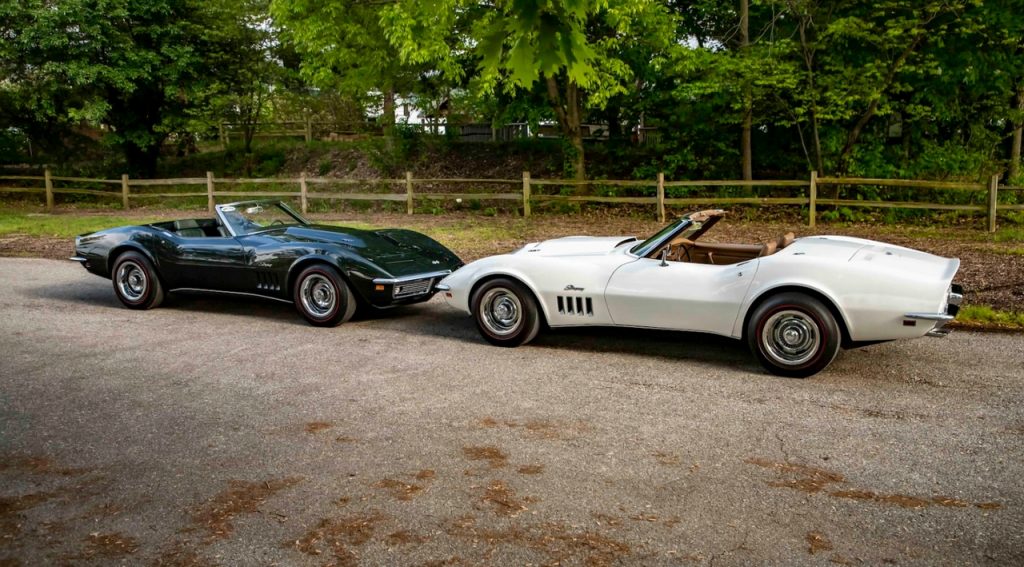 Did we mention that we were saving the best for last?  Oh yeah, have we got something special for you!
Check out this PAIR of 1969 L88 Corvettes – a pair of convertibles – that are both among the most valuable and coveted Corvette in the marque's much-revered history.
First up is a Fathom Green L88 that is documented with its original tank sticker and has been invited to the Bloomington Gold Special Collection twice.  It features the first-design closed chamber aluminum heads, two tops, matching dark green interior and was part of the D. Vance Shappley Collection for nearly thirty years.
FROM THE MECUM INDY AUCTION SITE: The owner chose the rare combination of Fathom Green paint with a matching dark green interior and a black soft top, matching green auxiliary hardtop, clear glass, Rally wheels and redline tires. It is of particular interest that the car was also fitted with a heater, normally a deleted feature on L88 Corvettes. In the spring of 1969, the owner and his new L88 convertible embarked on a 6,000-mile round trip to Alaska. Upon his return, he sold the car to its second owner, who campaigned it with considerable success as a drag racer until placing it in storage in 1975. In 1986, highly regarded Corvette collector Vance Shappley purchased the car, immediately commencing a painstaking restoration that was completed in 1988. A participant in the 1988 and 2008 Bloomington Gold Special Collection, the original Earthquake 88 and 2008 L88 Invasion, this L88 is documented with the original tank sticker verified by NCRS historic document service, the Protect-O-Plate and the owner's manual.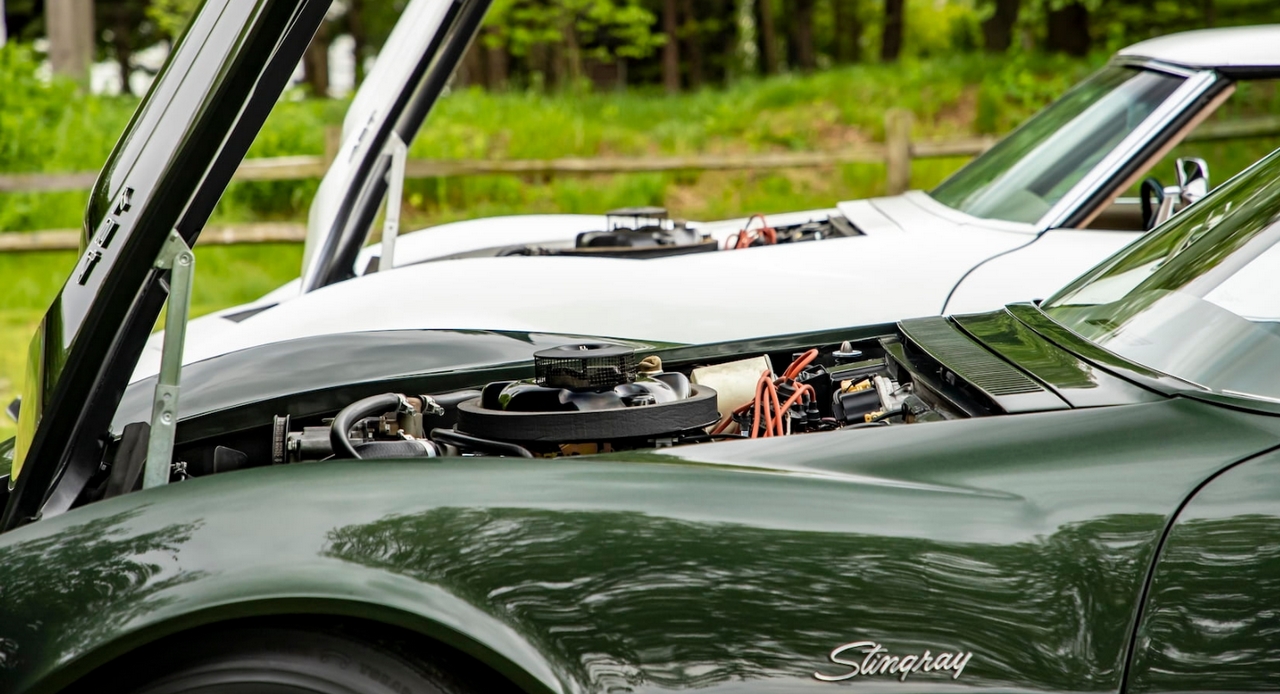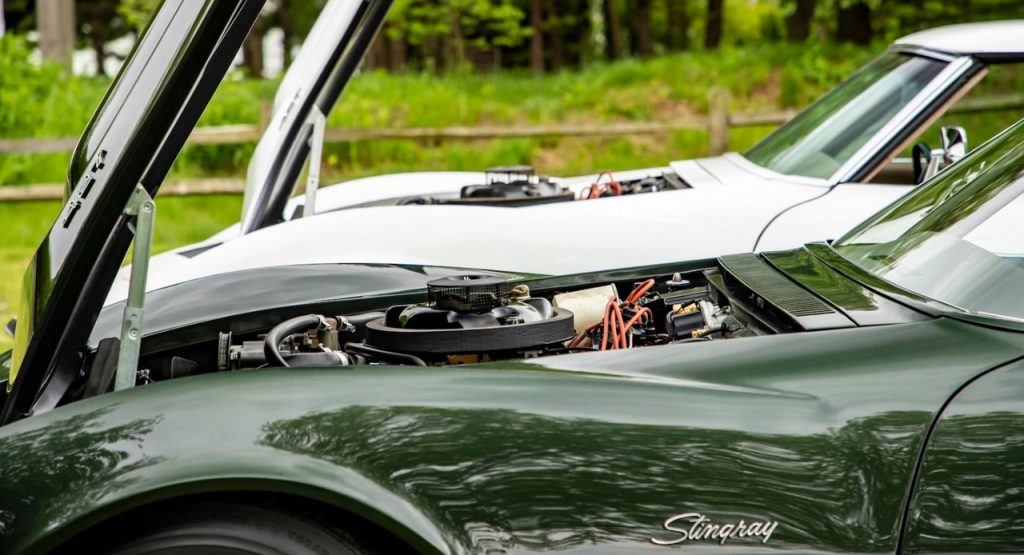 The other half of this incredible pairing is a Can Am White L88 convertible that has earned Bloomington Gold certification, NCRS Performance Verification and the NCRS Duntov Mark of Excellence.  The car features its matching-numbers engine, two tops, a saddle interior and is documented with a photo of the fuel tank with sticker intact.
FROM THE MECUM INDY AUCTION SITE: Verified by prominent Corvette authorities David Burroughs and Tim Thorpe as the genuine article, the second 1969 Chevrolet Corvette L88 Convertible has earned Bloomington Gold certification, NCRS Performance Verification and the highly coveted NCRS Duntov Mark of Excellence, one of the highest accolades in the Corvette collector community. One of only 116 built in 1969, the car shows just 46,000 miles. It is finished in Can-Am White with a Saddle interior and comes with both a soft top and hardtop. In addition to its matching-numbers 427/430 HP engine and 4-speed, like all other L88 Corvettes, it is also equipped with F41 Special Suspension, J56 Special Heavy-Duty Brakes and Positraction. Documentation includes a copy of the original tank sticker and a photograph of the tank with sticker intact.
Ladies and gents – when it comes to Corvettes, it just doesn't get any better than this.  Of course, such an amazing collection of Corvettes comes with an equally amazing sticker price.  The bidding on these cars (remember that their day on the auction block is still more than a week away) is already up to $101,000!  Mecum Auctions Indy predicts that these cars will fetch between $750,000 and $1,000,000 when they do cross the block next Saturday – we can hardly wait to see what happens!!
You can see/bid on these L88 Corvettes by clicking here.
If You Plan On Bidding This Week….
If you are one of those lucky enough to be in Indianapolis for next week's Mecum Indy auction, and especially if you are looking to purchase one of the many Corvettes crossing the block at this auction, we'd love to hear from you!  We'd love to hear about your experiences at the auction and to potentially interview you for a follow-up piece to this article.   Good luck and happy bidding!