My first impression was, wow that is dedication to the Corvette culture. I was first introduced to this unique man during a recent discussion on one of my favorite Corvette Forums, where a local saw part of the collection sitting outside and asked the group if anyone knew about the fellow. The internet never ceases to amaze me, and information soon came trickling in.
Within a day, one discussion participant posts up a google street view image showing the enthusiast's whole spread, showing how on this day he had most of his large collection protected with matching white car covers. Who can blame him, since the city would not let him build a bigger garage?

Then shortly after another participant remarks he doesn't know the guy's name, but it's rumored he inherited a lot of money from his mother. Apparently, the neighbors won't even talk to him, and when the local government told him how to trim the trees on his property he promptly had all the trees cut down and removed! The battle with the city begins.
Our in-the-know forum participant 'jfb' finishes with these revealing details. "He is a little weird and owns more Corvettes than shown.  He recently bought a C8. One guy at work here lives near him and sees the Corvettes frequently and during warmer weather, the owner sits out in a chair with his garage doors open and Corvettes parked and watches traffic go by. Police tell interested parties to not try talking to him."
The plot thickens.
Soon after another forum participant chimes in and tells about a friend who neighbors the fellow and comments, "the guy is sort of hermit and thinks C5s and C6s are the collectibles of the future. Many more are stored in other places." Amazingly all this information comes in within 3 hours of the initial forum inquiry. As it turns out, this particular collector is somewhat infamous.
Soon the pieces of the puzzle come together, and the mystery was solved. Meet Michael B. of Kettering, Ohio.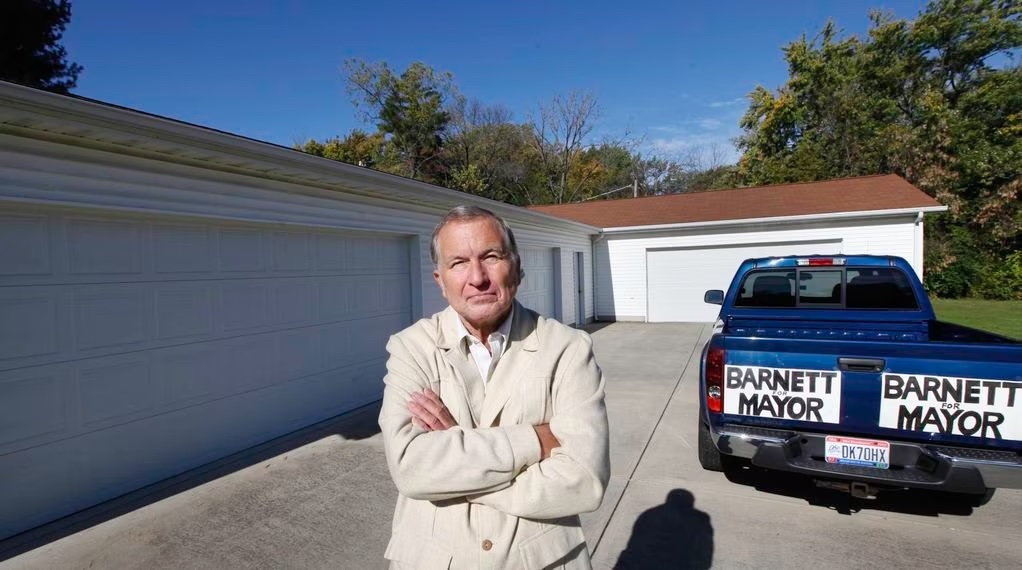 According to the Dayton Daily News, when running for the Kettering mayor in 2013 Michael proclaimed, "I would be the people's mayor. I would decide for the people. I would not be a puppet for the city. I want to protect the people's rights." Interestingly enough, turns out Michael was a retired former GM employee, bought his first in 1982, and says "I saved my money, never got married, and didn't have any kids."
As a fellow enthusiast, I have to appreciate how his passion for Corvettes fed a fire to be the people's politician. Unfortunately, his bid in 2013 and a subsequent mayoral run in 2017 came up short, but my glass-half-full self wants to declare this a victory. Michael has reminded me what true passion for Corvettes looks like, as he was willing to do anything to provide a better home for his machines.
Makes you wonder, how many other enthusiasts and collectors are out there in this big Corvette world that we never hear about or meet. Michael, if I'm ever up in Ohio I'll try to stop by, but I will call first. 🙂 We often have vibrant discussions on our Facebook page, and I would love to hear from you!  Douglas B.