New GM Patent Suggests Next-Gen Corvette Could Include Electric Doors
Despite a lack of formal communications from GM, there is no shortage of news about the Mid-Engine Corvette.  The latest involves a new patent application filed by General Motors that document powered doors which open and close with the push of a button.  While this technology is nothing new, there are a couple of items about this patent that make this a newsworthy story.  First, the powered doors would be able to compensate for wind or gravity when parked on slopes.  Second, and more relevant here, the vehicle used to depict the doors in the patent application look a lot like a C7 Corvette.
The patent application was actually filed in June, 2017 with the U.S. Patent and Trademark office, but was not published until December 27, 2018, making this "brand new" information to the Corvette community.   Of course, once this patent was published, the images accompanying the application caught the attention of Corvette enthusiasts because it clearly depicted a Chevy Corvette.  As we all know, the current-gen Corvette does not offer electric-powered doors on any of its models, so it seems likely that the C7 was simply used as a placeholder for the application.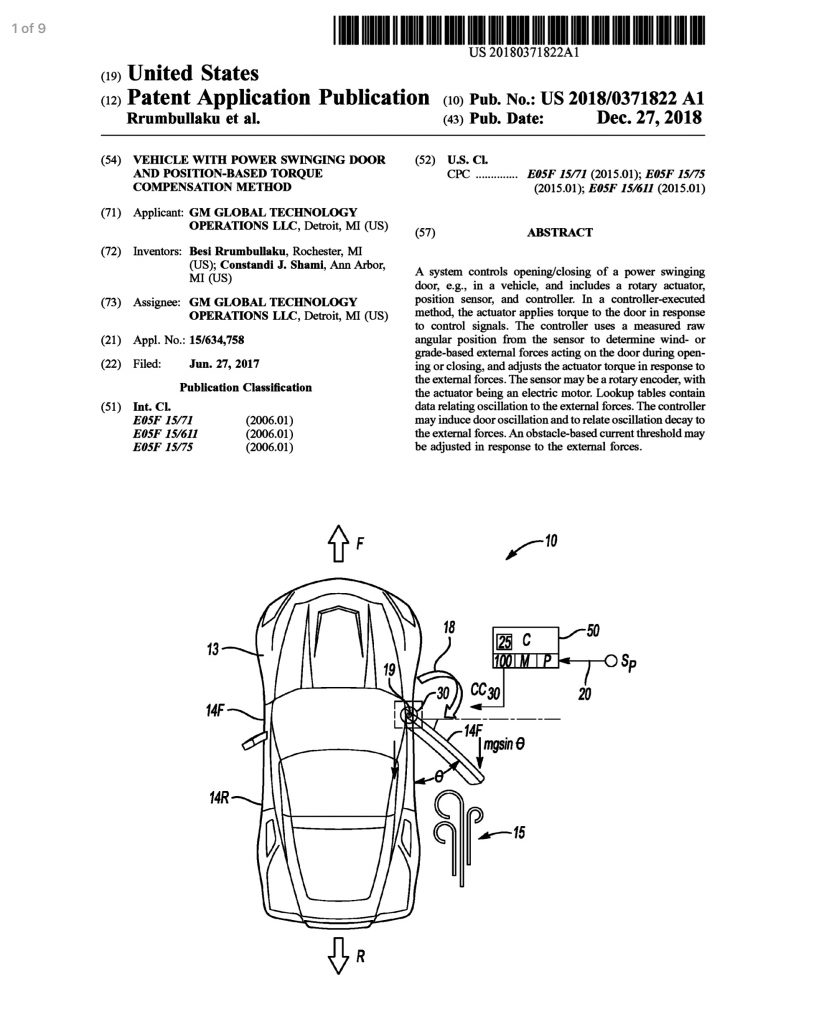 Included in the patent application is a considerable amount of technical information about how the doors will operate.  Instead of having a simple motor that would open and/or close the door, this particular assembly would work in conjunction with hardware developed to sense forces acting on the door – such as strong winds or inclined surfaces.  The door operator system would adjust power accordingly allowing the doors to open/close even in adverse conditions.  The system also has the capability to detect obstructions to the door and to react accordingly.
Given some of the claims of "electrical issues" with the mid-engine test mules, it does beg the question if this door design might be part of the issue.  To date, there has been nothing published – neither photos or video – that suggest the current test cars have electric doors, so we can do little more than speculate whether this tech is really intended for the Corvette or not.  However, it does lend credence to the delays behind the car's unveiling/release, especially if this tech is part of the culprit for the "electrical issues" that GM is currently working thru.
This story was first shared with the world by our friends at MidEngineCorvetteForum.com.