Mecum Kissimmee Auction Sells 209 Corvettes!
For car enthusiasts, few things are more fun to watch than the major automotive auctions which are host year-round throughout the United States.
The first of these auctions – Mecum Auctions' Kissimmee auction – was held on January 5th – 14th at Osceola Heritage Park in Kissimmee Florida.  During the ten day event, nearly 3,000 cars crossed the auction block including 290 Corvettes.
While Corvettes almost always make a strong showing at these large, collector-car auctions, this year's crop of cars was especially strong.  Of the 290 Corvettes auctioned, 209 of the cars found new owners, and many set record-high sell prices for their prospective year and model.
Normally, both Mecum and Barrett-Jackson save the cars that fetch top-dollar for the weekend auctions.  This is done to help television ratings.  While broadcasting these automotive auctions has become big business for the major networks, prime-time programming still fetches the most viewers and, in-turn, the highest-priced advertisement slots.
So it was a surprise when we learned that a 1963 Corvette Z06/N03 crossed the block on the very first day of the auction.  More surprising still was that the car sold for $230,000.00!
1963 Chevrolet Corvette Z06/N03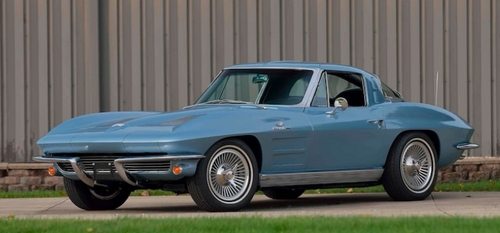 While the 1963 Corvette has always been regarded one of the most collectible Corvettes ever, this particular model had a few unique features that made it worth that much more – as evidenced by the price it commanded at auction.
For starters, the car is just one of 199 Z06 Corvettes that were produced in 1963.  To top that, it was one of just 63 produced that featured a 36 gallon fuel tank (RPO N03).
This particular car, finished in Silver Blue with black interior, featured the Z06 special performance equipment option which included heavy duty finned metallic brakes, special backing plates, cooling fans, air scoops and heavy duty suspension, shocks, springs and sway bar.  The car was equipped with an L84 fuel-injected 327 cubic-inch, 360 horsepower V-8 engine and a four-speed manual transmission.
The car received a frame-off restoration prior to judging, and was Bloomington Gold Silver Certified in 2002.
1967 Corvette Convertible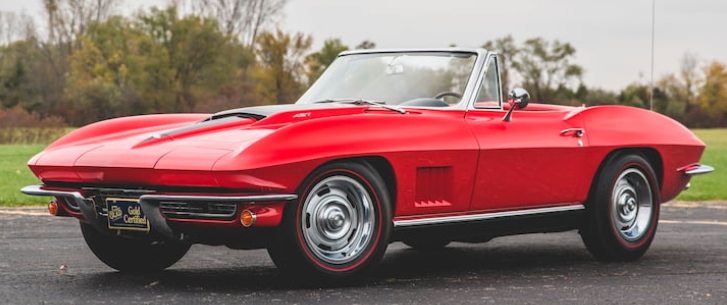 The rest of the top performers, as would be expected at one of these events, crossed the Mecum auction block on Friday/Saturday.   These cars, which kept company with a 1984 Ferrari 308 GTS, a 1969 Porsche 911e Targa, a 1974 DeTomaso Pantera GTS and 2004 Lamborghini Gallardo, represented some of the finest examples of Corvette to cross any auction block – and their respective sell prices proved it.
Coming in at number five on the list of most expensive Corvettes sold at this auction was a 1967 Corvette Convertible.
This car sold for $211,750, and with good reason.
First, the car included impeccable documentation that included: CCAS/Grenning engine-stamp affirmation, Bloomington Gold judging sheets, ownership history, restoration photos, NCRS shipping data report, the original owners manual and sales brochure.
Second, the car is Bloomington Gold Silver certified and received a Concours level body-off restoration.  It is a true original matching numbers Tri-Power 427 cubic inch, 435 horsepower V-8 Corvette.
For those not-in-the-know, a Concours level restoration is an incredibly expensive, unlimited reconstruction of the original vehicle to a 100 point perfection.  In short, a car that has received a Concours level restoration is perfect, and shows better than original in terms of its fit-and-finish.
1953 Chevrolet Corvette Roadster

Finding an intact 1953 Corvette is challenging enough these days, but to find not one, but TWO being sold at the same auction is almost unheard of.
But this year there were in fact two 1953 Corvettes that crossed the Mecum auction block.
For Corvette collectors, this model is another of the "Holy Grails" in the automotive collectors market.  For starters, the 1953 was the first model year for Corvette, and only 300 examples were produced.
The car that sold was Serial No. 64, and featured a 235 cubic inch Blue Flame six-cylinder engine (they all did in 1953), and a Powerglide Automatic Transmission (again, only option available that year.)
This particular Corvette was formerly on display at the National Corvette Museum in Bowling Green, Kentucky.
While the car lacks the pedigree and papers of the earlier models listed above, it doesn't need it to be immediately collectible, and incredibly valuable.  This car sold for $253,000.00 and, just given how rare it is, worth every penny.
Interestingly, the second 1953 Corvette Roadster to cross the auction block did not meet the reserve price set on it.  Formerly owned by NCRS (National Corvette Restorers Society) President Sam Folz, the car was expected to sell for between $250,000 and $275,000.  As they say in the auction business, "The bid goes on…"
1963 Chevrolet Corvette Z06/N03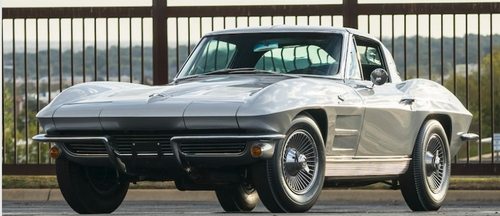 As we mentioned earlier, the 1963 Corvette Z06/N03 is an incredibly rare, extremely-collectible car, and this example takes it to a whole new level.  A level that's so desirable that this car sold at the Mecum Auction on Saturday, January 13, 2018 for the hefty sum of $456,500.00!
Like the earlier example, this car featured the larger, 36 gallon fuel tank option (one of just 63 Corvettes build with RPO N03).
But, in the collector's world, the value of the car is all about pedigree – and this car has it.
The car is Bloomington Gold Certified, has received the NCRS Top Flight Award and Chevy VetteFest Gold Spinner Award.  That alone brings good money to the table.
What makes this car even more incredible is that it was discovered by Howard Baker (NCRS Member No. 35) in 1986.  This Z06 Tanker then underwent a two-year body-off restoration and was personally inspected by Z06 Historian Eric Gill, who described the car as "one of the finer-quality Z06 restorations I have seen."  Subsequent ownership history revealed a "who's who" of Corvette aficionados, including Joe Warunek, Bill Braun, Joe Kish, Joe Lukason and Terry Michaelis.  A recent historical investigation performed by Bill Gould of Auto Ancestry had uncovered ownership history back to 1967, documented by correspondence and vintage photographs from previous owners.
The car features a numbers matching fuel-injected 327 cubic-inch, 360 horsepower V-8 engine, a Borg Warner T-10 4-speed manual transmission, a 3.70 Positraction rear end and an off-road exhaust.
1967 Chevrolet Corvette Coupe

While each of the cars leading up to number 1 has been good – heck, they've been INCREDIBLE – the top selling Corvette at the 2018 Mecum Kissimmee auction was a 1967 Corvette Coupe.
Very few Corvettes of any era have achieved the level of perfection that this car has obtained, making this a truly exceptional example, even amongst its counterparts, of a "perfect" Corvette.
This 1967 Corvette Coupe is a multiple-time Bloomington Gold-certified car.  Beyond that, it reached a milestone in the ranks of Corvette awards when it was judged as a 100-point car at the NCRS National Convention in San Antonio, Texas, in July, 2017.   Most prestigious of all, and due in part to its perfect score by the NCRS, the car is one of a select few to also be awarded the NCRS Duntov Mark of Excellence Award.
The Duntov Mark of Excellence Award was created in 1985 to honor Zora Arkus-Duntov.  To earn this award, it requires the candidate vehicle to score at least 97 of 100 points "based on an original 'as manufactured' standard at a National or Regional NCRS event."  It must also pass "a rigorous performance test of all vehicle mechanical components and functions, all of which must operate as those of a new car, without a single failure."  It must then again score a minimum of 97 points at a National NCRS Convention. The entire process must be completed within a three-year period, a rigorous regime that has made the Duntov Mark of Excellence recipient pool one of the most exclusive clubs in the Corvette community.
Additionally, this incredible Sting Ray coupe has also garnered the Muscle Car and Corvette Nationals Triple Diamond Award reserved for Corvettes that have earned both Bloomington Gold and NCRS Top Flight, or Four- or Five-Star Bowtie awards.
This car came equipped with an L71 engine – a 427 cubic inch, 436 horsepower V-8, an original M21 4-speed manual transmission, original 4.11 Positraction rear-end and three 2-barrel carburetors.
So, by now you are probably asking, what did this car sell for?  The answer – $583,000.00, making it one of the highest-priced 1967 Corvette Coupes (with the exception of the coveted L88 model) ever in the history of the brand.
Source: Marshall Fancher, Vettenvestments.com