A Disappointing Finish at Road Atlanta Ends the C7.R Era In IMSA Racing
BRASELTON, Ga. (Oct. 12, 2019) – Corvette Racing ended its run with the Chevrolet Corvette C7.R on Saturday with fourth- and seventh-place class finishes in the IMSA WeatherTech Sports Car Championship's Petit Le Mans at Michelin Raceway Road Atlanta.
The No. 3 Mobil 1/SiriusXM Corvette C7.R of Antonio Garcia, Jan Magnussen and Mike Rockenfeller led Corvette Racing's effort in the final race of the season. Oliver Gavin, Tommy Milner and Marcel Fässler took the finish shortly thereafter in the No. 4 Mobil 1/SiriusXM Corvette.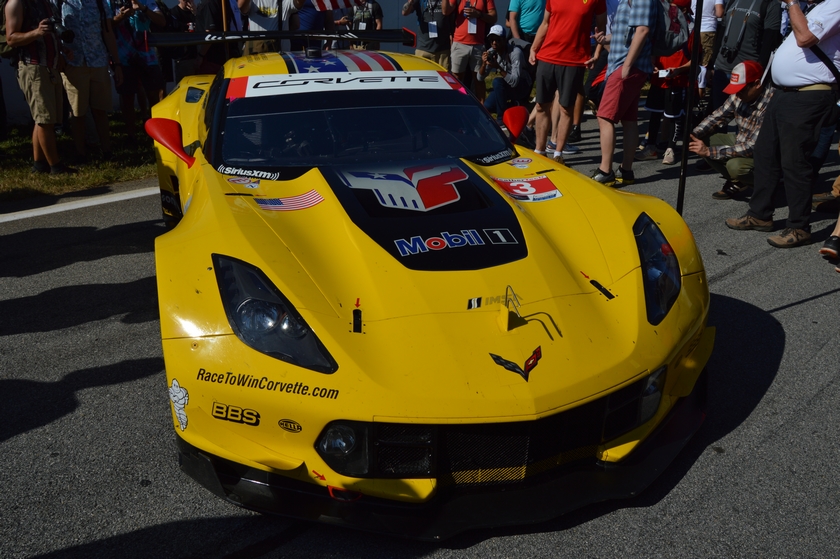 Petit Le Mans closed the Corvette Racing program's 21st season of racing and the six-year campaign of the Corvette C7.R.  In that span, the car has won 17 times around the world and helped Corvette Racing claim three Drivers' Championships and two Manufacturer titles for Chevrolet. The new-for-2020 Corvette C8.R will make its competition debut at the Rolex 24 At Daytona in January.
The hope Saturday was to send the C7.R off with a victory but it wasn't to be. The Corvettes started seventh and ninth on the GTLM grid, and the team struggled with tire grip throughout the first part of the race. A couple extra pit stops to chase tire compounds combined with a five-hour run of green-flag racing didn't help the team's quest.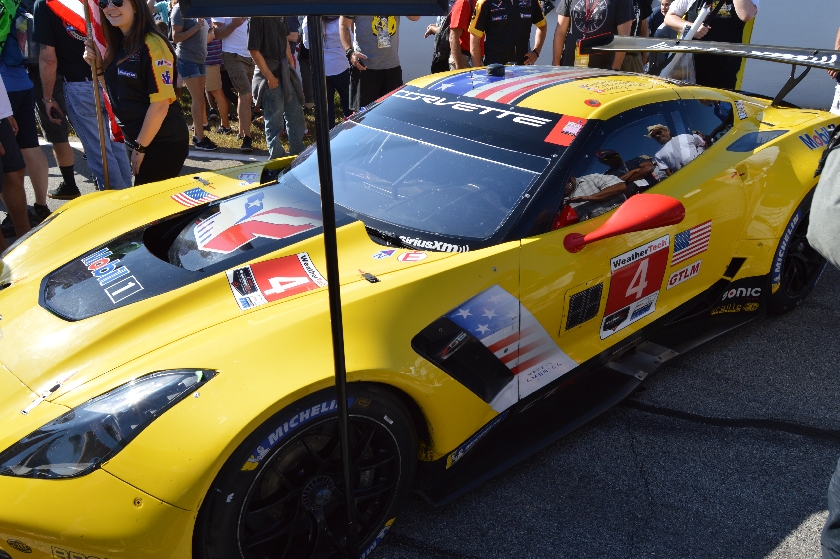 Things turned in a positive direction for the No. 3 Corvette in the second half as Magnussen and Rockenfeller took turns in the class lead as fuel and tire strategies came into play late in the race. Garcia drove the final two-and-a-half hours including a hard charge on fresh tires with 30 minutes left that resulted in the No. 3 Corvette going from fifth to fourth on the final lap of the race.
The result meant Garcia and Magnussen finished tied for second in GTLM Drivers' points with Chevrolet third in the Manufacturers' standings.
The No. 4 Corvette team attempted a similar comeback in the race but was beset by contact from an overtaking car with Fässler at the wheel in the fourth hour. The resulting spin for the No. 4 Corvette didn't help the team's tire woes. Milner had led late in his stint during the pit stop cycle but the contact and extra pit stops to chase the Corvette's handling set back the No. 4 team.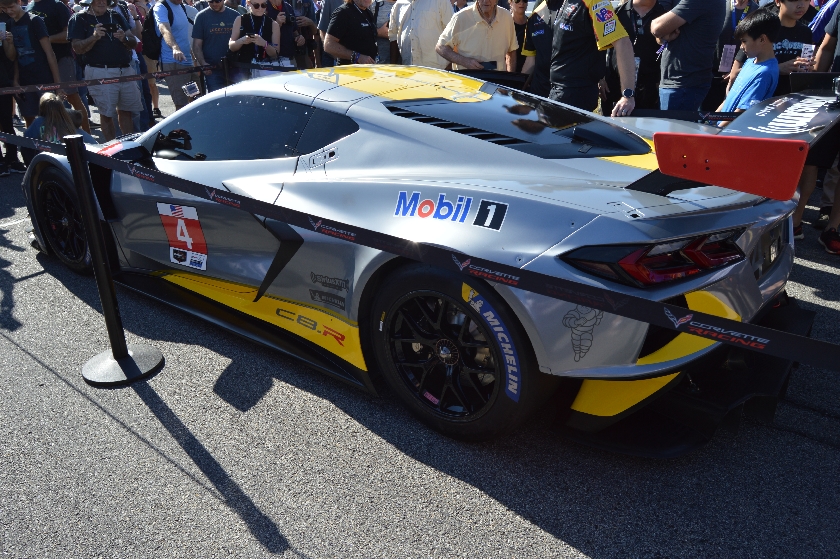 Corvette Racing will open the 2020 IMSA season with the Rolex 24 At Daytona on Jan. 25-26, 2020.
ANTONIO GARCIA, NO. 3 CHEVROLET CORVETTE C7.R – FINISHED FOURTH IN GTLM:
"It was difficult right away. Starting last in the class didn't help things today. We were playing catch-up all day. Knowing how tight everyone was made it tough to do anything different than the rest on strategy. We made some gambles on tires but that meant an extra stop. After that, we were out of sequence and did almost four or five hours keeping the same pace as the 67 Ford and the Ferrari. We were just waiting for a yellow. It was a little bit unfortunate that there wasn't a yellow until the last 30 minutes. We showed we had their pace, but I don't know if we could have passed them to win the race. It's a shame not to know if we could have been on the same strategy and done something different to put our competitors on the ropes; everyone seems to get nervous when we are very close. So we were fighting, but it was fighting from far back and we weren't much of a threat. We tried that late stop to try and gain some positions for a podium and second in the championship. But another year is done and another podium championship finish for Jan and I…eight in a row."
JAN MAGNUSSEN, NO. 3 MOBIL 1/SiriusXM CHEVROLET CORVETTE C7.R – FINISHED FOURTH IN GTLM:
"We gave it the best shot we had to try and get second in the championship, but one point short. We tied for second but obviously Porsche takes that because of race wins. Knowing how everything panned out, this was the best we could get out of it I think. Everyone wanted a win for the C7.R to send it off, but it wasn't in the cards. We put on a good show…the best we could."
MIKE ROCKENFELLER, NO. 3 MOBIL 1/SiriusXM CHEVROLET CORVETTE C7.R – FINISHED FOURTH IN GTLM:
 "On the first stint, we had a massive oversteer so we changed the rear wing setting on the pit stop and tire compound. The balance was better with the wing change but the tire just died on the left-rear really quick. It happened on both cars. I came in for the previous compound and we left the setup as it was. In that stint, I have to say we were pretty good and competitive. I had a feeling that cooling off would help us. We needed a yellow but we were in the game. It just never happened and others had a really strong pace. That is racing sometimes."
OLIVER GAVIN, NO. 4 MOBIL 1/SiriusXM CHEVROLET CORVETTE C7.R – FINISHED SEVENTH IN GTLM:
"It was a tough one for us on the No. 4 side. We always seemed to be chasing the balance and chasing the tire. We got it in a bit of a window at one point and were looking good at one point. But we ultimately couldn't find that transition from when the track started to cool down into the darkness. We just couldn't seem to dial out the understeer in the car. Chuck (Houghton, No. 4 Corvette race engineer) worked super hard on the timing stand trying to find a solution for us. All the guys did… once again amazing stops and tireless work with lots of feedback going back and forth between the drivers. We really were working as hard as we could, but P7 is where we ended up, and it's tough. It's a shame that's the way we finished off the story of the C7.R. But onward and upward and this team will bounce back. We have a new car coming for Daytona so eyes forward to the new mid-engine Corvette."
TOMMY MILNER, NO. 4 MOBIL 1/SiriusXM CHEVROLET CORVETTE C7.R – FINISHED SEVENTH IN GTLM:
"We didn't have the balance today. Nothing really went our way, and we struggled with understeer for me almost the entire race. I think all of us did unless we had some tire issues at certain stages. It was just kind of a frustrating race and a bummer to finish like that. It was not the best year overall, obviously with me missing a couple races, and no wins this year which is a bummer as well. But I felt like we went out on a high note there with a big smoky burnout there at the end for all the fans in (Turn) 10 with the C7.R for the last time. Hopefully they enjoyed that."
MARCEL FÄSSLER, NO. 4 MOBIL 1/SiriusXM CHEVROLET CORVETTE C7.R – FINISHED SEVENTH IN GTLM:
"For me, my biggest issue was getting hit by a prototype in my first stint after about 15 laps or something like that. I had a really bad flat-spot on the tires and had to pump up the brake pedal all the time. For sure the grip level wasn't very good. That made things not very comfortable to drive. We went to another compound and I got a blister almost immediately. At first I thought I was losing fluid on the left-rear because it was a strange kind of feeling, especially at Turn One. I lost the car for about two or three laps and all the trust in the car. We came in and the tire was blistered pretty bad. So it wasn't an easy one-and-a-half stints; things weren't so good. It wasn't what we were looking for."