CORVETTE RACING AT LE MANS: A More-Than-Satisfactory Test Day
LE MANS, France (June 2, 2019) – Ahead of its 20th consecutive appearance at the 24 Hours of Le Mans, Corvette Racing completed eight hours of on-the-track testing with its pair of Chevrolet Corvette C7.Rs during the race's annual Test Day. Corvette Racing drivers finished first and third in the 17-car GTE Pro category during the only test run the Le Mans field will host before beginning official practice and qualifying, both of which will commence in 10 days time.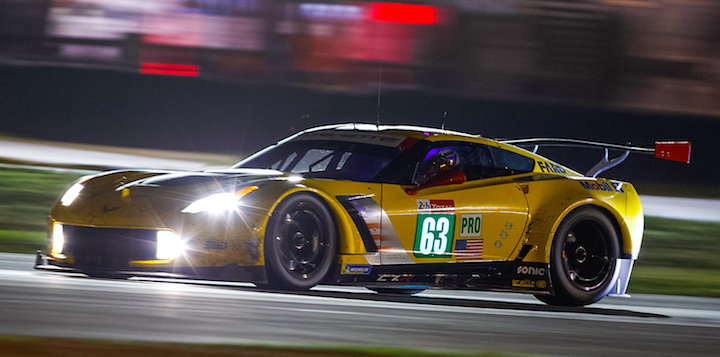 Mike Rockenfeller was the quickest driver for Corvette Racing. During his test session, he managed a lap time at 3:54.001 (130.240 mph) in the No. 63 Mobil 1/SiriusXM Corvette C7.R that he will drive with Antonio Garcia and Jan Magnussen. Perhaps no driver benefited more from Sunday's test session than Rockenfeller, who missed last year's Test Day due to a previous commitment.
Teammate Tommy Milner was third-fastest with a lap of 3:54.036 (130.239 mph) in the No. 64 Mobil 1/SiriusXM Chevrolet Corvette that he shares with Oliver Gavin and Marcel Fässler.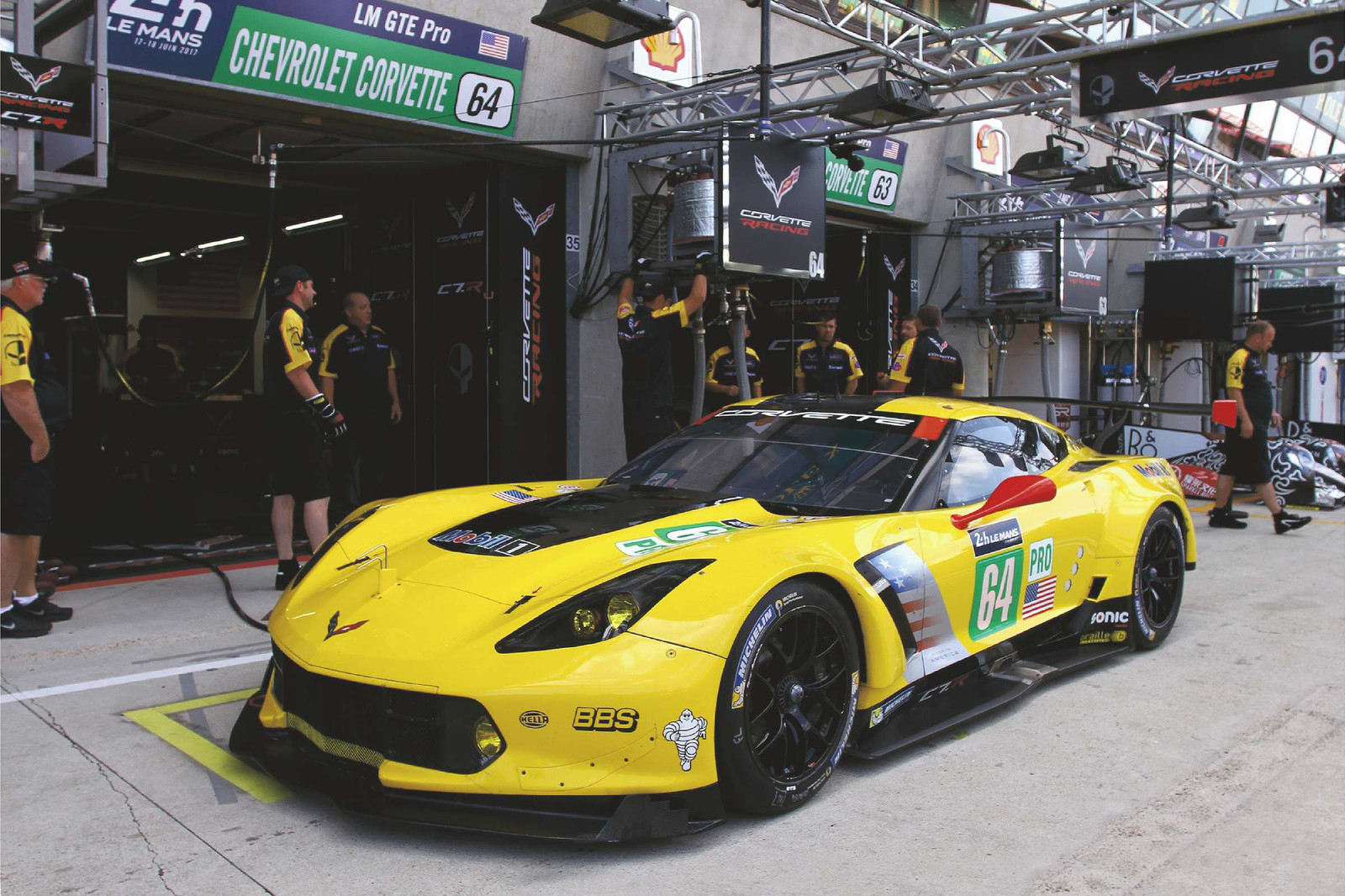 Rockenfeller led a group of 12 GTE Pro cars, all of which ran within one second of each other.  This is an astounding feat given the length and complexity of the 8.4-mile circuit. Le Mans is a mix of permanent race track and public roads, and the Corvette Racing teams spent the entire eight hours tuning and setting up the two Corvette C7.Rs for handling and a solid race package – not necessarily ultimate outright pace.
The pair of Corvettes completed 166 laps collectively and covered more than 1,400 miles. The only issue the teams experienced was a minor mechanical issue on the No. 64 Corvette C7.R that resulted in a minimal amount of time spent in the garage. Other than that, the Test Day was fairly routine.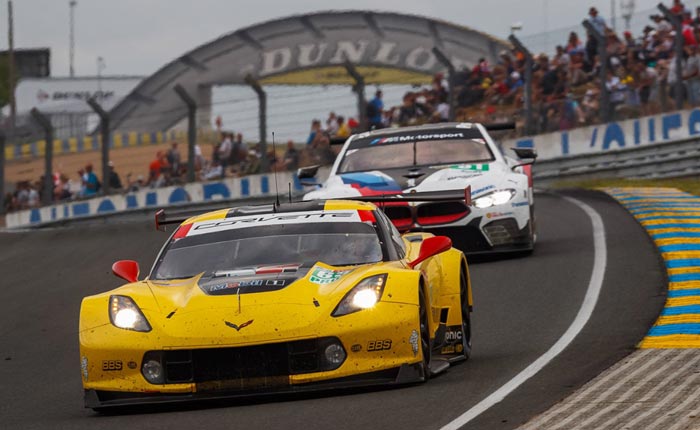 This is a landmark year at Le Mans for Corvette Racing.  No racing team in the history of this event has ever made more than 20 consecutive appearances.  Moreover, the Corvette Racing program has won eight times in 19 tries. What's more, Corvette Racing's Le Mans record also includes eight runner-up class finishes and nearly 100,000 racing miles completed.
Le Mans is the final race in the FIA World Endurance Championship Super Season. There are a total of 17 entries from five manufacturers in the GTE Pro category.
Each of the six Corvette Racing drivers own exemplary records at Le Mans:
The 24 Hours of Le Mans will air live on the MotorTrend Network with coverage of practice, qualifying and the race on Radio Le Mans.
MIKE ROCKENFELLER, NO. 63 MOBIL 1/SiriusXM CHEVROLET CORVETTE C7.R – FASTEST IN GTE PRO:
"It's always good to be quick but as everyone knows, today doesn'' count. It counts on the Sunday when the flag drops and the race is over. Today was really good for me to get used back to the Corvette. Today I was able to get in a lot of laps and went through a lot of tires to get confidence, which helps. For me personally, I'm very happy. In the afternoon, the track conditions were where they should be so we were able to collect a lot of data. We are very happy with that.
"The Corvette C7.R is the exact same car from last year. In the end, we tried to establish a base setup. We did a little bit of tuning but not much – normal stuff like camber and dampers. Then we really tried to learn about the compounds we have available from Michelin. We tried to learn in which temperature window to use which tire. I was in that program, so that was quite nice!
"The GTE Pro class is really the place where there will be fights among the manufacturers just like years before. We're all looking forward to that. It's super hard, and you have to fight for every tenth of a second. There is no margin for error."
TOMMY MILNER, NO. 64 MOBIL 1/SiriusXM CHEVROLET CORVETTE C7.R – THIRD-FASTEST IN GTE PRO:
"Overall, today was good for us. Like everyone here, you have a laundry list of items to go through…things that the engineers come up with that may work. This is our one opportunity to go through some of those options. We certainly found some good things in the Corvette. All of us drivers are generally happy with the car; there are always areas to improve. In the end, we've had a pretty smooth Test Day and we were able to check off a few boxes. Obviously we're quick on the time chart now, but we've been in this position in years past when everything seemed to change come raceweek. We'll focus on ourselves, figure out what's good for us and see where we stand on raceweek."
ANTONIO GARCIA, NO. 63 MOBIL 1/SiriusXM CHEVROLET CORVETTE C7.R:
"Things were good today. This is one of the few years where weather respected the test, and the conditions were very consistent. Our running time was good; we were close to 100 laps. That means we have a lot of data to analyze. We definitely ran through all our program we had planned and then some. That's always a good feeling. So I'm happy. We need to gather everything, see what we have, where we can improve and then put everything together for the race. Yes we were fastest today but I don't think that means anything. I don't know what the other teams are doing, so we need to wait until raceweek to see where everything is exactly. This is a good starting point. We all hope the package we bring to the race will be enough."
JAN MAGNUSSEN, NO. 63 MOBIL 1/SiriusXM CHEVROLET CORVETTE C7.R:
 "It isn't at all important to be quick on the Test Day. We are here testing and going through our program, including knowing the WEC Michelin tires a little better. For us on the 63 Corvette, getting to know the tires at the WEC race at Sebring was a little bit of an advantage. But this is only our second time so we still have a lot to learn. So far so good. I think everyone is pretty happy. We didn't have any issues on our Corvette throughout the day, which is good. We shouldn't because this is such a well-proven car."
OLIVER GAVIN, NO. 64 MOBIL 1/SiriusXM CHEVROLET CORVETTE C7.R:
 "It was a pretty good day for us. We got quite a lot covered with Michelin and our WEC tire. We worked through our program well, I think. There was a small issue in the middle of the day where we lost some time. But once we got on top of that, we fell back into our program. There were a number of slow zones and yellow flags that impede the process you are trying to go through. But we did get a lot done. You could throw a blanket over everyone in our class. No one is out of this race and everyone will be in with a chance at winning. We have to be smart and see what the race week brings."
MARCEL FÄSSLER, NO. 64 MOBIL 1/SiriusXM CHEVROLET CORVETTE C7.R:
"It was quite good to be back in the car. I immediately felt good and was good on pace. The Chevy simulator tests we had recently helped a lot in being quick straight away. But today was all about finding a good rhythm and testing different things for the race, try to find the limits, work on the Corvette to tune it in to the circumstances and collect data for next week. All in all I felt pretty good in the car. We can be happy with the work we did today."
Corvette Racing at Le Mans (Wins in bold)
2000
No. 63 Corvette C5-R: Ron Fellows/Chris Kneifel/Justin Bell – 4th in GTS
No. 64 Corvette C5-R: Andy Pilgrim/Kelly Collins/Franck Freon – 3rd in GTS
2001
No. 63 Corvette C5-R: Ron Fellows/Johnny O'Connell/Scott Pruett – 1st in GTS
No. 64 Corvette C5-R: Andy Pilgrim/Kelly Collins/Franck Freon – 2nd in GTS
2002
No. 63 Corvette C5-R: Ron Fellows/Johnny O'Connell/Oliver Gavin – 1st in GTS
No. 64 Corvette C5-R: Andy Pilgrim/Kelly Collins/Franck Freon – 2nd in GTS
2003
No. 53 Corvette C5-R: Ron Fellows/Johnny O'Connell/Franck Freon – 3rd in GTS
No. 50 Corvette C5-R: Oliver Gavin/Kelly Collins/Andy Pilgrim – 2nd in GTS
2004
No. 63 Corvette C5-R: Ron Fellows/Johnny O'Connell/Max Papis – 2nd in GTS
No. 64 Corvette C5-R: Olivier Beretta/Oliver Gavin/Jan Magnussen – 1st in GTS
2005
No. 63 Corvette C6.R: Ron Fellows/Johnny O'Connell/Max Papis – 2nd in GT1
No. 64 Corvette C6.R: Olivier Beretta/Oliver Gavin/Jan Magnussen – 1st in GT1
2006
No. 63 Corvette C6.R: Ron Fellows/Johnny O'Connell/Max Papis – 7th in GT1
No. 64 Corvette C6.R: Olivier Beretta/Oliver Gavin/Jan Magnussen – 1st in GT1
2007
No. 63 Corvette C6.R: Ron Fellows/Johnny O'Connell/Jan Magnussen – 2nd in GT1
No. 64 Corvette C6.R: Olivier Beretta/Oliver Gavin/Max Papis – 14th in GT1
2008
No. 63 Corvette C6.R: Ron Fellows/Johnny O'Connell/Jan Magnussen – 2nd in GT1
No. 64 Corvette C6.R: Olivier Beretta/Oliver Gavin/Max Papis – 3rd in GT1
2009
No. 63 Corvette C6.R: Jan Magnussen/Johnny O'Connell/Antonio Garcia – 1st in GT1
No. 64 Corvette C6.R: Olivier Beretta/Oliver Gavin/Marcel Fässler – 4th in GT1
2010
No. 63 Corvette C6.R: Jan Magnussen/Johnny O'Connell/Antonio Garcia – 12th in GT2 (DNF)
No. 64 Corvette C6.R: Olivier Beretta/Oliver Gavin/Emmanuel Collard – 10th in GT2 (DNF)
2011
No. 73 Corvette C6.R: Olivier Beretta/Tommy Milner/Antonio Garcia – 1st in GTE Pro
No. 74 Corvette C6.R: Oliver Gavin/Jan Magnussen/Richard Westbrook – 14th in GTE Pro (DNF)
2012
No. 73 Corvette C6.R: Jan Magnussen/Antonio Garcia/Jordan Taylor – 5th in GTE Pro
No. 74 Corvette C6.R: Oliver Gavin/Tommy Milner/Richard Westbrook – 6th in GTE Pro
2013
No. 73 Corvette C6.R: Jan Magnussen/Antonio Garcia/Jordan Taylor – 4th in GTE Pro
No. 74 Corvette C6.R: Oliver Gavin/Tommy Milner/Richard Westbrook – 7th in GTE Pro
2014
No. 73 Corvette C7.R: Jan Magnussen/Antonio Garcia/Jordan Taylor – 2nd in GTE Pro
No. 74 Corvette C7.R: Oliver Gavin/Tommy Milner/Richard Westbrook – 4th in GTE Pro
2015
No. 63 Corvette C7.R: Jan Magnussen/Antonio Garcia/Ryan Briscoe – DNS (Qualifying crash)
No. 64 Corvette C7.R: Oliver Gavin/Tommy Milner/Jordan Taylor – 1st in GTE Pro
2016
No. 63 Corvette C7.R: Jan Magnussen/Antonio Garcia/Ricky Taylor – 7th in GTE Pro
No. 64 Corvette C7.R: Oliver Gavin/Tommy Milner/Jordan Taylor – 10th in GTE Pro (DNF)
2017
No. 63 Corvette C7.R: Jan Magnussen/Antonio Garcia/Jordan Taylor – 3rd in GTE Pro
No. 64 Corvette C7.R: Oliver Gavin/Tommy Milner/Marcel Fässler – 8th in GTLM
2018
No. 63 Corvette C7.R: Jan Magnussen/Antonio Garcia/Mike Rockenfeller – 4th in GTE Pro
No. 64 Corvette C7.R: Oliver Gavin/Tommy Milner/Marcel Fässler – 15th in GTE Pro (DNF)