A VALIANT EFFORT AT SEBRING LANDS NO. 3 CORVETTE ON PODIUM
Its been awhile since we provided an update on the Corvette Racing program.  With two races now behind them, the Corvette Racing program is well into the 2019 IMSA WeatherTech SportsCar Championship season.
In late January, both cars struggled to find ground at the opening event of the season – the 24 Hours of Daytona.  Despite having strong cars at the start of the event, misfortune and adverse driving conditions caused the cars to slip from podium contention.  While both cars did manage to finish the event, the race proved to be a disappointing start to the season.
Last weekend, Corvette Racing managed far better results at the Mobil 1 Twelve Hours of Sebring.  The team closed its marathon weekend of racing with a class podium finish at the race.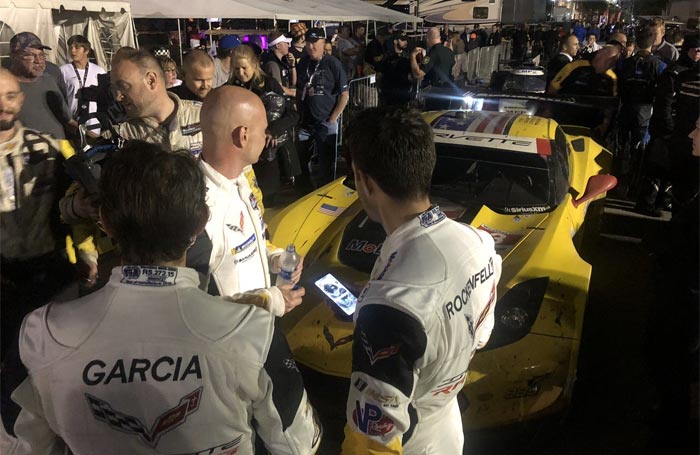 Antonio Garcia, Jan Magnussen and Mike Rockenfeller placed third in the GT Le Mans (GTLM) category of the IMSA WeatherTech SportsCar Championship. It was a remarkable effort for the trio of the No. 3 Mobil 1/SiriusXM Chevrolet Corvette C7.R as they has also competed in the FIA World Endurance Championship's eight-hour race at Sebring International Raceway just one day earlier.
The No. 3 Corvette put down a consistent run from the start.  Aside from navigating thru some rain at the start of the event and again just past the race's halfway point, the car encountered no issues while performing its duty on the track.  While lacking the ultimate pace of the class front-runners, the No. 3 Corvette Racing team still found themselves in contention and leading inside the final hour of the race.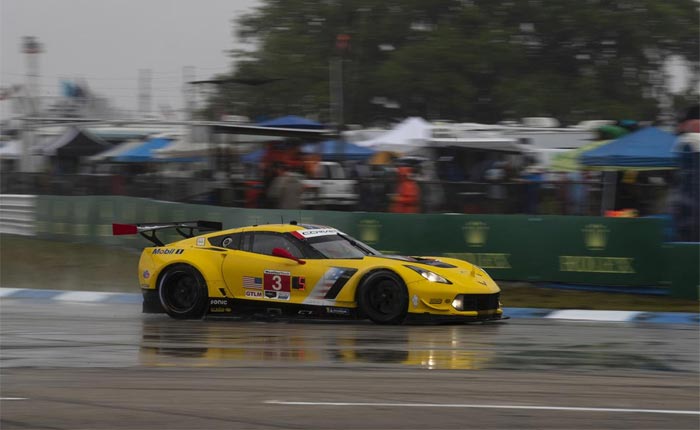 The No. 3 Corvette team made two brief, but critical pitstops in the final 80 minutes of the race, which actually helped the team to gain track position for the final stretch run.  Garcia closed the race by gaining two spots in the final 20 minutes to put the team on the GTLM podium.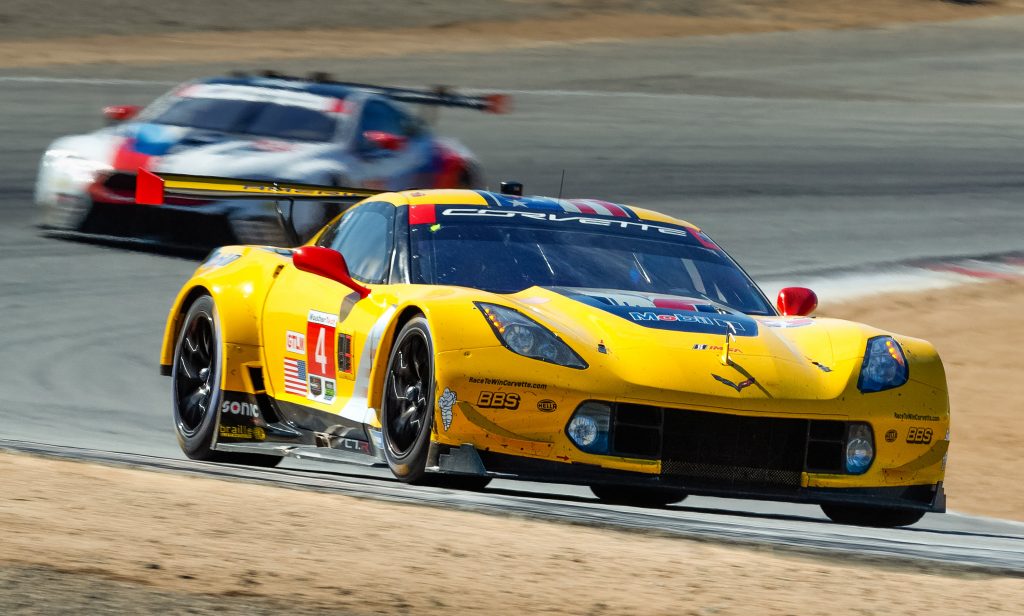 Meanwhile, the No. 4 Mobil 1/SiriusXM Chevrolet Corvette C7.R of Oliver Gavin, Tommy Milner and Marcel Fässler finished eighth in class after an early-race electrical issue. The Corvette lost 11 laps as it went back to the garage for repairs to the alternator system. Aside from this single setback, the No. 4 C7.R. returned to the track and ran without further incident.
Corvette Racing's next event will be the Bubba Burger Sports Car Grand Prix on April 12-13 from the famed Long Beach (Calif.) street circuit. The race begins at 5:05 p.m. ET on Saturday, April 13 with live television coverage on NBC Sports Network.
ANTONIO GARCIA, NO. 3 MOBIL 1/SiriusXM CHEVROLET CORVETTE C7.R – FINISHED THIRD IN GTLM:
"It was difficult to do both races in the weekend, for sure. I wasn't 100 percent today but was 99 percent. We gave it all, and you have to wonder what had happened if we had just that little extra. But I'm happy to have been able to compete in this event at Sebring – both the WEC and IMSA races. It was a great result for Team Chevy. Friday we didn't achieve a good result, but the good thing about Corvette Racing is that we always want to win. We tried to gamble tonight and that's what we do – go for the win. Maybe if we had three more laps it would have been enough knowing we had better tires than our competitors and being closer to the leaders on the last restart. I'm satisfied with good points. Let's go now for the championship."
JAN MAGNUSSEN, NO. 3 MOBIL 1/SiriusXM CHEVROLET CORVETTE C7.R – FINISHED THIRD IN GTLM:
"Getting a podium today will count a lot toward the championship. But you always want to win at Sebring. There was an opportunity there at the end but traffic and some of the action on track kind of stopped us from doing that. But I'm very happy how everyone on Corvette Racing has worked and performed in both series. Today definitely is good for the championship."
MIKE ROCKENFELLER, NO. 3 MOBIL 1/SiriusXM CHEVROLET CORVETTE C7.R – FINISHED THIRD IN GTLM:
"We had ups and downs in the race. At certain stages we were really fast. Antonio and Jan did an awesome job. Thanks to them and thanks to the Corvette Racing team. The Corvette is just unbelievable here at Sebring. It's always tough and you have to be spot on. When I got out of the car, there were 80 minutes to go and we were third. We couldn't make it on fuel without a last stop, so we rolled the dice and tried to attack. It almost worked out. We took our opportunities and tried to go for victory. In the end, it's a podium and we can be proud of that in GTLM. Thanks to Corvette Racing for a great car and to all my teammates. Even though it is a little disappointing not to win, we can be happy with this result in the end."
OLIVER GAVIN, NO. 4 MOBIL 1/SiriusXM CHEVROLET CORVETTE C7.R – FINISHED EIGHTH IN GTLM:
"It was a tough race track this time for the No. 4 Corvette. The team and the crew did a great job, but the wet conditions at the start created tricky conditions. The issue that we had reshaped our race. We couldn't recover. We were some 11 laps down, and got a couple back, with ultimately some great strategy and some very hard work by the team. It is such a difficult class. So many great teams and drivers that you have to be at the top of your game. As you could see there at the end, it was so, so close. The No. 3 C7.R got a good podium result, but I think they could have fought for the victory as well. It seems like 2019 has started out a bit rough, especially for the No. 4 car, but we will bounce back, gather things up and get going for the next one at Long Beach."
TOMMY MILNER, NO. 4 MOBIL 1/SiriusXM CHEVROLET CORVETTE C7.R – FINISHED EIGHTH IN GTLM:
"It is tough in these long-distance races to have something go wrong, basically, that puts you that far behind. It is hard, but you find ways to keep your head in the game. There are plenty of reasons to stay motivated. Our Corvette was really, really fast today so that makes this that much more difficult. We had a really good car, and it is disappointing that we weren't able to use it to get a really good result. That is the way it goes. That's racing. You spend all of your time preparing for the race day, and sometimes things go your way, and sometimes they don't. For us today, it just didn't go our way. We can go away from this very happy with how good the car was today. We made some really good changes throughout the race to keep improving the balance. We learned a lot about the car and the tires and those things. So even though the end result wasn't what we had planned for and hoped for, we can still learn a lot about the car, the tire, the balance and all of those things."
"As always, the crew guys did a great job today in the pits and back in the paddock getting the car repaired. They had a lot thrown at them, and as usual, they handled it all well. They are ready to go."
MARCEL FÄSSLER, NO. 4 MOBIL 1/SiriusXM CHEVROLET CORVETTE C7.R – FINISHED EIGHTH IN GTLM:
"It's disappointing for sure to see that we could have ended up better. We don't know why but sometimes we seem to always have little issues. I don't know why. We had good preparation but we were just unlucky with things today. We have a strong team, strong crew and strong engineers. It seems like we are missing all the good luck we had in 2016. But I'm sure it will come back soon."