CORVETTE RACING AT MID-OHIO: Garcia, Magnussen Back on the Podium
LEXINGTON, Ohio (May 6, 2018) – Jan Magnussen and Antonio Garcia earned a podium finish Sunday in Corvette Racing's return to Mid-Ohio in the Acura Sports Car Challenge at Mid-Ohio. The pair piloted their No. 3 Mobil 1/SiriusXM Chevrolet Corvette C7.R to a third-place GT Le Mans (GTLM) class finish in the IMSA WeatherTech SportsCar Championship.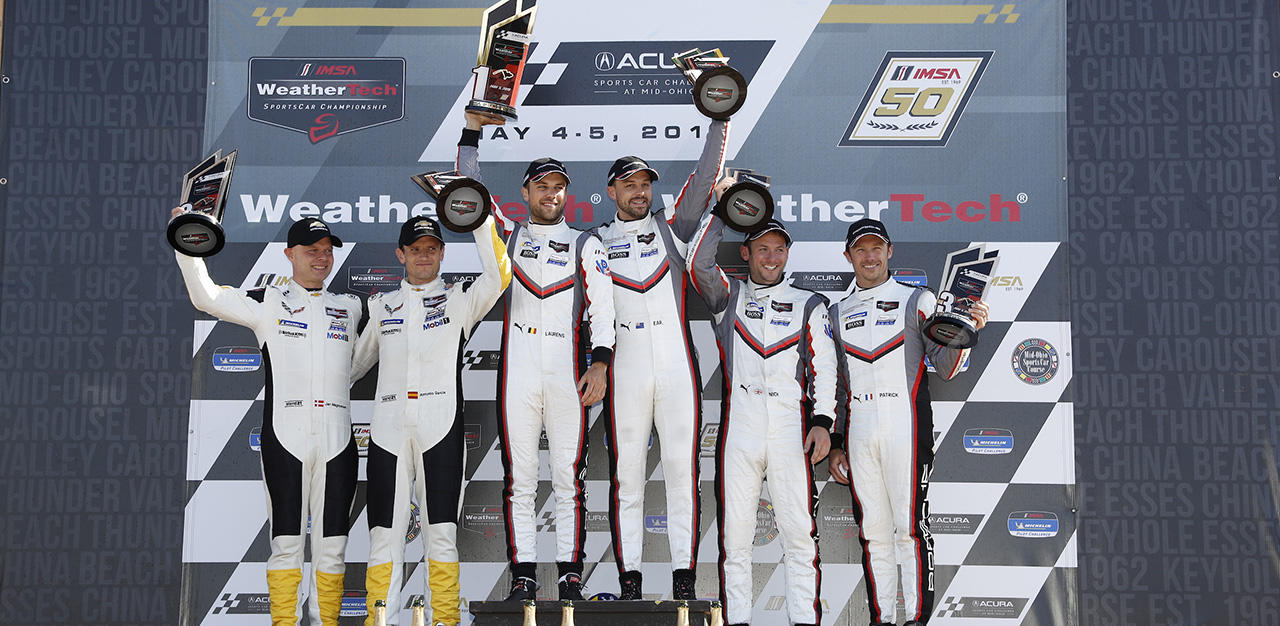 This third place finish at Mid-Ohio moved Garcia and Magnussen into a fourth-place tie for the GTLM Driver Championship with Corvette teammates Oliver Gavin and Tommy Milner.  Gavin and Milner placed eighth in GTLM on Sunday in the No. 4 Mobil 1/SiriusXM Chevrolet Corvette C7.R as the team returned to Mid-Ohio for the first time since 2012.
Chevrolet is currently third in GTLM Manufacturer points – and just three points out of first place!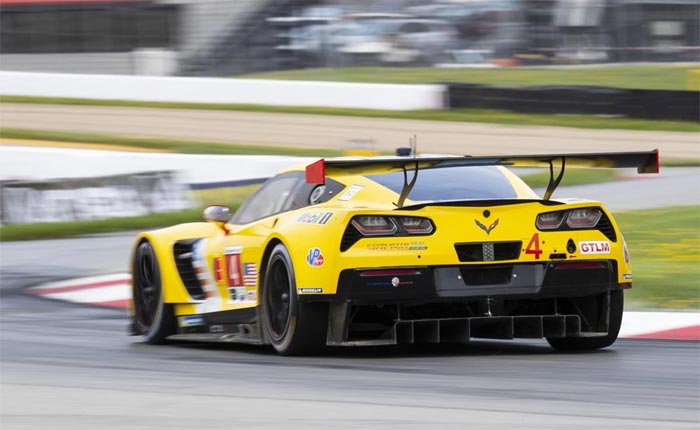 Although Garcia/Magnussen began the race in fifth place, Garcia advanced a position on the opening lap.  However, the tight field and near constant traffic around Mid-Ohio meant the No. 3 Corvette remained in fourth position until the middle of the race.
As the race continued past the half-way mark, the competition only continued to mount between the drivers.  Magnussen became a participant in a three-car battle fight for third place (in class) during the final 40 minutes of competition.  He spotted an opportunity to advance his position as he drove his C7.R Corvette into the first turn.  With just 27 minutes left on the clock, Magnussen advanced his car to move into podium position.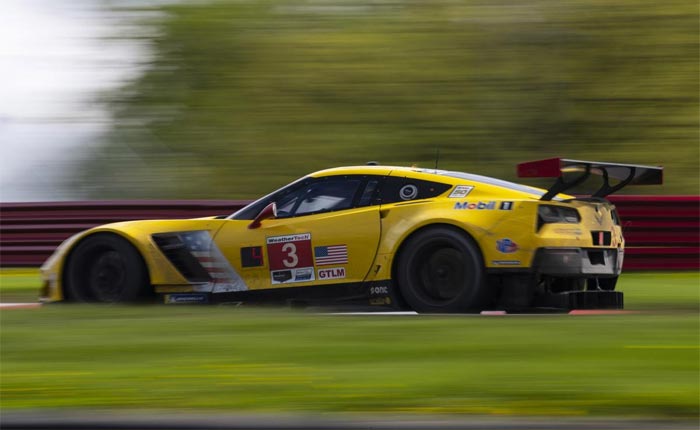 Milner and Gavin started the race in eighth, but the No. 4 Corvette quickly moved up through the field under the capable hands of Milner.  He drove the opening hour of the race before handing the car off to Gavin.
Unfortunately, the No. 4 Corvette Racing team struggled with the other cars in the field and could not advance position.  They opted to pull into the pits with 70 minutes left on the clock in hopes of catching a caution period to gain track position. Unfortunately the race continued under green for the entire two hours and 40 minutes. Gavin eventually had to take the car back to pit lane for a late splash of fuel just two laps from the end of the race.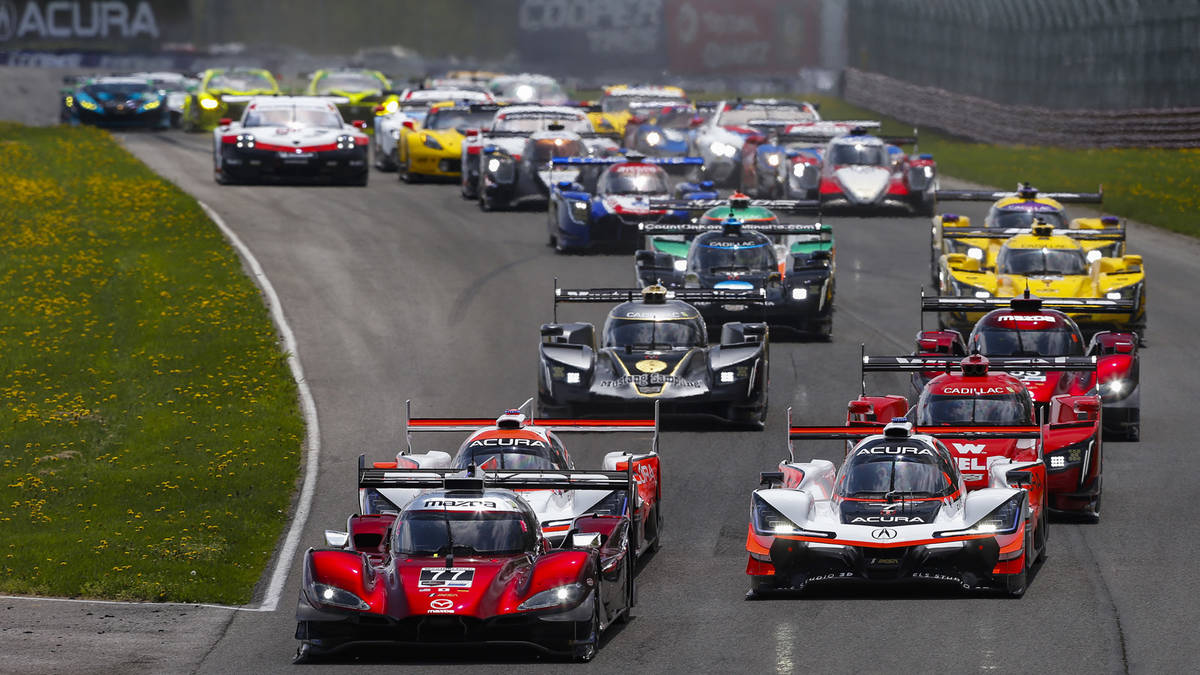 With Mid-Ohio now behind them, the drivers and crew at Corvette Racing will take a break from IMSA competition to travel to the 24 Hours of Le Mans for their 19th consecutive season participating in this event. The 24 Hours of Le Mans will take place on June 16-17, 2019 .  Between the two cars that make up the team, Corvette Racing has won eight times in the French endurance race.
The next Weather Tech Championship event with the GTLM class in it is the Sahlen's Six Hours of The Glen on the weekend of June 27-30.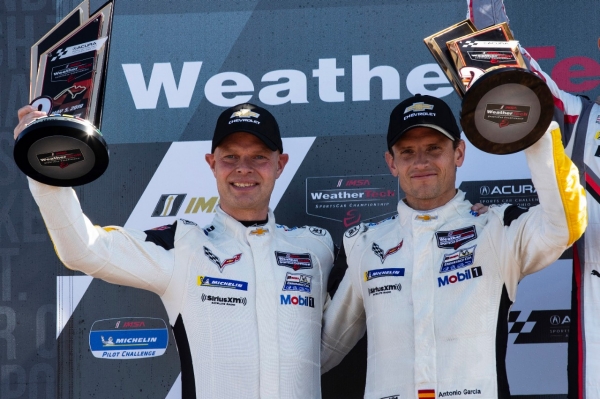 ANTONIO GARCIA, NO. 3 MOBIL 1/SiriusXM CHEVROLET CORVETTE C7.R – FINISHED THIRD IN GTLM:
"That was hard to watch, because I really don't like to be watching! I prefer to be in the car. But Jan did a really, really, really good job. The whole race went according to plan. Fifth wasn't good enough to be up front and fight for the win, but we started to make up positions like we always do. We started to see that strategy was a key thing here. We kind of managed to fight the Fords and we lost some time fighting them on everything. That is what probably allowed the 25 BMW to go crazy on strategy and that is when they went ahead of us. We learned from that, too. We are usually the ones doing crazy strategies like they did. It paid off for them. When you are in the lead pack, you need to do what we did. We got some good points over our competitors. I'm happy on how everything worked against the actual pace we had today. Porsche really deserved that win.  Next time I will be a little bit faster in qualifying so we can fight for the win."
JAN MAGNUSSEN, NO. 3 MOBIL 1/SiriusXM CHEVROLET CORVETTE C7.R – FINISHED THIRD IN GTLM:
"For how things developed, this is not a bad result. Obviously we would like to have had the pace of the Porsche and BMW today but we kind of got in the middle of them, so only one of each got ahead. It was a good race… good strategy and good pit stops from the crew as usual. We had a good race car. It was all-around fun. I had really a fun battle with Joey (Hand). We got a little racey but it was good fun. Hopefully we get to have more good racing like that throughout the year. I really enjoyed it."
 OLIVER GAVIN, NO. 4 MOBIL 1/SiriusXM CHEVROLET CORVETTE C7.R – FINISHED EIGHTH IN GTLM:
"We had to gamble a bit today. We were chasing a chassis imbalance all weekend, and we tried something in the warmup. But things just didn't go our way with the start and traffic. Tommy really got balked in a couple spots, and it seemed like that happened more often than not to stop our progress. Then we had to come in with two laps left for a splash of fuel. It was that sort of day. It seemed like we had similar pace to everyone else a lot of the time but there wasn't enough pace to get by anyone. It's a bit of a frustrating day but we'll move on and learn from this for the big one – Le Mans."
TOMMY MILNER, NO. 4 MOBIL 1/SiriusXM CHEVROLET CORVETTE C7.R – FINISHED EIGHTH IN GTLM: 
"I was pretty happy with that first stint. We're staying in touch with the cars ahead of us, depending on traffic. Maybe we were a little off but we were close enough where we could race of the most part. It's definitely tough at Mid-Ohio. There aren't a lot of tracks where you have a car that you've felt like you've worked on all weekend, and this is one of those. The racing was good and fun. It was chaotic at times with passing GTD cars and being passed by P cars. We struggled a little bit with balance, but I don't think we're alone on that. I didn't seen anyone out there who was super happy with their cars."