We all love Corvettes, it's a fact. It's why you're here on Corvsport. As such, we aim to be slightly different than other "Top 10 Interior Accessories For Your Car!" lists that then go on to list 5 flavors of coffee mug holders. We've talked to Corvette owners, we've dug through endless forums, dealer recommendations, and even dug deep into Reddit threads regarding the interior of your 'Vette.
From this extensive research, we've determined what most owners feel wears out the quickest in the older 'Vettes, what they wish they could have in the newer ones, and what odd things they think might make the interior a better place to enjoy your car. Keep in mind, though, that while these suggestions are pooled out of what we could find out there, every opinion is subjective, and we've tried to be as objective as possible while still being helpful 🙂
Note: we have posted links to the products we call out here. Some of these products are available on Amazon or eBay, where we have an affiliate relationship. If you purchase a model via these links, we may receive a small commission (at no additional cost to you). This is how we fund our site 🙂
C1 Interior Upgrades & Accessories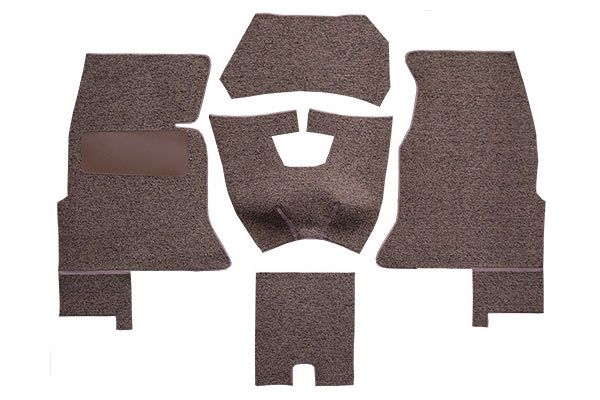 Zip Corvette Replacement Interior Carpet Set

While many interior pieces of a Corvette may get the occasional touch or two, the carpets and seats take the bulk of the wear. For a C1 Corvette, having original carpet in mint condition is a rarity, and even then, it's almost 50 years old.
What we like about Zip Corvette's interior carpet sets is that they have both color-matched and style matched to original carpets, as well as non-original carpet sets with some variations in color. They are also woven in an 80/20 loop style, meaning they are quite durable and take well to cleaning.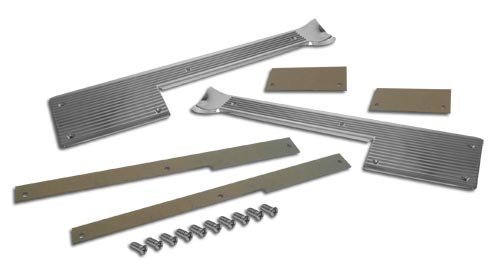 Southern Car Parts Replica Sill Plates w/ Spacers

Southern Car Parts themselves say it best: "There's nothing like opening your door on your beautiful C1 1961-1962 Corvette only to see a scratched and nicked sill plate that makes your interior look bad." These sill plates are easy to install, are made of durable stainless steel and weatherproofed rubber, and are guaranteed to have an OEM fit.
C2 Interior Upgrades & Accessories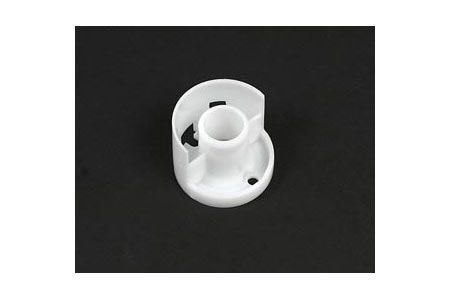 Zip Corvette Turn Signal Cancelling Cam

Despite the C2 generation being otherwise well built, wear and tear over decades of use wears out even the most hardy of components. As we've documented before here on Corvsport, the turn signal canceling cam is one of the most common interior accessory failures in the C2 generation.
Thankfully, Zip Corvette has a reinforced plastic replacement canceling cam at a very reasonable price, that requires minimal disassembly of the steering column to install and return your turn signals to regular functionality.
C3 Interior Upgrades & Accessories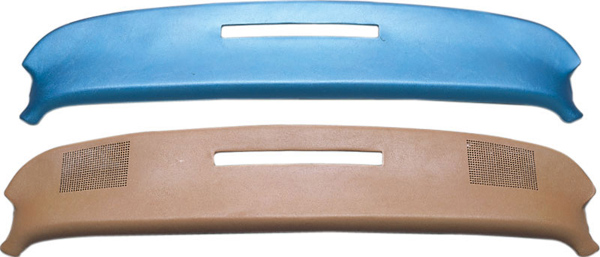 Corvette Mods C3 Replacement Upper Dash Pad

We all know that the 1970's was the decade of synthetic materials: polyester, plastics, vinyl, the lot. We also know, as Corvette fans, that these materials do fade with continued exposure to sunlight and the endless steps of time. That's why we love these upper dash replacement pads from Corvette Mods!
They have all necessary mounting hardware already attached (clips, brackets, etc) and have pre-cut speaker holes. Best of all, they have the pads in all 1968 to 1976 colors, and they are made to be an OEM fit.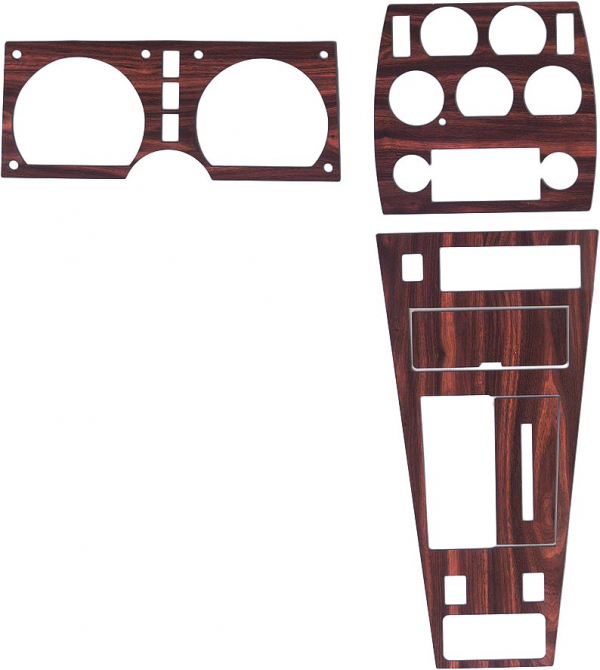 Eckler's Corvette Center Dash & Console No Marring False Wood Trim, Rosewood, Full Kit

Apart from the seats and the carpets, one of the most touched, bashed, dented, scratched, abused, and otherwise worn out part of a Corvette is the console. Be it from being left out in the heat too long, or from tossing things around inside the car, to just plain wear and tear, it does detract from the nice looks the C3 can have inside.
This replacement kit comes with all parts precision laser cut and has strong adhesive to last for years once installed. Available in Burlwood (dark wood) as well
C4 Interior Upgrades & Accessories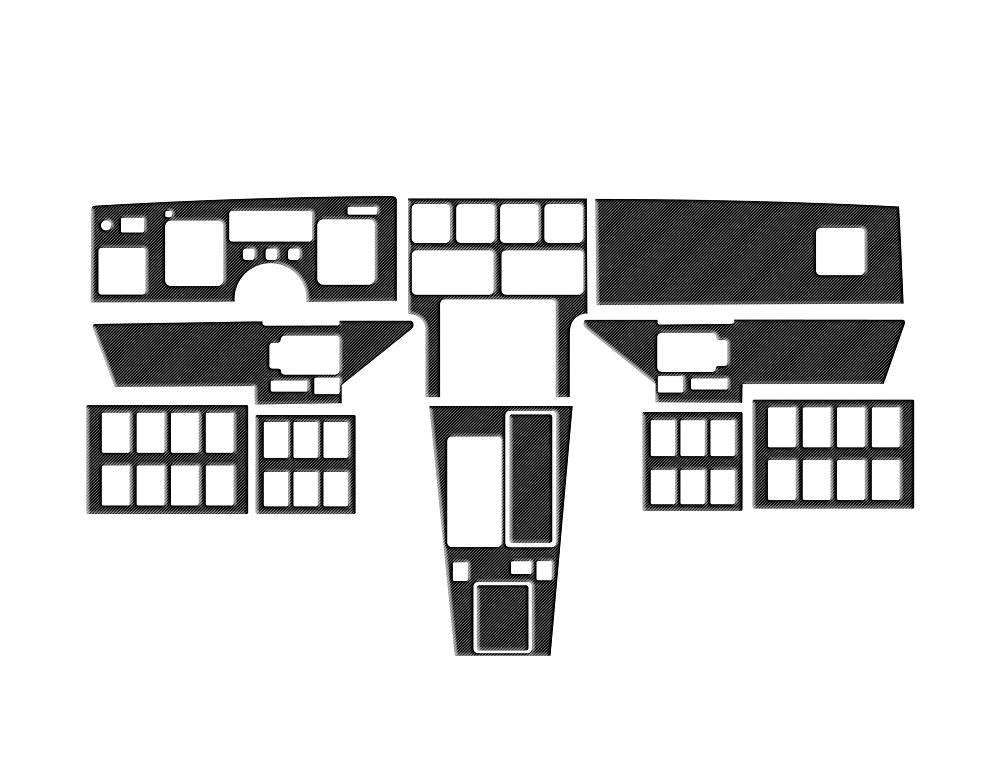 Corvette Mods Carbon Fiber Emulation Dash & Trim 12 Piece Kit

As evidenced by the sudden boom of supercars being made out of the stuff, carbon fiber (real carbon fiber, that is) was the latest and greatest synthetic material of the 1980s.
While replicating the entire dash of a 1986+ Corvette completely out of carbon fiber would cost well north of $15,000 or more, this kit is the next best thing with lightweight yet sturdy plastic that will replace the entirety of the interior console and dash.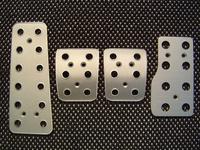 Corvette Mods Billet Racing Pedals, Auto & Manual

One of the things that most people notice about the C4 generation of Corvette is that despite having great looks and a great engine, the pedals generally leave most with a bit of a frown, due to their size and material.
Worry no longer, as you can now get billet replacement racing pedals, in a variety of patterns and finishes, that should leave your feet happy and a smile on your face. Designed to be installed in minutes with common home mechanic tools.
C5 Interior Upgrades & Accessories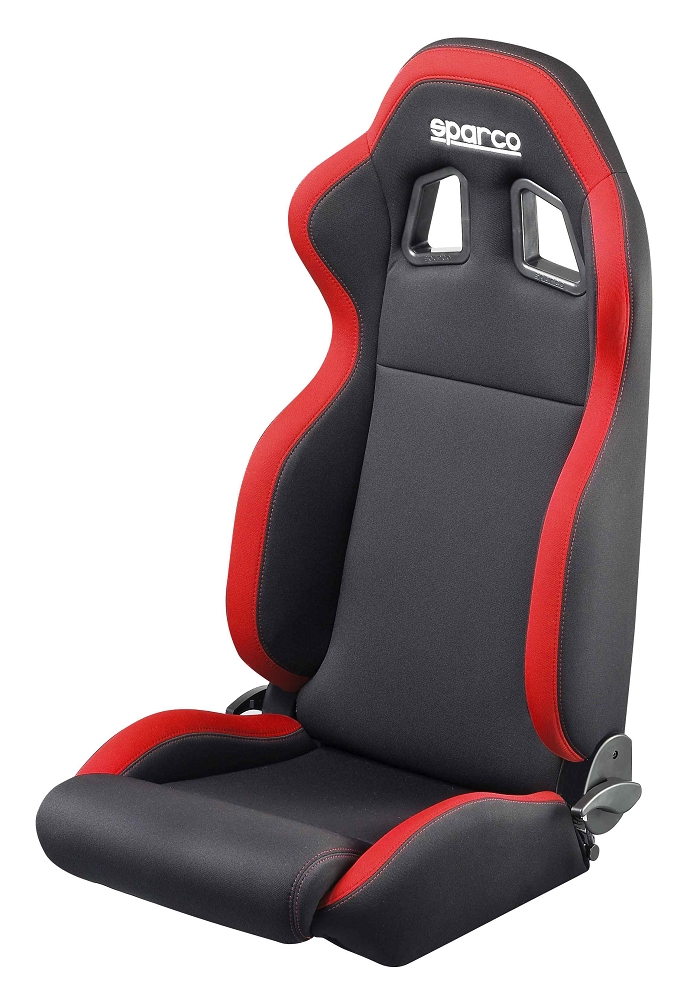 Sparco R100 "Racing" Seat

Admit it, once you saw the C5.R pounding around the IMSA, GTLM, and GTE circuits worldwide, you knew, you just knew, you had to have a little of that racing pedigree added to your C5. Thankfully, Sparco has you covered with this "racing" seat.
Why the quotations? Because it's not an actual race approved seat, nor should you enter any actual races with it installed, but it's more than capable of handling autocross and track day work, and it even reclines so you can find a perfectly comfortable position to drive in.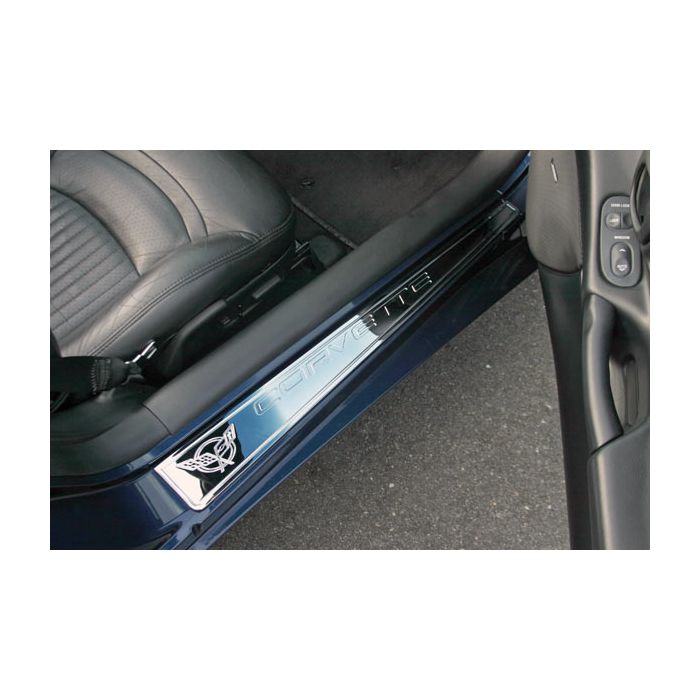 Zip Corvette Billet Aluminum Sill Protectors

While not necessarily a bad thing, the standard Corvette C5 sill guards feel a bit on the cheaper end of things. Rubberized plastic that can easily peel back if hit too many times? That's why we like the idea of these billet aluminum sill guards, as if they do get hit, they won't fold up at the edges or start to delaminate. Installed in seconds with a strong bonding adhesive either over the OEM sill guards or in place of them, you choose!
C6 Interior Upgrades & Accessories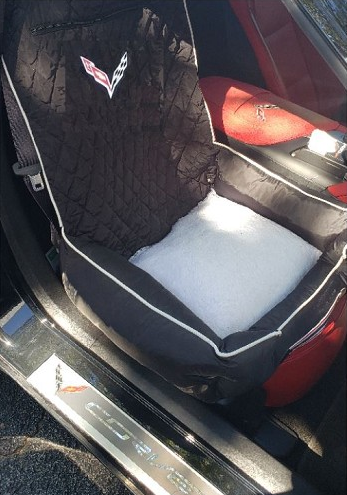 Corvette Seat Armor Petbed2go with Corvette Logo

Okay, okay, hear us out first. We can already hear you going "What?!" reading the title on this specific item. However, how often does a Corvette owner, an owner of the quintessential "American Dream" car, also have another of those quintessential "American Dream" items: a dog?
Now, as the seats of your 'Vette are expensive to repair should a dog get a bit excited or such while on their ride to the park or, hate to say it, the vet, this easily installed and secured seat protector will A) keep them comfortable and B) keep your seats protected. Win-win, right? We thought so!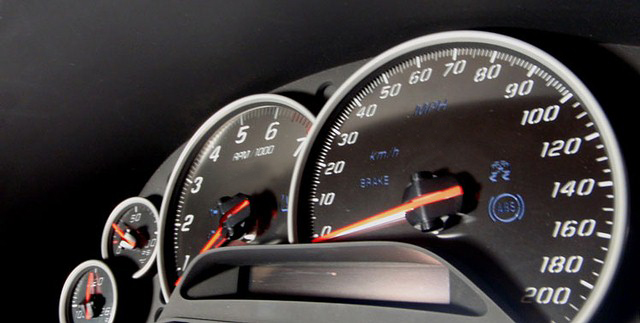 Corvette Mods Chrome Stealth Gauge Faceplates

Price: $259.99 on Corvette Mods
Years: 2005-2013
It may be a bit of a personal preference thing, but blacked out gauge faces just ooze that little bit more evil than the innocent white gauge faces most cars have. And what's more evil than a snarling V8 ready to reduce the mileage life of your rear tires by a few hundred miles when you drop the clutch?
Made out of stainless steel and designed as a direct replacement for the OEM factory guage faces, the kit retains all factory lights and warnings.
C7 Interior Upgrades & Accessories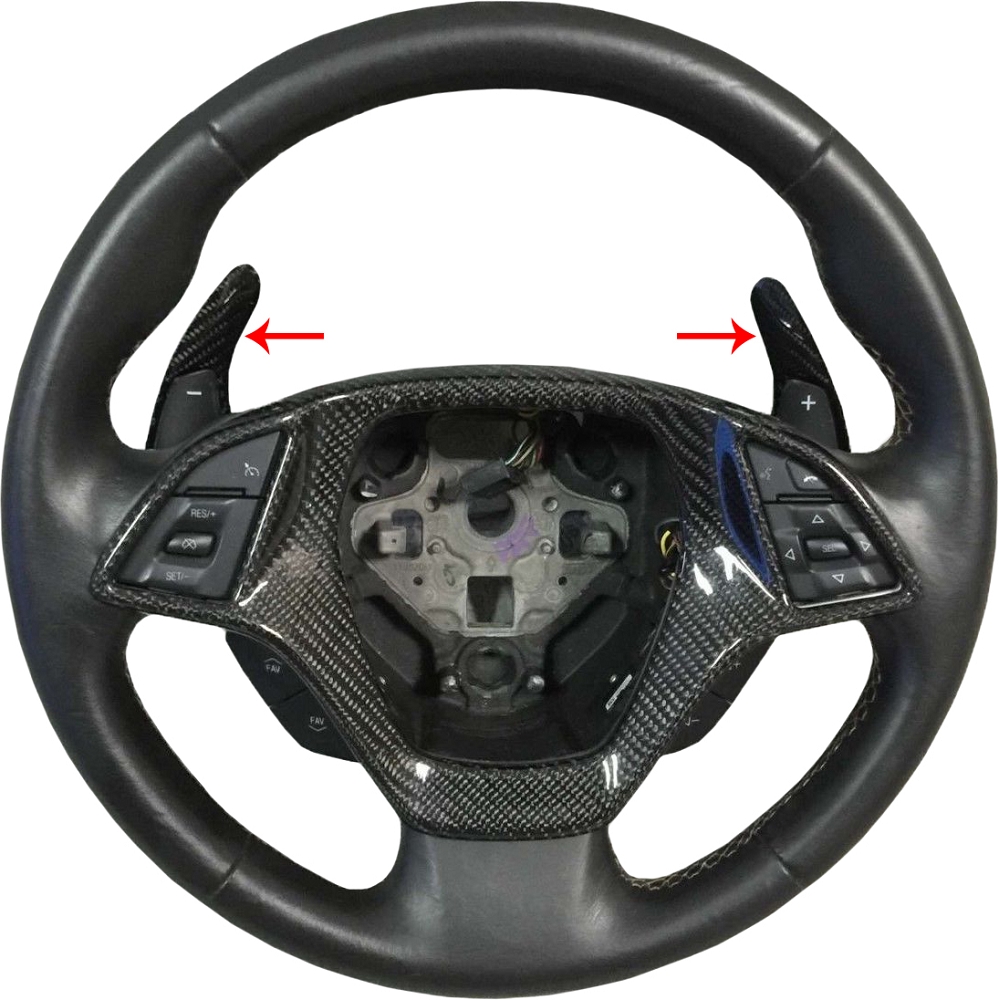 Corvette Mods C7 Paddle Shifter Extenders, Carbon Fiber

If you own an automatic C7 and you have larger hands, you know how small those paddle shifters feel. With this upgrade, you essentially get another inch and a bit of paddle, making it much easier to shift with your index and/or middle fingers.
We like the carbon fiber version because heck, if you're going to upgrade the interior of your 'Vette, as the saying goes: "There's no kill like overkill." 🙂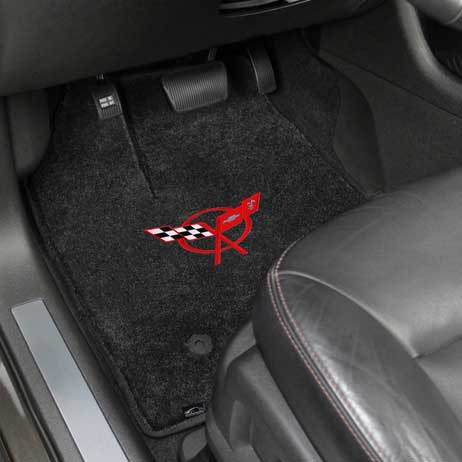 Lloyd's Luxe Carpet Floor Mats

During our research into the best mods for each generation, and then finding the best of those mods and accessories, one name kept coming up in every forum, review, Reddit thread, and dealer recommended upgrades: Lloyd's. Looking into it, we can see why.
These Luxe Floor Mats from Lloyd's are heavyweight at 48 oz's per yard, and are woven in a way that prevents tearing out of threads or fraying around the edges. Another important feature is that they come fully Scotchguard treated from the factory, and they carry a lifetime warranty, so if you stain it somehow unintentionally, they'll replace them.