2014 – 2019 Callaway C17 Corvette
Callaway SC627 Stingray / SC627 Grand Sport/ Callaway SC757 Z06
For the 2014 model year, the Chevrolet team sculpted the seventh-generation Corvette into the most sophisticated, most feature-packed Corvette produced to date. Facing a daunting challenge, new technology enabled Callaway engineers to produce breathtaking power with seamless transition into and out of positive manifold pressure.
The Callaway SC627 Stingray or Grand Sport, and the Callaway SC757 Z06 were the three models that all arrived in 2017. Note that these Callaway packages can be applied to existing 2014-2019 Corvettes to make them official Callaway Corvette SC627 or SC757 specifications, which is why the title of our post is 2014 – 2019 vs 2017 when this package was first announced.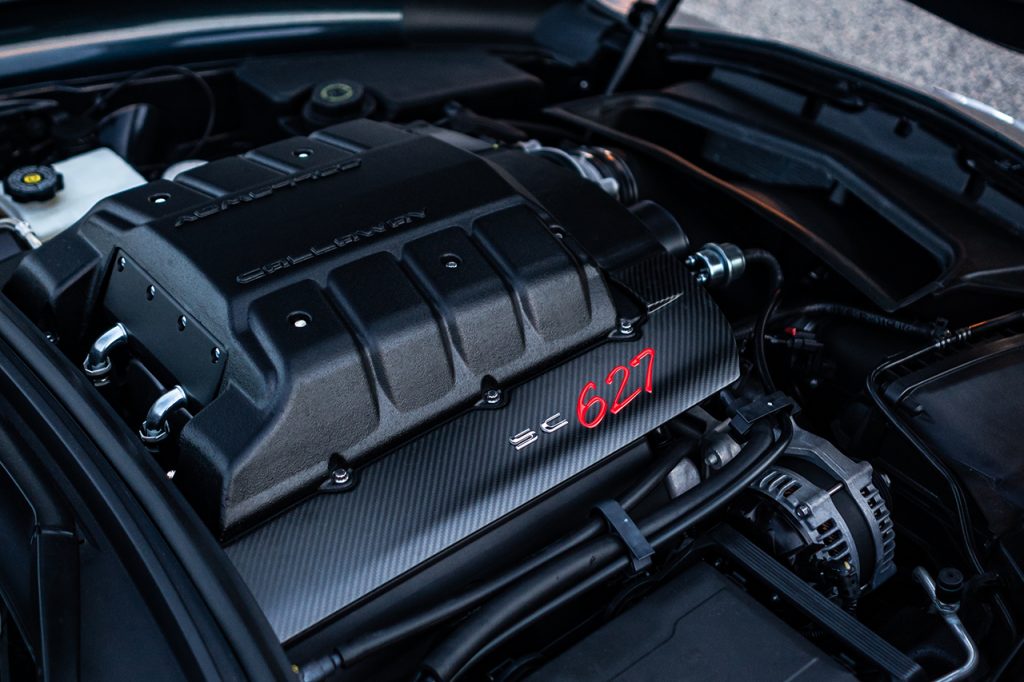 Both variants come equipped with a Callaway "GenThree" Supercharger with a "TripleCooled" Intercooler system, a Callaway High-Flow Intake system, Callaway embroidered floor mats, Callaway door sill panels, exterior and interior Callaway badging, Callaway underhood plaque and vehicle identification number, Callaway key fobs, Callaway Corvette authenticity documentation and a 3 year/36,000 mile limited warranty (NOTE: The Callaway warranty supplements the GM factory warranty.  For anyone looking for more information, please call 1-866-927-9400 toll-free for more information.)
When so equipped, the cars produce performance numbers that far exceed their factory counterparts.  The SC627 (Stingray and Grand-Sport based variant) continues to feature the same 6.2 liter, 376 cubic inch engine, but with the aforementioned Callaway add-ons, now produces a maximum power output of 627 horsepower @ 6,400 rpm (SAE), and a maximum torque output of 615 lb-ft @ 4,400 rpm (SAE).  The SC627 has a tested 0-60 time of just 3.4 seconds and a quarter mile time/speed of 11.0 seconds at 126 mph.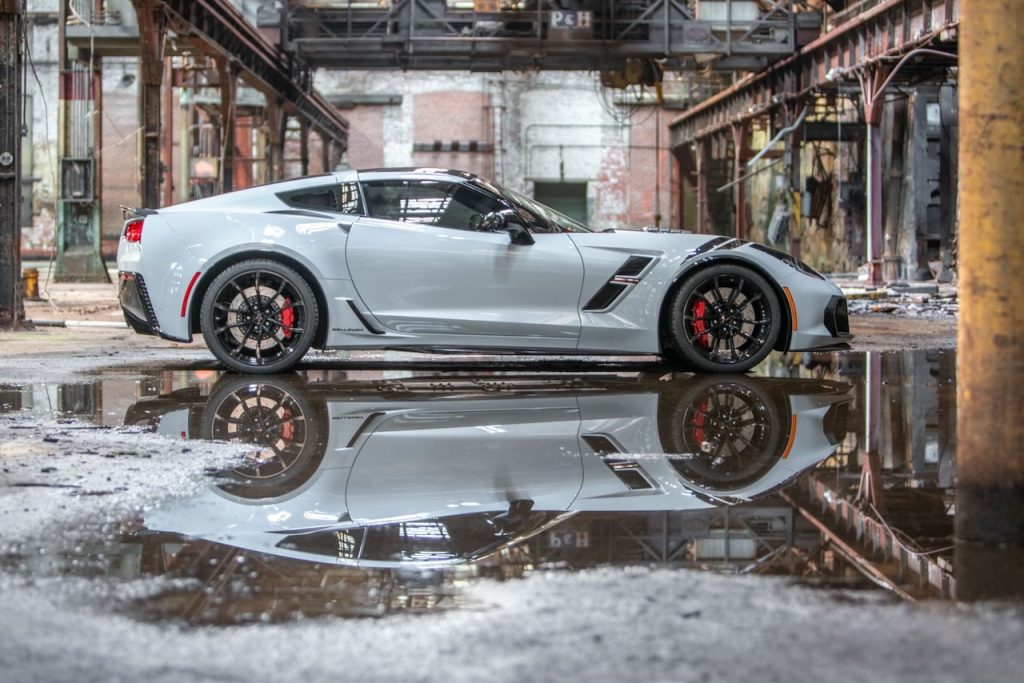 While the SC627's numbers are impressive, the SC757 (Z06-based variant) numbers are just plain scary.  Utilizing the same LT1 block, and incorporating the factory supercharger in addition to the aforementioned modifications, the SC757 has a maximum power output of 757 horsepower @ 6,500 rpm (SAE) and a maximum torque output of 777 lb-ft @ 4,500 rpm (SAE).  When tested, the SC757 produced a 0-60 time of just 2.8 seconds with a quarter mile time/speed of 10.5 seconds at 131 miles per hour!
Both the SC627 and the SC757 can come equipped with the same AeroWagen package referenced above, and also include a number of additional options that can be ordered when purchasing a Callaway Corvette variant.  These options include the aforementioned Shooting Brake package, the Callaway Sport Exhaust system, the Callaway "ShortThrow 7" speed shifter, a Carbon Flash Emblem Package (excluding the Z06), Callaway Nine Spoke Alloy Wheels (excluding the Z06), a Callaway Corvette car cover, the National Corvette Museum Delivery option, the Callaway Factory Delivery and a Callaway five year/60,000 mile limited powertrain service contract.
Both the SC627 and SC757 are assembled at Callaway's manufacturing facilities in either Connecticut or California.  For those looking to purchase the AeroWagen bolt on package only, Callaway can perform the installation at either of these facilities as well as at any Callway Authorized retailer.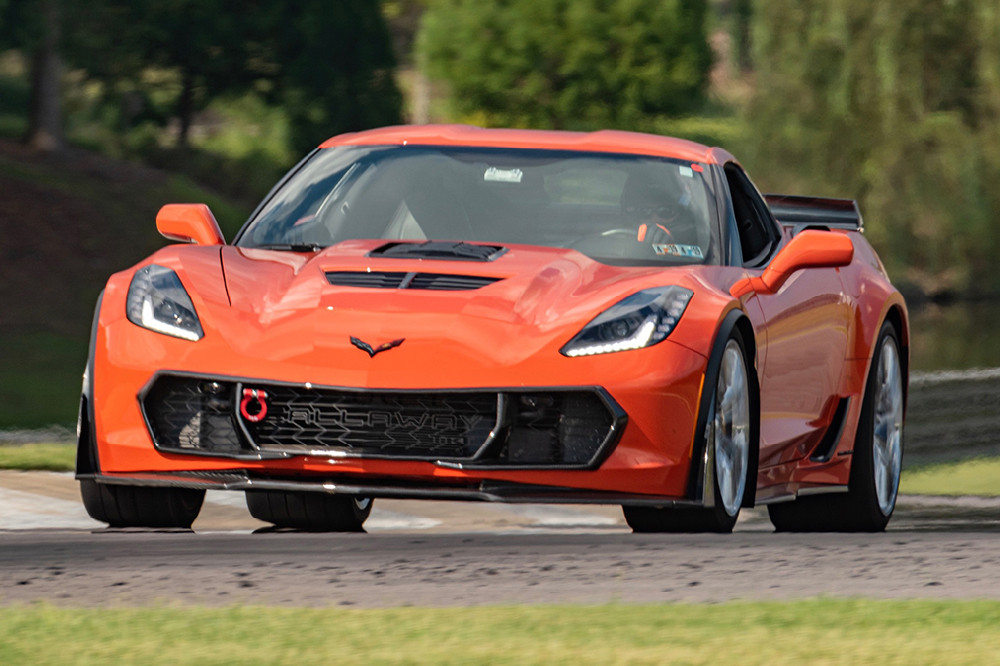 SC627 Summary
Callaway Corvette Stingray or Callaway Corvette Grand Sport
Engine Displacement – 6.2L/376 cu. in.
Maximum Power – 627 hp @ 6400 rpm (SAE)
Maximum Torque – 610 lb-ft @ 4400 rpm (SAE)
0 to 60 mph – 3.4 seconds
1/4 Mile ET/Speed – 11.0 seconds @ 126 mph
Standard Equipment
Callaway GenThree™ Supercharger with TripleCooled™ Intercooler System …more info
Callaway Carbon Engine Covers with SC627, SC757 Emblems
Callaway High Flow Intake System
Callaway Embroidered Floor Mats
Callaway Door Sill Panels
Exterior and Interior Callaway Badging
Callaway Underhood Plaque with Vehicle Identification Number
Callaway Key Fobs
Callaway Corvette Authenticity Documentation Package
3 Year/36,000 Mile Limited Warranty
Optional Equipment
Callaway AeroWagen™ Shooting Brake Package
Callaway HD Cooling Systems
Callaway Sport Exhaust System
Callaway S3 7 Speed Shifter
Carbon Flash Emblem Package (exc. Z06)
Callaway Corvette Car Cover
National Corvette Museum Delivery
Callaway Factory Delivery
Track Delivery at Thompson Speedway Motorsports Park
Callaway 5 year/60,000 mile Limited Powertrain Service Contract
SC757 Summary
Callaway Corvette Z06
Engine Displacement – 6.2L/376 cu. in.
Maximum Power – 757 hp @ 6500 rpm (SAE)
Maximum Torque – 777 lb-ft @ 4500 rpm (SAE)
0 to 60 mph – 2.8 seconds
1/4 Mile ET/Speed – 10.5 seconds @ 131 mph
Standard Equipment
Callaway GenThree™ Supercharger with TripleCooled™ Intercooler System …more info
Callaway Carbon Engine Covers with SC627, SC757 Emblems
Callaway High Flow Intake System
Callaway Embroidered Floor Mats
Callaway Door Sill Panels
Exterior and Interior Callaway Badging
Callaway Underhood Plaque with Vehicle Identification Number
Callaway Key Fobs
Callaway Corvette Authenticity Documentation Package
3 Year/36,000 Mile Limited Warranty
Optional Equipment
Callaway AeroWagen™ Shooting Brake Package
Callaway HD Cooling Systems
Callaway Sport Exhaust System
Callaway S3 7 Speed Shifter
Callaway Corvette Car Cover
National Corvette Museum Delivery
Callaway Factory Delivery
Track Delivery at Thompson Speedway Motorsports Park
Callaway 5 year/60,000 mile Limited Powertrain Service Contract
Videos & Reviews
Picture Gallery