The Corvette Manufacturing Plant  celebrates the completion of the Last C4 Corvette as it rolls off the assembly line on June 20, 1996.
Introduced in 1984, the fourth-generation (C4) Corvette was the first model to be completely redesigned since the C2 was introduced in 1963.  Production of the C4 was originally slated for 1983, but quality issues and significant re-tooling of the Corvette production plant limited production of the 1983 Corvette to just 43 prototypes – forty-two of which were later destroyed.  The single remaining 1983 Corvette resides at the National Corvette Museum in Bowling Green, Kentucky.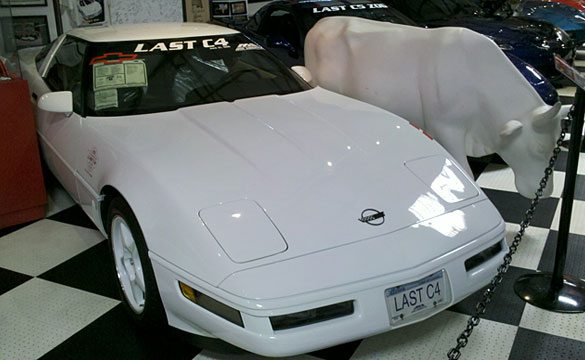 Production of the fourth-generation Corvette officially started on January 3, 1983 for the 1984 model year.  Delivery of the C4 Corvettes to customers began in March, 1983.  For the next twelve years (1984-1996), Corvette would manufacture 358,180 units, and would include a number of special edition cars including an Indy 500 Pace Car Edition in 1986, the 35th Anniversary Edition in 1988,  the ZR-1 model from 1990-1995, a 40th Anniversary Edition in 1993 and a Grand Sport Corvette in 1996.
As each model year improved upon the last, the fourth-generation Corvette probably saw the most significant transformation and evolution of any generation of Corvette – either before or since. The C4, which started its life in 1984 as a well-designed, though significantly under-powered 205 horsepower sports car, was recognized mostly for its handling.   However,  by the time it ended its run in 1996, it was recognized as a high-performance sports car that could produce as much as 330 horsepower (when equipped with the LT4 engine and a manual transmission) and could hold its own against some of the best sports car competitors around the world.
Just like the other generations of Corvette that preceded it, the engineering, design and manufacturing teams that worked on the fourth-generation Corvette built the car with a passion that showed in each of the cars they produced.  This video celebrates the "end of the era" and showcases the assembly of the final 1996 Corvette as it made its way through the Corvette Manufacturing Plant in Bowling Green, Kentucky.  The final car rolled off the assembly line on June 20, 1996, and was celebrated by all involved in its creation as "the last of a legend."  Even after 21 years since the last car was built, the C4 is still one of the most readily available – and affordable – Corvettes in the market today.