When I began this series showcasing this uplifting and ambitious rescue from John G. of Newburyport, MA, I had no idea how you all would respond, or how phenomenal the outcome would be. Thanks to our CorvSport community for putting your "stamp of approval" on it, with over 1100 likes/comments/shares on our Facebook page. But more importantly, a big thanks to John, because without your attention to detail, skills, and passion for rescuing these old relics, these 7 episodes of a truly inspiring rescue would have never happened.
If you need a review of John's restoration or missed an episode, here are the links: part one, part two, part three, part four, part five, and part six. Each episode is a quick 5-10 minute read with lots of cool pictures, and you won't be disappointed watching the transformation.
Before we go on, a quick reminder of the story of this Pace Car and what John started with.
"The story that I was told is it was owned by a local Krispy Kreme store owner. He drove the car up until he moved to Florida. When he went down to FL he left it with his mechanic to take care of it while he was away. Fast forward 7 years later and he returned to find the car sitting outside without the tops on it, and it was like that for years. He was so disgusted he had the local scrapyard pick it up and he went back to FL."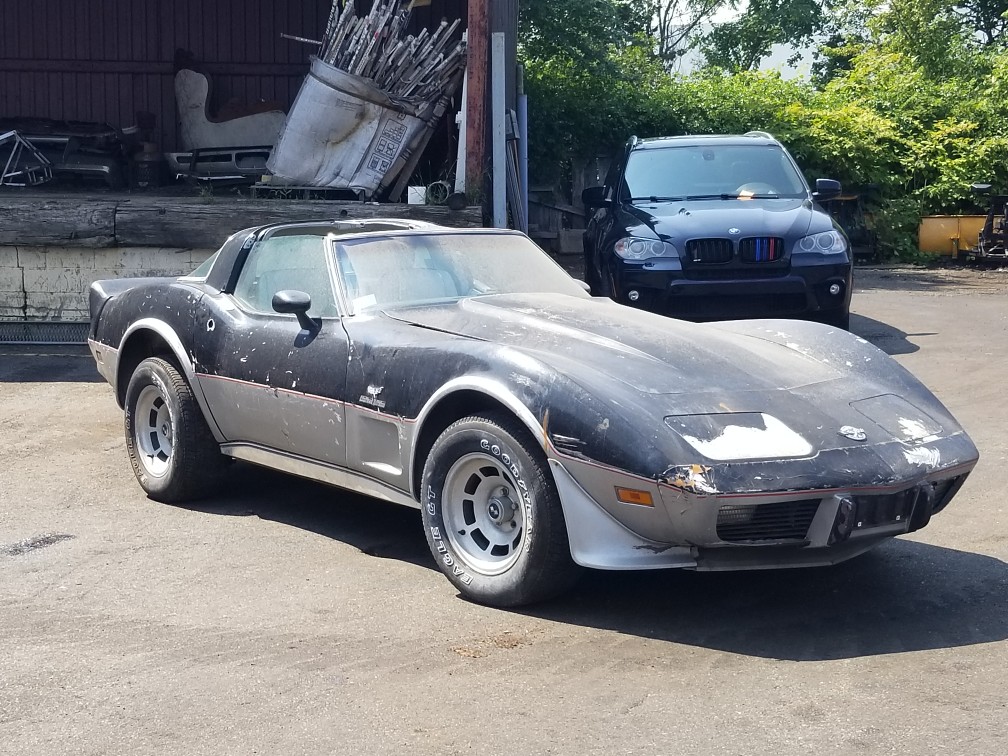 When we last left off, John was finishing working on some projects with the interior while waiting for his Pace Car decals to arrive. After getting the dash back in, John remarks, "The gauges and radio are wired up, and the power antenna is working. Refurbished the HVAC controls as well. I need to order a new rug. Tossed the old junk out aside from the console pieces. Same with the seat covers. Also got the rear window installed and trim back on. Looks 100x better than before."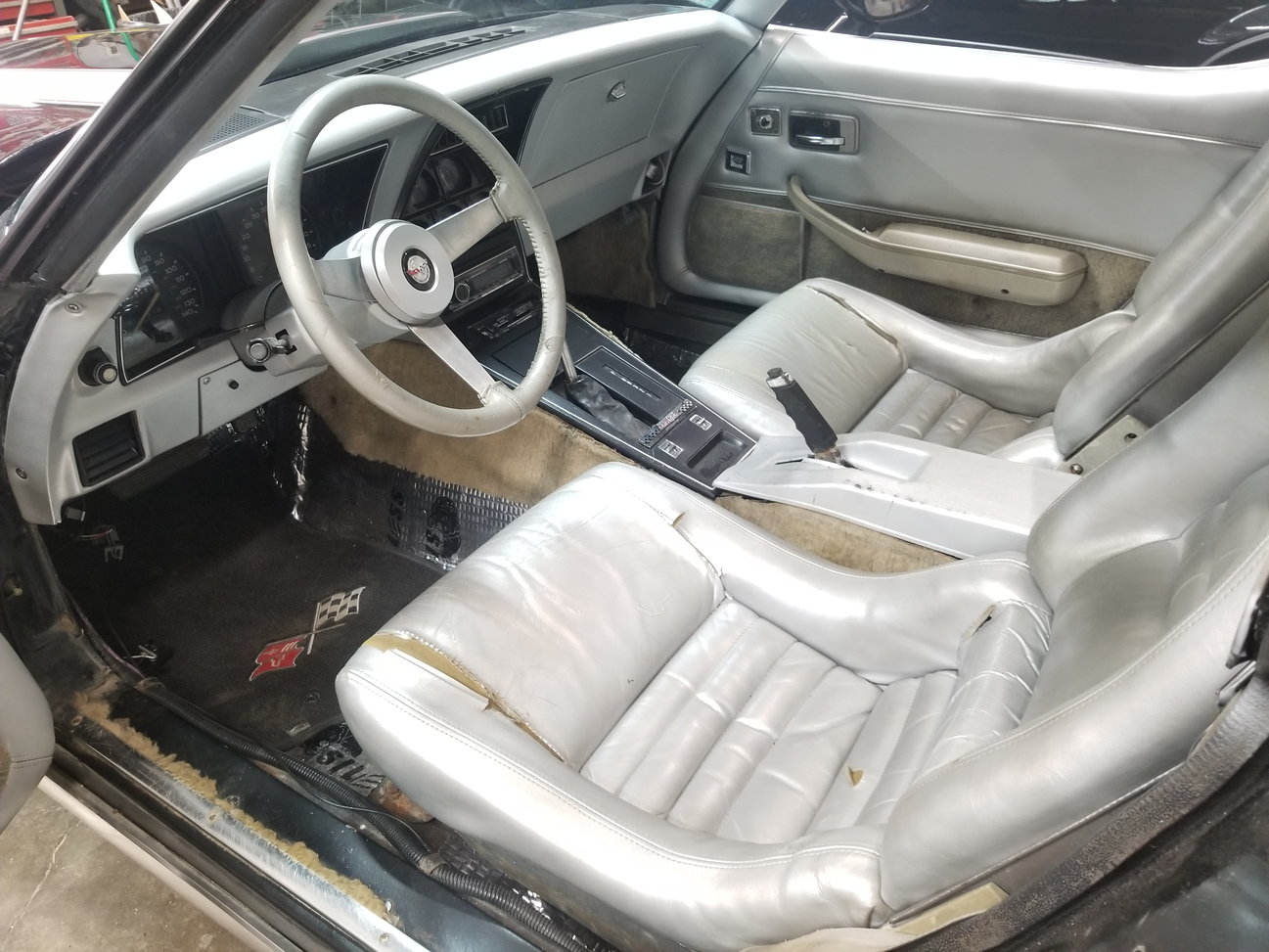 The Pace Car decals arrived, and after installation, John notes, "Went with the door lettering this time around. I owned a 78PC a few years ago without them, so I figured I'd switch it up. Everything laid down nicely, but holy hell the transfer material Phoenix Graphics uses is a giant pain in the ass to work with. Way too strong, too much adhesive to comfortably remove from the decals once they're applied. The lettering took a long time just to separate from the backing before I could put them on the car. I'll grab a pic of it outside later, but here it is on the lift. I'm buttoning up the exhaust now."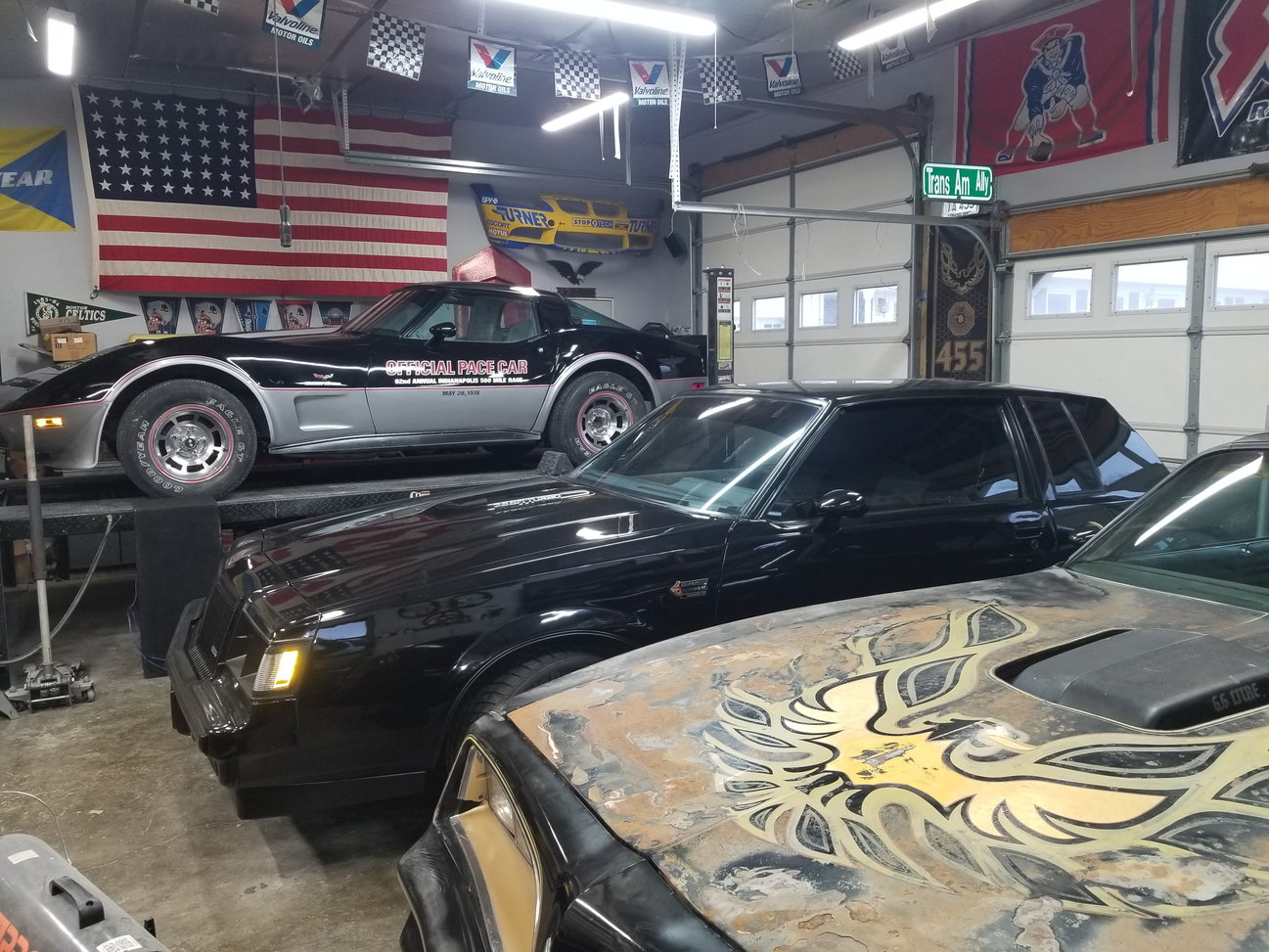 If you are curious about that Trans Am, here are just a few interesting details from John. "I've been daily driving that 77 all year. Pulled out of the woods in Maine after sitting 27 years. It's a real W72 Y82 4 speed car. I currently have 6 TAs stashed in the garage. lol"
And as promised, here is a better picture from the outside, as the Pace Car is off to the dyno for "a good tune", and the tint shop to get the windows done with 5% on the rear and 20% on the sides. John also put brand-new tires on her and replaced the calipers (yet again).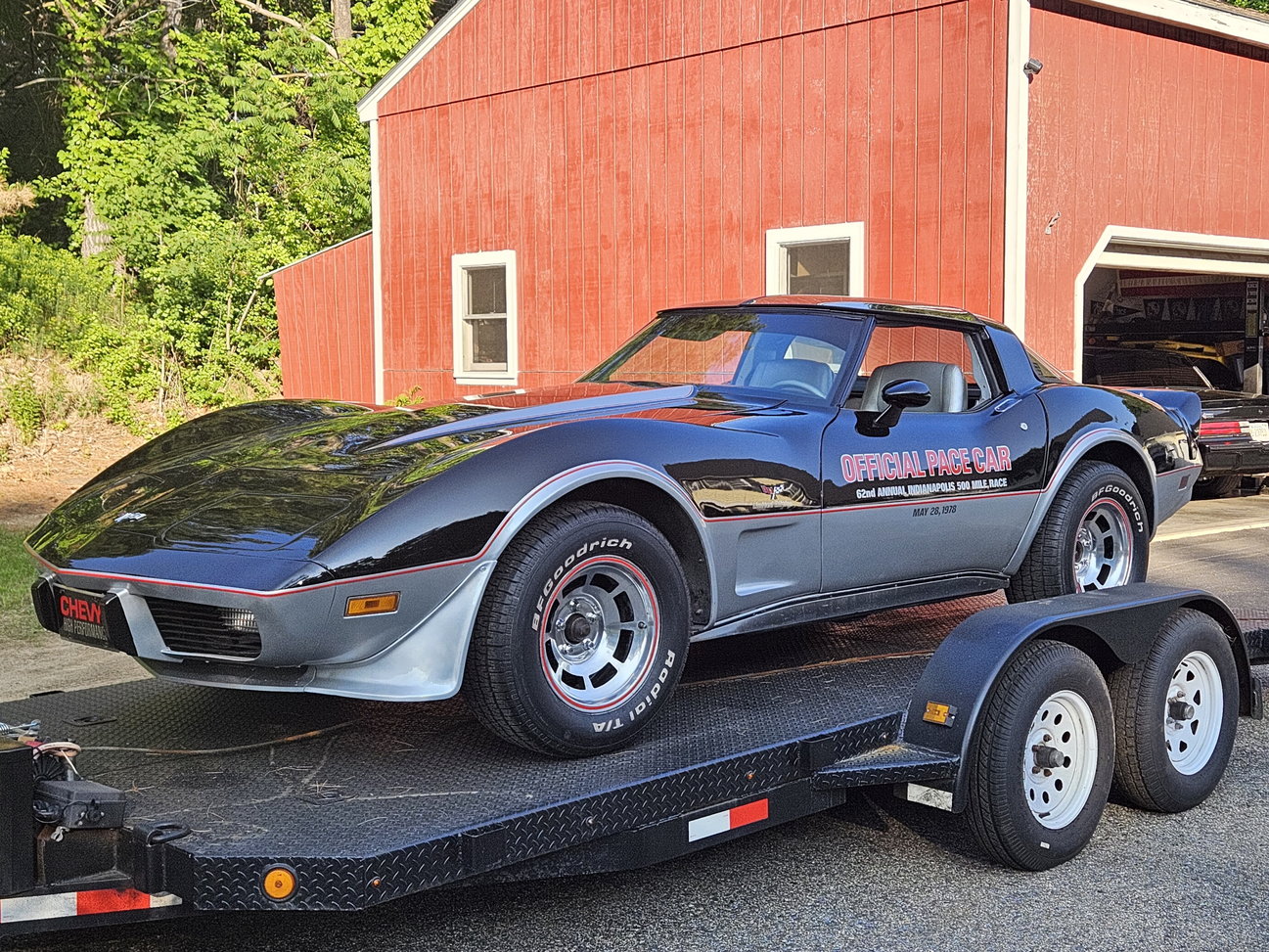 John gets the Pace Car back from the dyno, and comments, "Put down some pretty respectable numbers for a stock 6.0 with a camshaft on the smaller side. If I ran a tighter converter it probably would've put down a little more, but I like the driveability of the looser converter in it, and it should really work well on the highway. Made 371HP and 358FT/LB at the tires. The goal wasn't to build a max effort setup, just something that has some decent power and has excellent street manners."
As a refresher, here is the engine set-up John went with:
"It's a 6.0 LS. Has a 228/230 cam, sheet metal intake with a 102mm throttle body, long tubes, and a TH350 with a 3200rpm stall. I have the same drivetrain in another car and it's pretty stout for what it is."
And that dyno sheet!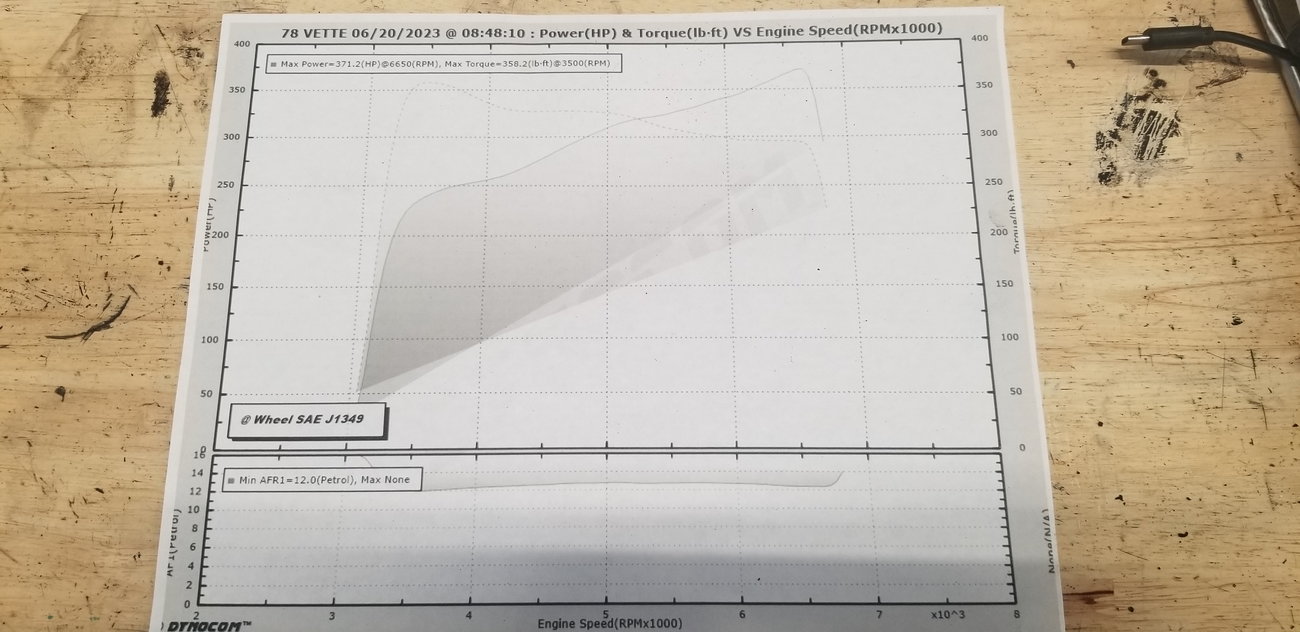 As John nears completion, he does some reflection on the restoration, and says, "It's been an interesting journey for this car. Initially I was gonna chop it up and make a race car out of it, but somewhere down the line it morphed into a somewhat restomod, cruiser build. There's still plenty to do. Up next is the interior and sound system."
You can certainly tell John is a perfectionist, as the end vision is never really complete. But John does manage to sit back and enjoy what he has accomplished with some more reflection.
"The 78 PC is just so cool looking. The color combo is what draws me to them. I can say this, with the headers, full 2.5″ true duals into Flowmaster 40s, with that camshaft, it sounds nothing like a 78 anymore. Even at idle it pounds your chest lol Should definitely raise some eyebrows at Corvette shows…"
Alright, enough talk about this engine, as promised here is that walk-around video!
John finishes up his thoughts on this rescue by contemplating what the Corvette experience will be like for him.
"It certainly doesn't sound like other Pace Cars lol I wonder how it'll be received at Corvette shows? The thing had one foot in the grave, so as far as I can see, it was saved. Still, it should be amusing to see a few purists get twisted up. I got a couple NCRS decals (Not Correctly Restored Stingray) and one will go on this. 🙂 "
I love it, the pseudo-NCRS decals sound like a great idea! And yes, it was SAVED! Once again, a huge thanks to John for providing an awesome transformation for us to enjoy! Once he gets it out on the road and lets it breathe, I will report back with any videos. We have an active community on our Facebook page, I would love to hear from you.  Douglas B.