AUCTION: Here's your chance to build the 1968 Corvette Coupe of your dreams!!
When Chevrolet introduced the third-generation Corvette in 1968, they built a total of 28,566 units for its freshman year.  Of these, just 9,936 were coupes.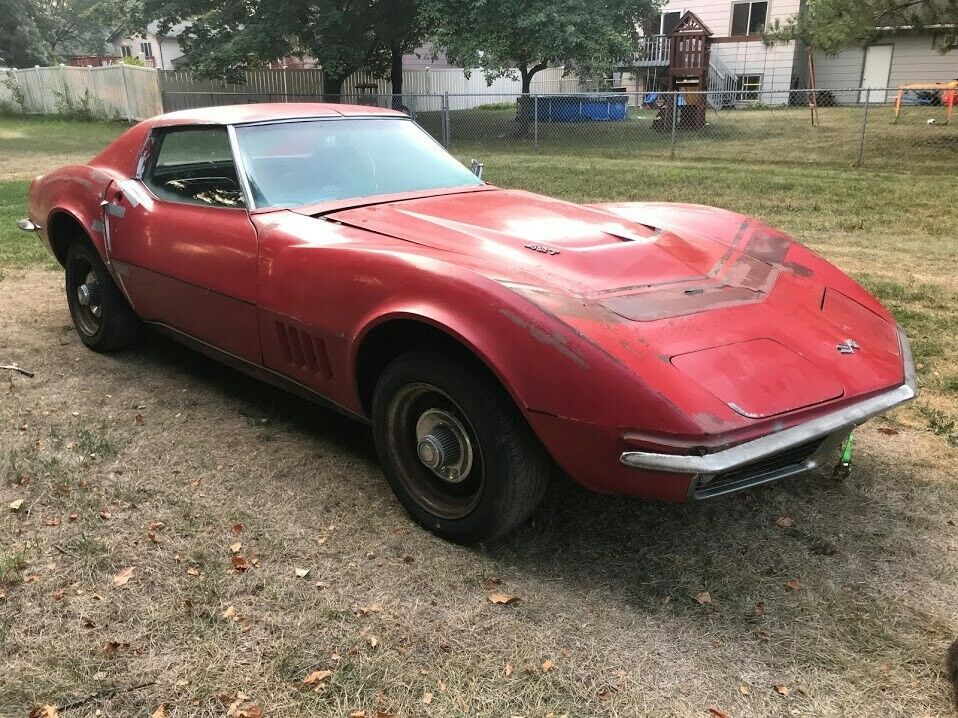 By 1975, the popularity of the convertible option had diminished to a point that Chevrolet decided to discontinue production of a convertible Corvette indefinitely, making the coupe the only option available to consumers for the remainder of the third generation's production run (which, incidentally, ended in 1982.)  However, the early-generation coupes (especially in 1968) were anything but commonplace when new – and have become significantly less commonplace today.
Between aging out, being damaged in accidents, being custom-built into something different entirely, finding an unmolested 1968 Corvette coupe can be a bit of a challenge.  Yes, there are still a bunch out there, but they're either a.) prohibitively expensive to purchase, and/or, b.) They need some work, have high mileage, or are a hybrid of other cars/parts (not a numbers-matching car.)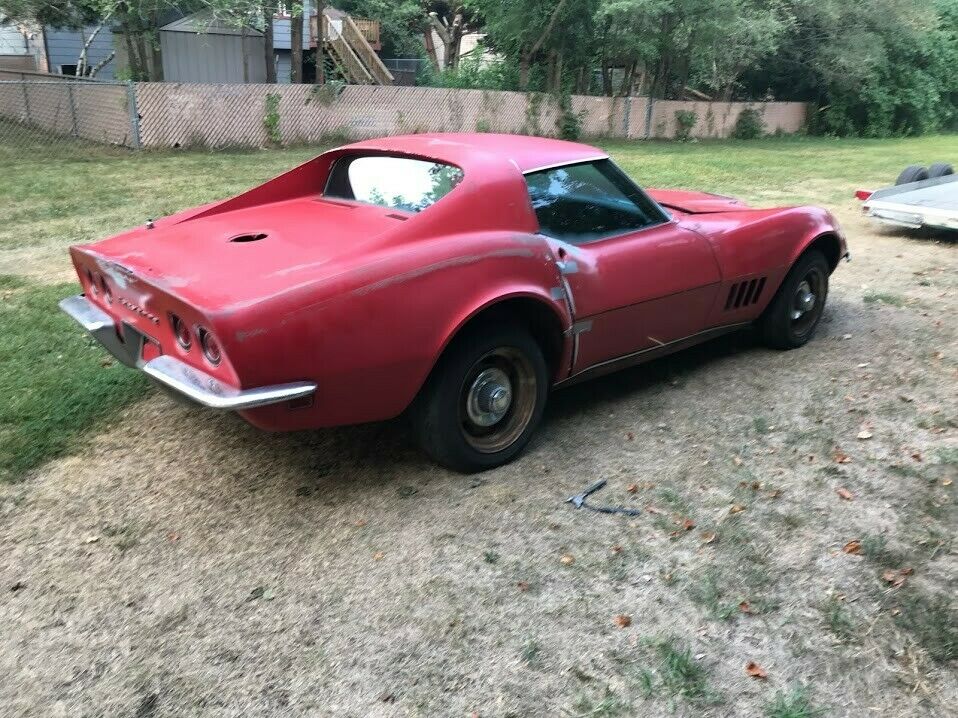 The reason were discussing this particular model year is this – we found an (allegedly) numbers-matching 1968 Corvette coupe for sale on Ebay that hasn't been registered since 1971.  This car, which features a 400 horsepower, 427 cubic-inch, tri-power V8 engine paired to a four-speed manual transmission, is a great restoration candidate at an affordable price point.
Of course there's more to the story, and we're going to try and provide all the details that we can.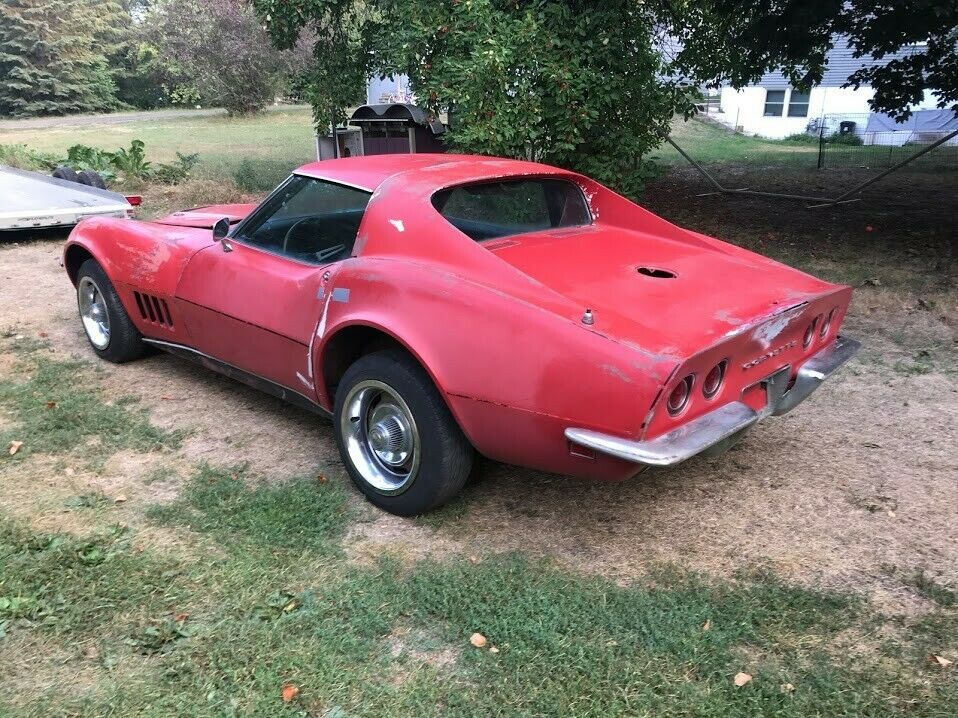 To start, this car IS missing parts.  The seller, who goes by clifton81 on Ebay, provided this list of "what (he) knows" to be missing: the radiator, fan shroud, fan, the carburetor linkage, the distributor, brake calipers, the gas tank and the gas cap.  Additionally, the right hood hinge is damaged on its underside and will likely need to be replaced.
While these items are certainly worth noting, the biggest unknown about this car is the condition of its frame and some of its substructures.  The seller states that the frame is solid on the passenger side, as well as up front and in the rear of the car.  The driver side, however, has some rusted areas, especially near the rear corner under the seat and the center braces between the two side rails.  In addition to the frame, the seller also notes that the doors need work.  He indicates that the door skins are in good shape, but the door frames have rusted out.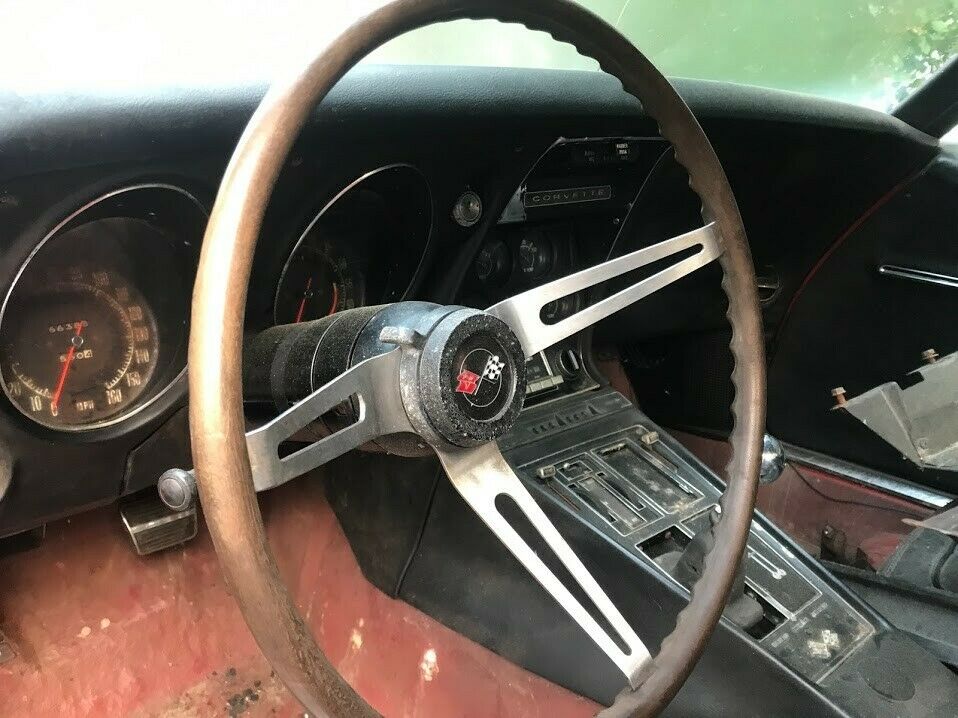 The seller states that the car's interior looks complete (minus carpet).  It features a black interior, a three-spoke, wood-grain steering wheel, and a complete dashboard and instrument cluster.  While the interior could use a good cleaning, its impossible to say (from the images provided) if it will need anything further.
Now you may be wondering why we're making such a big deal out of a car that, frankly, needs this much work.  Basically, its because we believe this 1968 Corvette has the potential to be a very affordable, numbers-matching car of a less common vintage.  It's going to require a lot of work to bring it back to life, but at the end of the day, this car could be restored to a beautiful showpiece, With a current asking price of just over $10k, it might just be worth the investment to have a numbers-matching Corvette that's ready for restoration.
You can find the original auction by clicking HERE.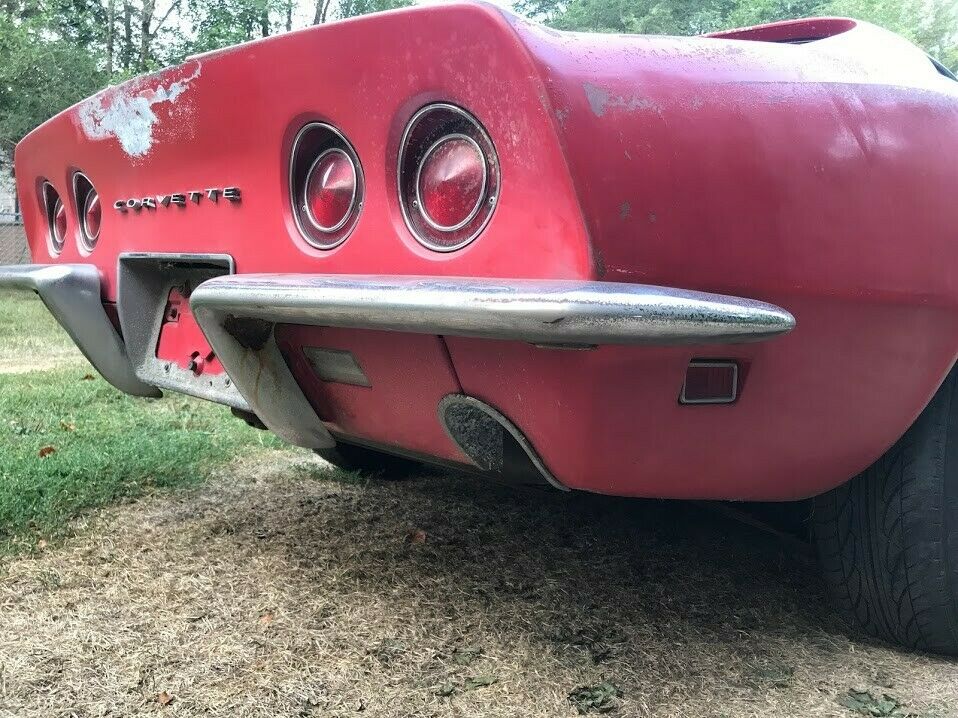 Should you choose to bid on this car, we wish you the best of luck.  Corvsport.com has no professional affiliations with either Ebay or the seller of this automobile and has not been compensated in any way for sharing this listing.