Following its unveiling at the 1953 General Motors Autorama, the Corvette brand has transformed into a renowned brand with one of the top sports cars available on the market. Chevrolet further revolutionized the vehicle in 2020 by relocating the engine from the front to a position behind the passenger cabin.
With supercar performance at your fingertips and an affordable price tag, it's no wonder that the latest C8 Corvette has gained immense popularity. That said, for any enthusiasts who want to add to the performance without the journey of extensive modifications, here are 5 options that can help owners either improve the aesthetics of their ride or gain a slight improvement in performance.
Cold Air Intake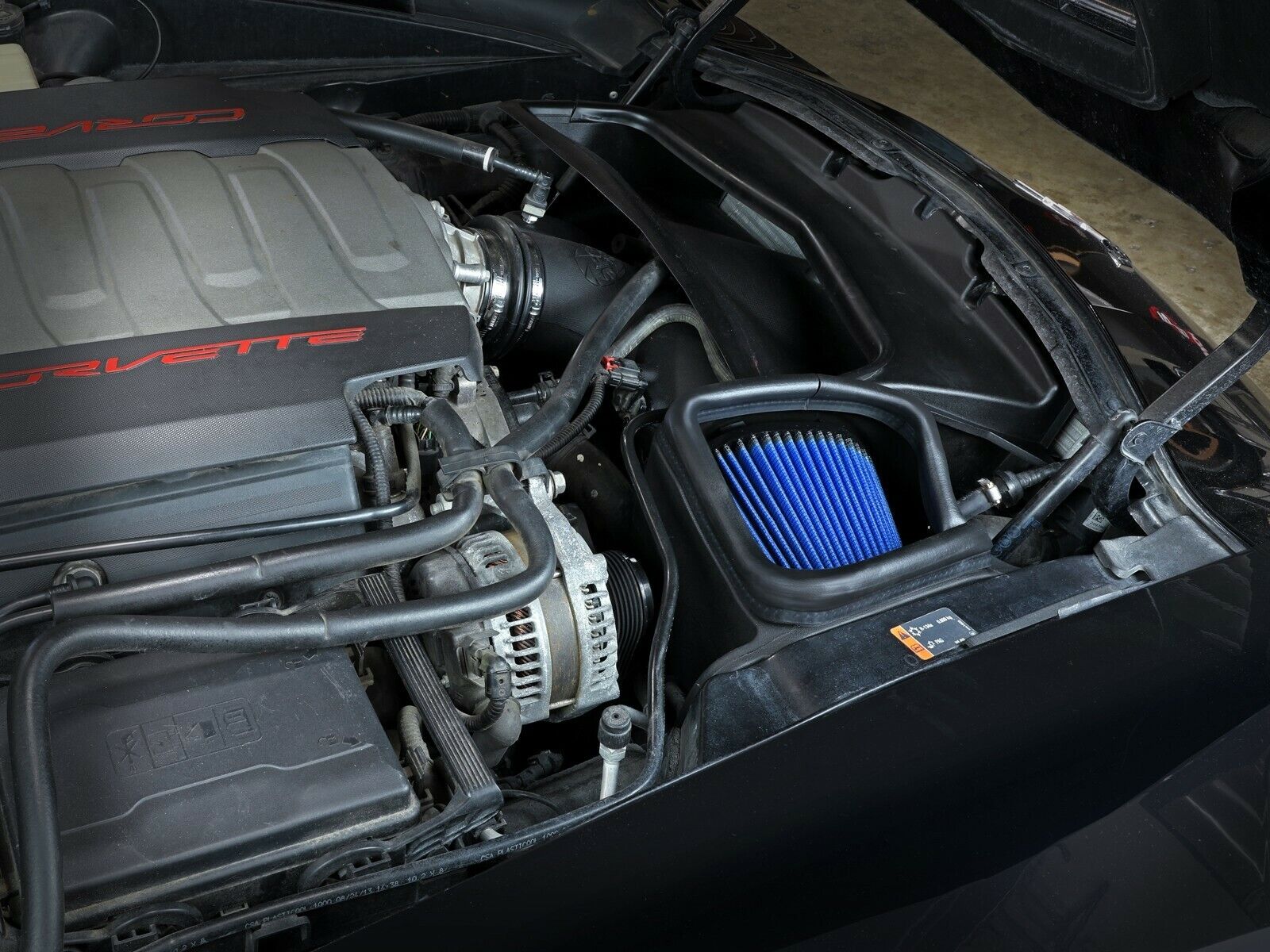 Credit: eBay
A cold air intake is an easy go-to among the litany of modifications available. Relatively cheap, it'll increase the amount of air making its way into the engine and increase oxygen density which typically results in making more power.
While cold air intakes can cost in the hundreds of dollars, it's a good bang for the buck compared to other modifications such as supercharger and turbocharger kits.
Additionally, CAI's are fairly simple to install and probably one of the easier items on this list.
See also: Best C7 Cold Air Intakes
Exhaust System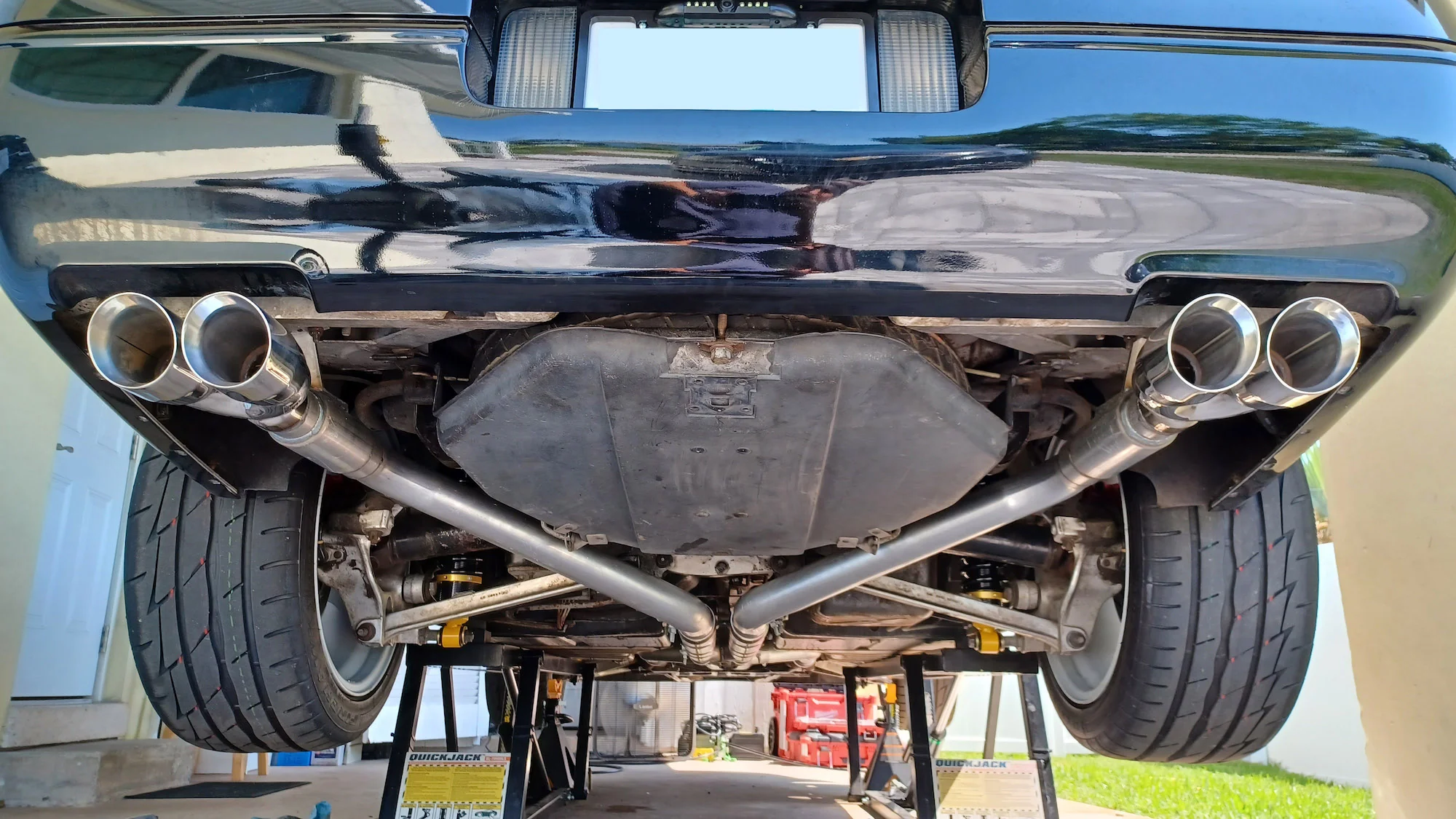 Credit: Hi Flo Performance
The Corvette is a capable stock car, with a naturally aspirated 6.2 L V8 engine putting out 490 hp  and 465 lb⋅ft torque. It's a good complement to a cold air intake and with a naturally aspirated engine, opening up the exhaust and reducing backpressure can help you make the most of getting more power.
With multiple exhaust options available, some may opt to go with a axle-back or cat-back exhaust but both will significantly restrict the amount of power you can get. Some reasons for choosing this type of exhaust may be that axle-backs primarily focus on modifying the sound quality and get a more aggressive exhaust tone. Cat-backs do improve exhaust flow but not as much as a full exhaust system.
A good quality full exhaust option will usually range from $1700 up to $3000 and include headers and X-pipe, optimizing exhaust flow to the point of improving overall performance.
For those who intend to keep their full aftermarket exhaust and make the modification permanent, you can look at selling your catalytic converter online, or just keep it on hand if you think you'll ever swap back to a stock system in the future.
Aftermarket Wheels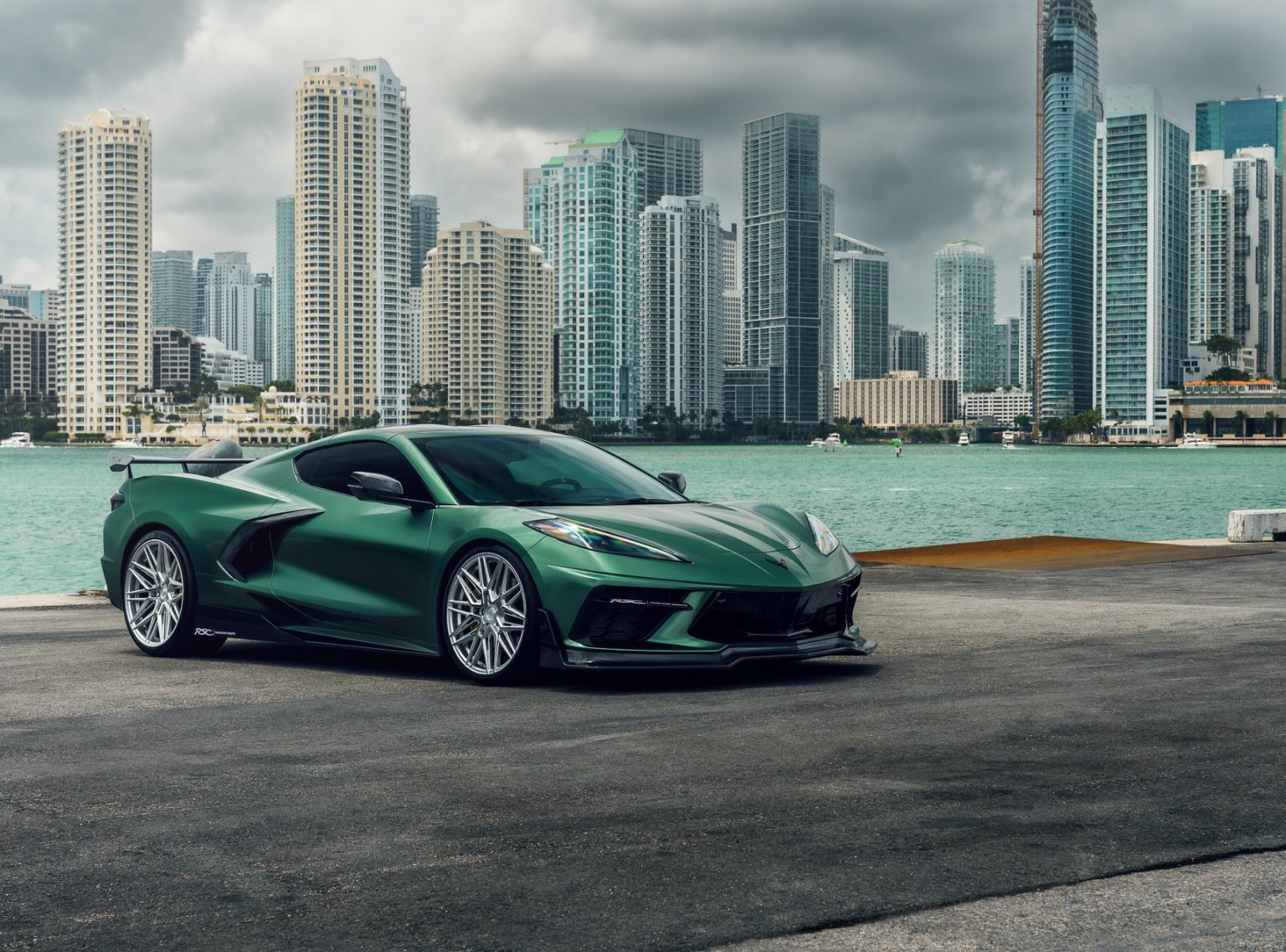 Any enthusiast can appreciate when they spot a car on the road with a set of nice aftermarket wheels. No, we're not talking about Stance Nation or a JDM vehicle with so much negative camber they're literally riding on rails. We're talking about a set of wheels with flush fitment that ties in aesthetically to the shape and lines of the car.
Most OEM wheels are made from alloy; durable but not as light as aftermarket options available. However, brands like Vossen are reputable and have perfected their manufacturing process such as with the release of their HF series, which stands for Hybrid-Forged. It refers to the process used when producing these rims where they recondition a cast wheel to similar structural specifications of a cast wheel, while also minimizing each unit's overall weight.
Forged wheels will offer both strength and durability, thus improving the driving experience while you're behind the wheel. The added benefit of any aftermarket wheel is that you can choose your own specs such as color, offset, wheel size, and further dial it in with your choice of tires.
See also: Our Favorite C8 Corvette Rims
Suspension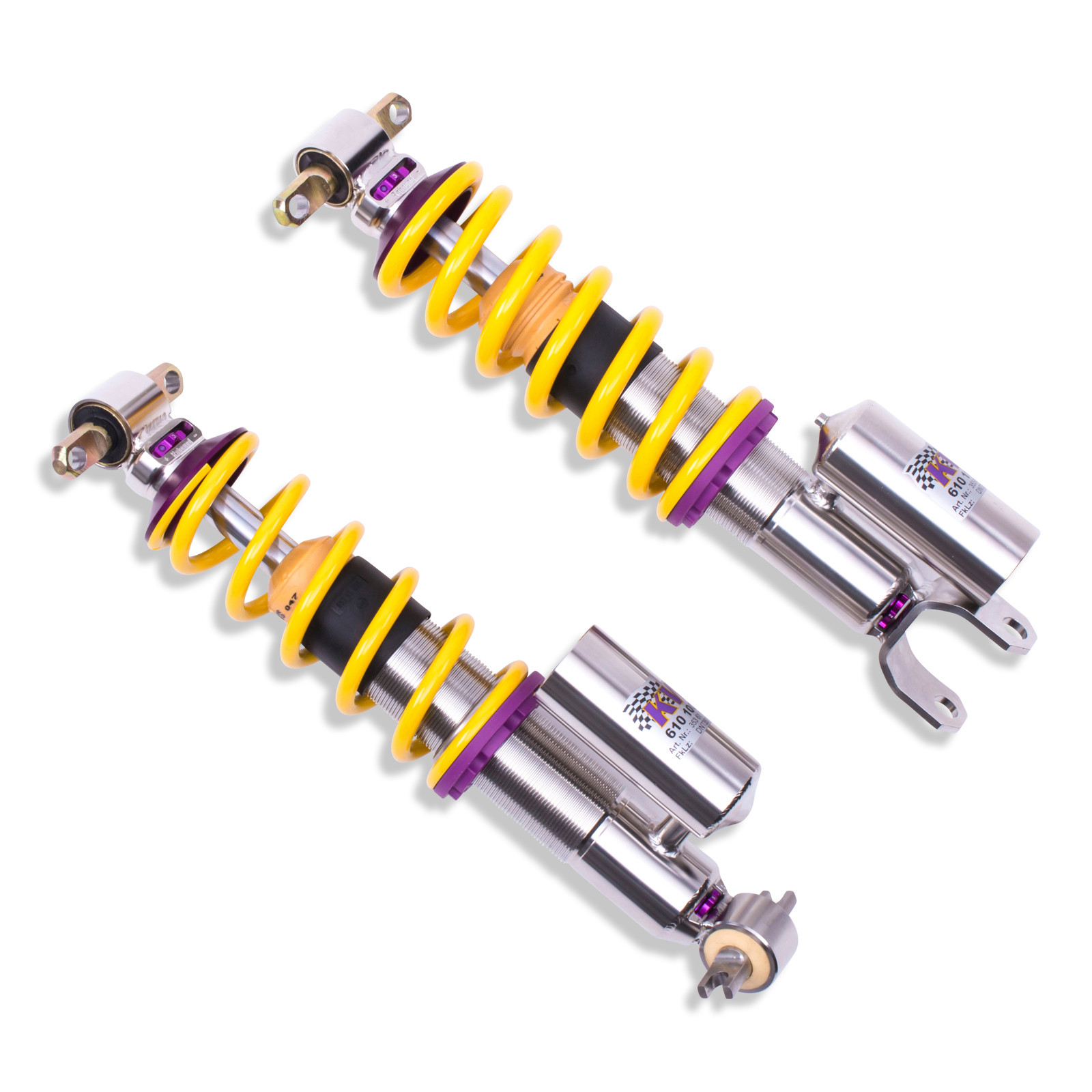 Credit: KW Suspensions
A complementary upgrade to aftermarket wheels is suspension. Suspension upgrades can greatly influence the handling of the car and as a result, it's important to consider how you intend to drive your vehicle. Is it a daily driver or is it a weekend track warrior, or both? These factors will play into the type of suspension before you go and spend your hard earned bucks.
For instance, if you're just replacing the springs, they come in both soft and stiff springs. City roads are not meticulously kept like a track so you'll inevitably come across bumps in the road. With a stiffer spring, you'll also experience a harsher ride while soft springs give a smoother ride and absorb irregularities in the road.
Alternatively, you can also opt for adjustable coilovers. Brands such as KW are well-known for high quality products that give you the ability to dial in your ride height (get rid of that wheel gap!) and other things like rebound and compression dampening.
Engine Tune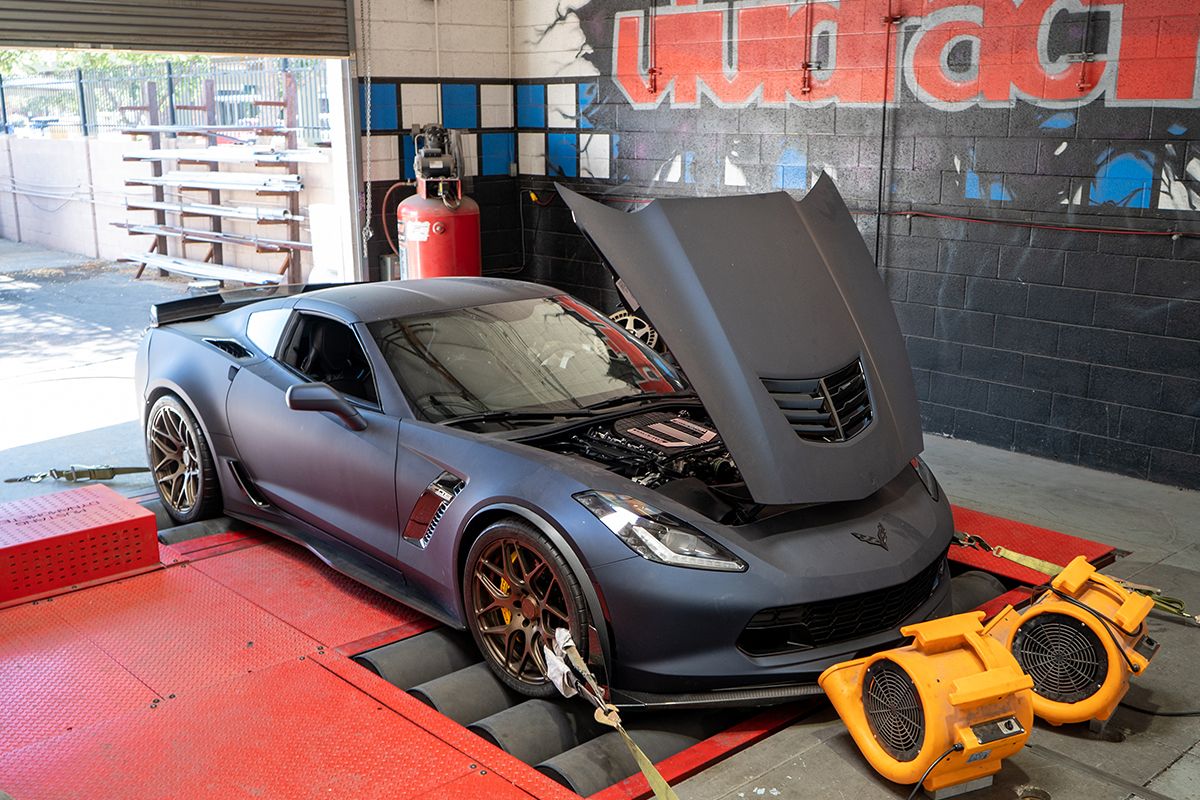 Credit: VR Tuned
Last but not least, the engine tune can be a gamechanger for optimizing performance. We kept it on this list but it can be debatable how "easy" this mod is, especially for someone who doesn't have much experience with modifying cars.
The engine tune is the conductor of the orchestra of your modifications. An engine tune will rewrite your ECU to maximize engine output from all of your different parts.
With the tune itself, there are a couple of options. There are canned tunes available where you can flash your ECU, or you can go to a dyno shop to have an engine tuner or a specialist tune your ECU. The latter option will be more expensive as it requires extensive experience to produce the best results while an ECU flash won't be as costly.
Tuning is a fantastic way to unleash power but can also improve your mileage in some cases due to the improved efficiency of the engine.