Without question, the C8 Corvette is among the most striking of all performance vehicles on the road today. Nonetheless, many C8 owners wish to personalize their Corvette with the purchase and installation of specialty accessories. Of these accessories, few are as popular as aftermarket rims of various configurations.
While there are many aftermarket rims currently available for the C8, some tend to be much more attention-grabbing than others. If you are currently in search of a set of custom rims for your C8, be sure to check out our ¨best-of¨ list below, which details 5 of the hottest C8 rims available to date.
Vossen HF-7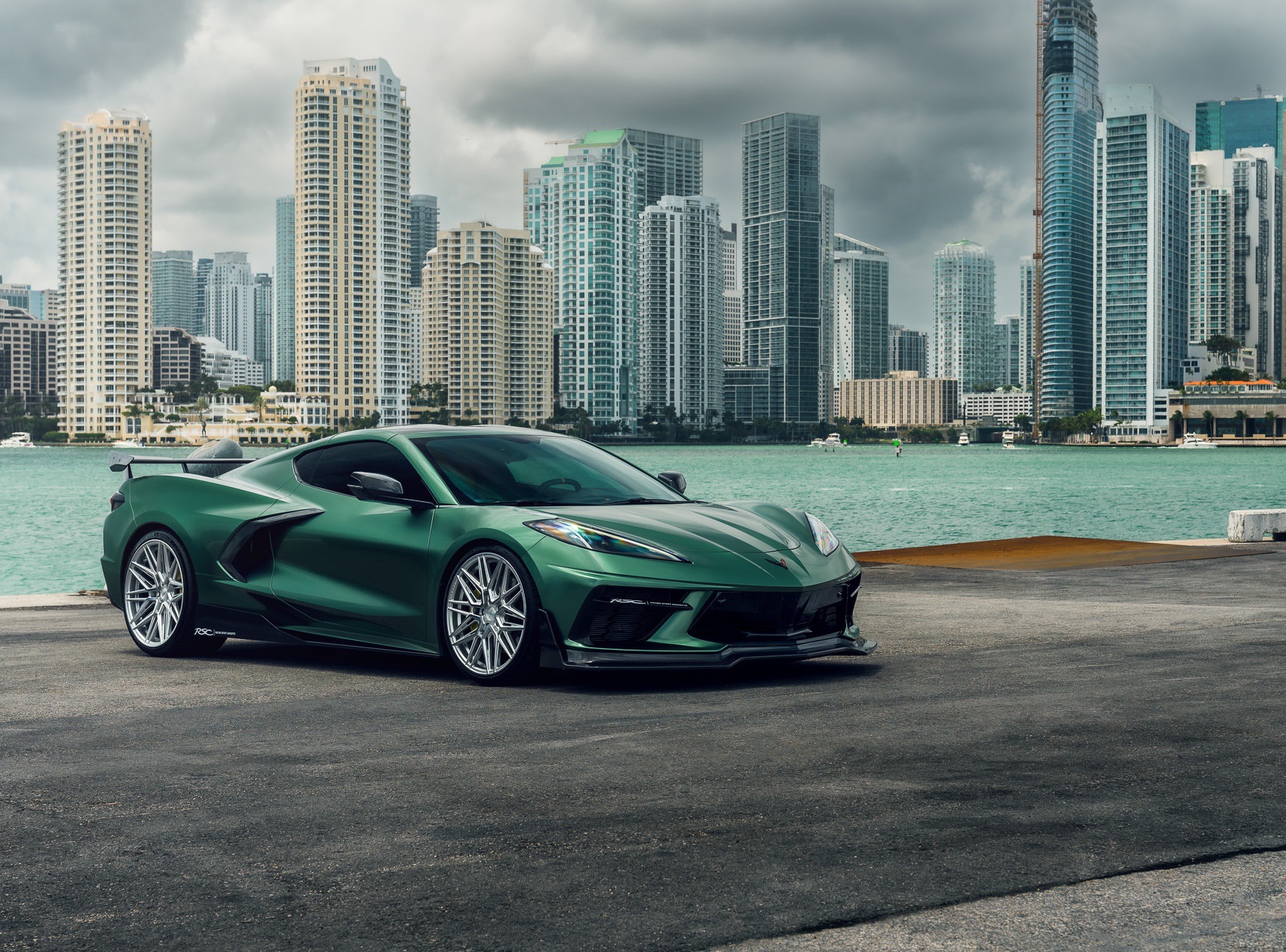 Vossen has gained quite the reputation for excellence in the arena of sport-specific custom wheel production. It appears as if the manufacturer has lived up to this reputation once more, with the release of their new HF-7 series rims. These rims are not only quite impressive visually, but are also manufactured to meet all applicable high-performance demands.
Vossen's ¨HF¨ designation stands for Hybrid-Forged, which refers to the process used when producing these rims. In essence, this process involves reconditioning a cast wheel to similar structural specifications of a cast wheel, while also minimizing each unit's overall weight. The HF-7 features aggressive pocketed spokes, and is offered in a total of 6 individual finishes.
Specs:
Sizing: 19-24
Weight: 37 lbs
Offsets: -6-+64mm
Cray Hammerhead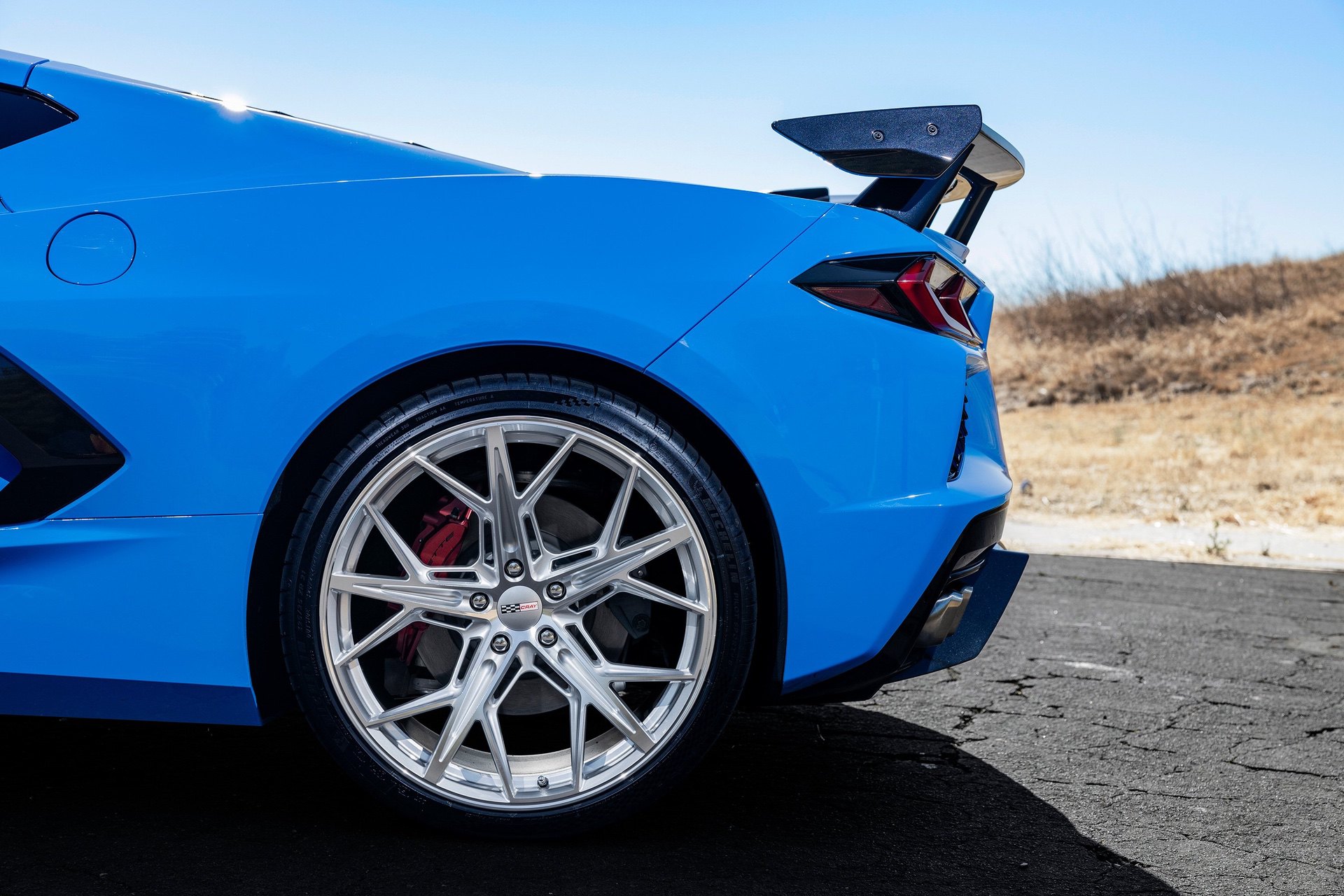 Cray has served as a front-runner in the production of Corvette-specific aftermarket wheels for quite some time. This is why it is no surprise that the company wasted no time turning out their own line of aggressively-styled C8 wheels. Of this product lineup, few entries are as beloved by the C8 community as the Cray Hammerhead.
The Cray Hammerhead is constructed of hearty, yet lightweight flow-formed aluminum, and is available in three individual finishes, including Gloss Black, Gloss Gold, and Gloss Silver. Certain finishes are also available with a mirror-cut face for a little additional eye appeal. Regardless of one's choice in finish, the Hammerhead´s aesthetic appeal is sure to turn the heads of those far and wide.
Specs:
Sizing: 19-22
Weight: 23 lbs
Offsets: +38-52mm
Avant Garde M520-R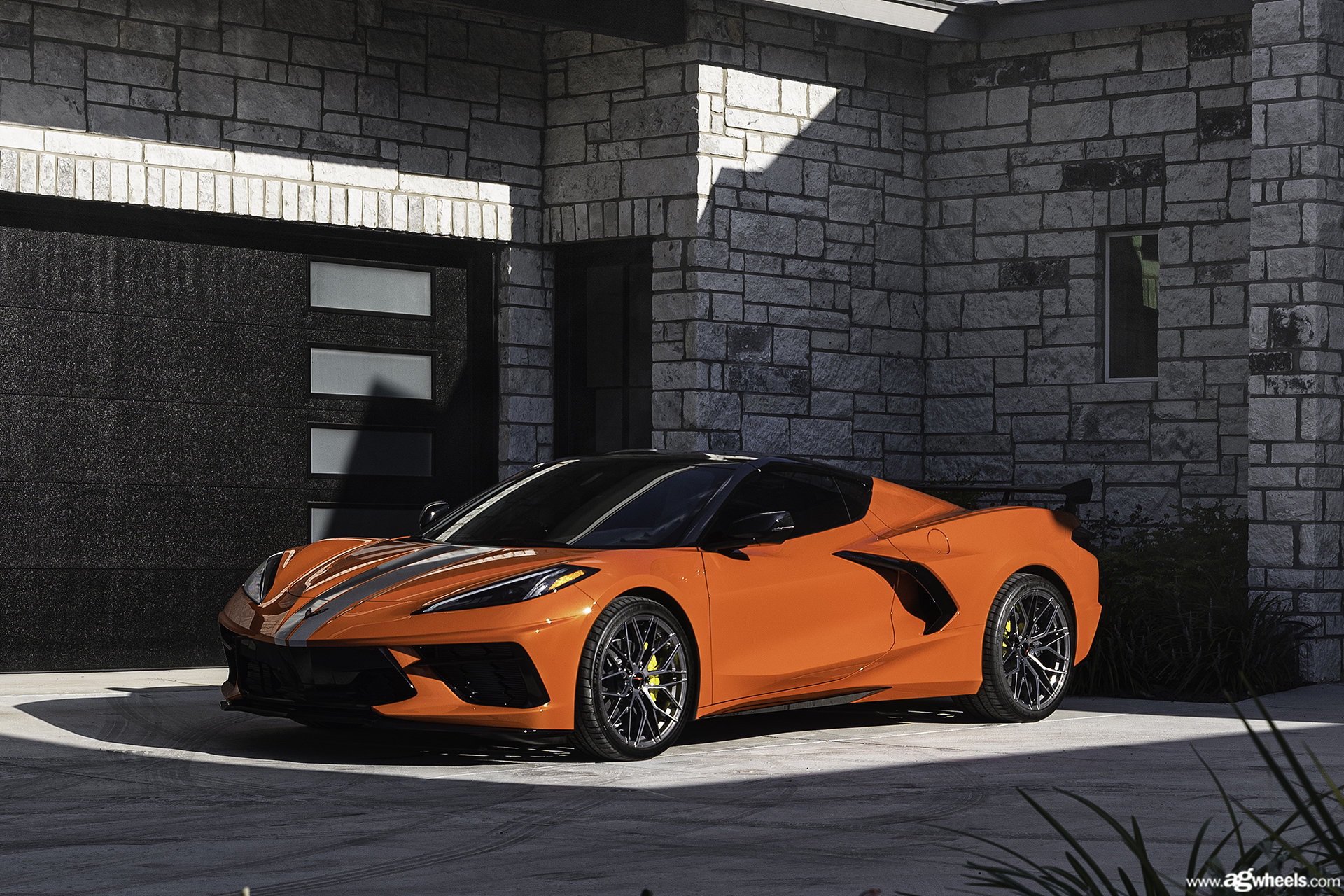 Avant Garde has served as a front-runner in the engineering and design of cutting-edge rims for the high-performance sector of the automotive industry. For proof of this fact, look no further than the M520-R, which has quickly become the rim of choice for many C8 owners. The M520-R is idyllic in both form and function, performing flawlessly under heavy demand, all while looking quite stunning doing so.
Avant Garde manufactures the M520-R under some of the industry's most stringent quality control practices, in a bid to eliminate untimely failure. The M520-R also looks undeniably striking compared to the bulk of custom wheels currently offered for the C8 Corvette. This wheel is also offered in a myriad of eye-catching finishes. Some of the most noteworthy of these finishes include Gloss Silver, Casper Highland Bronze, and Brushed Copper.
Specs:
Sizing: 19-24
Weight: 24-29 lbs
Offsets: +30-40mm
Forgeline F01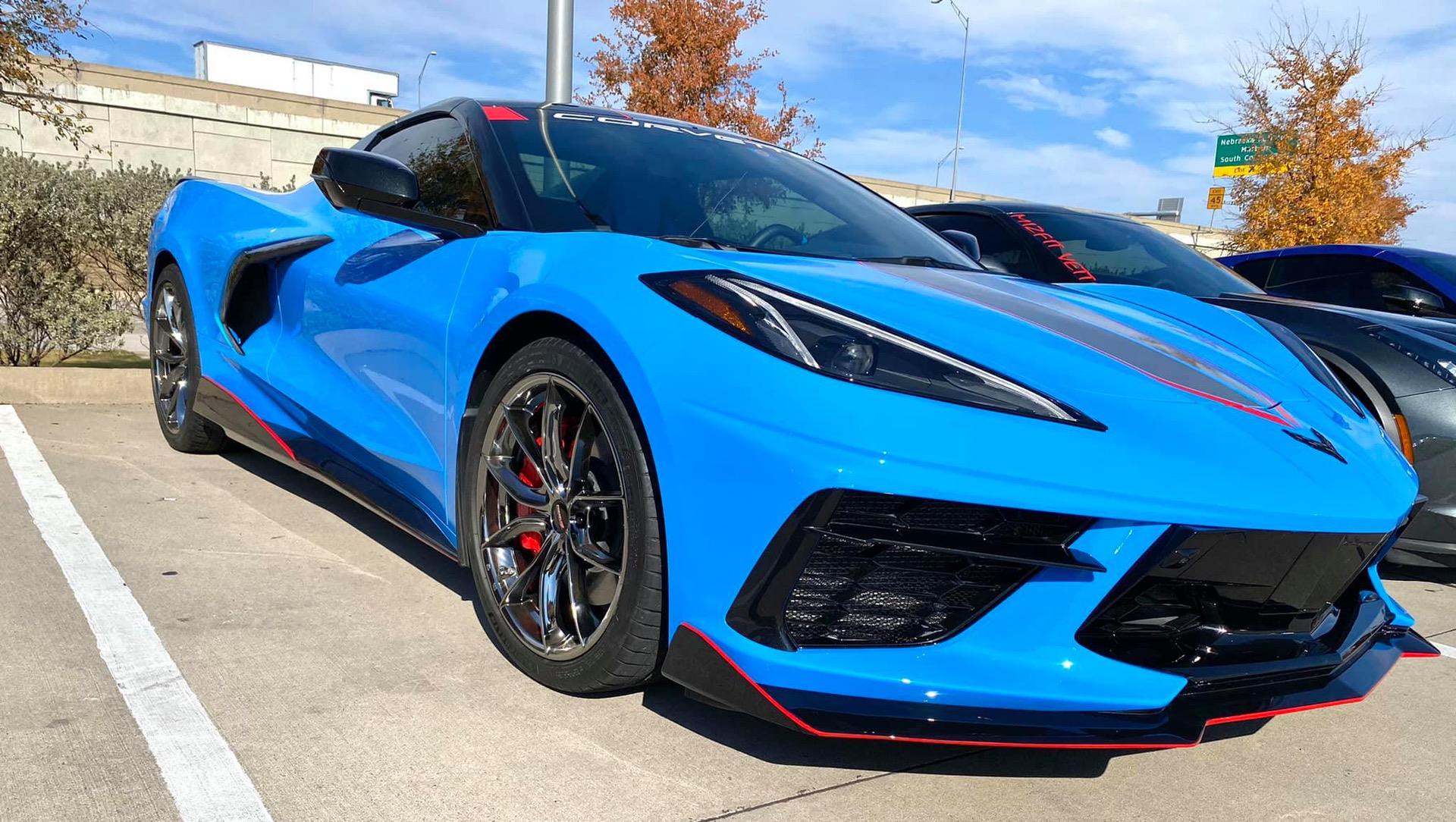 The Forgeline F01 series of rims are not only ideal for the C8 but have also drummed up quite a bit of popularity among consumers and critics alike. In fact, these rims won the SEMA New Product Award in 2020, proving themselves worthy of the significant attention they garnered.
This popularity was not lost among Corvette enthusiasts, who quickly adopted the Forgeline F01 as their rim of choice.
Forgeline utilizes their proprietary flow-forming technology to produce every F01 wheel, meaning that each unit is extremely hearty and up to any set of demands. In fact, each F01 wheel is rated to handle loads of up to 1,500-pounds without issue. The F01 is also available in three different colors, Anthracite, Liquid Silver, and Black Ice.
Specs:
Sizing: 19-20
Weight: 24 lbs
Offsets: +35-50mm
Ace Alloy AFF02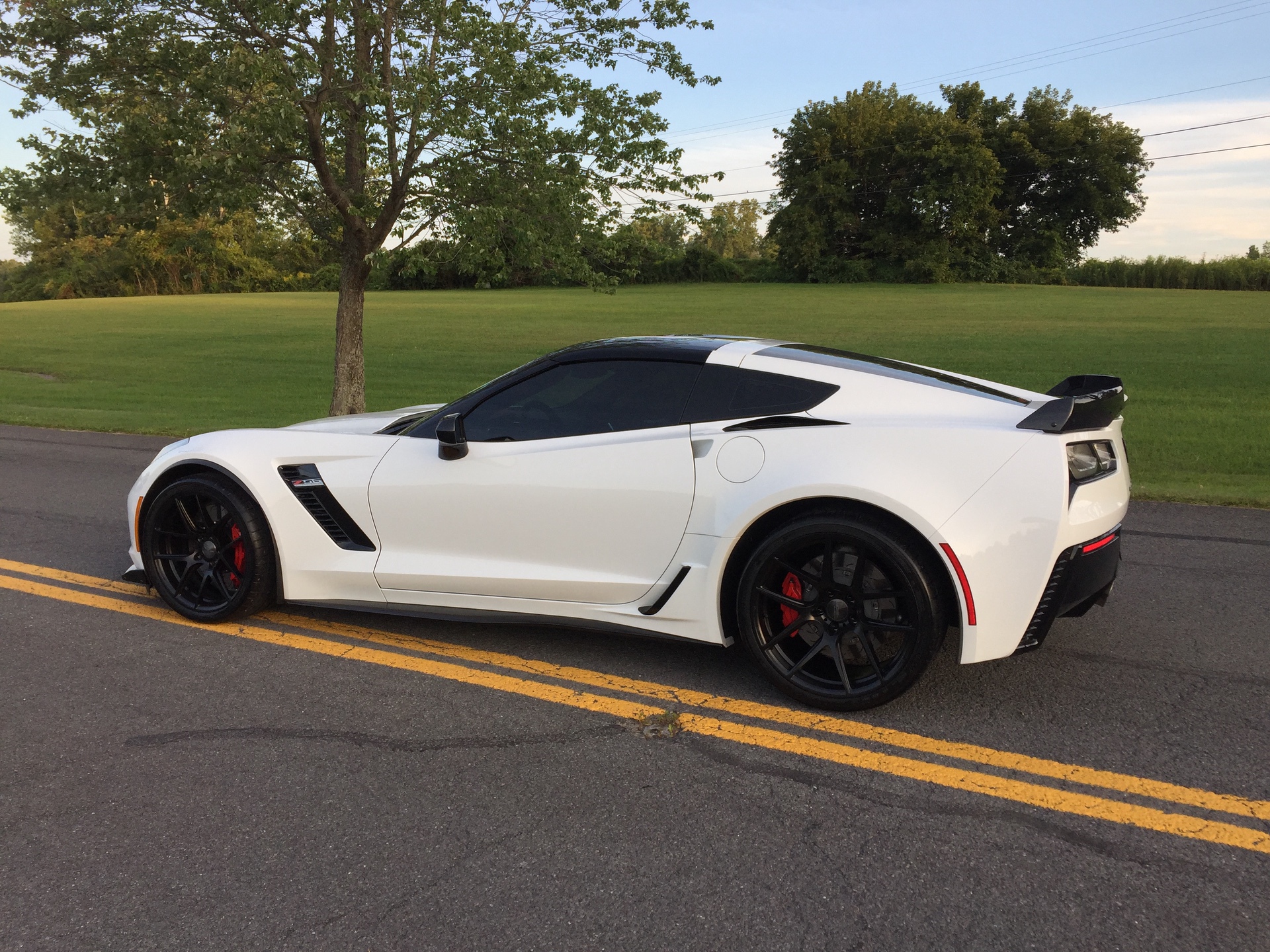 A set of Ace Alloy AFF02 rims are perfect for anyone looking to enhance their C8´s looks, without being over the or outlandish to any degree. These particular rims consist of a 5 split-spoke design that is quite striking, and naturally complimentary to the C8´s inherent design. For most, this wheel would likely prove to be equal parts form and overall function.
Like a number of other rims detailed on this list, the Ace Alloy AFF02 is manufactured using a flow-forming technology. This proves superior in most cases, as manufacturing practices of this type yield a rim that is extremely strong and resistant to damage, yet far more lightweight than many other rims of similar dimensions. The AFF02 also comes in a number of individual finishes, including Gloss Black, Black Chrome, and Gloss Piano Black.
Specs:
Sizing: 19-22
Weight: 28 lbs
Offsets: +32-45 mm