It Looks Better Than We Imagined
The 2020 C8 Corvette should debut soon, but it won't be at the North American International Auto Show in Detroit later this month. That's a shame, but these leaked interior shots should help you feel a lot better.
The images appear from Carscoops and are pretty good depictions of what is for sure the interior of the C8 Corvette. It looks more luxurious than any other model before it.
From what we can see the interior materials are much higher quality, bringing the Corvette up with some more luxurious automobiles.
GM Parts Bin This Is Not
The car has a new two-spoke steering wheel with a new Corvette logo in the center. It gets chrome accents, paddle shifters, and piano black plastic with dials and buttons to either side of the steering wheel. An updated digital instrument cluster sits on the other side of the steering wheel.
The infotainment system has a screen that's likely larger than the current 8-inch one in the C7. The screen is angled towards the driver, too, for easy viewing.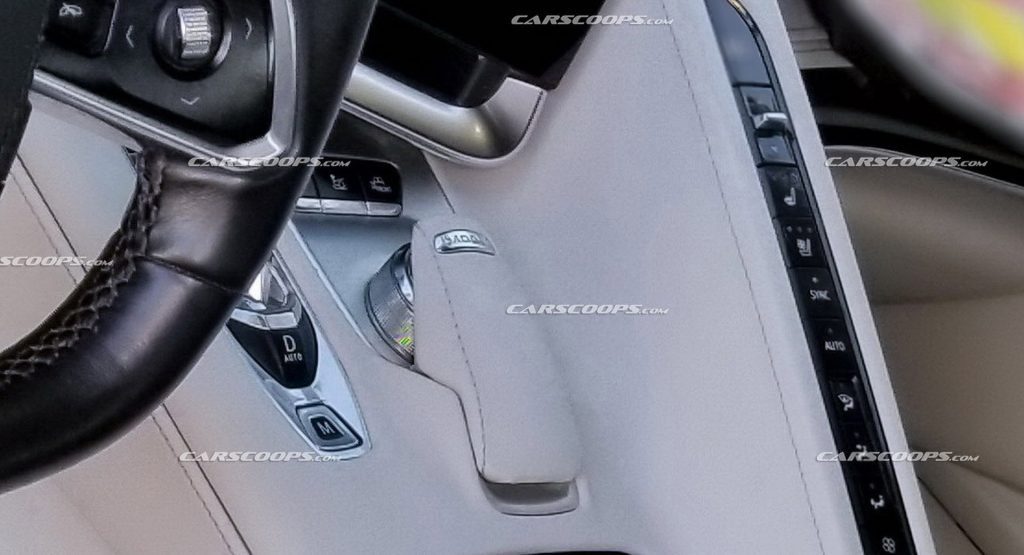 A rotary knob that is partially covered by a leather-clad handrest likely controls the infotainment system. Carscoops points out that the Cadillac XT4 has a similar rotary knob for its infotainment, but the Corvette's looks like it has fewer shortcut buttons and is a little less cluttered design.
The transmission features a push-button shifter next to the rotary knob. The transmission is obviously automatic, but you have the option to shift yourself with the paddle shifters.
In a line to the right of the rotary knob is a line of buttons for climate control features. These also appear to be a piano black plastic material with some metallic trim for some of the buttons and switches.
The black leather seats appear to have significant bolstering and some fabric accents. They have red contrast stitching and it's unclear if there's a logo on them or not.
The center console features what appears to be a reasonably generous storage space and the door panels look wonderfully crafted with plenty of high-quality-looking leather and other upscale materials. One thing's for sure. Chevrolet didn't cheap out on the interior of the C8.