1st Production ZR1 To Support America's Bravest
General Motors and Chevrolet are presenting the first production 2019 C7 Corvette ZR1 for auction to benefit the Stephen Siller Tunnel to Towers Foundation.  This foundation does a great deal of work to support wounded veterans through the Building for America's Bravest program.
The new ZR1 Corvette will cross the auction block at the 47th Annual Barrett-Jackson Auction in Scottsdale, Arizona on January 20, 2018.  While it is not the only unique Corvette to do so (see the "C2 Centurion Corvette"), 100% of the proceeds of this sale will go directly to the Stephen Siller foundation.
"Our 47th Annual Scottsdale charity docket features some of the rarest vehicles available for purchase in the world," said Steve Davis, president of Barrett-Jackson, in a release.  "But what makes these vehicles even more prized than their rarity is the fact they have been generously donated to aid people who are struggling and in need of help. We're grateful to team up with the many great organizations that are a vehicle for positive change in our world."
Chevrolet and Barrett-Jackson Work Together To Raise Millions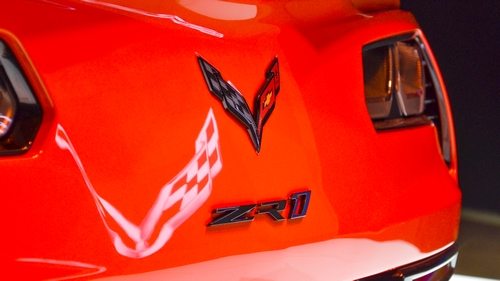 "GM and Chevrolet are proud to honor and support the brave men and women of our armed forces," said Steve Hill, GM Vice President of U.S. Sales and Service. "With the proceeds from the auction of the Corvette ZR1, we will be able to offer additional support to some of our most severely wounded veterans through the Building for America's Bravest effort."
With more than 6,000 veterans employed at GM and more than 50,000 GM retirees who are veterans, GM and Chevrolet are committed to helping those who have given so much for their country.
The Stephen Siller Tunnel to Towers Foundation is named for a New York City firefighter and first responder who died during the attacks of Sept. 11. The foundation builds mortgage-free smart homes for the most catastrophically injured service members through its Building for America's Bravest program. These smart homes feature automated doors and lighting; wider halls and doorways; special showers to accommodate wheelchairs; automatic door openers; cabinets, counters and stove tops that can be raised and lowered; backup generators; and central heating and air conditioning systems that can be controlled by tablets. Each home is built with the goal of enabling the most severely injured heroes to live better, more independent lives.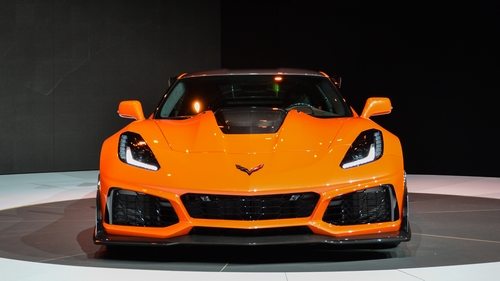 "We're incredibly fortunate to have the resources to support wonderful organizations that strive to make a difference for so many people in need," said Craig Jackson, chairman and CEO of Barrett-Jackson, in a statement.
"To date, Barrett-Jackson has helped raise nearly $96 million for charity and those funds, along with the generous donations that will be raised in Scottsdale, bring much needed relief to countless people through many great charities."
Although the new ZR1 is expected to bring big money, the buyer of the car will also have the opportunity to spec out the first example however they prefer.  The new super-Corvette will be available as either a coupe or convertible, and will come equipped with either a seven-speed manual or eight-speed automatic transmission.  Chevy will also include an option package that adds carbon fiber trim to the car's interior, a leather-wrapped instrument cowl and the performance data recorder options.
About the 2019 Corvette ZR1

The Corvette ZR1's exclusive LT5 supercharged engine, which is rated at an SAE-certified 755 horsepower and 715 lb-ft of torque, is establishing a new benchmark in performance. The ZR1 elevates Corvette's track capability with two wind tunnel-honed aerodynamics packages, including an available High Wing that provides an estimated 950 pounds of downforce.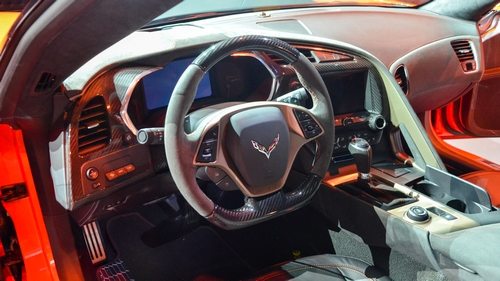 Seven-speed manual and eight-speed paddle-shift automatic transmissions are available with the LT5 engine. This marks the first time an automatic transmission has been offered in a ZR1 Corvette.
An all-new front fascia is designed to channel air for propulsion-system and drivetrain cooling, with four new radiators bringing the heat-exchanger total to thirteen.  A special carbon-fiber "halo" hood features a special opening in the middle to clear the LT5 engine's supercharger/inter-cooler assembly. Additional features include an aero packages with stanchion-mounted wings that provides the 2019 Corvette Zr1 greater downforce on the track for more confident handling and faster lap times.  Chevrolet claims that the all-new Corvette ZR1 can reach a top speed of greater than 210 miles per hour.
Available Packages
The ZR1 will be offered with two aero packages: a standard rear Low Wing, which helps the ZR1 deliver its blistering-fast top speed, and an available two-way-adjustable High Wing which produces maximum downforce on the track for the quickest lap times.  In fact, when so equipped, the new ZR1 produces about 60 percent more downforce than the Z06 with the available Z07 Performance Package.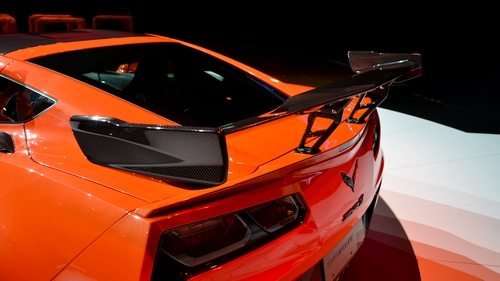 All models also feature a Chevrolet-first: a fully-integrated, downforce-enhancing front underwing.
The adjustable High Wing is part of the new ZTK Performance Package, which also includes a front splitter with carbon-fiber end caps, Michelin Pilot Sport Cup 2 summer-only tires and specific chassis Magnetic Ride Control tuning for greater cornering grip. Both of the ZR1's wings are tied into the chassis, exactly like the wing on the Corvette Racing C7.R race car, for strength and stability.
The 2019 Corvette ZR1 goes on sale next spring, and promises to be the fastest production Corvette of all-time.
Sources: GM Media, Automobilemag.com