2008-2009 Hertz Corvette ZHZ
Over the past couple of years, we've seen a number of sixth-generation ZHZ Corvettes show up on our Facebook page, on neighboring Corvette social media sites and especially at events like Mecum Auctions.  These Corvettes are now beginning to command higher prices than similarly equipped (and with similar mileage) coupes and convertibles from that same era.  Given the uniqueness of this particular example of the C6 Corvette – one which sports a special paint scheme and unique wheels specific to its limited (and market-specific) production – it led us to wonder if the 2008 and 2009 Hertz ZHZ Corvettes might be gaining traction as a collector's car among the automotive community.
But just what, exactly, was/is a Hertz Corvette ZHZ?  We're glad you asked.
The 2008 Corvette ZHZ Coupe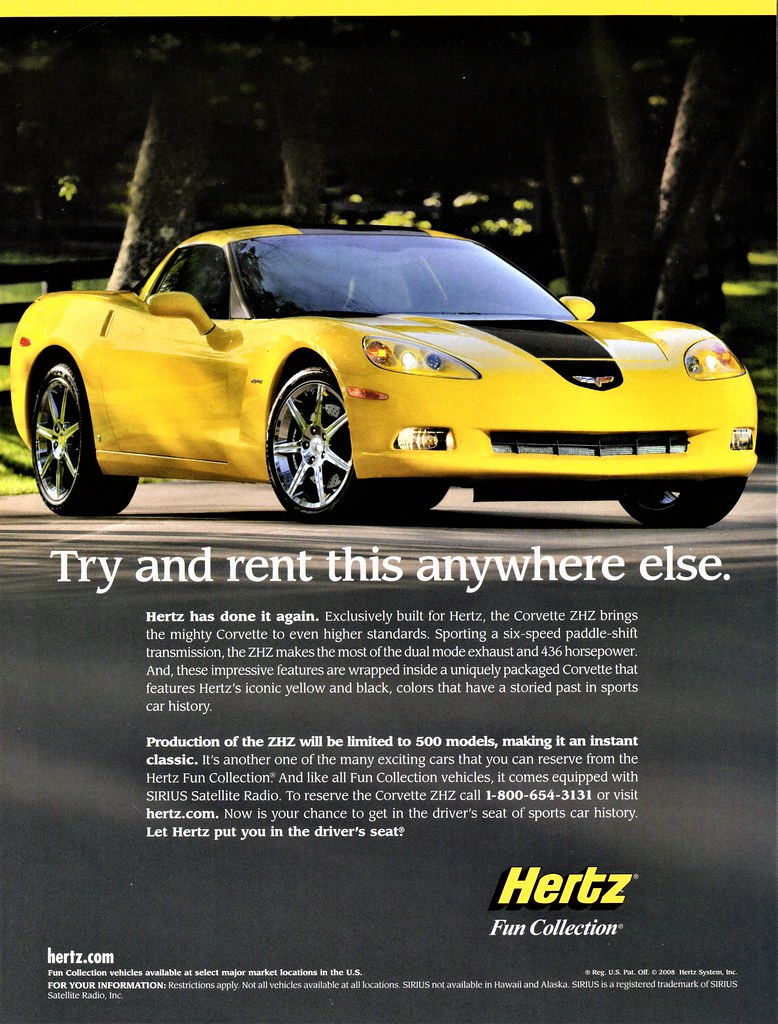 Built exclusively for Hertz Rental Car, the Corvette ZHZ coupe was first introduced in 2008 as part of Hertz's "Fun Collection."   These Corvettes were part of a larger group of rental vehicles made up of cars like the Ford Mustang, the Nissan 350Z and the Shelby GT-H.  The intent behind these rental cars was simple – provide consumers with an opportunity to rent (at a rate commensurate with the car's performance) a well-equipped sports car for a day, a weekend or even longer.  When it came to the 2008 Corvette ZHZ Edition, the car came equipped with a 436-horsepower, 6.2-liter LS3 V8 under its hood and a paddle-shift automatic gearbox.
Hertz recognized the special attraction many automotive enthusiasts had to the Chevy Corvette, and so they partnered with General Motors to introduce 500 of the ZHZ Corvettes to their fleet.  These cars were distributed among 24 major metropolitan cities across 14 states and Washington D.C.
Each of the 500 cars was finished in Velocity Yellow (which is remarkably similar to Hertz's iconic yellow) with a single, black, center-stripe that ran the length of the car.  All 500 cars featured a dual-mode exhaust system, magnetic selective ride control with "tour" and "sport" settings for a customized ride, and specific 18-inch front and 19-inch rear chrome seven-spoke performance wheels. The ZHZ's exhaust system was specifically selected to provide enthusiasts with a more aggressive exhaust note.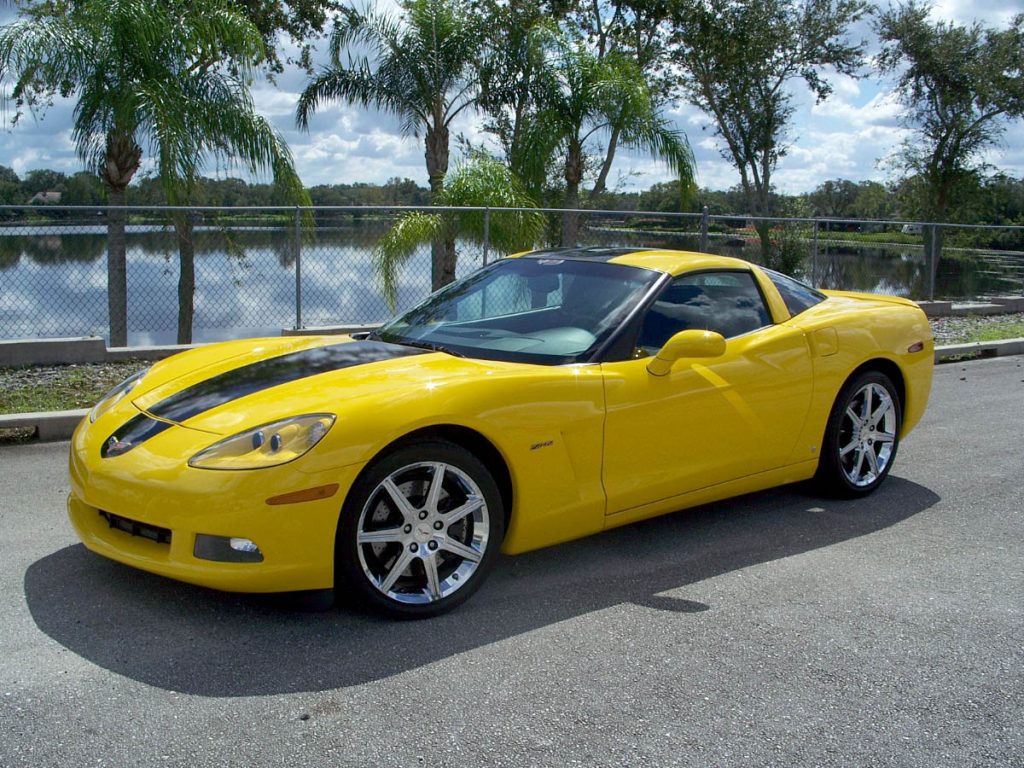 Each 2008 ZHZ Corvette featured the 2LT Equipment Group offered by Chevrolet that year.  It included side impact airbags, sport seats with perforated leather inserts, a parcel net and Bluetooth functionality.  Every ZHZ Covette also came equipped with the GCA Ultimate Exterior Appearance Package.  This package included a screen mesh package which included specially-designed screen meshing over the side covers, a special mesh grille, and exhaust plate screens, an underhood blanket/lamp, a special graphics package, an accessory spoiler, body-color door handles, and seven-spoke polished wheels (which replaced the standard wheels). Finally, each of the cars received the ZHZ Special Edition option package which included Velocity Yellow paint, Ebony seats, Magnetic Selective Ride Control, larger cross-drilled brake rotors, dual-mode performance exhaust, and a six-speed paddle-shift automatic transmission.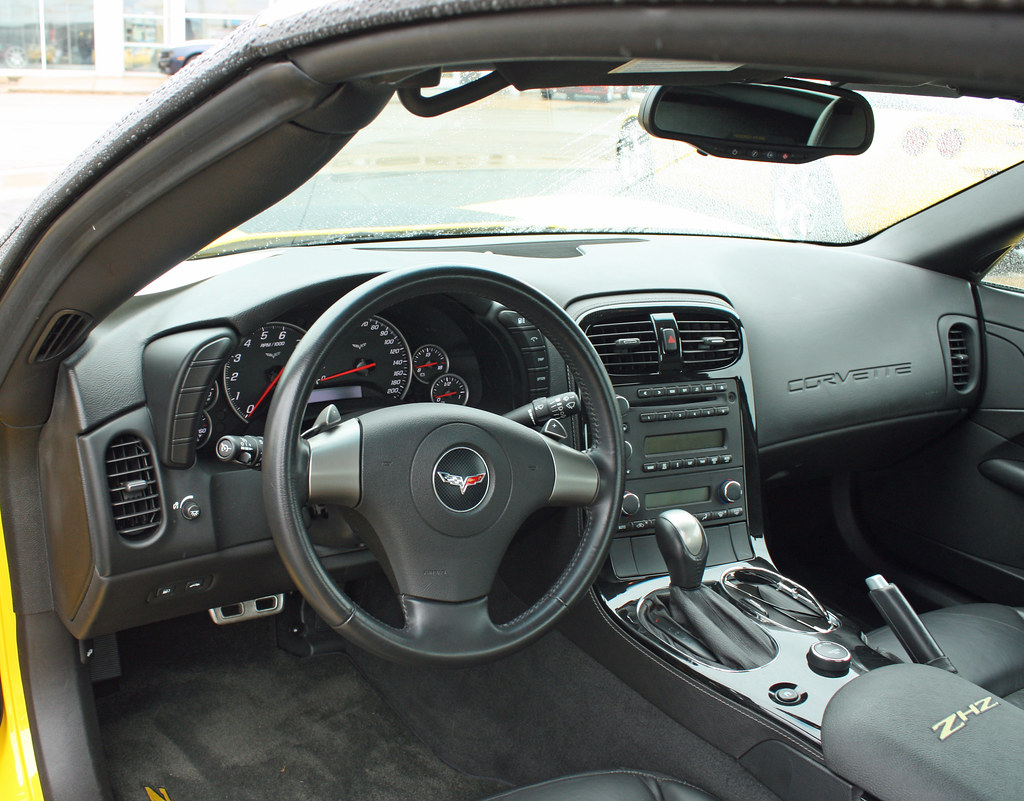 While the laundry list of features is impressive, it's "the rest of the story" – that period of time between production and distribution to each of the 24 Hertz Airport locations – that makes the backstory behind the production of these Corvettes even more interesting.
After being ordered and produced for Hertz by Chevrolet, the first batch of ZHZ Corvettes were not ready to go into service after being assembled at the Corvette Manufacturing Plant in Bowling Green, Kentucky.  Each of the cars had a few items that still needed to be added to them. Chevrolet loaded the Hertz Corvettes onto a truck transport and proceeded to ship them to Bob Hook Chevrolet in Louisville, Kentucky to receive their "finishing touches" before being rented out to consumers by Hertz.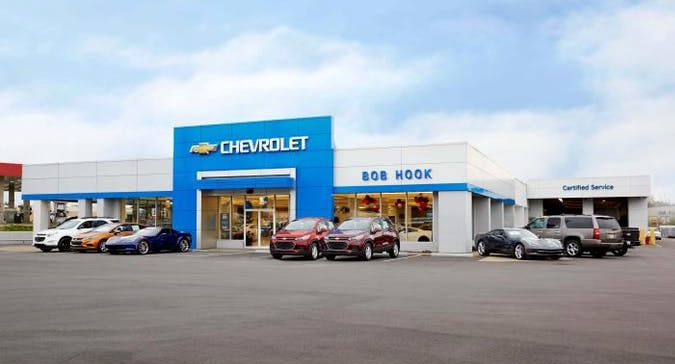 Jack Tillman, who was the parts manager at Bob Hook Chevrolet at that time, describes what the dealership did with each of the ZHZ Corvettes as they arrived at their shop.
"They wanted stripes on them, and they wanted to take the regular wheels off, and put polished wheels on. They had a special decal that went on the console, and a special plate that went on each side, on the front fender. They also changed some screens in the fender cove area and behind the grille-they put chrome screens on there. We put spoilers on them, too."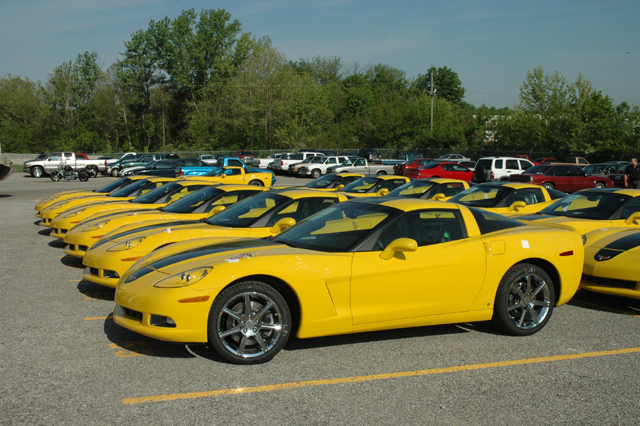 Also according to Jack, the ZHZ Corvettes were shipped to the dealership a dozen at a time.  "They'd drop off those 12 and pick up 12 finished ones and take them back to Bowling Green to be shipped out to the different Hertz locations around the country."  A total of five hundred 2008 Corvette ZHZ Coupes were produced and, according to Jack, each car took approximately ten-hours to complete once received.
2009 ZHZ Convertible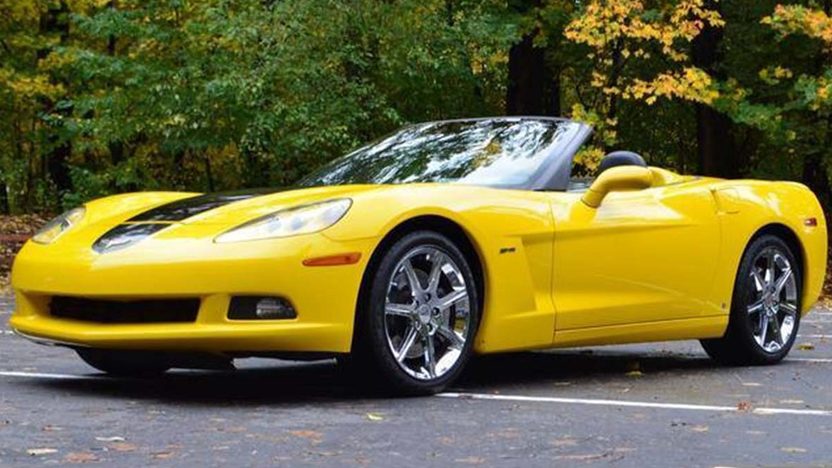 As with the coupes the previous year,
each of the 375 ZHZ convertibles were shipped to Bob Hook Chevrolet
after preliminary production in Bowling Green. Prepping each of these cars took considerably less time (a mere six hours instead of ten).  This was due in large part to the fact that
Chevrolet
now installed the polished wheels at the manufacturing plant in Bowling Green.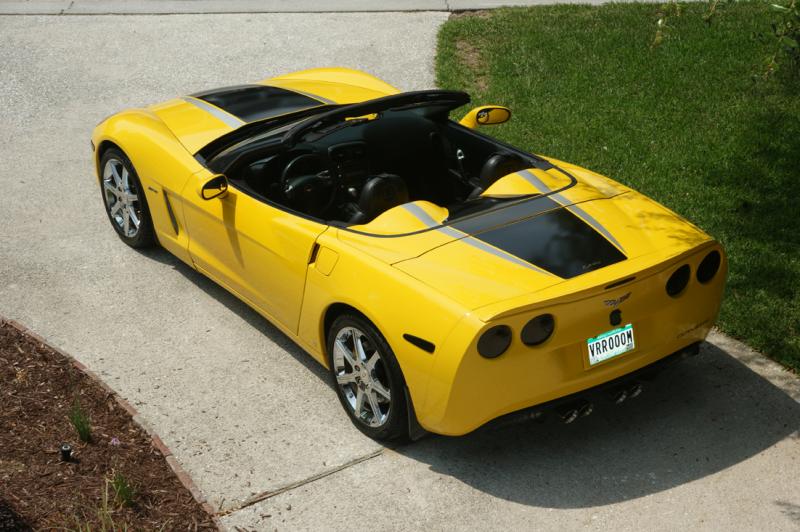 Much like the coupe before it,
the decision to limit the production numbers of the ZHZ Convertible to just 375 units was made by Chevrolet because of the certainty that these cars would eventually find their way into the used car market
(once they exceeded the maximum miles permitted by Hertz on one of their rental vehicles.)  While nobody could know how well these cars would be accepted/received by consumers in their post-Hertz rental era, the common conjecture was that their collectibility would increase with time, especially as units became harder to obtain due to damage, mechanical failure or age.
Valuation of the ZHZ Corvette Thru the Years
For anyone who has ever rented a vehicle from Hertz's "fun collection", it is important to note that the makes and models offered to consumers evolve and change over time.  As the C6 Corvette eventually gave way to the C7 (and more recently, the C8), Hertz recognized that interest in renting the 2008-2009 ZHZ Corvettes would wain as newer examples of the car emerged offering greater horsepower and advancements in comfort and technology.
Hertz began selling off a few of its ZHZ Corvettes as early as July 2009.  The first three cars – all 2008 coupes – were sold at the dealer only Manheim Auto Auction in South Florida on July 10th, 2009.  Each of the cars had between 22,000 and 25,000 miles on them and were all described to be in "driver" condition, which would be expected of a rental vehicle with that type of mileage.  While the auction was limited to dealerships, this was the first evidence that the ZHZ Corvettes would quickly become available to the public for sale.
One other interesting point of note about this auction – when these cars sold in 2009, they sold for $31,400, $31,500 and $31,600, respectively.  Considering that a new 2008 Corvette coupe with the 2LT trim package sold new for more than $46k, this early sale suggested considerable depreciation.  Maybe the car's weren't going to hold their value after all?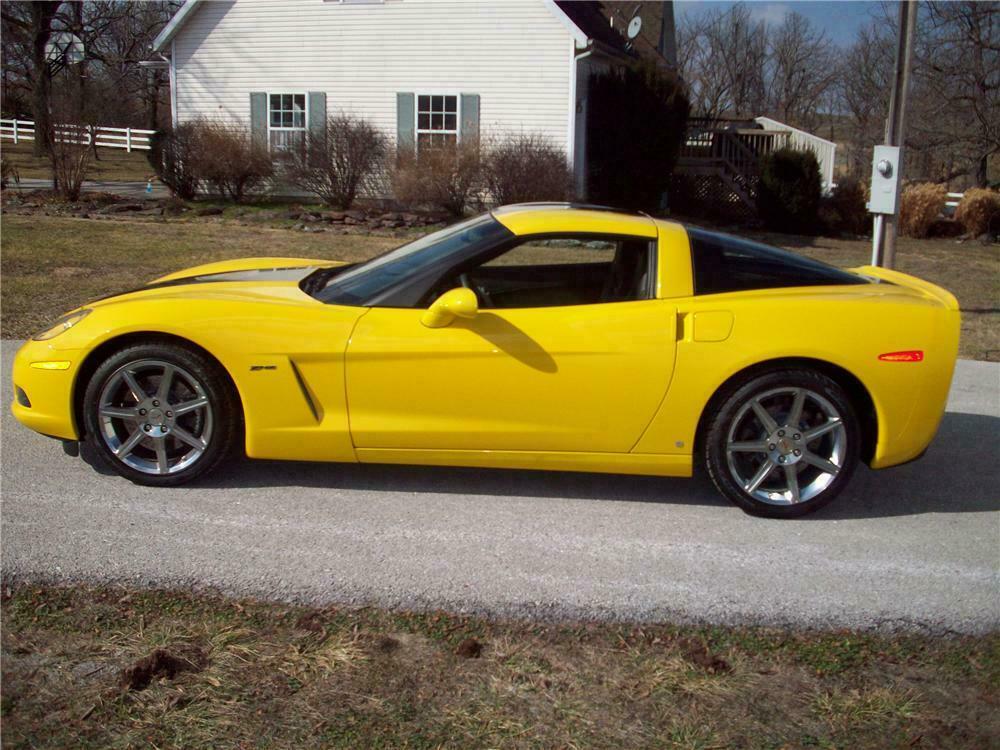 Not so fast – as is common in the Corvette world, production Corvettes – especially examples less than 20 years old – often go thru a fairly extensive period of gradual depreciation before rebounding and actually increasing in value as their age and pedigree becomes more desirable and increasingly rare.
Jump ahead to 2011, when another of the 2008 ZHZ Coupes sold for $53,900 at the Barrett Jackson Palm Beach auction in October of that year.  Admittedly, the car had less than 100 original (documented) miles on its odometer and had been delivered new and then stored, but here was an example of the ZHZ Corvette commanding a sales price that was more than when new three years earlier.
A year later, another preserved 2008 Corvette ZHZ sold at the 2012 Barrett Jackson Auction in Scottsdale, Arizona for $49,500, once more demonstrating that these cars were maintaining at least some interest in the Corvette community.  However, as these cars had virtually no miles on them and had been carefully stored since new, neither of these examples fairly represented what the market would bear for a mid-generation, former rental car variant of the Corvette.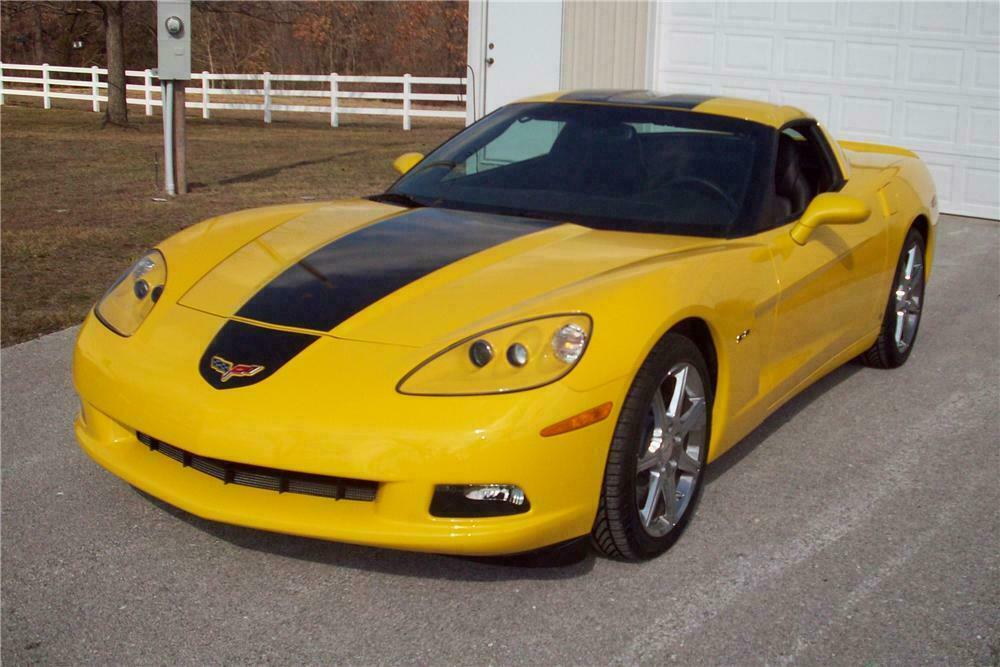 Today, it has become increasingly difficult to locate examples of the Hertz edition Corvette ZHZ available for sale.  Both the coupe and the convertible have become something of a "unicorn" among the Corvette community.   Yes, they ARE out there, as one will occasionally show up on a local Corvette forum or message board.  These cars are often met with positive regard, though there is frequently the admonishment to have the car carefully inspected before purchase because "people used to beat the heck out of them when they rented them from Hertz."  While there is definitely an element of truth to that statement, it is important to remember that all Corvettes were designed to endure a certain amount of abuse – certainly more than the conventional sedan or SUV most commonly associated with the rental car market.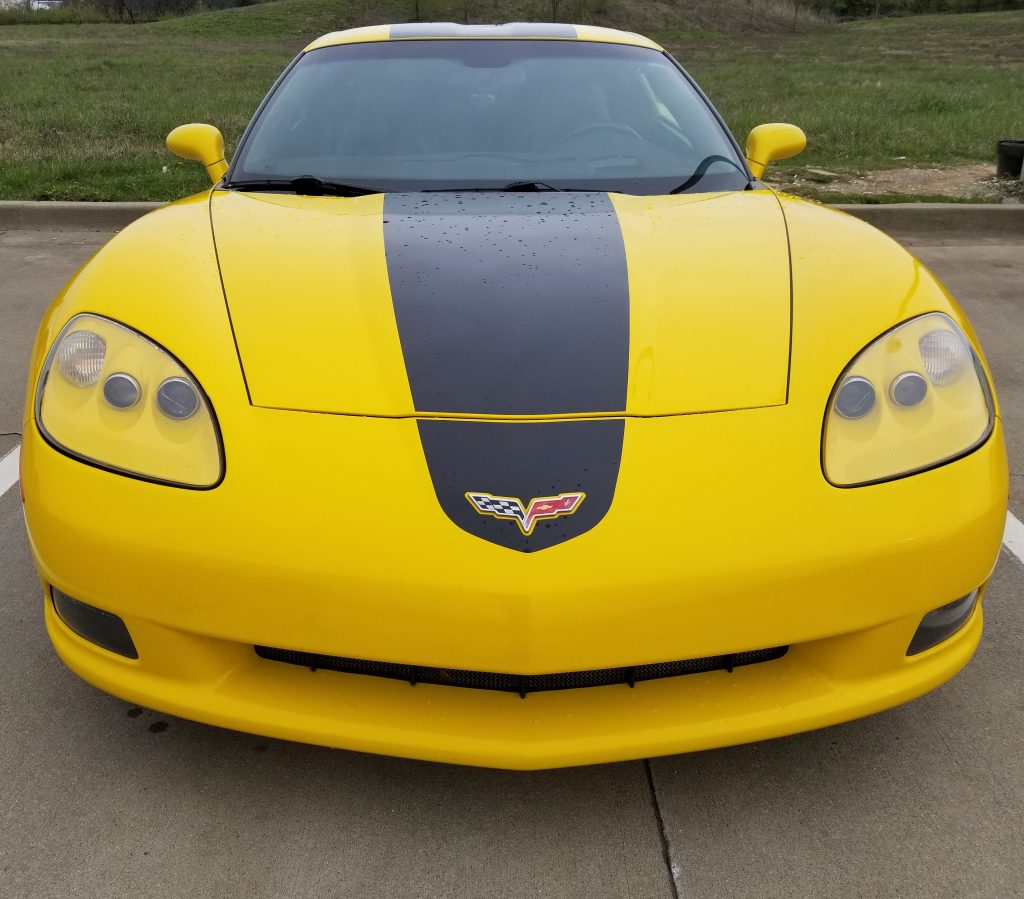 Still, in searching across the U.S. for current examples of the ZHZ Corvette that might be for sale at the time of this publication, there were few to be found.  For those that we did stumble across, the current asking price is abysmally low, which is good for the would-be consumer looking for their first "new to you" Corvette, it also brings into question how well any example of the sixth-generation Corvette will be regarded as it gains a greater level of collectibility in the future.  Perhaps the ZHZ Corvette will find its place amongst the greats as additional examples of these cars age into disrepair or find themselves the unfortunate victim in a debilitating accident, leaving even fewer examples of this already limited-production Corvette for future consumers to fight over.  This much IS certain, these cars are commanding prices between $17-22,000 at the time of this publication.  While its a potential risk, it might be the perfect time to buy one of these cars (if you can find one) and put it away in storage for 10-15 years and see what happens to its value during that time.