2003 50th Anniversary Edition Corvette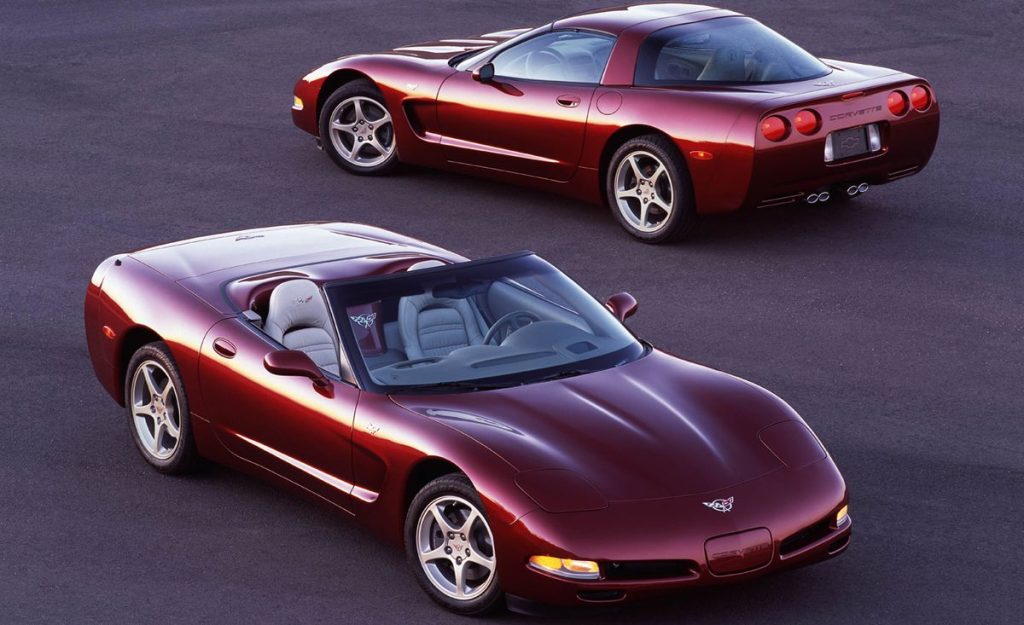 Another decade – another milestone anniversary edition Corvette. However, the 2003 model year was especially significant as it marked the 50th year of the Corvette's production at Chevrolet.  To commemorate a half-century of manufacturing, every Corvette built in 2003 was adorned with special "50th Anniversary" badging – a unique "50" badge on each of the front fenders above the bodyside coves, and a special crossed flags badge on the nose and rear fascia that included "50 Anniversary" badging in the oval surrounding the crossed flags.
A special "50th Anniversary Edition" package (RPO ISC) was also offered to consumers on the coupe and convertible models.  When so equipped, these cars came finished in a special 50th Anniversary Red exterior paint with an exclusive Shale interior that included specially embroidered seats and 50th Anniversary logoed floor mats.  Champaign-painted five-spoke wheels with special center caps were also included as part of the package.  Likewise, convertibles also received a Shale-colored soft top.  The 50th Anniversary package set consumers back $48,895 for a coupe and $55,370 for a convertible.
More Details
For 50 years, the Chevrolet Corvette has been carefully crafted from a precise blend of power, performance, style and comfort. As it celebrates five colorful decades in the automotive business in 2003, Chevrolet's flagship continues its reign as one of GM's technology and style leaders.
The 50th Anniversary Special Edition, available only during the 2003 model year on coupe and convertible models, is a tribute to a half-century of automotive leadership. It includes special Anniversary Red exterior paint, specific badging, Shale interior and champagne-painted anniversary wheels with special emblems. It also features embroidered badges on the seats and floormats, padded door armrests and grips and the convertible features a Shale top. The package includes Magnetic Selective Ride Control.
New on the Corvette for 2003, Magnetic Selective Ride Control uses a revolutionary damper design that controls wheel and body motion with Magneto-Rheological fluid in the shocks . By controlling the current to an electromagnetic coil inside the piston of the damper, the MR fluid consistency can be changed, resulting in continuously variable real time damping. As a result, drivers feel a greater sense of security, a quieter, flatter ride and more precise, responsive handling, particularly during sudden, high-speed maneuvers.