Special Editions: 2002 Corvette Indianapolis 500 Pace Car
For 50 years, Chevrolet Corvette has represented American performance. In 2002, Corvette also led the pack at two important racing venues: the Indy Racing League (IRL) and the 86th running of the Indianapolis 500. In its IRL pace duties, Corvette wore a two-tone white and Millennium Yellow paint scheme with checkered-flags graphics forming a V for victory on the hood and streaming rearward and downward.
This year's running of the Indy 500 marked a special milestone for Corvette. It was the fifth 'Vette to be honored with pace car duties since 1978, the most pace car appearances by a single nameplate. To celebrate the occasion, Chevrolet placed a 50th Anniversary Corvette Coupe at the helm.
The 50th Anniversary Edition also features more standard equipment on the coupe and convertible models, and Magnetic Selective Ride Control, the industry's fastest and most powerful real-time damping suspension. The commemorative model, available only during the 2003 model year on coupe and convertible models, includes special 50th Anniversary Red exterior paint, specific badging, unique shale interior and champagne-painted anniversary wheels with special emblems. It also feature embroidered badges on the seats and floormats and a shale convertible top.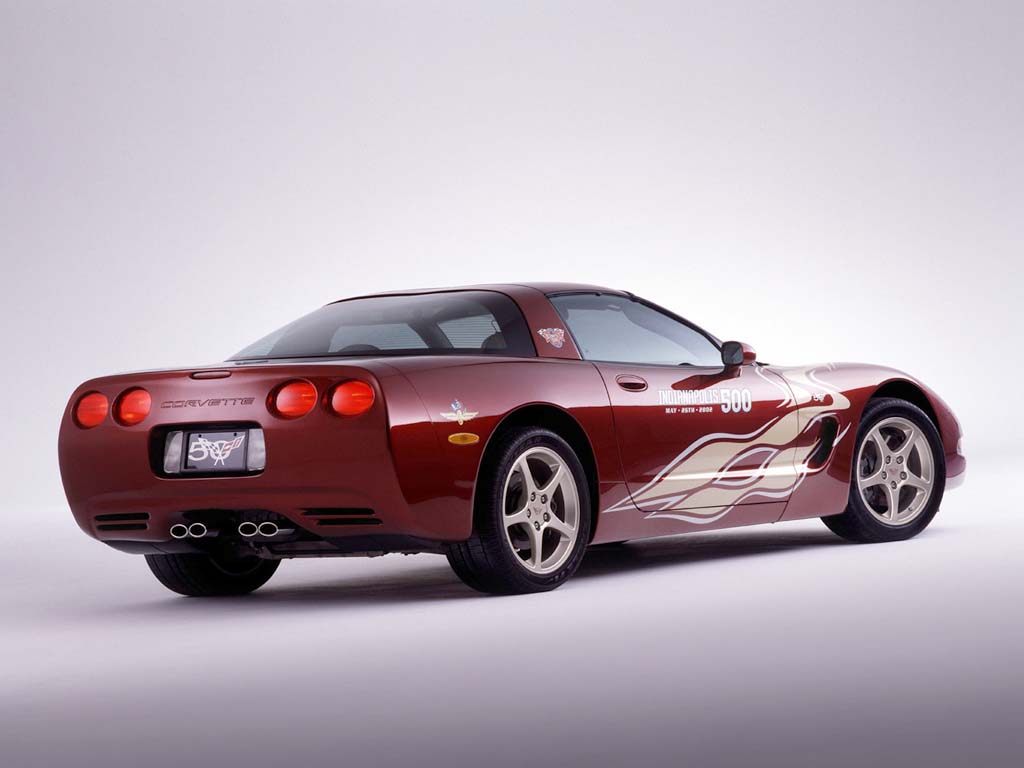 Although official pace car replicas could not be ordered from Chevrolet, decal packages were eventually produced for the 50th Anniversary coupe and convertible. Reproduction decal packages are also available from Phoenix Graphix.
The three pace cars were supported by a fleet Chevrolet vehicles. The 2002 track and festival cars included three 2002 Corvette convertibles in Speedway White and a fleet of sixty-two Sebring Silver 2002 Chevy Camaro Z28 convertibles. These cars were decorated with Indy 500 graphics and were used for the 500 Festival Parade and for VIP transportation. Chevrolet also provided a wide variety of support and staff vehicles including Avalanches, TrailBlazers, Ventures, and several different S-10 pickups.
In addition to the 2003 Corvette pace car and 2002 Corvette and Camaro track and festival cars, an additional sixty-six 2002 Corvettes were used as part of the Indy 500 festivities. Thirty-three Millennium Yellow and thirty-three Quicksilver Corvette convertibles decorated with the 2002 Indy 500 logo and American flags were used during the pre-race parade laps to honor our veterans. These cars were part of a dealer promotion and were distributed to Chevy dealers around the North Central region to be sold to the public after the race.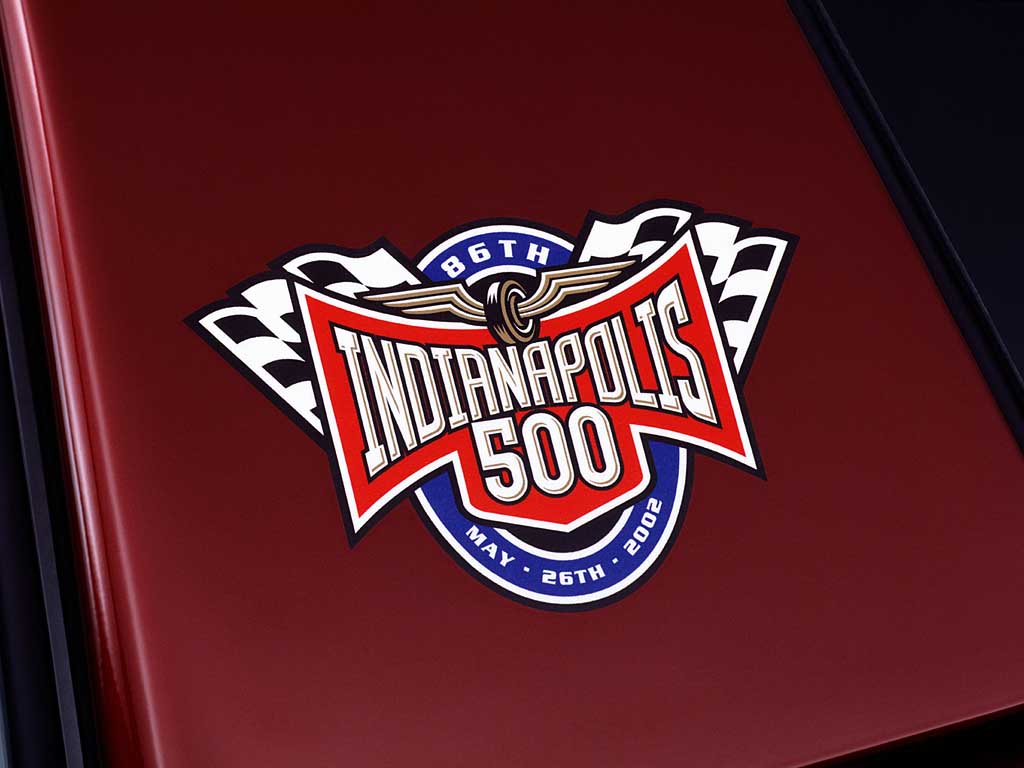 2002 Corvette Pace Car Highlights
Pace car light package
50th Anniversary decals on hood and doors (Indy pace car)
50th Anniversary Red exterior paint (Indy pace car)
Indy Racing League logos (IRL pace car)
Indy Racing League logos (IRL pace car)
5.7-liter V-8 engine (50th Anniversary Edition)
Original Press Release
Corvette to Pace Indianapolis 500 as Part of 50th Anniversary Celebration
DETROIT, Feb 5, 2002 – The 86th running of the Indianapolis 500 on May 26, 2002, will bring together two powerful symbols that stir the imaginations of enthusiasts around the world. Chevrolet's Corvette, an international performance icon, has been named Official Pace Car of this year's Indianapolis 500, the world's most prestigious open-wheel race.
Chevrolet sets the pace for record 13th time
Chevrolet will pace the Indy 500 a record 13th time, and Corvette will perform the pace car duties for the fifth time since 1978- the most pace car appearances by a single brand.
Indy 500 will begin 50th anniversary celebration
"This year's Memorial Day classic will showcase America's favorite sports car at the greatest spectacle in racing," said Corvette Brand Manager Rick Baldick. "This is a milestone event because it will signal the start of a yearlong celebration leading up to Corvette's 50th anniversary in 2003."
"Chevrolet and Corvette have a proud and storied history with the Indianapolis 500," said Tony George, president and CEO of the Indianapolis Motor Speedway. "We look forward to having the 2002 Corvette pacing the greatest race in the world."
Chevrolet returns to Indy car competition with all new Chevy Indy V8 engine
The 86th running of the Indianapolis 500- mile race will also mark the return of Chevrolet to the most hallowed ground in American motorsports. Chevrolet will compete in the Indy 500 for the first time since 1993 with the all-new Chevy Indy V8 racing engine. Chevrolet won 86 Indy car races, including six Indianapolis 500 victories, and five series championships in 1986-93.
"We are proud that Corvette has been named Official Pace Car of the 86th Indianapolis 500," said Kurt Ritter, Chevrolet general manager. "The excitement that builds at Indianapolis Motor Speedway from opening day until the checkered flag falls mirrors the excitement that is building around Corvette's 50th anniversary.
"Chevrolet's racing heritage began with company co-founder Louis Chevrolet, who gained international fame as engineer and race car driver," Ritter noted. "I wouldn't be surprised if the bronze statue of Louis Chevrolet that stands outside the Hall of Fame Museum was smiling at the news about Corvette and Chevy's return to the Brickyard."
Coast-to-coast events will celebrate Corvette's 50th anniversary
Events celebrating Corvette's golden anniversary are planned from coast to coast. The Historic Motorama coordinated by the National Corvette Museum (www.corvettemuseum.com) on June 24-28 will consist of one example from each production year to honor the more than 1.2 million Corvettes that have been produced since 1953.
Corvette will be the honored marque at the Rolex Monterey Historic  Automobile Races on August 16-18, 2002 at Laguna Seca Raceway in Monterey, Calif. (www.montereyhistoric.com)
Production Corvette incorporates advanced technology
The Corvette that provides the platform for the Indy 500 Pace Car is equipped with a standard 5.7 liter LS1 V8 engine that produces 350 horsepower in production trim. Corvette incorporates advanced technology such as hydroformed frame rails, Active Handling System, driver-selectable suspension modes and optional Head-Up Display.
"The cars that compete in the Indianapolis 500 are finely built machines that are designed for maximum speed," said Baldick. "Corvette is just as purposeful in its own right. For 49 years, Corvette has remained true to its two-seat sports car heritage. Corvette combines power, performance, handling and technology -while delivering the maximum amount of driving pleasure to those who value high performance."
When Corvette leads the field of 33 drivers to the green flag on May 26, it will be the start of something big- for racing fans and for the Corvette enthusiasts around the world.
Chevrolet Indianapolis 500 Pace Cars of the Past
Chevrolet has paced the Indianapolis 500 12 times, more than any other brand:
1999  Monte Carlo ( Jay Leno, driver)
1998  Corvette (Parnelli Jones, driver)
1995  Corvette (Jim Perkins, driver)
1993  Camaro Z28 (Jim Perkins, driver)
1990  Beretta (Jim Perkins, driver)
1986  Corvette (Gen. Chuck Yeager, driver)
1982  Camaro Z28 (Jim Rathmann, driver)
1978  Corvette (Jim Rathmann, driver)
1969  Camaro ( Jim Rathmann, driver)
1967  Camaro (Mauri Rose, driver)
1955  Chevrolet Bel Air (T.H.  Keating, driver)
1948  Chevrolet Fleetmaster (Wilbur Shaw, driver)