C5 Corvette Z06 – The Ultimate Guide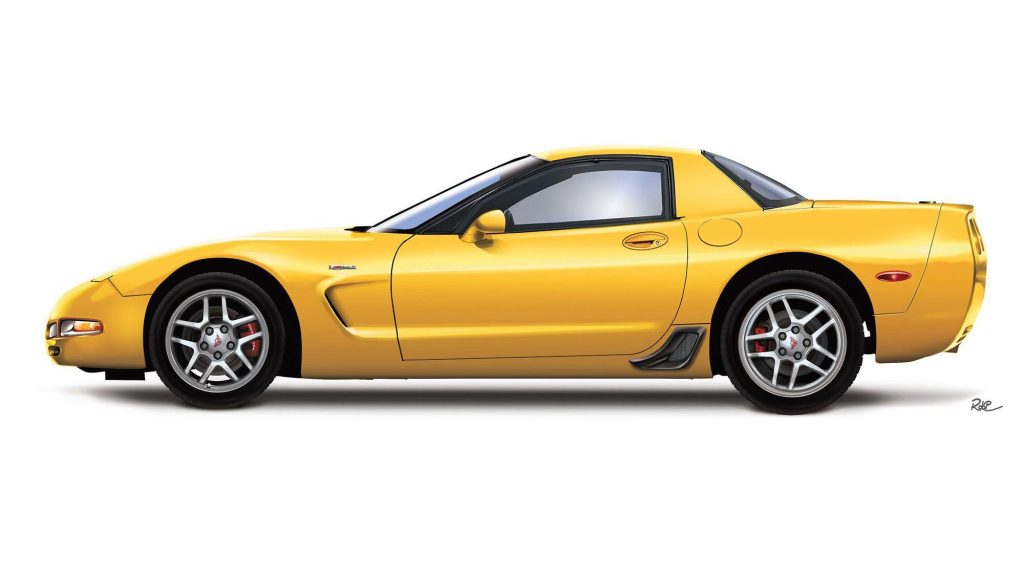 For any fan of the Chevy Corvette, there is no question that the special variant models – the Grand Sport, the ZR-1, the L88, even the Z51 performance package offered on the base models – imbibe a greater sense of exhilaration and exclusivity amongst owners and enthusiasts alike.  While each of these Corvettes are equipped with special options and/or packages (including many RPO options not specifically listed here) that add specific components that provide better handling, better acceleration, better overall performance to these already powerful sports cars, there has never been a package more conducive to providing consumers a genuinely track-capable Corvette than RPO Z06.
Regular Production Option Z06 was originally developed by Zora Arkus-Duntov as a package that consumers could order when purchasing a 1963 Split Window Corvette.  Because the AMA (Automobile Manufacturers Association) had instated a ban on manufacturer-backed racing programs, Chevrolet had withdrawn from building/soliciting automobiles built for the racetrack.  Zora knew that consumers were purchasing Corvettes for use at the track so, despite the ban, he developed the RPO Z06 option for consumers "in the know."  He also lobbied for Chevrolet to offer the package to consumers…and he succeeded, sort of.  While consumers could select the Z06 option when ordering a new Corvette, Chevrolet did not advertise the package as an option.  As this was decades before anyone had a computer in their home, let alone access to the internet, there were few Corvette customers – even those individuals whose sole purpose in buying a Corvette was to take it to the track – that actually knew of this option.  Just 199 examples of the original Z06 Corvette were produced in 1963.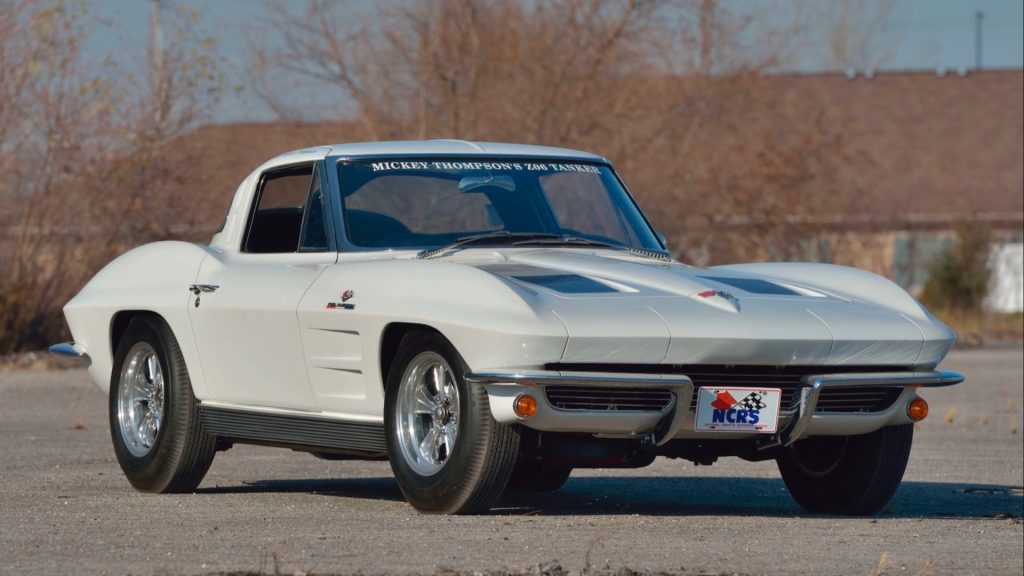 However, for consumers who did purchase the Z06 package, they received a car equipped with a number of performance upgrades, including:
Upgraded brake components, including sintered-metal brake linings designed to withstand heat and wear better than the conventional pads.
A dual-circuit master cylinder and vacuum brake booster designed to enhance braking power and improve overall stopping distance.
A thicker, 24mm (0.94-inch) front stabilizer bar, larger-diameter shock absorbers and springs that double the stiffness of the standard units.
Consumers ordering a 1963 Corvette Z06 received their car equipped with a fuel injected, 360-horsepower, 327-cubic-inch L84 engine, a four-speed manual transmission and Positraction rear axle assembly.  Looking to increase longevity on the race track, some consumers also equipped their Z06 Corvettes with a larger, 36.5-gallon fuel tank.   These Z06 Corvettes became known as "big tank" or "tanker" Corvettes and were originally limited to coupe models because of the added space that the convertible assembly took in the rear of the car.  However, Chevrolet eventually revised the package offerings which allowed consumers to order either a coupe or a convertible with the larger 36.5-gallon tank instead of the 20-gallon tank that came standard on the car.  It is generally agreed that only Z06 convertible was ever built with the larger fuel tank.
Today, these earliest examples of the Z06 Corvette have become extremely collectible, especially given that their intended use as a race car resulted in a much higher attrition rate than those driven for recreation.
The 2001-2004 Corvette Z06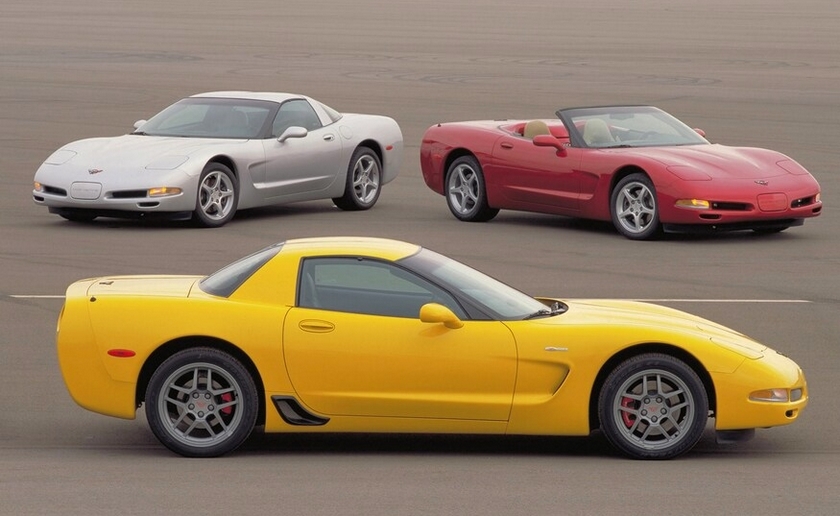 The fifth-generation Corvette Z06 evolved from the FRC (Fixed Roof Coupe) model originally introduced in 1999-2000, which in turn evolved as a limited-production hardtop version of the original fifth-generation Corvette first introduced in 1997.  All variants of the C5 Corvette, including the Fixed Roof Coupe and the Z06 models were developed by GM designer John Cafaro and engineer Dave Hill.  In much the same fashion that Zora Arkus-Duntov had set about developing the original Z06 in the 1960s, Cafaro and Hill recognized that consumers were hungry for a Corvette that could not only hold its own on the racetrack, but was a genuine competitor as well.  The pair recognized that the FRC model provided a lighter, stiffer platform from which to build a high-performance Corvette, and so they elected to develop their track-car around that platform.
First, they looked for ways to lighten the car.  They replaced the standard exhaust system with a titanium assembly, installed thinner glass, lighter wheels, conventional tires (in place of standard run-flat tires like those found on the base model variant), less sound-deadening material, a fixed radio antenna (instead of the heavier power antenna (and drive motor to raise/lower it)), and a smaller, lighter battery.  All totaled, these changes to the FRC lightened the car by nearly 100 pounds (as compared to the base model coupe.
Second, they focused on improving the car's horsepower, handling and overall performance.  The base model LS1 engine was upgraded to the LS6 version of Chevrolet's Gen III small block engine.  The LS6 featured a "hotter" camshaft and higher-compression pistons as well as an enhanced cylinder block design for greater "bay-to-bay" breathing.  Where the LS1 produced 350 horsepower and 365 lb./ft. of torque, the more robust LS6 offered consumers 385 horsepower and 385 lb./ft. of torque in its original form.  The engine received further enhancements the following year and horsepower and torque were increased to 405hp and 400 lb./ft. of torque, respectively.  All fifth-generation Z06 Corvettes were also equipped with a six-speed manual transmission and a Z06-specific gear ratio in the car's rear axle.
A Closer Look at the LS6
The 5.7 liter LS6 V8 engine was developed by GM as part of its Gen III small block engine family for use in the fifth-generation Corvette Z06 and the first-generation Cadillac CTS-V.  Those familiar with the LS6 production code may recall that GM previously used this RPO for a big block V8 the company produced from 1970 to 1976.  Unlike the Gen III engine, which had been specially developed for GM's emerging track-developed sports cars, the original LS6 found its way into a number of GM's biggest marquees, including the Chevrolet Caprice, Chevelle, Corvette, El Camino, and Monte Carlo, as well as the GMC Sprint.  Despite sharing a common production code, the original big block LS6 engine had no mechanical relation to the third-generation LS6 engine used in the fifth-generation Corvette Z06.
5.7L LS6 Engine Vitals

| Displacement: | 5.7L / 346 cu. in. |
| --- | --- |
| Aspiration: | Natural |
| Introduced: | 2001 model year |
| Discontinued: | 2005 |
| Predecessor: | LS1 / Gen 3 Small Block |
| Successor: | LS2 |
| Assembly: | Saint Catherines, Ontario, Canada |
Of course, improved horsepower was only part of what separated the Z06 from its less powerful counterparts.  Like Zora's original 1963 Z06, the fifth-generation variant received chassis and suspension components specifically optimized for the racetrack.  The car featured an exclusive FE4 suspension package comprised of larger-diameter, hollow stabilizer bars that were designed to be lighter but simultaneously had thicker walls for greater thickness, and larger-diameter shock absorbers.  A quicker steering assembly was also installed that allowed lock-to-lock steering in 2.46 turns versus the 2.66 turn-to-turn lock on other models.  Larger wheels and tires were also introduced to improve handling and vehicle grip.  Each Corvette Z06 came equipped with Goodyear Eagle F1 SC tires mounted on lighter, stiffer forged aluminum wheels.
Outwardly, the car looked remarkably like the 1999-2000 FRC models, though the 2001 Z06 (and all fifth-generation Z06 models that followed it) now featured rear-brake cooling ducts integrated into the rear fenders.  While a minor detail overall, the rear ducts became a signature cue which made a fifth-generation Z06 immediately identifiable to anyone in the know.
Over the course of its evolution, and most definitely by the end of the fifth-generation Corvette's production run, the Z06 was benefitting from technologies developed as part of the Corvette Racing program.  A carbon-fiber hood was developed for the 2004 24 Hours of Le Mans Commemorative Edition Z06 Corvette.  The carbon fiber hood weighed nearly 10 pounds less than the standard fiberglass version, and its inclusion further balance the car's front-to-rear weight bias.  In summer 2003, a 2004 Corvette Z06 became the first production car to complete a lap at Germany's famous Nürburgring road course in less than 8 minutes (7:56.).