1997 Corvette Factory Options
| | | | |
| --- | --- | --- | --- |
| CODE | DESCRIPTION | QUANTITY | PRICE |
| 1YY07 | Base Corvette Sport Coupe | 9,752 | $37,495.00 |
| AAB | Memory Package | 6,186 | $150.00 |
| AG2 | Power Passenger Seat | 8,951 | $305.00 |
| AQ9 | Sport Seats | 6,711 | $625.00 |
| B34 | Floor Mats | 9,371 | $25.00 |
| B84 | Body Side Moldings | 4,366 | $75.00 |
| CC3 | Removable Roof Panel, Blue Tint | 7,213 | $650.00 |
| C2L | Dual Removable Roof Panels | 416 | $950.00 |
| CJ2 | Electronic Dual Zone Air Conditioning | 7,999 | $365.00 |
| D42 | Luggage Shade and Parcel Net | 8,315 | $50.00 |
| F45 | Selective Real Time Damping, electronic | 3,094 | $1,695.00 |
| G92 | Performance Axle Ratio (automatic) | 2,739 | $100.00 |
| MN6 | 6-Speed Manual Transmission | 2,809 | $815.00 |
| NG1 | Massachusetts/New York Emissions | 677 | $170.00 |
| T96 | Fog Lamps | 8,829 | $69.00 |
| UN0 | Delco Stereo System with CD | 6,282 | $100.00 |
| U1S | Remote Compact 12-Disc Changer | 4,496 | $600.00 |
| V49 | Front License Plate Frame | 2,258 | $15.00 |
| YF5 | California Emissions | 885 | $170.00 |
| Z51 | Performance Handling Package | 1,077 | $350.00 |
Base Corvette Sport Coupe (1YY07)
The base price of the 1997 Chevrolet Corvette Coupe without any optional equipment.
A 346 cubic inch, 345 horsepower, 5.7 liter engine (LS1), 4-speed automatic transmission, removable body-color roof panel, a Delco stereo system with cassette, and leather seats were included in the base price.
The rear transaxle combined a GM-built, electronically-controlled four-speed automatic transmission with a limited-slip axle built by Getrag.
Memory Package (AAB)
Periphery devices memory package.
This option "remembered" outside-rear-view-mirror, radio, heater-vent air conditioning control, and power driver seat settings.
This option required electronic dual zone air conditioning (RPO CJ2).
Power Passenger Seat (AG2)
Optional, six-way, adjustable passenger seat.
Sports Seats (AQ9)
Special sport seats that featured inflatable lumbar support and power-adjusted side bolsters.
For 1997, the sports seats were a new design and were developed by the Lear Corporation.
The sports seat option also required the power passenger seat (AG2) option.
Floor Mats (B34)
Color matching, carpeted, driver's and passenger's floor mats.
Body Side Moldings (B84)
Plastic adhesive moldings that ran from the bodyside coves to the end of the door.
These moldings had two pieces per side (one mounting ahead of the door to the front fender, the other mounting directly to the driver and passenger doors respectively), and their thickness tapered from front to rear.
Removable Roof Panel, Blue Tint (CC3)
Single piece, transparent, removable glass roof top with blue tint.
Dual Removable Roof Panels (C2L)
Single piece removable roof top panels – one painted, one tinted glass.
The color on the painted panel exactly matched the body color of the car. The glass panel was tinted blue but remained otherwise transparent, providing the driver with an open feel in the cockpit, even when the panel was in place.
Electric Dual Zone Air Conditioning (CJ2)
Separate, zone-control, driver's and passenger's side A/C thermostats.
This option was required when ordering the Memory Package (RPO AAB).
Luggage Shade and Parcel Net (D42)
A thin, fabric cover used to shield the luggage area from exposure.
This thin fabric cover attached to the rear hatchback. If not desired, it could be stored in a separate storage bag (which was included with the Corvette.)
Selective Real Time Damping, electronic (F45)
Electronic ride control system which adjusted ride to existing conditions.
Included a driver-adjustable ride control system.
This option was not available on Corvettes that were ordered with the Performance Handling Package (PRO Z51)
Performance Axle Ratio (automatic) (G92)
Optional performance axle ratio of 3.15:1 with automatic transmission.
The standard automatic transmission featured an axle ratio of 2.73:1. By comparison, the standard transmission model featured a 3.42:1 axle ratio.
5.7 Liter, 345 Horsepower Engine (LS7)
Standard (and only available) powerplant from the 1997 C5 Corvette.
The LS1 was built by General Motors engine plant in Romulus, Michigan. By comparison, most previous small block V-8 engines had been built in Flint, Michigan.
Output was 345hp at 5,600 rpm, torque was at 350lbs-ft at 4,400 rpm's and redline was achieved at 6,000rpm.
Had the same 4.4″ bore spacing that the same displacement (345 cubic inches) as the 350 cubic inch engine family it replaced, but otherwise was new (and state-of-the-art) in pushrod V-8 design.
The LS1's composite intake manifold saved weight and improved air flow.
The aluminum valve covers had separate ignition coils mounted in close proximity to each sparkplug. Spark timing/firing signals were sent by crankshaft and camshaft sensors.
The block was closed-deck aluminum alloy with cast-in cylinder liners.
The block had a deep skirt that extended beyond the main bearing caps.
Four bolt-mains were also cross-bolted to the block for stability.
The shallow-cast aluminum oil pan had side reservoirs and was a structural member of the engine.
An LS1 engine was 44 lbs lighter than the 1996 LT4 engine.
Dual knock sensors were mounted underneath the intake manifold.
The engine firing order was revised from 1-8-4-3-6-5-7-2 to 1-8-7-2-6-5-4-3.
6-Speed Manual Transmission (MN6)
An optional, no-cost, 6-speed manual transmission.
The rear transaxle combined a Borg-Warner six-speed manual transmission (utilizing a Computer-Aided Gear Selection (CAGS)) with a limited-slip axle built by Getrag.
Massachusetts/New York Emissions (NG1)
Specialized configuration of the emissions system to meet state requirements.
Fog Lamps (T96)
Optional fog lamps installed in the front radiator air inlets on the front bumper of the C5 Corvette.
Delco Stereo System with CD (UN0)
An upgrade from the standard Delco Stereo which featured a compact disc player.
Remote Compact 12-Disc Changer (U1S)
Remote 12-disc CD player/disc changer (installed in rear storage compartment.
This option could be ordered either with the standard Delco Stereo with cassette, or the optional Delco Stereo with CD player.
Front License Plate Frame (V49)
A "U" shaped plastic frame on the front bumper that a second license plate could slip into.
This was an appearance item only, and was not required for mounting a front license plate to the C5 Corvette.
California Emissions (YF5)
Specialized configuration of the emissions system to meet state requirements.
Performance Handling Package (Z51)
Upgraded suspension system for better performance and handling.
This option included stiffer springs and stabilizer bars.
It required the Performance Axle Ratio (RPO G92) with automatic transmission.
It was not made available on vehicles equipped with Selective Real Time Dampening (RPO F45).
Notes
Unlike previous "all-new" Corvette models, which had carryover engines and drivetrains, the 1997 Corvette had a completely new engine driving a rear transaxle, which was a Corvette first. Virtually all of the C5's interior, exterior and suspension components were redesigned for this vehicle.
Locating the transmission in the rear of the Corvette maintained a nearly equal front-to-rear weight distribution (51.4/48.6 with automatic) and improved interior space by enlarging the footwells.
Wheelbase increased from 96.2 inches to 104.5 inches, the overall length increased from 178.5 inches to 179.7 inches, the overall width increased from 70.7 inches to 73.6 inches, the overall height increased from 46.3 inches to 47.8 inches, and the track width increased by 4.4 inches at the front and by 2.9 inches at the rear.
Re-positioning the wheels closer to the corners of the car increased stability and performance.
The 1997 Corvette was 80 pounds lighter than the 1996 C4 Corvette that preceded it.
The 1997 Corvette featured large, analog speedometer and odometer/tachometer gauges flanked by secondary instruments and were lit from below/behind using black lighting.
The parking -handbrake was relocated from the left side of the driver's seat to the center console.
Overall, the outer frame-rail was lowered by three inches, significantly reducing the stepover height and allowing easier access into and out of the car.
Premium fuel was recommended and the engine came from the factory with Mobil 1 Synthetic 5W30 motor oil in the crankcase.
Wheel sizes were 17×8.5 inches in the front of the car, and 18 x 9.5 inches in the rear. The tires that were mated to these rims were Goodyear (run-flat) tires. Tire size for the front wheels was P245/45ZR17. Tire size for the rear wheels was P275/40ZR18.
Because of the certainty that GM had for its newest automobile, no spare tire option was offered in 1997.
The suspension had short-long arm (SLA) design at each corner and was commonly referred to as "double wishbone" or "double A-arm".
Springs, all of which were originally constructed out of composite plastic (both front and rear), were transversely mounted
Non USA sales for 1997 included 325 units to Canada, 46 units to Mexico, and 426 units go to global exports.
1997 Corvette Exterior & Interior Colors
Color Options & Quantities
| | | | |
| --- | --- | --- | --- |
| CODE | EXTERIOR COLOR OPTIONS | TOTAL | |
| 10 | Arctic White | 1,341 | Black, Light Grey, Red |
| 13 | Sebring Silver Metallic | 2,164 | Black, Light Grey, Red |
| 23 | Nassau Blue Metallic | 292 | Black, Light Grey, Red |
| 41 | Black | 2,393 | Black, Light Grey, Red |
| 53 | Light Carmine Red Metallic | 381 | Black, Light Grey |
| 70 | Torch Red | 3,026 | Black, Light Grey, Red |
| 87 | Fairway Green Metallic | 155 | Black, Light Grey, Red |
Interior Colors & Quantities
| | | |
| --- | --- | --- |
| CODE | COLOR | TOTAL |
| 193 | Black | 6,481 |
| 923 | Light Gray | 2,543 |
| 943 | Red | 728 |
Exterior Colors

Interior Colors

Seats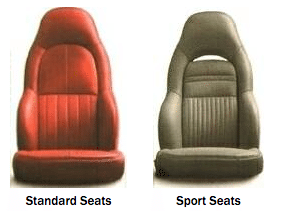 For more 1997 Corvette, see our 1997 Corvette Research Hub and 1997 Corvette Model Guide