Since its introduction in 1984, the C4 had undeniably evolved into a sports car that could hold its own as a contender amongst some of the staunchest sports car competitors from around the world.
With each passing model year, ongoing modifications to the engine, drive train, suspension, and steering had transformed the C4 Corvette from a car that was recognized more for its handling than its performance into a machine that had successfully mated technology and horsepower.
Read More: 1989 Chevrolet Corvette Research Center
1989 Corvette Specifications
1989 Corvette Main Specs
MODEL:
1989 Chevrolet Corvette
BODY STYLE:
Two-door Coupe/Hatchback, front-engine, rear wheel drive
MANUFACTURING LOCATION:
Bowling Green, Kentucky
CONSTRUCTION:
Fiberglass body, unibody construction with partial, perimeter, rail frame including both steel and stainless steel components.
VEHICLE NUMBERS (VIN):
1G1YY2186K5100001 THRU1G1YY2186K5126328
VIN SUFFIX:
ZRA: 350 CUBIC INCH, 240/245 HORSEPOWER, MANUAL, ENGINE OIL COOLER
ZRB: 350 CUBIC INCH, 240/245 HORSEPOWER, AUTOMATIC
ZRC: 350 CUBIC INCH, 240/245 HORSEPOWER, AUTOMATIC, ENGINE OIL COOLER
ENGINE BLOCK NUMBER:
14093638: ALL
HEAD NUMBER:
10088113: ALL
For Callaway Twin-Turbo, Chevrolet engine coding was replaced as follows: First two digits for year, next three digits for Callaway sequence, last four digits to match the last four digits of the vehicle identification number.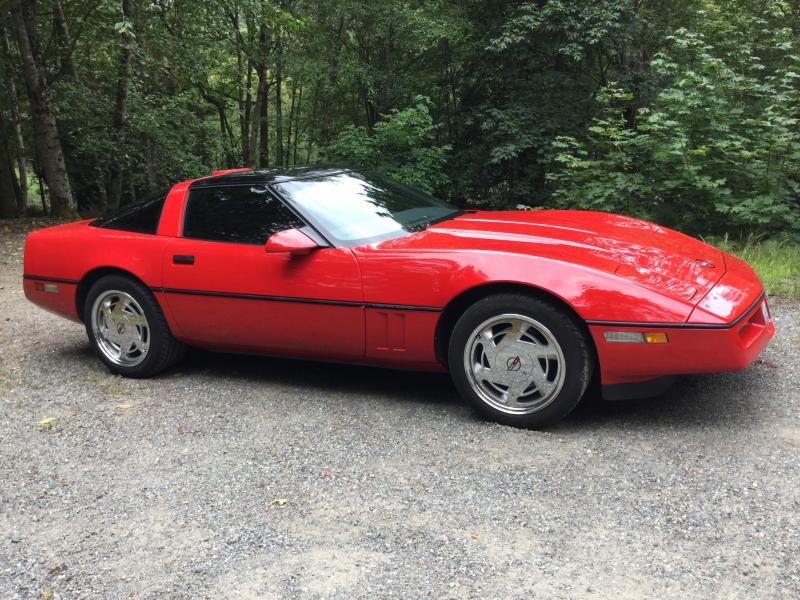 1989 Corvette Powertrain Specifications
Engine
| | |
| --- | --- |
| Engine: | L98 5.7 OHV 350 V-8. Tuned-Port Fuel Injection (COUPE) |
| Cylinders: | V8 |
| Block Material: | Cast Iron Alloy |
| Displacement: | 5.7 Litre/350 Cubic Inches |
| Bore & Stroke: | 4.00 x 3.48 inches |
| Valvetrain: | OHV, 2 valves per cyl. |
| Cylinder Head Material: | Aluminum |
| Cylinder Block Deck Height: | 9.025 Inches |
| Compression Ratio: | 9.50:1 |
| Horsepower: | 245 HP @ 4,300 RPM |
| Torque: | 340 lb-ft @ 3,200 rpm |
| Fuel Delivery: | Tuned-Port Fuel Injection |
| Fuel Capacity: | 20.0 Gallons |
| Oil Capacity: | 4.5 Quarts (Without Filter) |
| Total Dressed Engine Weight (Dry): | 585.7lbs |
| Transmission: | 4 Speed Auto Transmission (Standard), 6 Speed Manual Transmission (Optional) |
| Standard Axle Ratio: | 2.59:1 (Automatic), 3.33:1 (Manual) |
---
Transmission
6 SPEED MANUAL GEAR RATIOS 
4 SPEED AUTOMATIC GEAR RATIOS
1st GEAR:
2.68:1
1st GEAR:
3.06:1
2nd GEAR:
1.80:1
2nd GEAR:
1.63:1
3rd GEAR:
1.31:1
3rd GEAR:
1.00:1
4th GEAR:
1.00:1
4th GEAR:
0.70:1
5th GEAR:
0.75:1
REVERSE:
6th GEAR:
0.50:1
REVERSE:
2.50:1
1989 Corvette Wheels, Suspension & Brakes
Suspension (Coupe/Convertible)
| | |
| --- | --- |
| Front Suspension | Single fiberglass composite monoleaf transverse spring with unequal-length aluminum control arms and stabilizer bar. |
| Rear Suspension | Fully independent five-link system with transverse fiberglass single-leaf springs, aluminum upper/lower trailing links and strut-rod tie-rod assembly. |
Wheels & Tires (Coupe/Convertible/Callaway)
| | |
| --- | --- |
| Front Tires | Goodyear Eagle ZR, P275/40ZR-17 |
| Rear Tires | Goodyear Eagle ZR, P275/40ZR-17 |
| Front Wheels | 17 x 9.5 Inches, 5 Bolt Cast Alloy |
| Front Wheels | 17 x 9.5 Inches, 5 Bolt Cast Alloy |
Brakes (Coupe/Convertible)
| | |
| --- | --- |
| Type | ABS Power-Assist Vented Brakes |
| Front Brakes | 11.5 Inches (13.0 Inches – RPO Z51) |
| Rear Brakes | 11.5 Inches (13.0 Inches – RPO Z51) |

1989 Corvette Exterior Dimensions
Coupe Dimensions

Exterior Dimensions
Exterior Dimensions
Model
L98 Coupe
L98 Convertible
Wheelbase
96.2 Inches
96.2 Inches
Overall Length
176.5 Inches
176.5 Inches
Total Body Width
71.0 Inches
71.0 Inches
Overall Height
46.7 Inches
46.7 Inches
Front Track Width
59.6 Inches
59.6 Inches
Rear Track Width
60.4 Inches
60.4 Inches
Interior Dimensions
Interior Dimensions
Model
L98 Coupe
L98 Convertible
Headroom
36.4 Inches
36.5 Inches
Shoulder Room
54.1 Inches
54.1 Inches
Hip Room
49.3 Inches
49.3 Inches
Leg Room
42.6 Inches
42.6 Inches
Capacities
Capacities
Model
L98 Coupe
L98 Convertible
Passenger Capacity
2 – Driver & Passenger
2 – Driver & Passenger
Curb Weight – Automatic (LBS)
3,330
N/A
Curb Weight – Manual (LBS)
3,223
3,263
Cargo Volume (CU.FT)
11.2 (Rear Seat Up), 18.1 (Rear Seat Down)
11.2 (Rear Seat Up), 18.1 (Rear Seat Down)
Fuel Capacity (GALLONS/LITERS)
20.0/76.0
20.0/76.0
Engine Oil Capacity (QTS./LITERS)
4.5
4.5
Coolant Capacity (QTS./LITERS)
14.6
14.6
Coefficient of Drag
0.33
N/A
Weight Dist. Front/Rear (%)
51/49
50.2/49.8

1989 Corvette Performance Results
| | |
| --- | --- |
| Performance | L98 |
| 0-60 MPH: | 5.4 Seconds |
| 0-100 MPH: | 14.42 Seconds |
| QUARTER MILE: | – |
| TOP SPEED: | – |