1987 – 1991 Callaway Corvette B2K Twin Turbo
Offered from 1987 to 1991, the RPO-B2K upgrade was available from any Chevrolet dealer and also Callaway's first major Corvette tuning program. Together, GM and Callaway made the upgrade package a Regular Production Order (RPO) which was the first time GM had outsourced such an option to a specialist manufacturer. It even had a factory back warranty.
While the 'C4' Corvette was GM's top performance model during the 1980s, its relatively low production volume failed to convince the corporate bean counters that it deserved the necessary financial investments for continued development. The 230hp, 350ci Tuned Port Injection engine was a solid start, while the much-anticipated 4-cam, 32-valve ZR-1 remained in developmental limbo. Enter turbocharging expert Reeves Callaway and his Callaway Cars "skunk works" operation in Old Lyme, Connecticut, which had been building high-performance turbocharger packages for a number of manufacturers since the late 1970s.
GM purchased one of Callaway's twin-turbo Alfa Romeos and discovered that it ran rings around the General's Corvette, so a meeting quickly ensued and just a few months later, Chevrolet announced a new Corvette option for 1987. Dubbed RPO (Regular Production Option) B2K, it specified a carefully massaged 350ci Corvette V8 that's force-fed by a pair of turbochargers and intercoolers.
Notably, the Callaway B2K Corvette was the first externally supplied Corvette high-performance package made available through participating Chevrolet dealers and covered by a full GM warranty! Power output began in 1987 with 345hp, growing by 1989 to 382hp and 560 pounds-feet of torque. According to a Car and Driver road test published November 1986 with that year's Indy 500 champion Bobby Rahal, an early Callaway Corvette laid down a 4.7-second 0-to-60 time, 13.2-second quarter-mile ET, and 161-mph top-end charge. Production continued until 1992 when the RPO B2K Callaway Twin-Turbo option was retired in favor of Chevrolet's own ZR-1. Nonetheless, Callaway would continue to offer other tastily tuned Corvette variants, as well as the SuperNatural Impala SS.
Earning GM "RPO" status and OEM warranty coverage out of the gate in 1986 was a watershed achievement and a testament to the firm's undeniable prowess. While the later cars were a bit more powerful and improved in various ways, the first-of-the-line '87s do carry a certain importance in collectors' eyes.
All cars were sent to Callaway's facility in Limerock CT and were outfitted with the Twin Turbo package. The total cost of the upgrade was $19 999 USD which was added to the base cost of a coupe ($27 999) or convertible ($33 172). The B2K option was primarily an engine upgrade, but was comprehensive and used over 2000 new parts. The engine itself got new forged pistons, crankshaft, a better lubrication system and four bolt main bearing caps. The induction system required a secondary injection system to retain the original emissions and fuel injection system.
As the C4 updated, so did Callway's program and by 1988, the B2K was pushing 382 bhp and 562 ft. lbs. of torque and the pricing increased to match the increase in performance. With a price increase which eventually topped out in $33,000 by 1991. Optionally available were 5-Spoke Dymag Wheels.
Later derivatives included the 880 bhp 'Sledgehammer' which went on to reach 254 mph. By the time Callaway stopped the B2K program in 1991, over 500 Corvettes had been converted. It was replaced by the Speedster.
Videos & Reviews
Picture Gallery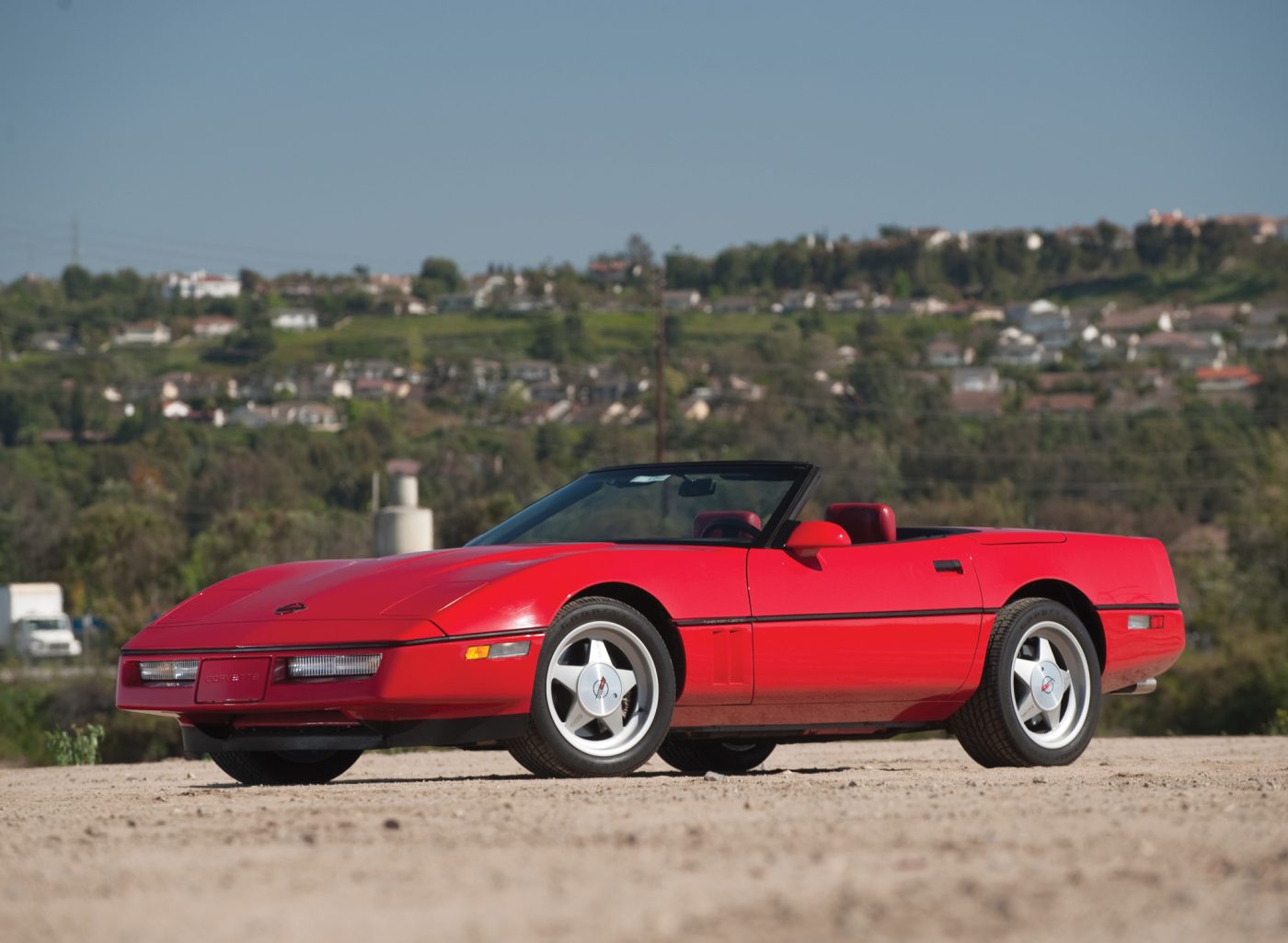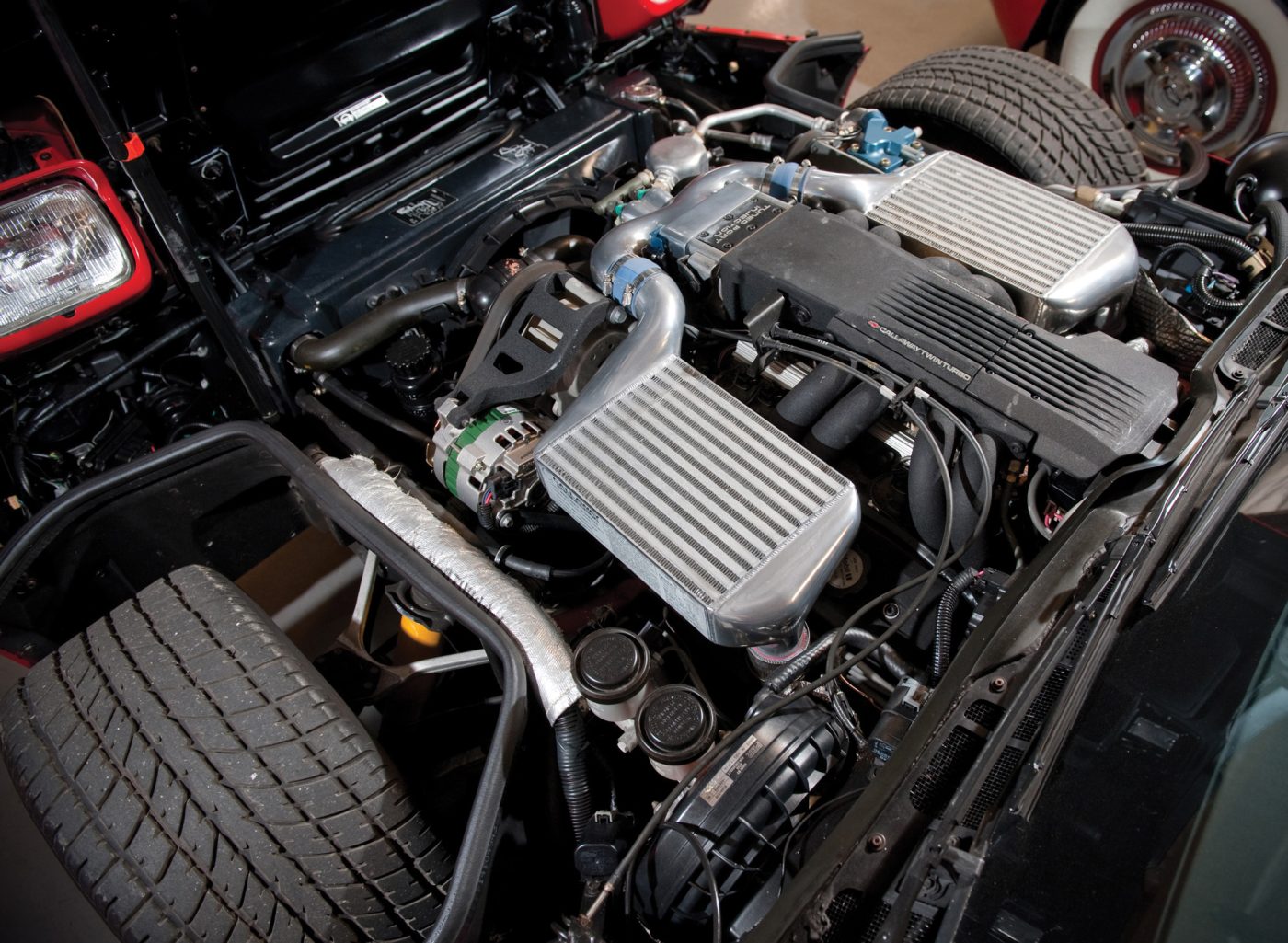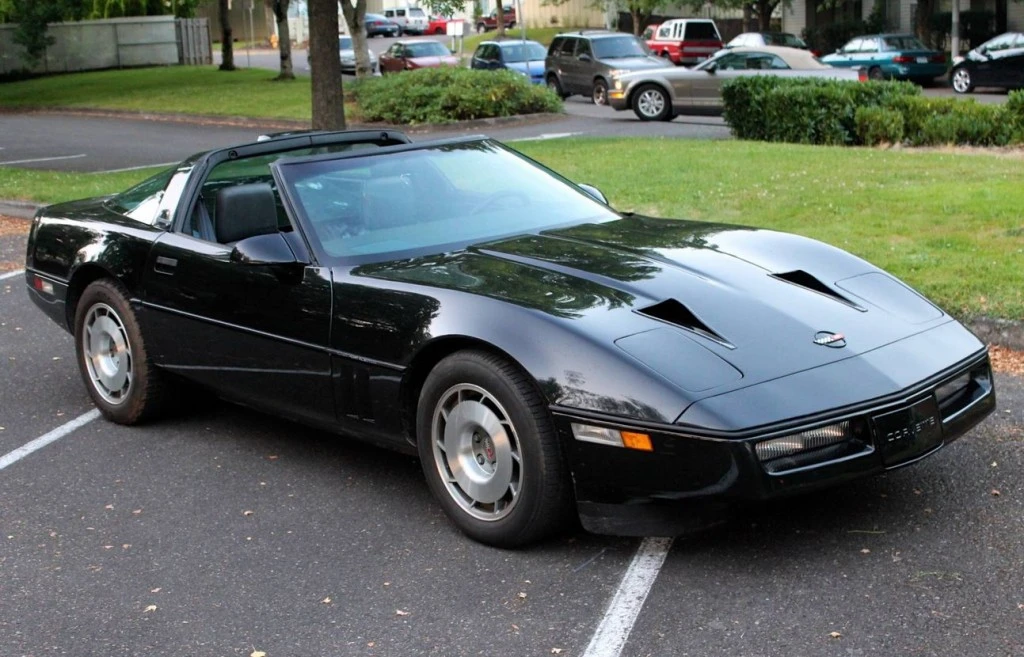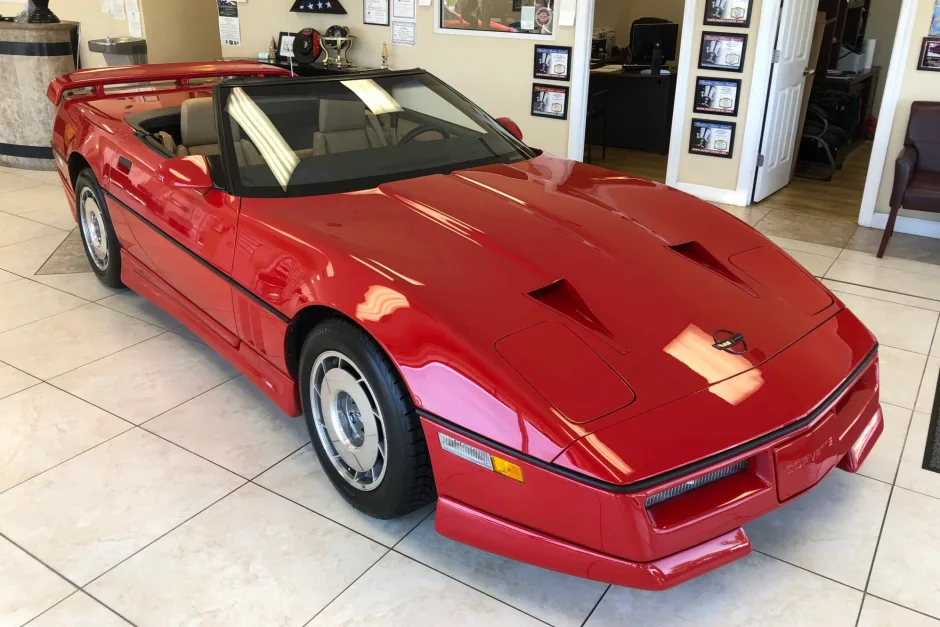 Engine Schematic
This is a representative exploded view of the Callaway Twin Turbo Corvette engine and turbocharger system.
The 1987 model is shown, 1988-1991 models had some minor differences. The numbers shown do not correlate to any current Callaway or GM part numbers, but can be used for reference when contacting Callaway for replacement parts.