Automotive history is full of outlandish tales and shenanigans, many of which would be hard to believe if the fine details of the event in question had not been thoroughly recorded. However, few tales of this nature are quite as intriguing as that of the L88 Corvette that competed at Le Mans in 1973.
The storied Corvette masqueraded as a Ferrari, in order to gain entry to one of the world's most coveted endurance races. However, these efforts almost fell flat, as a fateful set of events threatened to end the Corvette's Le Mans entry before race day ever began.
A Corvette Ferrari?

In the late 1960s and early 1970s, automotive manufacturers from across the world were locked into an intense power war. Every weekend, cars of different makes sped around raceways of every perceivable type, in search of the checkered flag. This was a period of time in which on-track success equated to increased sales, and everyone wanted their piece of the pie.
Tire manufacturers had become keen to this fact, and several companies had joined the fray, looking to increase their sales on the backs of winning race teams. Radial race tires had begun to rise in popularity, with both BF Goodrich and Goodyear tire companies looking to solidify dominance over the market.
At the time, BF Goodrich sponsored John Greenwood's highly successful Corvette race team. Meanwhile, Goodyear placed its faith, and financial support, behind Bob Johnson and David Heinz's RED (Race Engineering and Development) team, which operated an L88 Corvette nicknamed "The Rebel."
Both teams proved more than capable, racking up an immense number of endurance race wins. In head-to-head competition, the RED race team and their L88 staked dominance over Greenwood's "Stars and Stripes" Corvette, pulling out an overall GT-class victory at Sebring. For their success, the RED team was awarded an invite to Le Mans in 1972.
However, this created quite the difficulty in itself. The Rebel, battered by an exhaustive race season, had been repaired with the use of numerous aftermarket components. This was in direct conflict with GT-class regulations at Le Mans, which specified that any competing vehicle must be stock to a high degree of accuracy.
Upon coming to terms with these troubling circumstances, and The Rebel's impending disqualification, the RED race team formed a new plan, which would require a certain amount of intervention on Goodyear's behalf. A wrecked L88 Corvette was purchased for $600 and repaired using stock components. The car itself would be outfitted with a new frame, engine, and drivetrain components. However, one last order of business remained.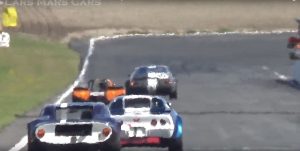 Since the outstanding Le Mans invite had been extended specifically to the prior "Rebel" racer, the team's newly rebuilt L88 Corvette was not qualified for entry. In a bid to salvage their own investment, Goodyear paid a visit to Luigi Chinetti, of the NART (North American Racing Team). NART operated as a subsidiary of Ferrari's race program and had experienced substantial success at Le Mans. At the time, Goodyear served as one of NART's leading sponsors.
The plan was relatively outlandish, yet genius on many fronts. Ferrari held an unoccupied spot for a reserve car at Le Mans, and Goodyear intended to make sure that this spot was filled by the RED race team's L88 Corvette. While accounts differ as to the terms of this discussion, it appears that Goodyear leveraged their sponsorship, thereby pressuring the Italian automotive giant into accepting their demands. With the RED race team's freshly rebuilt L88 on the roster, all eyes shifted toward Le Mans.
Success Derailed
After being shipped to Le Mans, the RED L88 took the track for practice laps, carrying Ferrari badging. However, the events of the day proved to be unsettling. While cruising at speeds in excess of 100 MPH, the 1968 Corvette lost traction as it passed over a banner that had blown across the track.
The resulting wreck heavily damaged the Corvette's front end. To make matters worse, Ferrari had just pulled all of its qualifiers from the race, leaving the L88 scheduled for guaranteed competition.
With little time for proper repairs, the team began frantically searching for any viable means of repairing their car. In an act of desperation, the #4 NART Corvette's front end was patched together using wood and duct tape. With the blessing of track officials, the RED race team's Corvette was cleared for entry.
A Quality Showing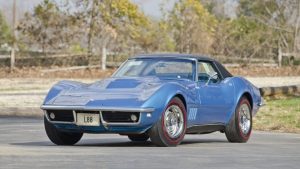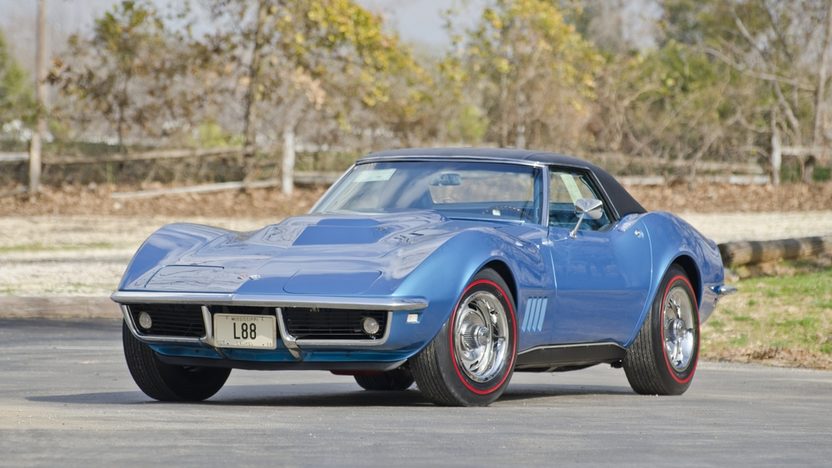 The #4 NART Corvette started Le Mans in 53rd position, but quickly advanced through the pack. By 5:00 AM, the car had advanced to 8th place, with little sign of slowing in pace. The team had begun projecting a top 5 victory, if no issues arose.
However, as if jinxed by wishful thinking, the #4 Corvette quickly fell victim to a number of mechanical calamities. A series of engine-related issues soon threatened the team's chances of success. Such difficulties were further exacerbated by an ensuing electrical fire. Nonetheless, the L88 Corvette soldiered on, thanks in large part to the resilience of those in the pits.
Despite having been cobbled together with the use of wood/duct tape, and being forced to contend with one mechanical catastrophe after another, the #4 NART Corvette finished in 15th place overall, and 7th in its class. The team's car also proved to be the only Corvette to weather the strenuous conditions of Le Mans, and finish the race.