1964 – 1965 L84 Corvette Engine Ultimate Guide
By the mid-1960s, Chevrolet's small-block engine program had already begun making waves. What started some ten years prior with the introduction of the 265 cubic-inch V8 had grown into a wave of successive development, which ultimately gave rise to several of GM's most memorable early Corvette powerplants.
In under a decade, GM's signature small-block received a substantial boost in displacement while also becoming the standard-bearer for several new internal developments in engine technology. These developments ultimately produced a new crop of small-block powerplants based on Chevrolet's new 327 cubic-inch engine platform. Of the four 327 cubic-inch small blocks available in 1964, none topped the output of the fuel-injected L84 V8.
The Origins of the 1964 L84 Engine
People intent on purchasing a Corvette in 1964 were left with a plethora of available powerplants—as long as their powerplant of choice carried a displacement of 327 cubic inches. During this particular model year, four individual variants of the 327 cubic-inch V8 were listed on the Corvette's options sheet.
Of these four engines, none were as potent as the fuel-injected L84. This small block was nearly identical in base construction to the carbureted L76, also available for the 1964 models. But rather than a Holley carburetor, the L84 featured a Rochester mechanical fuel injection system, which further bolstered the 327CI's output.
The L84 actually served as a further refinement of tech that had been around for the better part of a decade. The 327CI V8 itself descended directly from earlier GM small-blocks of the era, dating back as early as GM's original 265 cubic-inch offering. Likewise, Rochester mechanical fuel injection was first offered in 1957, when a "fuelie" version of the 283CI V8 appeared on the Corvette's options sheet.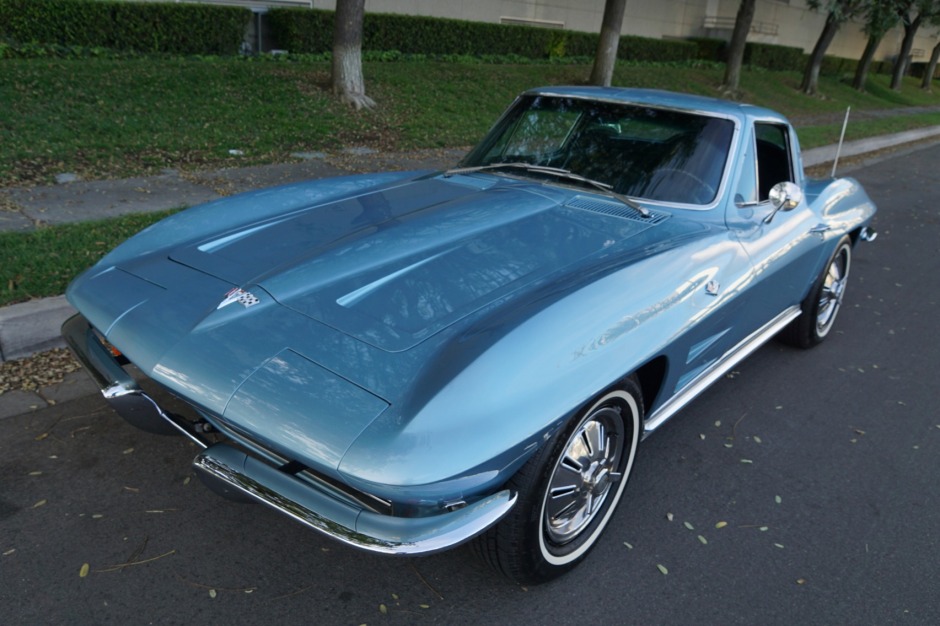 Via Bring a Trailer.
1964 L84 Engine Tech Specifications and Configurations
The L84 small-block featured a cast-iron engine block with a two-bolt main construction. Cradled inside of this block was a forged steel crankshaft supported by a total of five main bearings. Each of the L84's cylinder bores measured 4.00" in diameter, with a measured stroke of 3.25". Like the carbureted L76, the L84 also operated on an above-base compression ratio of 11.0:1.
Unique to the L84 and L76, which were essentially identical in base construction, was a new high-lift camshaft. This Duntov-derived camshaft carried the "30-30" designation due mainly to its specified valve lash adjustments (.030 intake, .030 exhaust). This more aggressive camshaft maximized engine efficiency in both carbureted and fuel-injected applications.
Unique Features of the 1964 L84 Engine
Atop the L84's engine block sat a pair of cast-iron "double-hump" fuelie heads (casting #461). These heads were fitted with sizable valves (2.02/1.60), which ultimately promoted greater breathability and increased engine responsiveness.
Of course, the main draw of the L84 was the small-block's use of Rochester Ramjet fuel injection. This fuel injection system was of an all-mechanical nature, metering fuel without the intervention of onboard electronics. The L84 was the only use of such technology within the 327CI platform since all other engines of this displacement were fitted with Carter or Holley carburetors.
All things considered, the L84 327 cubic-inch V8 was quite the powerhouse, serving as GM's most potent small block of the era. This engine proved capable of dishing out 375 horsepower at 6,200 RPM while logging 35 lb.-ft of torque at 4,400 RPM. This level of performance was enough to push the 1964 L84-equipped Corvette to an estimated top speed of 130 MPH while posting 0-60 MPH times of just 5.6 seconds.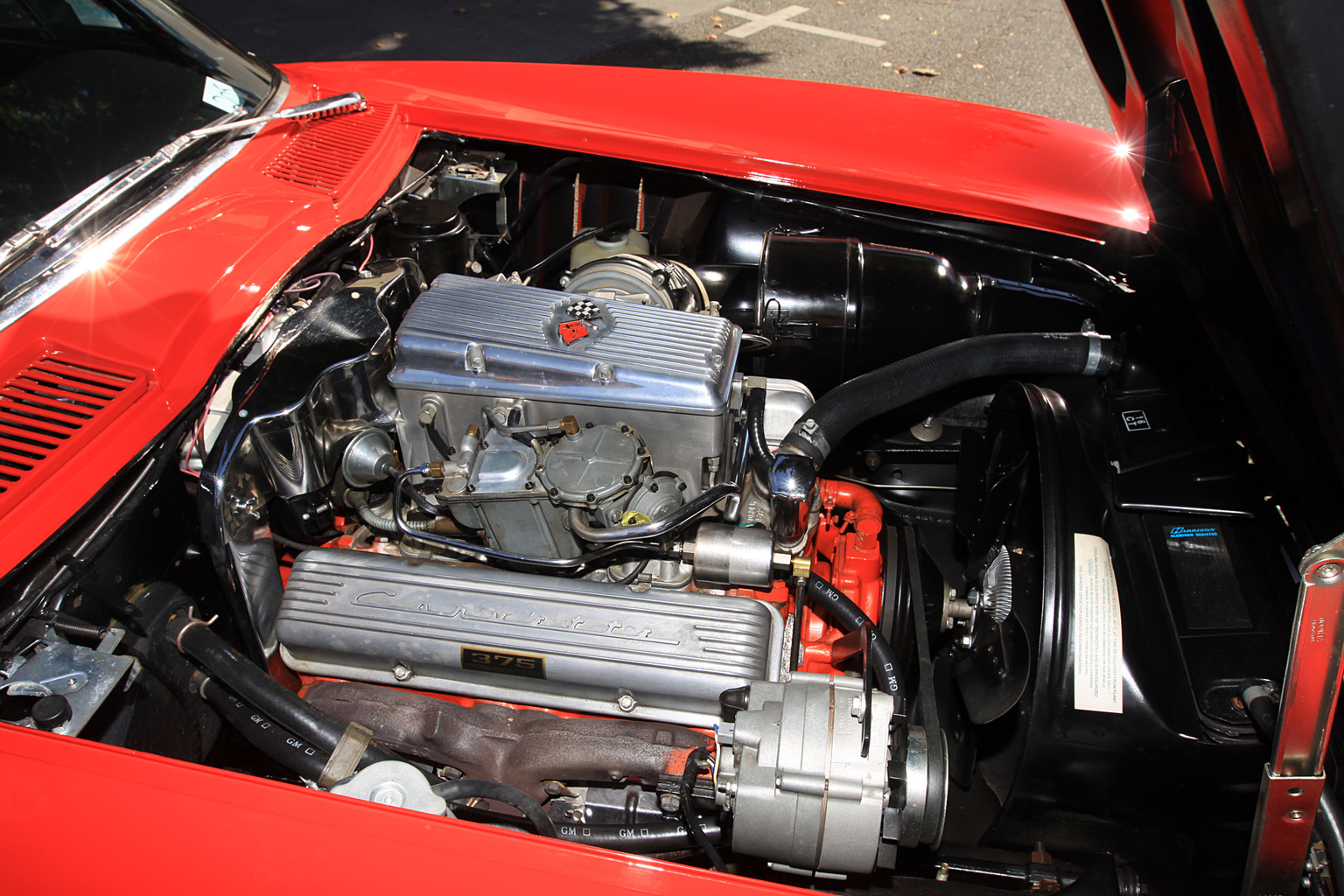 Via Supercars.net.
1964 L84 Engine Specs Index
Horsepower: 375hp @ 6200 RPM
Torque: 350 lb-ft @ 4000 RPM
Compression Ratio: 11.25:1
Displacement: 327 cubic inches (5.4L)
Cylinder Bore: 4.00" (101.6mm)
Stroke: 3.25" (82.55mm)
Alternate Uses for the 1964 L84 Engine
The L84 small-block V8 was reserved exclusively for use in the Corvette. While the 327 cubic-inch V8 was used in numerous 1960s Chevrolet models, the premium-tier L84 avoided such a fate. This was largely because the L84's increased price tag was considered too steep to be practical for sedan-type applications.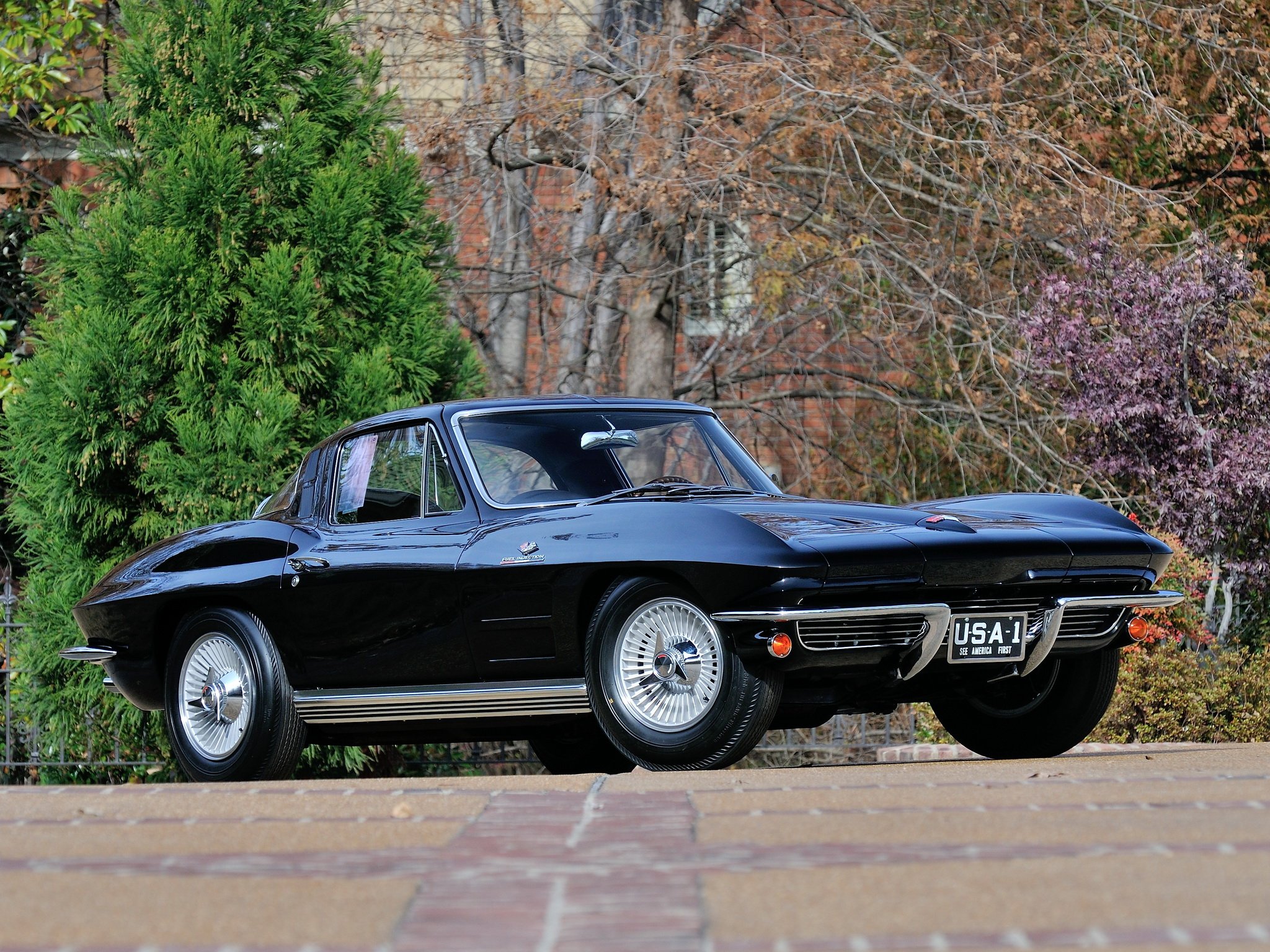 Via Wallpaperup.com.
The 1964 L84 Engine Helped Define an Era
For the period in which it was produced, the L84 V8 was every bit as potent as one could hope for it to be. However, the complexities of this powerplant also proved to be its undoing.
While fuel injection had already gained a foothold elsewhere within the world by the 1960s, American consumers were still reluctant to abandon carburetion. This, along with a notably higher price tag, deterred many would-be buyers, many of whom ultimately bought a Corvette with a carbureted L76 V8 engine instead.
Nonetheless, the L84 small-block was an engineering marvel, showcasing advanced technology that would ultimately become the industry standard. Perhaps more important is the fact that the L84 further cemented the Corvette's rightful spot among the world's top performance vehicles for many years to come.