1964 – 1965 L76 Corvette Engine Ultimate Guide
Classic Chevrolet cars and small-block engines go hand-in-hand, forever as intertwined as baseball and hot dogs. Chevy's storied small-block legacy dates back more than 50 years, all the way to the infancy of the now-legendary horsepower wars. The 265 cubic-inch small-block served as the genesis of such efforts and a jumping-off point for successive developmental steps.
Chevrolet spent the following decade perfecting their earlier small-block, which eventually grew in displacement and became a testbed for early fuel injection technology. Further progress was made in 1964, with the release of the L76 V8. This potent small block proved quite reliable while dishing out more than enough horsepower to earn its keep.
A Brief History of the 1964 L76 Engine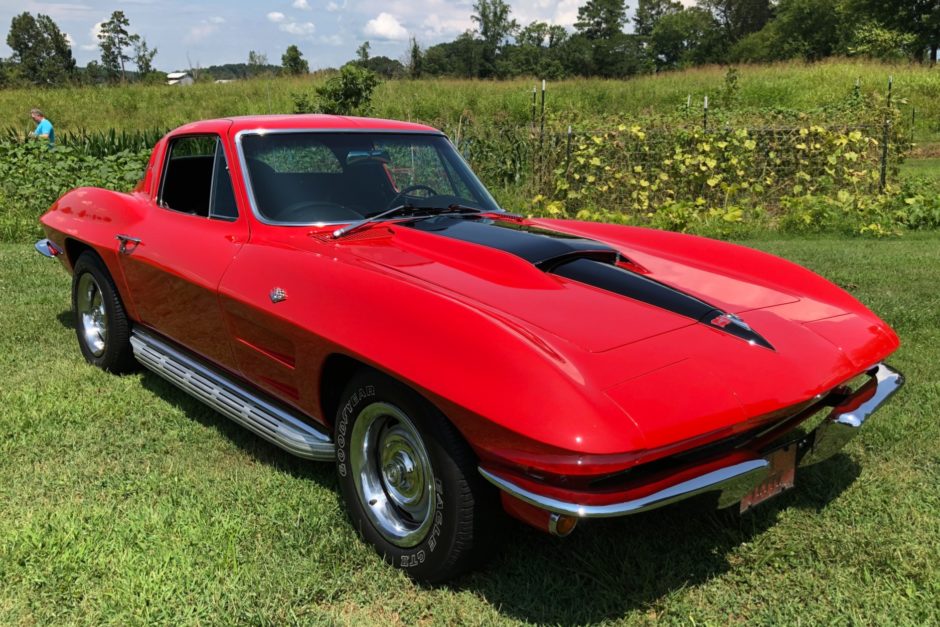 Via Corvsport.com.
By the early 1960s, the aforementioned 265CI V8 had undergone more than its share of revisions, ultimately growing to 327CI in displacement. In fact, Corvette owners of this era were left with four individual variants of the 327CI small-block to choose from, all of which differed slightly in design and rated output.
In its base form, the 327CI V8 came topped with a four-barrel carburetor and produced 250 horsepower. This output could be boosted to a total of 300 horsepower by selecting a larger high-performance carburetor.
At the top tier of the options sheet were the L76 and L84—the former of which was carbureted, while the latter was of "fuelie" (fuel-injected) lineage. The L76 small-block served as the most powerful carbureted Corvette powerplant at the time of its release, dishing out up to 340 horsepower for the 1963 C2 Corvette.
The L76 was updated once more, prior to the 1964 model year. Equipped with a new high-performance camshaft, the L76 churned out 365 horsepower at 6,200 RPM, falling only ten horsepower shy of the fuel-injected L84 V8's total output.
1964 L76 Engine Tech Specifications & Configurations
The L76 small-block V8 featured a cast-iron block with two-bolt mains. Contained within this block was a forged steel crankshaft, supported by a total of five main bearings.
The L76's cylinder bores measured 4.00" in diameter while carrying a stroke measurement of 3.25". Also of interest was the L76's relatively high compression ratio of 11.0:1.
Unlike the base rendition of the 327 cubic-inch V8, or the slightly more robust L75, Chevrolet's L76 small-block featured a specialty high-lift camshaft. This camshaft was developed by Chevrolet design luminary Zora Arkus-Duntov and was often referred to as the "30-30 cam" due to its specified valve lash adjustments (.030 intake, .030 exhaust).
The engine's valvetrain lay within a set of cast-iron cylinder heads closely resembling those used by the L84. In fact, structurally, the L76 and L84 were extremely similar, even sharing the same internals. However, discrepancies between these two engines arose when comparing the two powerplants' fuel delivery systems.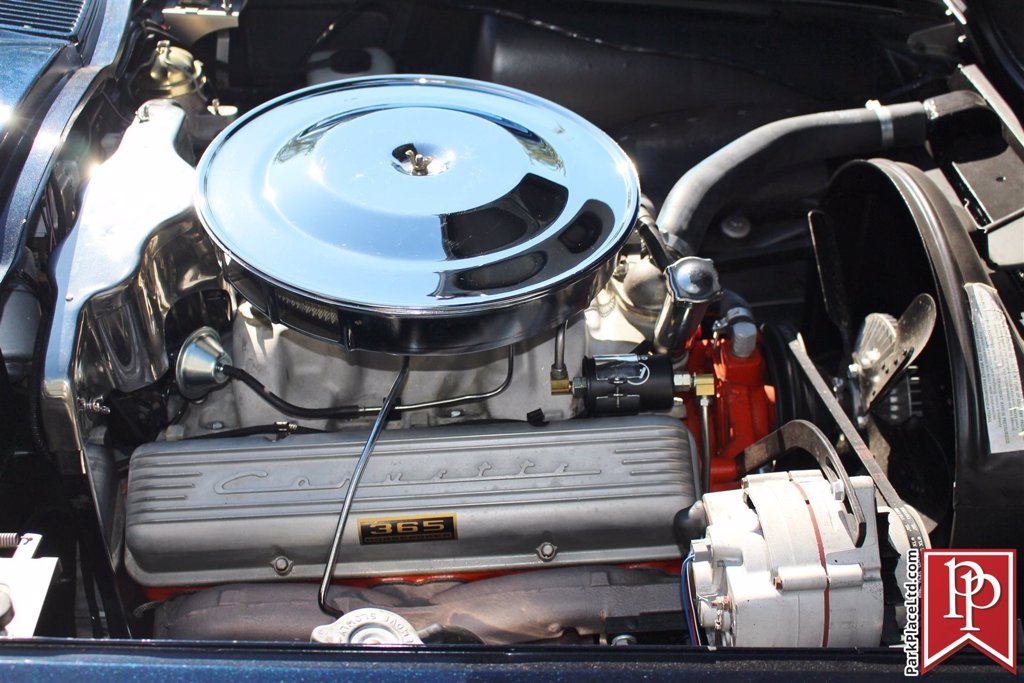 Via Park Place LTD.
The L76 also featured the same signature high-rise intake manifold as several earlier Chevrolet small blocks. Atop this intake resided a new Holley four-barrel carburetor—in stark contrast to Chevrolet's use of a Carter carburetor on all lower horsepower iterations of the 327 cubic-inch small-block.
All totaled, the L76 small-block was staggeringly impressive for its day, producing 365 horsepower at 6,200 RPM and 350 lb.-ft of torque at 4,000 RPM. Though such records taken during the era were somewhat vague in scope, most estimate that the L76-equipped 1964 Corvette posted 0-60 MPH times of approximately 5-6 seconds and could cover a ¼ mile in under 15-seconds.
1964 L76 Engine Specs Index
Horsepower: 365hp @ 6200 RPM
Torque: 350 lb-ft @ 4000 RPM
Compression Ratio: 11.0:1
Displacement: 327 cubic inches (5.4L)
Cylinder Bore: 4.001" (101.6mm)
Stroke: 3.25" (82.55mm)
Alternative Uses for the 1964 L76 Engine
The L76 small-block V8 was specific to the Corvette, having never been relegated to use in a Chevy passenger sedan. Instead, many such vehicle models made use of GM's 283 small-block, which was seen by many as a precursor to the 327CI L76 itself. Alternative versions of the 327CI also made their way into use in a host of other Chevrolet models.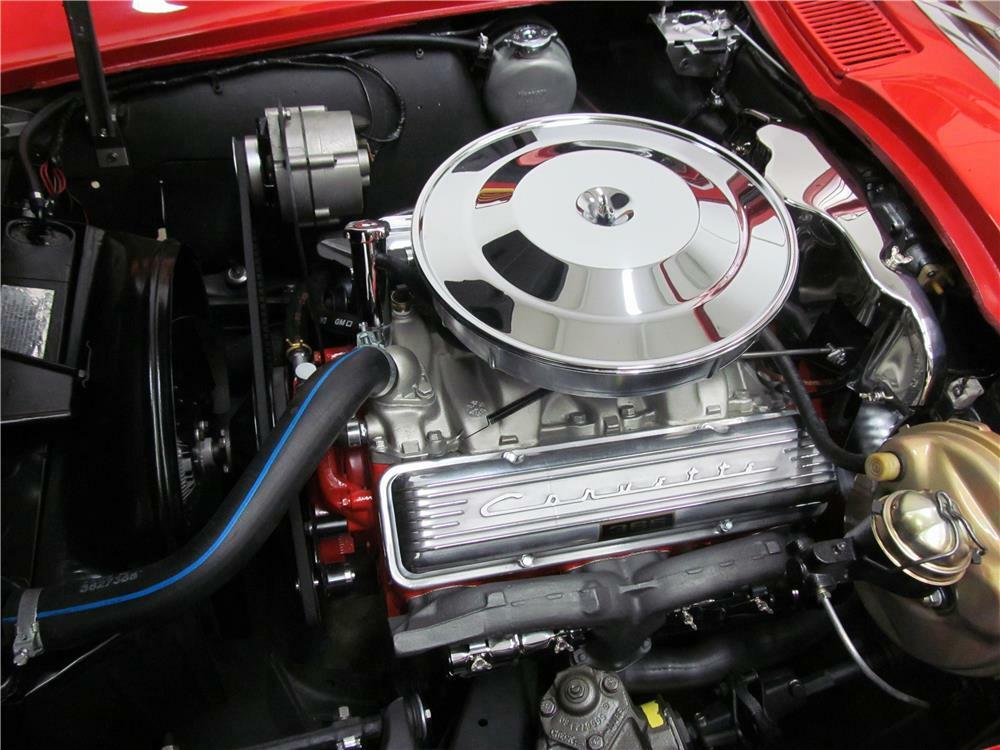 Via Barrettjackson.com.
The Legacy of the 1964 L76 Engine
Chevrolet's 327 cubic-inch L76 V8 proved more than worthy of its place beneath the Corvette's hood. Aside from its stellar performance attributes, the L76 also became quite popular with consumers.
This small-block engine dished out a respectable amount of power without digging too deeply into the prospective Corvette owner's wallet. In truth, springing for the L76 added only $129 to the 1964 Chevy Corvette's price tag compared to settling for its base powerplant.
Unfortunately, like many legendary Corvette engines of the past, the L76 was ultimately dropped from production, entering retirement by the late 1960s. However, most today still remember the L76 as one of the most potent Corvette small-blocks since few similar offerings compared to the L76 during its manufacturing era.