1961 Corvette Restomod Sells for $352k at Mecum
Poll any group of Corvette enthusiasts with the question "which is better, a C1 or a C7?" and you'll get a split answer.  On one hand, you'll have the purists who will argue that a 1961 Corvette is an iconic piece of Americana from a time when GM really knew how to build a beautiful car full of chrome trim and cool lines.  On the other, you'll have the performance-hungry group that argues the old Corvettes don't come close to the power and handling of the newer models, especially the seventh (and now eighth) generation Stingrays.
But what if you could have both?  What if you could have the classic styling of a 1961 Corvette roadster with the heartbeat and soul of a C7?  Enter the Restomod Corvette.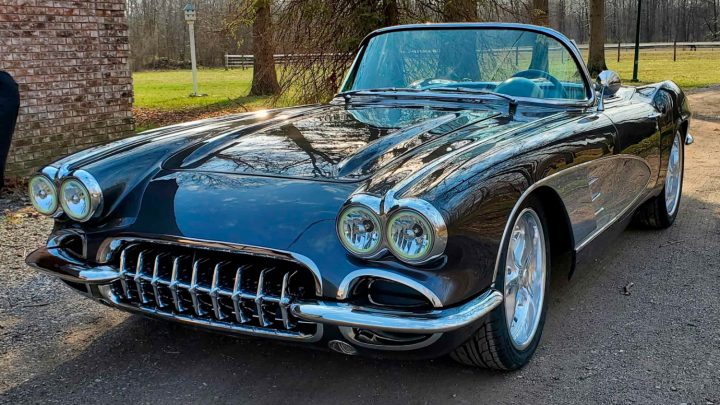 The Restomod market has become an increasingly popular niche market in the collector car world over the past decade.  It began with aging collectors who wanted to maintain the look/styling of their classic rides without dealing with the frustrations often associated with the car's outdated powertrain, braking, and suspension systems.  These owners – many of them capable of laying down the dollars needed to create a one-off hybrid – put a donor chassis from a modern car beneath the body of their classic automobile.  The result?  A car with incredible power, handling, steering, cornering that maintains the outward appearance of their beloved model from yesteryear.
Today, Restomods have become a widely accepted option in the classic car market.  These cars show up with increasing frequency at car shows, swap meets and automobile auctions.  One such example – the 1961 Chevy Corvette featured in this article – crossed the auction block at Mecum Auctions recently and sold for the dollars normally reserved for a numbers-matching classic.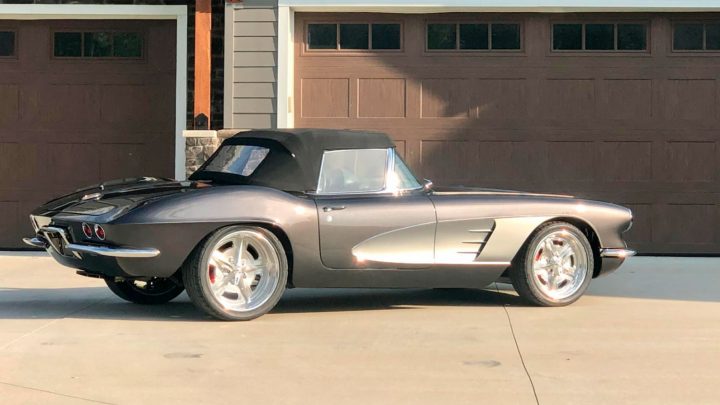 This 1961 Corvette came packaged with lots of amazing tech: a full Art Morrison chassis, a Gen V LT1 6.2-liter V8 engine producing 455 horsepower, a 4L65E four-speed automatic transmission, suspension from a seventh-generation Corvette, Wilwood power brakes, and a whole lot more.
But what about any of that makes this car worth the kinds of dollars reserved for a numbers-matching Corvette of this vintage?  Let's dig a little deeper.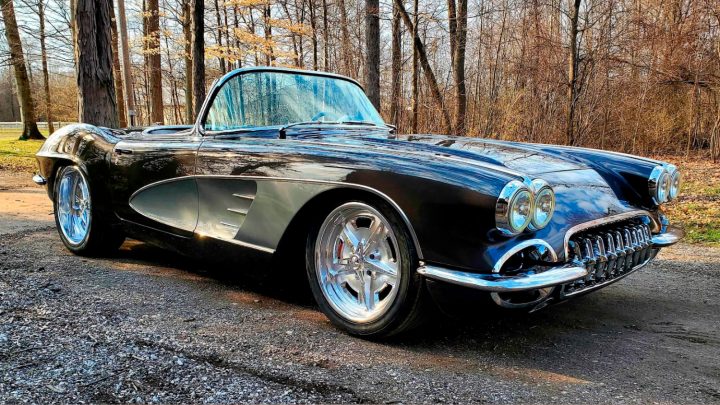 We begin with the exterior.  This 1961 Corvette's exterior was refinished in a beautiful dark gray metallic with light gray metallic coves.  The paint was meticulously laid down, producing a glass-like finish that is superior to the factory paint this car had when it rolled off the line.  The car's convertible soft top was replaced with a beautifully assembled Stayfast top finished in black Haartz material.
The gas door on the driver's side of the car was changed from the factory square shape to the more contemporary shape of the modern Corvettes.  All of the chrome – including the front bumpers, grille teeth, headlight trim rings, cove trim, and rear bumpers were all re-plated, and all the stainless steel trim was polished.  The headlights were replaced with Xenon units featuring LED halo rings.   The factory painted wheels with bias-ply tires have been replaced with custom, highly polished billet rims wrapped in low-profile radial rubber tires.  The front Corvette emblem has been removed and glassed over for a smoother, streamlined front-end appearance.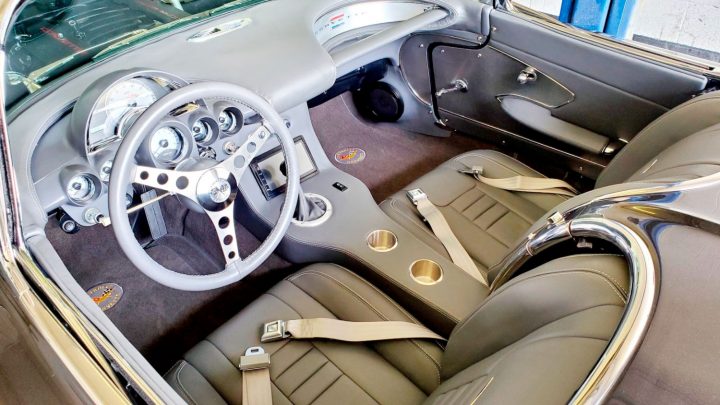 Moving to the interior, this 1961 Corvette had its firewall moved four inches forward which resulted in more leg room.  The seats, dashboard, steering wheel, and console are all wrapped in gray Italian leather.  Vintage Air and a double DIN Bluetooth Infotainment system (similar those to found in modern Corvettes) replaced the factory heater head and AM radio assembly.  Beautiful light gray carpeting was installed along with custom Corvette carpeted floor mats.  A Dakota Digital dashboard replaced all the analog gauges and provides the driver with all sorts of relevant performance data.
Perhaps the most significant modifications are what's under the body of this beautiful 1961 Corvette.  The undercarriage of this Corvette features the aforementioned Art Morrison chassis equipped with a C7 Corvette suspension with adjustable coilover shocks.  The entire undercarraige was sprayed with a color-matched Raptor liner.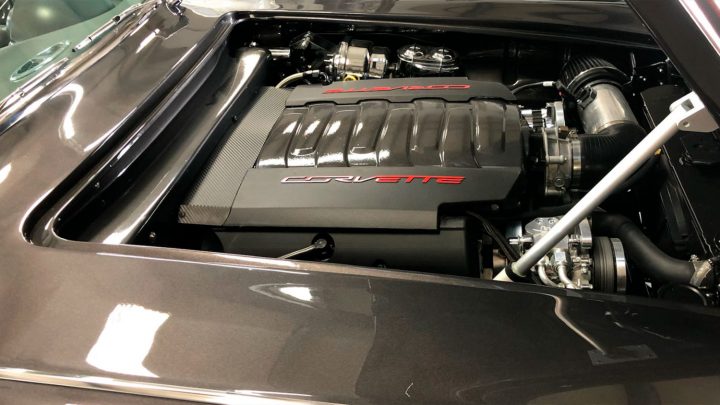 The hood is raised and lowered with a Dakota Digital power hood actuator.  The hood opens on a meticulously maintained engine bay, featuring a smoothed firewall and both it and the inner fender wells painted to match the car's dark gray exterior.  The LT1 engine is housed perfectly in this space.  It maintains the same, factory appearance as the engines found in 2014-2019 Corvette coupes and convertibles, but looks equally at home underneath the hood of this classic C1 Corvette.  The engine is paired up with a full, stainless-steel exhaust system.  As previously mentioned, the engine is mated to a 4L65E electronically controlled four-speed automatic transmission.  Four-wheel disc brakes replace the drum brakes previously installed, and added stopping power is provided by a Wilwood power brake booster.  The Wilwood brake discs and calipers are in full view thru the billet wheels.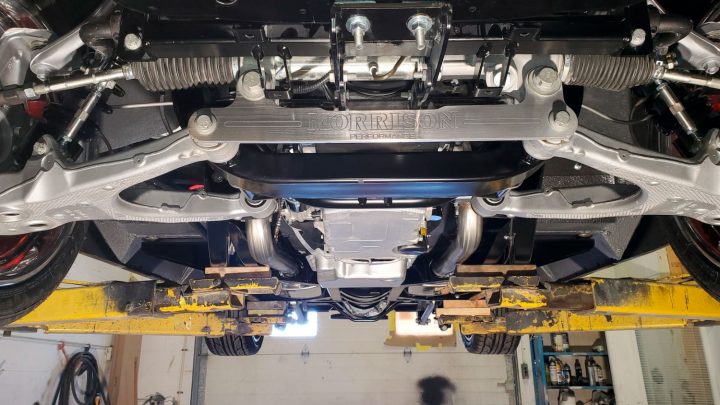 This beautiful 1961 Corvette Restomod sold at the Mecum Auctions in Orlando earlier this summer for $352,000, which included the buyer' premium.  The fact that a Restomod can command such a price proves that this car was built to exacting details.  Moreover, it proves that Restomods are gaining traction as a viable alternative for those of us who want classic looks with contemporary performance.  I suspect we'll see a lot more of these cars showing up at future Corvette rallies in the near future…and if they look like this, we can't wait to see them!!