By the time that the C7 Stingray was revealed on January 13, 2013, at the Detroit Auto Show, an extensive buzz had surrounded the launch of the latest rendition of the Corvette for some time. In design since 2006, the C7 had been a car destined for greatness from the beginning. With initial instructions given to build a Corvette that could handle challenges from even the most significant of its foreign competitors, a design team headed up by Tom Peters and Tadge Juechter, set out to accomplish a task that would be nothing short of revolutionary.
However, before the design process could progress much further than its initial stages, the project was almost scrapped. In late 2007, GM was facing severe financial hardship, as it felt the effects of the recession. During this time, the C7's development was halted, and the program in its entirety faced an uncertain future. Fortunately, GM was spared from bankruptcy as the government made wide-sweeping financial concessions within the automotive industry.
With the C7 design project back on track, progress continued toward the sports car of the future. What resulted was a Corvette that rose to a plateau all its own, mixing elegance and performance in a level of cohesiveness yet to be seen by the sports car world. Powered by the all-new 450 HP LT-1 engine platform, and designed to be as functional as it was striking, with its Tremec TR 6070 7-speed manual transmission and weight reductive suspension upgrades, the C7 illustrated to perfection the Corvette's boundless push toward greatness.
The following is a basic guide to bolt-on modifications for your C7 Corvette.
Cold Air Intake
If you are looking to boost your C7 Corvette's performance in a way that does not break the bank, or require hours of labor to facilitate, the addition of a cold air intake system should be an item of priority.
The premise of this mod is based upon the knowledge that cold air is naturally more oxygen dense than warm air. Therefore, the cooler the air that is inducted through the intake, the more oxygen will be available for combustion. This results in notable gains in horsepower and increased performance across the board.
Vararam True Cold Air Intake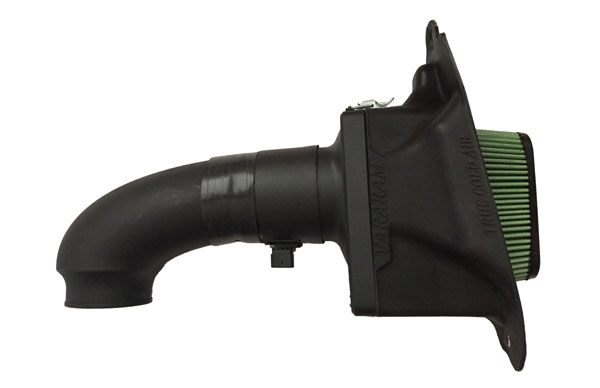 The Vararam True Cold Air Intake is just what your C7 needs when notable net gains with a minimal investment in time and capital is desired. This cold air intake features a reverse venturi intake tube with a bell-mouthed throttle body junction, leading to a superior level of unabated airflow, that averages 18-30 degrees cooler than that supplied via factory induction ductwork. The abundance of oxygen-rich air that is cast into the intake, leads to an average gain of 18-20 HP.
This unit by Vararam is built to last, featuring rotational molded construction and sustainable heat shielding, that minimizes heat soak and delays heat penetration. This system can be installed in less than an hour with no more than basic hand tools. The Vararam True Cold Air Intake can be purchased at a retail price of $359.00.
K&N Cold Air Intake System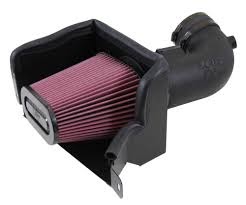 With a name that needs no introduction in the cold air induction market, K&N has exactly what you need to significantly reduce intake air temperatures and boost performance. The K&N Cold Air Intake System features oversized ductwork that allows the passage of unrestricted air into the intake at a considerably enhanced rate over that of stock breather units and features a pleated, reusable K&N air filter that eliminates the need for costly element replacement.
This unit is built to last, utilizing K&N's standard Roto-Molded Urethane Construction, and is backed by a 1-Million mile warranty. With an estimated installation time of no more than one hour, and advertised gains of 12.5 HP and 16.6 ft./lbs. of torque, this cold air induction system comes as a steal at $419.99.
Upgraded Throttle Body
Your Corvette's throttle body serves as the gatekeeper between fresh air and your intake. No more air can enter the intake, and later the combustion chambers, than what can pass through the throttle body at any given moment.
This is precisely why there has been an extensive amount of talk in recent years about ported, and otherwise upgraded throttle bodies among Corvette enthusiasts. By bolting a ported, or larger bore throttle body onto your Corvette's power plant, you are eliminating a common point of restriction in the C7's induction tract, and bolstering performance.
WEAPON-X 95mm Ported Throttle Body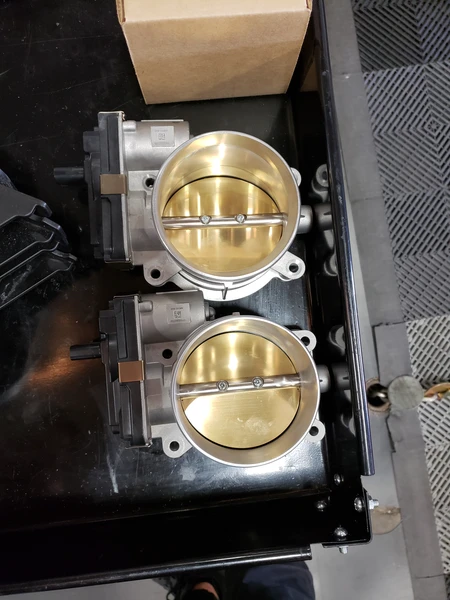 If less restrictive airflow and increased performance is what you seek, WEAPON-X has you covered with their 95mm Ported Throttle Body. The WEAPON-X 95mm Ported Throttle Body features a polished blade and expertly finished bore, freed of all lips and protrusions. The addition of bore tapering and precision porting takes this throttle body's craftsmanship to the next level. These details culminate to provide your C7 with the most significant rate of airflow possible.
WEAPON-X doesn't just make performance claims regarding their throttle bodies, they back them up as well. All throttle bodies are flow bench-tested to ensure superior performance and manufacturing quality. Priced at $449.10, you can buy in confidence, completely satisfied at the prospect of improved performance to come.
Lingenfelter 95mm Throttle Body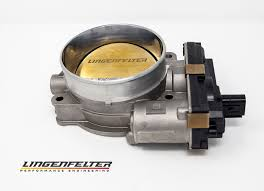 With the advent of the LT-5 engine, came the inclusion of GM's 95mm throttle body. If this was GM's answer to increased performance, why not give your LT-1 the same level of breathability. If this sounds like a plan that you can get behind, look no further than the Lingenfelter 95mm Throttle Body. This unit is designed to a high degree of craftsmanship, with a precision machined throttle plate and defect-free bore.
One of the definite selling points of the Lingenfelter throttle body is that it is constructed from CNC-machined aluminum. This means that you can say goodbye to rust and other troubling forms of corrosion. For a retail price of $479.99, your C7 will breathe with integrity.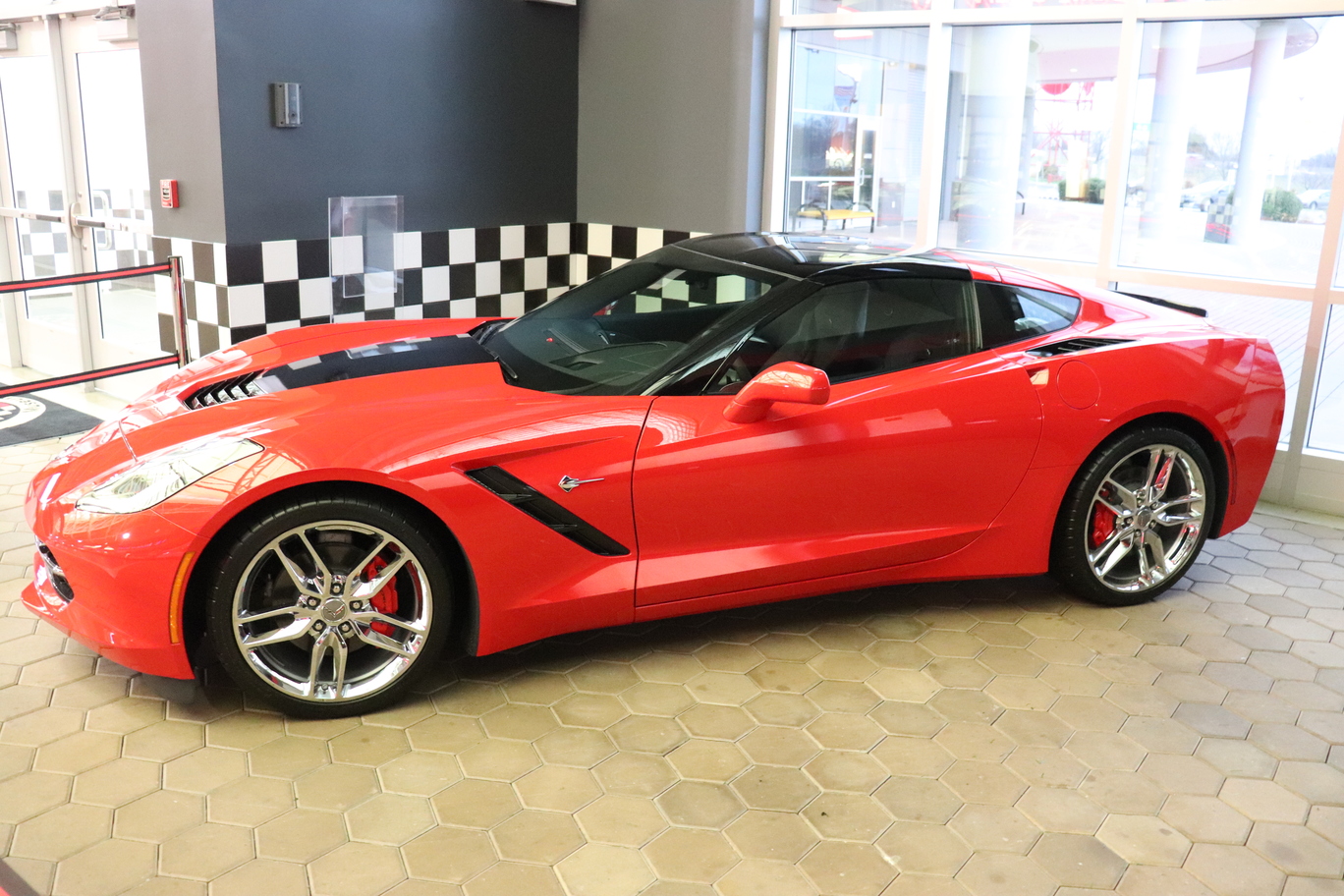 160 Degree Thermostat
A number of C7 performance enthusiasts have discovered the potential that can be unlocked when the factory 212-degree thermostat is replaced with an aftermarket 160-degree unit and paired with a custom tune. This allows coolant to circulate earlier in a vehicle's drive cycle, assisting in keeping temperatures regulated, even under demanding driving conditions.
There is some debate as to the exact horsepower gains that can be expected, but the consensus by many is that minor to moderate increases can be expected.
Mishimoto 160 Degree Thermostat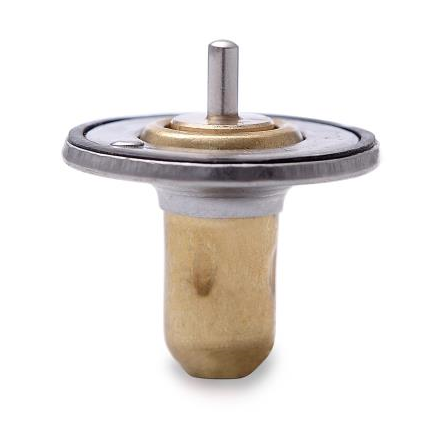 The Mishimoto 160 Degree Thermostat is just what the performance-minded C7 owner needs to squeak additional gains out of their Corvette's power plant, and set the stage for making the most out of additional modifications. This thermostat is designed to be a simple drop-in replacement for its stock predecessor, making installation relatively trouble-free.
The Mishimoto thermostat is backed by a lifetime warranty and can be purchased for a retail price of $49.95, making it one of the most affordable mods on this list. When utilized with a custom tune, the enhanced cooling potential of this thermostat tends to shine at its brightest.
Lingenfelter GM 160 Degree Thermostat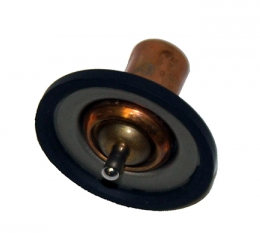 If you are seeking a low-temperature thermostat, that has been independently verified to produce gains in performance, the Lingenfelter 160 degree thermostat is likely for you. With an opening temperature substantially lower than that yielded by the stock 212-degree thermostat, your Vette's operating temperature will run cooler than one might have otherwise thought possible. This will not only ward off any nagging fears of overheating but increase performance to a point as well.
The Lingenfelter GM 160 degree thermostat is designed to be a direct fit in place of stock units. This makes the installation of this thermostat a breeze and lends itself well to those looking for a simplistic and monetarily tolerable modification to perform. This Lingenfelter thermostat can be purchased for a retail price of $39.95.
Performance Programmers
Do you seek to achieve the highest level of horsepower and torque possible from your C7 Corvette, or reap the maximum available gains provided by other previously performed modifications? If so, then the use of a programmer can make this happen.
Programmers allow you to tune your C7's ECU for optimized performance and efficiency by downloading custom programming, or even writing your own custom "tunes."
Scorcher Pro Performance Programmer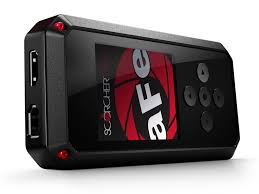 If you have made a number of modifications to your C7, you have likely reached a point that you are aware of the fact that custom tuning is the next item of business. If you find yourself in this situation, the Scorcher Pro Performance Programmer can get the job done. The Scorcher allows you to upload a tune specifically for the purpose of making your previously performed mods pay dividends.
Along with the ability to utilize the custom tunes that can be procured through AFE's webpage, the Scorcher also possesses the ability to stream live data, as well as pull diagnostic codes for further analysis. At a price of $523.95, the Pro Performance Programmer allows you to summon every ounce of potential from your modified C7.
SCT Performance X4 Power Flash Programmer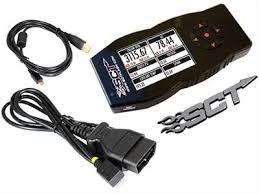 The SCT Performance X4 Power Flash Programmer is a unit that truly does all that a consumer could want and more. With a capacity that allows for the storage of up to 10 custom tunes, and an easy file restoration feature, this programmer has what the performance-minded C7 owner craves.
This SCT Programmer also features the ability to monitor live streaming data, as well as the potential to pull, view, and clear diagnostic codes as desired. What truly sets this programmer apart is its cloud-based file-sharing capabilities, allowing users to pull tunes from an infinite number of sources.
For a price of just $399.99, you will gain the ability to render maximum gains from the abovementioned engine performance mods on this list.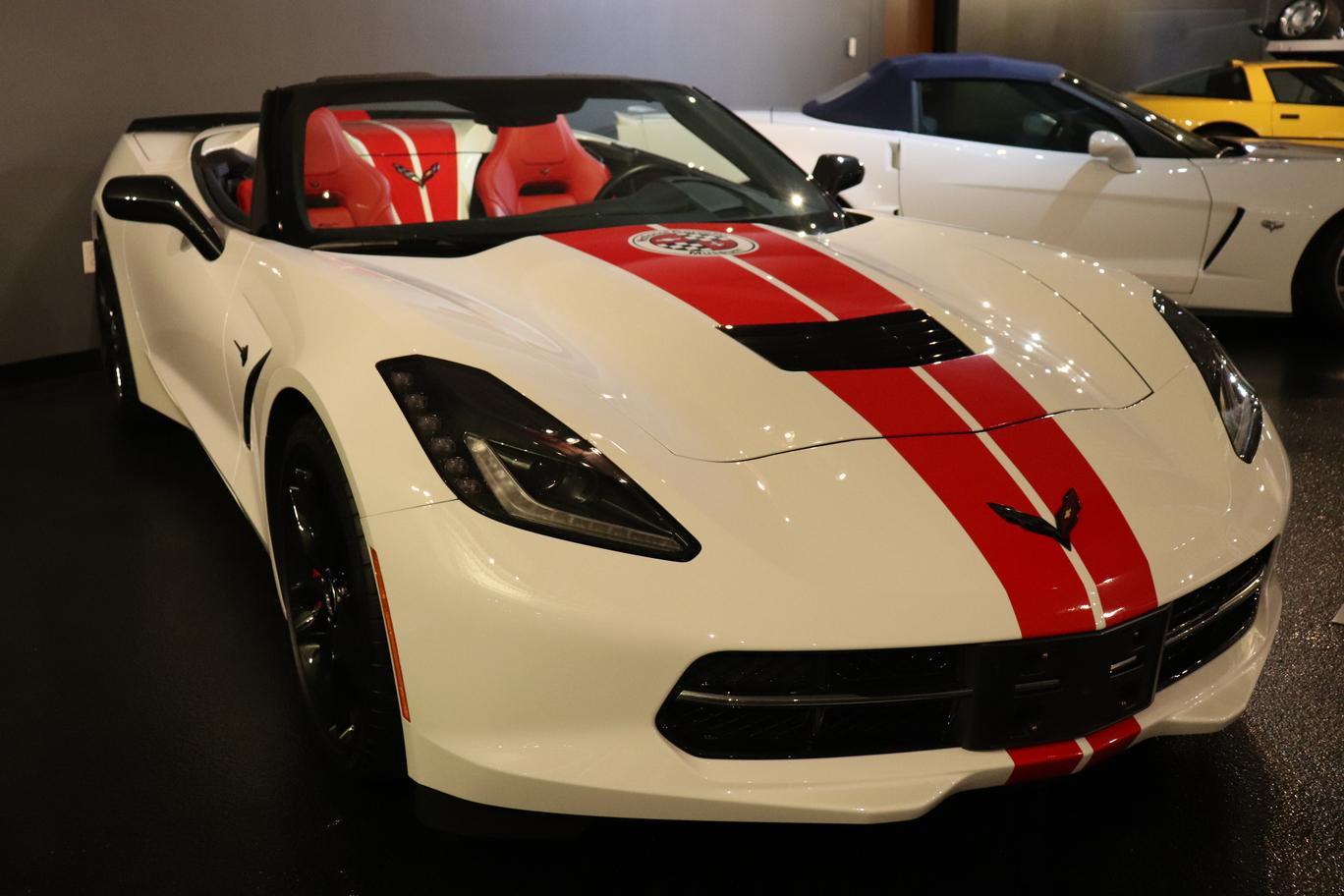 Aftermarket Exhaust Upgrades
Although the C7 generation of Corvette saw vast improvements in its exhaust flow characteristics, there are still numerous upgrades that the mod-minded Corvette enthusiast can capitalize upon.
By installing true long tube headers and opening up your C7's ability to propel exhaust gases away from the engine, completely free of excessive restriction, you are able to bring your Vette's performance to life. With the addition of a custom tune, the installation of aftermarket exhaust upgrades can yield noticeable gains in horsepower and torque.
LG Motorsports Stepped Long Tube Headers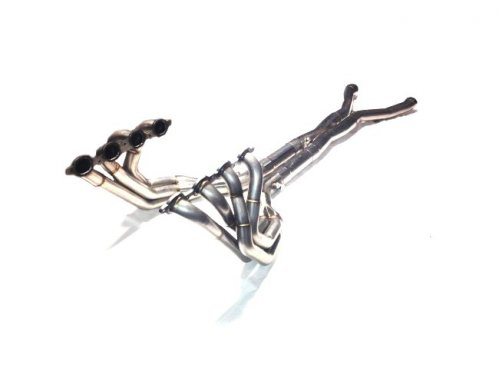 Take your C7's performance to the next level, by increasing the LT-1's exhaust output efficiency with a set of LG Motorsports Stepped Long Tube Headers. This LG Motorsports Kit is constructed from mandrel-bent 304 stainless alloy and features a 1 ¾" to 1 ⅞" step for maximized performance. Metal Matrix Converters, that allow unsurpassed rates of flow, boost peak horsepower, and produce notable gains in torque, are utilized in conjunction with this kit as well.
The LG Motorsports Stepped Long Tube Header kit can be installed with relative ease, as all components are completely bolt-on in nature and require no cutting, drilling, or welding. This allows all factory exhaust hangers to be retained for use. Additionally, all slip fit junctions create a smooth seamless fit throughout the length of this kit.
The LG Motorsports Header Kit can be purchased for a retail price of $1,785.00, making it a solid investment for those looking to take their C7's performance to the next level.
TSP 1 ⅞" Stainless Steel Long Tube Header Kit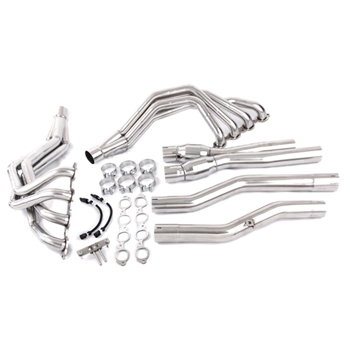 The TSP Stainless Steel Long Tube Header Kit is the perfect product for those seeking to upgrade their C7's exhaust system, without breaking the bank. This kit includes a set of true long tube headers, a 3" X-pipe, and all the necessary hardware to complete the installation process in trouble-free fashion. Also included are new direct-fit 02 sensor extensions and GM MLS gaskets.
Don't be fooled into thinking that because of this kit's economical price point of $1,149.99, that you will be purchasing anything less than perfection. The headers supplied in this kit are constructed from mandrel-bent, 304 steel tubing,
Other features of this kit include merge-style collectors, complete with velocity spikes, 1 ⅞" primaries, and custom hangers.