Would You Do This to a C5?
We're usually not ones to advocate the chopping up of an otherwise fine Corvette, but if you want to go off-roading and you don't have an off-road vehicle, doing what this owner did with his C5 Corvette might be the way to go. He took his 1999 Corvette and transformed it completely into a dune buggy. 
The car is listed on Bring A Trailer, and at the time of this writing you have two more days to beat the $15,000 bid that's currently on the car if you'd like to own it. If you're wondering how this car exists, then you should know that the owner removed the Vett's fiberglass body, then shortened the front and rear frame rails, and then added a home-built body cage. Then he crafted custom bodywork out of 6061-T6 sheet aluminum.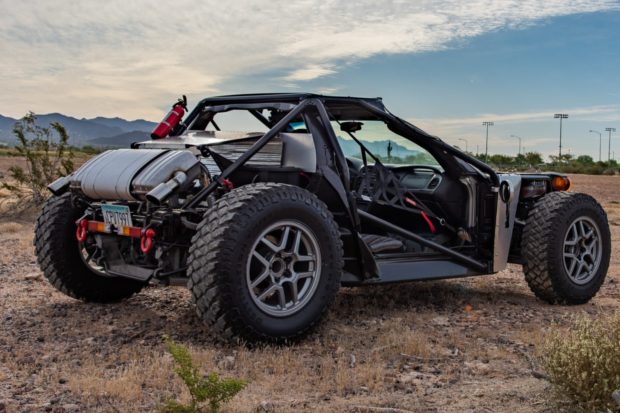 There's also a fire extinguisher (a must-have), tow hooks, a Camaro Z/28 muffler, LED lights, 17-inch C5 Z06 wheels with firestone Destination MT2 tires. Other than that things are pretty much the same. Even the suspension is more or less the same, though it has been raised. It has the 5.7-liter LS1 V8 with a six-speed manual. 
This car comes just in time for the apocalypse, and I assume you need your Mad Max vehicle still. Rather than covert your own Vette, why not buy this one? Here's the link. Let the bidding begin.