Chevrolet had planned on rolling out 40,000 C8 Corvettes in 2020 but due to the pandemic, they rolled out just over 20,000 units. All of these units were sold without breaking a sweat. Now that C8 owners have had a chance to stretch the legs of their mid-engined Vette's, they have concluded that the C8 is awesome overall. Though there are still a few bugs to be worked out, the overall appearance, quality, and performance are fantastic.
Like every car ever made, owners everywhere are looking to upgrade their C8. Whether it comes from impulse or the need for individuality, owners are looking for modifications. Today we'll cover some of the modifications you must have on your C8. Don't worry, we're not going to jump into the carte blanche world of superchargers, these are modifications you can do without breaking the bank.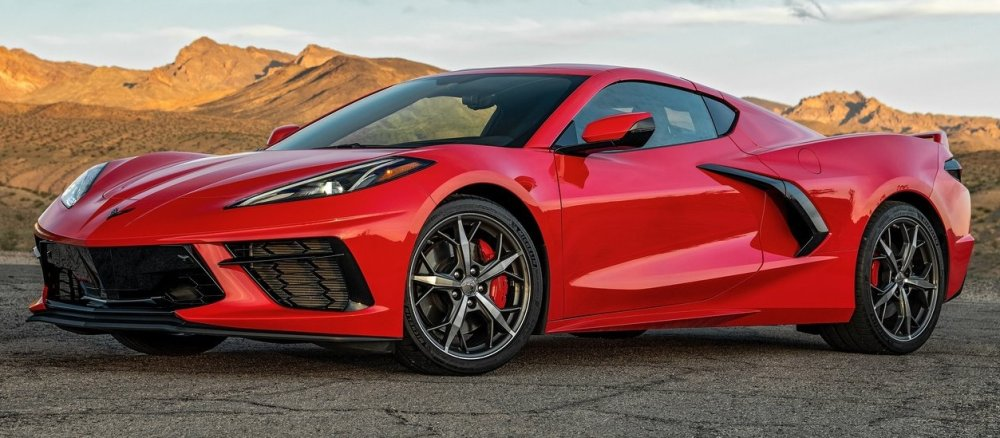 Have Ceramic Coating Installed
Now that you are the proud owner of the world's first mid-engined Corvette, it's important to protect your investment. Paint protection has been getting more popular over the last few years as the technology has advanced to ceramic coatings, which is essentially an invisible armor for your paint.
You can have a ceramic coating applied to your C8 by finding a recommended automotive detailer in your area. Professional detailers will perform a paint correction prior to applying ceramic coatings to ensure the paint is flawless. Once the paint correction is complete, your C8 is now ready for the ceramic coating which can provide up to 5 years of paint protection.
Ceramic coatings will offer more than your standard coat of wax, thus being more expensive than a coat of wax. Ceramic coatings will provide enhanced gloss, protection from harmful road grime, UV protection, and ease of cleaning, with minimal maintenance, unlike wax. This is why it can cost upwards of $1500 for a professional high-quality ceramic coating application.
Should you opt for more of a DIY route, there are many different products online to choose from. A popular DIY ceramic coating is CarPro Cquartz or even a spray application like Turtle Wax Hybrid Solutions. These options will not yield the same results as a paint correction/ceramic coating application by a professional but they are also 10 times cheaper.
Upgrade Your Brake Pads
Like many new performance vehicles, the 2020 Chevrolet Corvette suffers from filthy brake dust caused by OEM brake pads. While OEM pads provide a combination of quiet performance and wear, they also create a mess on the beautiful wheels of the C8. Luckily, there are lots of aftermarket solutions available that will cut down on brake dust without sacrificing performance.
Aftermarket brands such as Carbotech or G-Loc produce high-quality ceramic brake pads for the C8 Corvette. These are a great alternative to OEM pads as they provide high-performance braking with minimal brake dust. Upgrading from the OEM brake pads is a relatively easy install if you choose to do it yourself. The cost associated with this upgrade can range from $480 to about $650 total for both front and rear sets of brake pads.
Law firms for automotive injuries often see clients who have sustained trauma to the neck and spine, especially in cases of rear-end accidents. This is another reason why improving stopping power should be an automatic upgrade on your list of mods. It's a great way to improve performance while also protecting the wheels on your C8.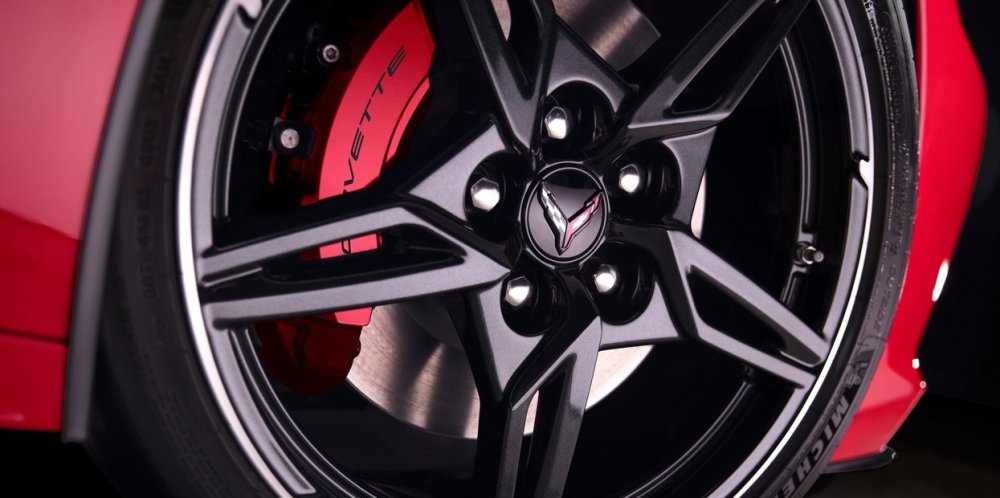 Lower Your C8!
When looking at the C8 in its stock form, it does look a tad strange as the ride height sits a little high for the majority of Corvette fans. Though Chevrolet offers a ground effects package, the best way to remedy it's lifted appearance is to install a lowering kit. This not only solves the stance aesthetics but also improves handling.
Cicio Performance offers a front end lowering kit for the 2020 C8 Corvette. This kit will lower the front end by 1 inch without losing the lift capability on equipped C8's. Cicio also offers the specialty tool for an extra $20 bringing the upgrade cost to about $230. According to Cicio Performance, the installation takes about one hour per side.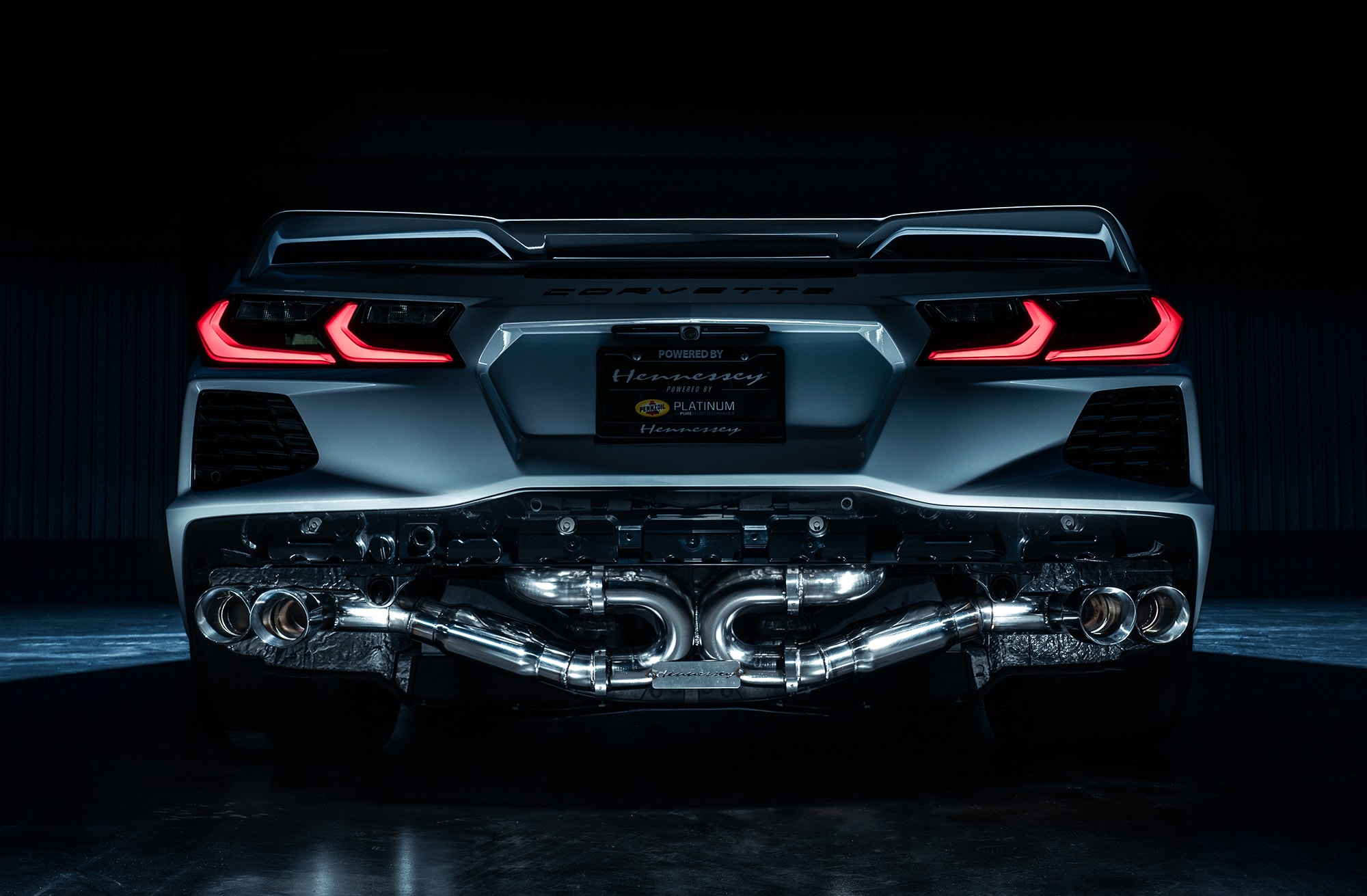 Install a Cat-Back Exhaust
Adding an aftermarket exhaust is a great way to improve performance while making your C8 sound even better than it does stock. There have been several aftermarket exhausts released for the C8 Corvette. These exhausts provide horsepower and torque gains along with an enhanced exhaust note. An added bonus of an aftermarket exhaust is the sweet exhaust tips available.
With an aftermarket cat-back exhaust on your C8, you can expect to see output gains of about 20 horsepower and 15 foot-pounds of torque (without tuning). These systems can run anywhere from $3,300 to $4,000. Don't forget about the weight savings along with the amazing exhaust note these can give your C8, they're worth it.