Fordite Jewelry and Why It's the Perfect Gift for Any Corvette Enthusiast!
The holiday season is just about here.  If you've been trying to find that perfect gift for the Corvette enthusiast/owner in your life, we think we've found something that checks all the boxes!
My wife recently gifted me a new wedding band to commemorate our 20th wedding anniversary.  Knowing my (more than a passing) interest in Corvettes, she found a unique ring made of Fordite recovered from the Corvette Manufacturing Plant in Bowling Green, Kentucky.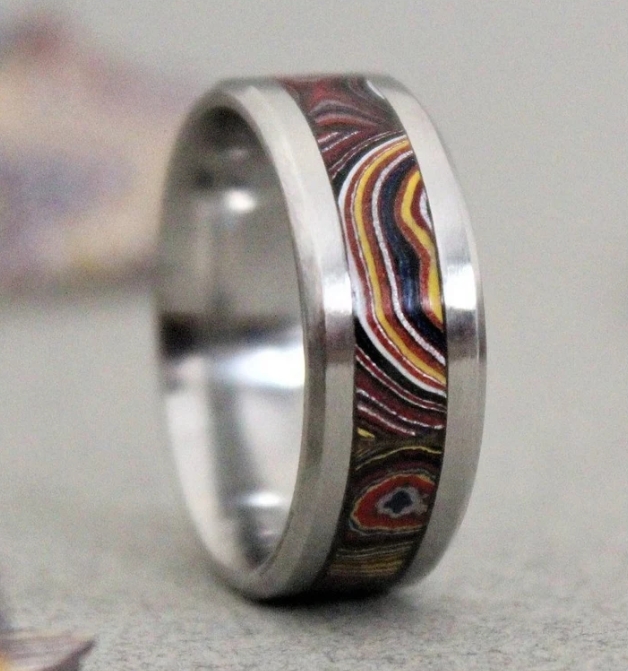 What is Fordite you ask? Fordite, which is also known as Detroit agate or Motor City agate, is old automotive paint that has hardened sufficiently to be cut and polished.  It is formed from the buildup of layers of enamel paint slag on tracks and skids on which cars are painted and which has been baked numerous times.    Because of the repeated baking process, the hardened Fordite can be cut and shaped a lot like stone, creating a unique fusion of color from its multiple layers of fully cured paint.
Artist and jeweler Itay Tamir, of Isreal, acquired Fordite from the Corvette Manufacturing Plant in Bowling Green Kentucky, and has developed a technique by which he uses the colorful agate to create stylized jewelry, especially rings, that contain the color palette of the Chevy Corvette.  Because each piece of Fordite is unique, each ring is a one-of-a-kind work of art, but each also contains many of the familiar paint colors used on fifth, sixth, and seventh-generation Corvettes.
While Mr. Tamir does not provide a lot of detail as to the exact era the Fordite was collected from, it is known that the Corvette manufacturing plant replaced its paint booth prior to the launch of the eighth-generation mid-engine Stingray, leading us to believe that this Fordite was recovered during that time.  Moreover, the colors found in the ring I received from my amazing wife support this belief.  There's even a prominent section of the Fordite in my ring that appears to contain Velocity Yellow/Corvette Racing Yellow.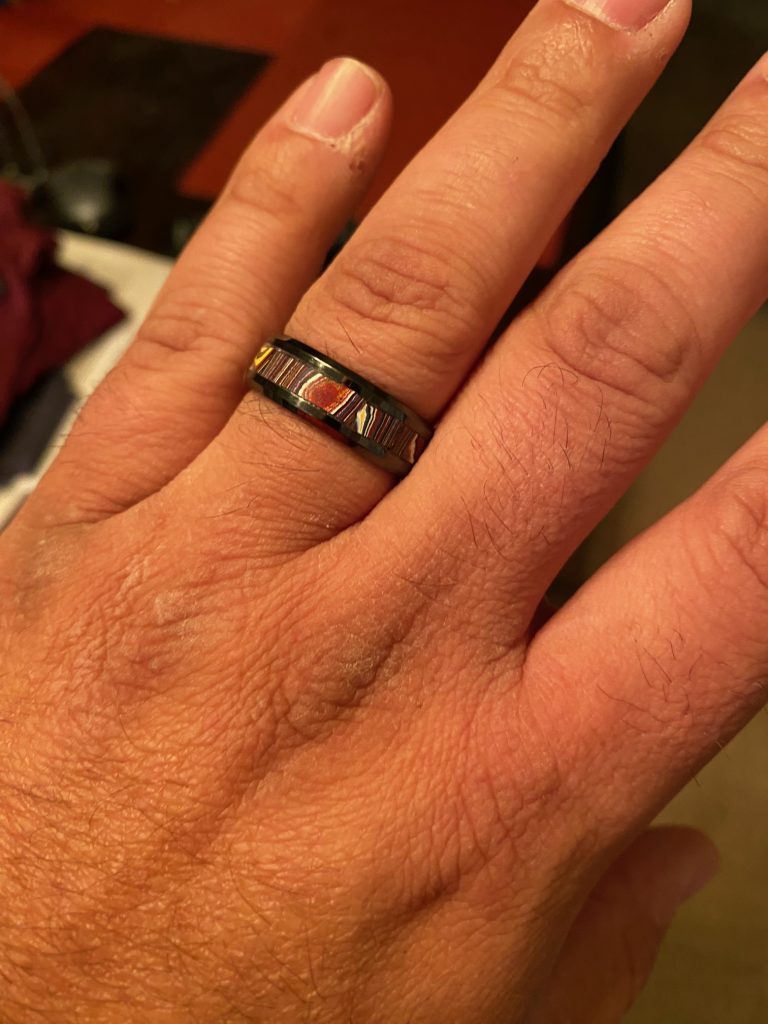 The quality and construction of the rings appear to be excellent.  Although the core of the ring is made of Fordite, the rest of the band is made from Titanium.  Its extremely light and comfortable on my hand. As with my actual Corvette, I keep finding myself looking at this immensely cool ring and smiling – not just because of its cool spectrum of Corvette paint colors, but because of the fact that my wife went the extra mile to find a new wedding band that celebrated our 20 years of marital bliss along with my decades-long passion for America's Sports Car.
So where can you find one of these rings you ask?  Visit Etsy.com and search "Corvette Fordite Titanium Ring" (or simply click on this link and we'll take you straight to it.)  Tamir's company "WoodSphere" offers a variety of custom rings made from this unique Fordite material.    Each sells for $180 and $190, and is available in a variety of sizes.  While normal shipping takes a while (remember, these rings are handmade in Isreal), expedited shipping gets them to you in just a couple of weeks.
If you are looking for a unique gift for the Corvette enthusiast in your life, you definitely need to check these rings out.  And, for those of you out there looking to win BIG points with your significant other, this ring is a guaranteed homerun!