We are just weeks away from wrapping up 2023 production of the eighth-generation Corvette and are on schedule to nearly surpass the 1979 one-year production record of 53,807 Stingrays. As we approach this milestone for the beloved C8, I thought it would be interesting to show you some of the things C8 owners do not like about their Corvette.
And the top complaints may surprise you.
The question was recently posed by a member of a popular eighth-generation Facebook page, and with nearly 200 enthusiasts joining in, the results are telling. The parameters set by the author Justin were simple. He asked the Facebook group with over 73,000 members to list the flaws, features, (or anything for that matter), that they dislike about their C8.
Before we get to the results (with a TOTAL of 54 complaints!) that I logged from every post, here is Justin's list.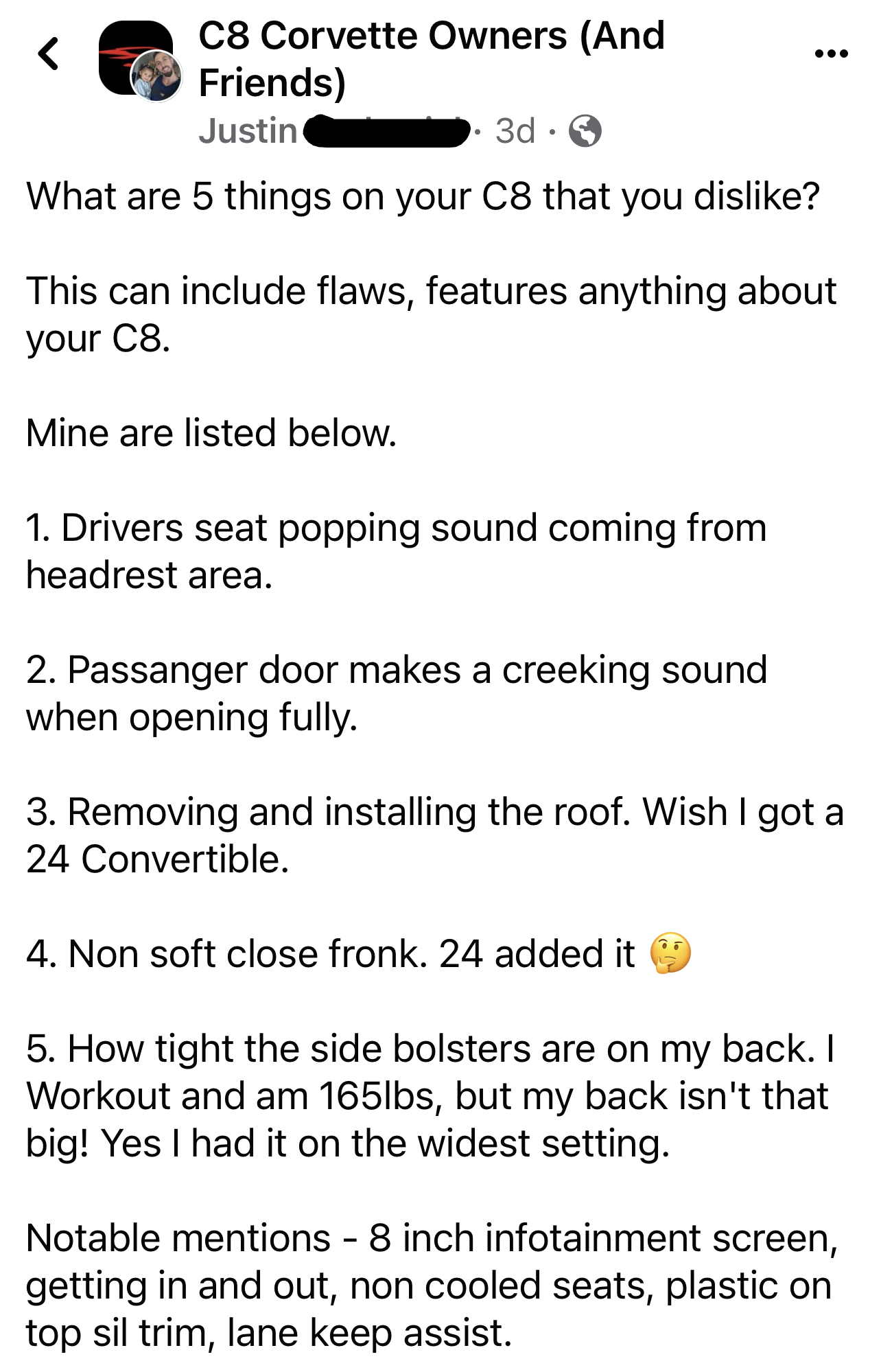 Many dropped the organized numbered format started by Justin and just gave one or two dislikes. Then there was Bill with his beefs. Now, I don't want you all to think I'm poking fun at Bill, because this would most likely be my list if I owned a C8, given my OCD personality and propensity to complain.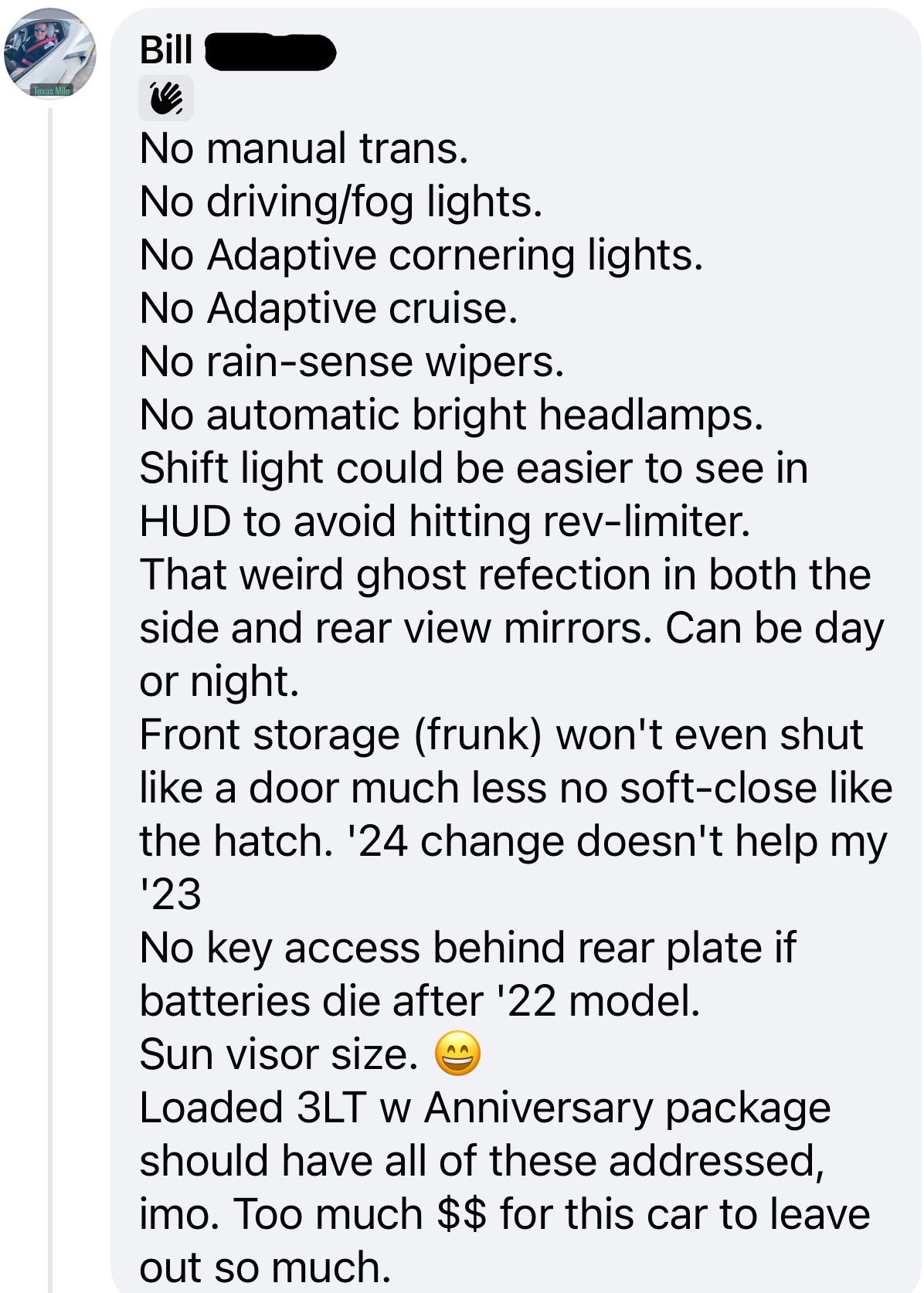 As you can see, some took it way beyond the 5 that were requested, and there were a few posts like Bill's. But, let's not be a 'Debbie Downer", because the third most popular answer fell under this sentiment.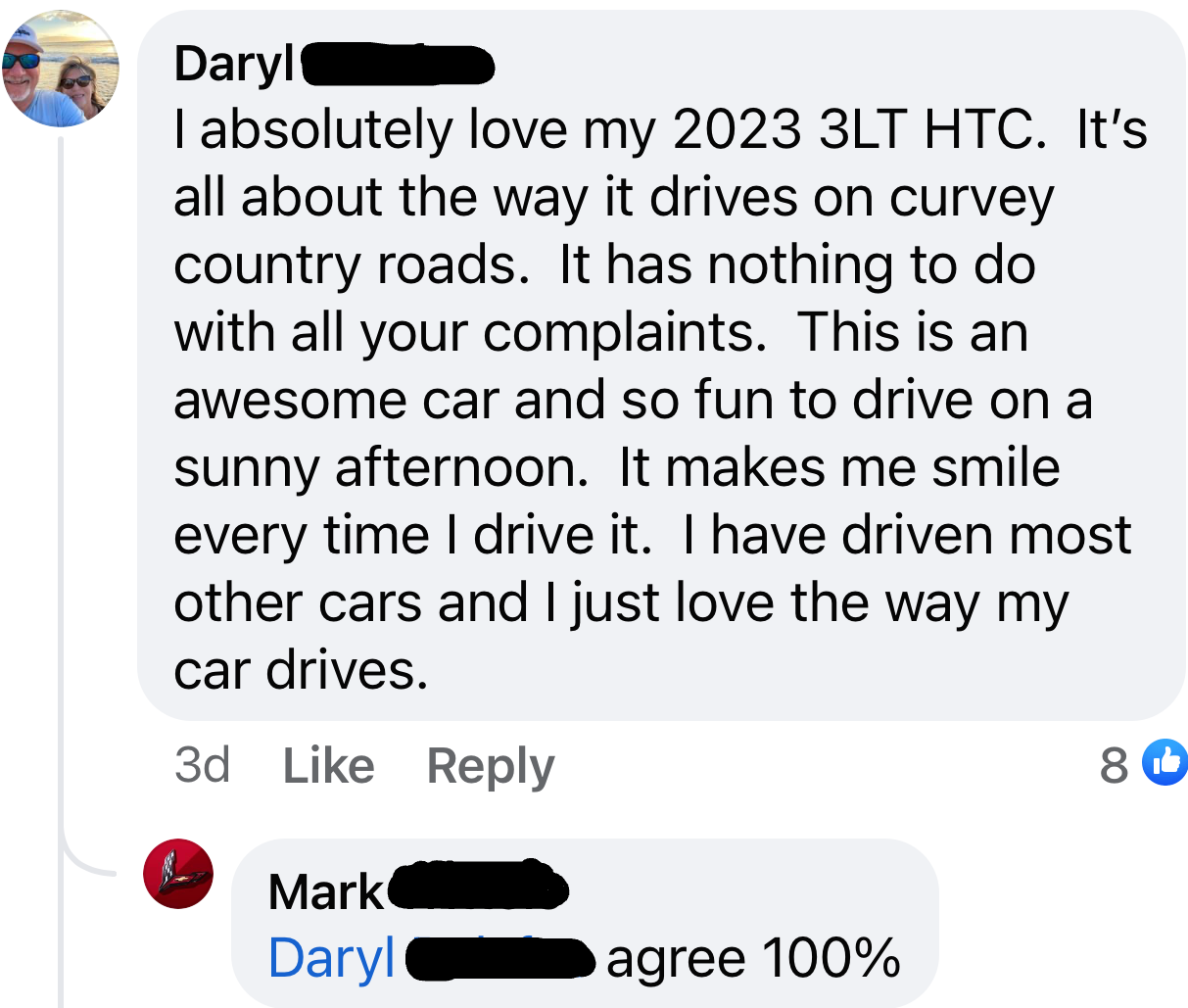 Now, without further ado, here are the 55 answers
#1 Answer
No soft close on the frunk
#2 Answer
Wireless phone charging location
#3 Answer
#4 Answer
#5 Answer
#6 Answer
No adaptive cruise control
#7 Answer
Inadequate vented/"cooled" seats
#8 Answer
#9 Answer
#10 Answer
Lack of power/needs more horsepower
Honorable Mentions (in order)
Interior quality/ergonomics
Blind spots
Driver's seat comfort/noise
Dash and screen info/size
Trunk space
Drive mode issues
Lack of fog lights/driving lights
Inconvenient parking brake button location
Lack of technology
Reflections/mirror issues
Quality control (paint, fitments)
No 12V accessory under the dash
Sun visors are too small
No rain-sensing wipers
HVAC controls/vents
ECU bricked
Storage compartments for driver
Transmission failures/issues
Loud indicator noise
No key access for the rear trunk
Water intrusion into the engine bay
Turn signals
No radiator screens
Pricey maintenance
Trunk gets too warm
No auto-bright headlights
No adaptive cornering lights
Passenger door creaks
Removing and storing the roof
TPMS/traction control issues
Sunglass holder
Valve covers color
Shift light hard to see
No HUD
No forward collision warning
Too quiet
Pricey aftermarket accessories
Glue smell in the engine bay
No back seat (haha)
Rear-end looks
No 2-quart trans
No adjustable pedals
Auto-locking feature
Passenger space
Brake dust
The Takeaway
With a total of 54 complaints, the Corvette team could tighten some things up, but then you look at the #3 top answer and are encouraged. Only 3 votes separated 1st from 3rd. Also, given how many mechanical issues I see owners complain about every day on social media, I am surprised there aren't more complaints about them in this survey, like the prevalent and documented transmission issues, or the plethora of check engine lights. I'm also surprised something as "simple" as a frunk or charging station would cause such a reaction from the community.
In closing, a big thanks to C8 Corvette Owners (And Friends) for sharing your insights. For our CorvSport community, if you own a C8, or have owned one, I would love to hear your thoughts. We have an active community on our Facebook page, please come on over!  Douglas B.
I'll sign off today with this succinct and simple message from Al, because at the end of the day if you are able to be driving any Corvette, you are truly blessed. Keep the shiny side up and Save The Wave!