Each year, the Nationaal Corvette Museum kicks off the start of their summer season and celebrates the arrival of the latest MY Corvette offerings from Chevrolet by hosting the Michelin NCM Bash! This three day even is normally held on the last Thursday, Friday and Saturday of April each year on the grounds of the National Corvette Museum in Bowling Green, Kentucky.  This year is no exception.

On April 27-29, 2023, Corvette owners, enthusiasts, and spectators alike can join in the fun as the NCM's 2023 event season gets underway. This year, the Museum will host a variety of returning activities including seminars by representatives from Michelin, Mobil 1, General Motors, and the Corvette Assembly Plant. Likewise, GM Certified Corvette Technician Paul Koerner will return to offer classroom instruction to registered attendants.  In addition to these presentations, attendees can enjoy guided road tours, a newly expanded car show, a live auction, a variety of vendors, and witness the announcement of the 2023 Corvette Hall of Fame inductees.
I will also be onsite on Thursday, Friday, and Saturday from 10:00am to 12:00pm each day to sign copies of my book "Corvette Concept Cars: Developing America's Favorite Sports Car."  Copies of the book are available at the NCM Store, but I will also sign copies purchased previously/elsewhere…so please stop by and say hello!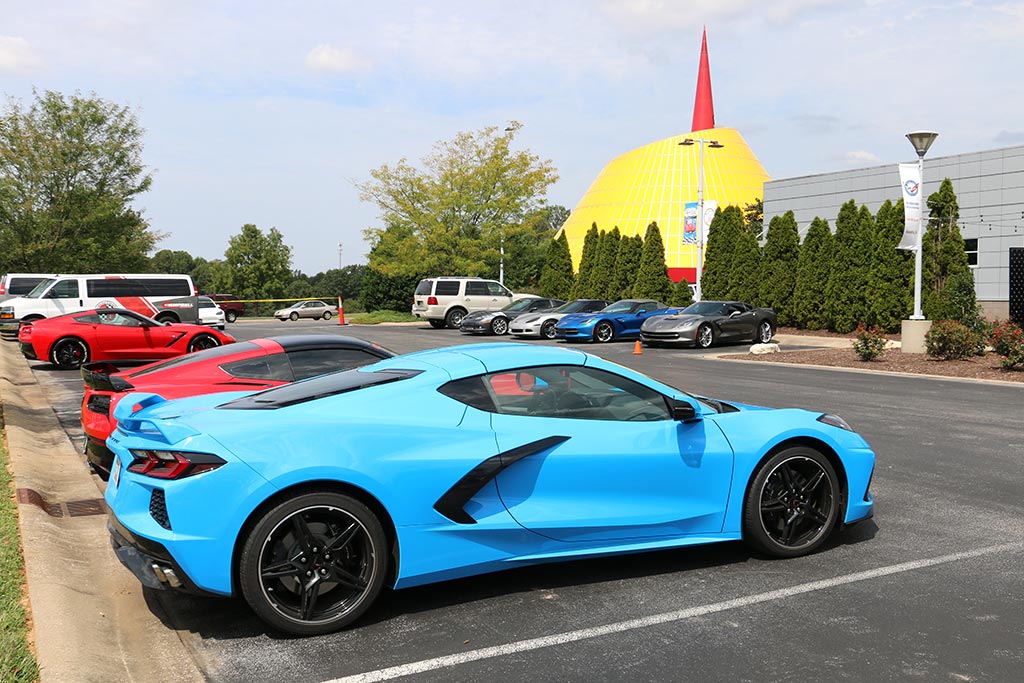 In addition to the above, the Museum will host a variety of "Demonstration Drives."  These "drives" will showcase vehicles from the Museum's collection as they're toured around the NCM parking lot by members of the Museum's staff.  This is an incredible opportunity to see some one-of-a-kind Corvettes "in the wild."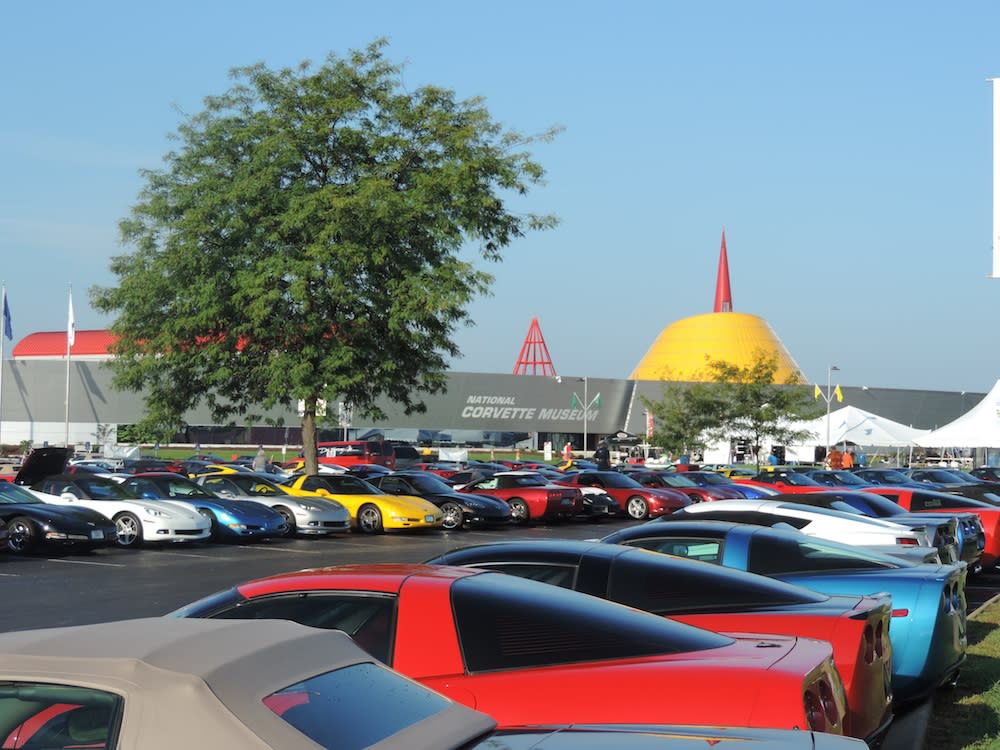 Anyone wishing to attend the event must now register once you arrive at the NCM.  Registration for the event is $40.00 for lifetime members of the musum, $45 for members, and $55 for non-members.  Please keep in mind you can always become a member of the Museum and receive discounted pricing to the Bash.  Membership to the Museum helps make events like this possible and ensures the continued preservation of the many incredible cars in the Museum's collection.
Below is a complete list of activities/events scheduled during this year's Michelin/NCM Bash.  While many of these events are already sold out, there is still time to get plugged in for some of the seminars and other activities listed below.  Contact the Museum for complete details.
We hope to see you there!
Wednesday, April 26th

9:00am
National Corvette Museum Opens
Times Will Vary
Bash HPDEThe National Corvette Museum has been hosting high performance driving events around the country since 2004, and this is your chance to take advantage of this prestigious program at the home of the Corvette!!  Whether you're a serious automobile enthusiast or a first-time driver, The National Corvette Museum HPDE driving program will help take your skills to the next level.  In a very short time, you will find yourself driving better, smoother, faster and safer than you ever thought possible.  Learn more here: https://www.motorsportspark.org/drive-your-car/

To Register, Click Here
 Located at NCM Motorsports Park

 
2:00pm – 5:00pm
Advance Registration Pickup / Onsite Registration Opens
 

Thursday, April 27th

7:30am – 2:15pm
LT1: James Beam Tour & LunchWhat makes our bourbon special are the eight generations behind it. Each of our family distillers has a spirit of their own, building on the Beam legacy of those who came before.  Genuine, quality ingredients distilled by craftsmen without compromise. That's bourbon made the Beam way. You don't want to miss this!

Pre-registration required
568 Happy Hollow Rd, Clermont, KY 40110
$50 members / $55 non-members
Limited 48 people
Guided tour and lunch included with registration
Drive your own Corvette
NCM Truck Parking Lot
Caravan to Attraction as Group – Departing from NCM

 
7:45am – 3:00pm
LT2: Bluegrass Music Hall of Fame & Museum / Fetta Specialty Pizza Lunch
The International Bluegrass Music Association was founded in Owensboro, Kentucky in 1986. While the IBMA relocated to Nashville years ago, Owensboro has been the home of the Hall of Fame since 1991. Passionate fans, supporters, government officials, and board members gathered to raise funds and petition the State of Kentucky to secure the remaining amount needed to build the brand new Bluegrass Music Hall of Fame & Museum, right on the banks of the Ohio River near the birthplace of bluegrass music. You don't want to miss this!

 Pre-registration required
$40 members / $45 non-members
Limited 48 people
Guided tour and lunch included with registration
Drive your own Corvette
311 W 2nd St, Owensboro, KY 42301
NCM Truck Parking Lot
Caravan to Attraction as Group – Departing from NCM

 
8:30am – 2:30pm
LT3: Andrew Jackson's Hermitage & FKS KitchenThe Hermitage is a historical museum located in Davidson County, Tennessee, United States, 10 miles east of downtown Nashville. The 1,000-acre + site was owned by Andrew Jackson, the seventh president of the United States, from 1804 until his death at the Hermitage in 1845. It also serves as his final resting place. Enjoy exploring The Hermitage with the Mansion Tour which includes admission to the grounds, a 30-minute guided tour of The Hermitage mansion and a self-guided tour of the farmland that was once The Hermitage, as well as the gardens, and other historical buildings. While on the grounds enjoy a boxed lunch from the onsite FKS Kitchen which is a down-home, Southern restaurant with delicious food. The Hermitage also offers Wine Tasting at additional cost from the onsite Natchez Hills Winery.

4580 Rachels Ln, Hermitage, TN  37076

Pre-registration required

$45 members / $50 non-members
Limited 48 people
Guided tour and lunch included with registration
Drive your own Corvette
NCM Truck Parking Lot

Caravan to Attraction as Group – Departing from NCM

9:00am – 5:00pm
Stingray 2 Go & Stingray Grill Hours of Operation 
9:00am – 4:00pm
Registration Open

Advance Registration credential/shirt pickup
Onsite registration open
NCM CLUB ROOM

9:00am – 11:00am
Parking Lot Banner Pickup
9:00am – 11:00am
C8 Classroom Session with Paul KoernerQuestion and answer on the new C8 generation. Very interactive class where you will be able to ask Paul any and all of your questions about your personal Corvette. Pre-registration is Required.

$80 registration fee
GM Certified Technicians Paul Koerner
Limited to 10 registrants (spouse or your guest invited to sit in)
Chevrolet Theater

9:30am – 9:45am
Artifact Pitstop – Dick Guldstrand Racing Suit & Helmet

Located in Performance Gallery
Speaker: Bob Bubnis – 

Curator of Collections / Exhibits Manager

(Times Will Vary)
Bash HPDEThe National Corvette Museum has been hosting high performance driving events around the country since 2004, and this is your chance to take advantage of this prestigious program at the home of the Corvette!!  Whether you're a serious automobile enthusiast or a first-time driver, The National Corvette Museum HPDE driving program will help take your skills to the next level.  In a very short time, you will find yourself driving better, smoother, faster and safer than you ever thought possible.  Learn more here: https://www.motorsportspark.org/drive-your-car/

To Register, Click Here
Located at NCM Motorsports Park

 
9:45am – 10:15am
 NCM Update

NCM Conference Center
Speakers: Sharon Brawner, Kaye Wagner, Kai Spande

 
10:00am – 12:00pm
 Scott Kolecki Book Signing 

Corvette Store Partner Tent

 
10:15am – 11:15am
Behind the scenes: E-Ray on Ice @ Rockefeller Center NYC Behind the scenes presented by the NYC stunt driver that introduced the brand-new electrified Corvette E-Ray to the world. Hear about how this iconic stunt started as an idea and became reality. Learn about the cyclone maneuver that shook the internet on January 17th! 

Speaker: Cody Bulkley – Performance Car Chassis Controls
Located in NCM Conference Center

 
11:15am – 12:00pm
 So You Think You Know the Maintenance of Your Corvette?Think again!!!  This is because maintenance is much more than an air filter and oil change.  In this in depth question and answer discussion, we will address ALL generations of Corvette. What to look for, how to determine your maintenance needs for YOUR Corvette and more, will all be covered. In depth question and answer to address all areas of Corvette will be part of this interactive seminar.

Located in NCM Conference Center
Speaker: Paul Koerner

12:30pm – 2:00pm
LIVE Auction

Bid on exclusive and RARE items that are only available through the National Corvette Museum! All items must be taken with you at the end of the auction, NO items will be shipped. 

2:00pm – 3:00pm
 Corvette Assembly Plant Update

Speaker: Kai Spande – Bowling Green Assembly Plant Director
NCM Conference Center

 
3:00pm – 5:00pm
Stingray Grill Happy Hour

Small Plates / $1 off Domestics / Bourbon Flights

 

Friday, April 28th
7:30am – 2:15pm
LT4: James Beam Tour & LunchWhat makes our bourbon special are the eight generations behind it. Each of our family distillers has a spirit of their own, building on the Beam legacy of those who came before.  Genuine, quality ingredients distilled by craftsmen without compromise. That's bourbon made the Beam way. You don't want to miss this!

Pre-registration required
$50 members / $55 non-members
Limited 48 people
Guided tour and lunch included with registration
568 Happy Hollow Rd, Clermont, KY 40110
Drive your own Corvette
NCM Truck Parking Lot
Caravan to Attraction as Group – Departing from NCM

 
7:45am – 3:00pm
LT5: Bluegrass Music Hall of Fame & Museum / Fetta Specialty Pizza Lunch
The International Bluegrass Music Association was founded in Owensboro, Kentucky in 1986. While the IBMA relocated to Nashville years ago, Owensboro has been the home of the Hall of Fame since 1991. Passionate fans, supporters, government officials, and board members gathered to raise funds and petition the State of Kentucky to secure the remaining amount needed to build the brand new Bluegrass Music Hall of Fame & Museum, right on the banks of the Ohio River near the birthplace of bluegrass music. You don't want to miss this!

 Pre-registration required
$40 members / $45 non-members
Limited 48 people
311 W 2nd St, Owensboro, KY 42301
Guided tour and lunch included with registration
Drive your own Corvette
NCM Truck Parking Lot
Caravan to Attraction as Group – Departing from NCM

 
8:30am – 2:30pm
LT6: Andrew Jackson's Hermitage & FKS KitchenThe Hermitage is a historical museum located in Davidson County, Tennessee, United States, 10 miles east of downtown Nashville. The 1,000-acre + site was owned by Andrew Jackson, the seventh president of the United States, from 1804 until his death at the Hermitage in 1845. It also serves as his final resting place. Enjoy exploring The Hermitage with the Mansion Tour which includes admission to the grounds, a 30-minute guided tour of The Hermitage mansion and a self-guided tour of the farmland that was once The Hermitage, as well as the gardens, and other historical buildings. While on the grounds enjoy a boxed lunch from the onsite FKS Kitchen which is a down-home, Southern restaurant with delicious food. The Hermitage also offers Wine Tasting at additional cost from the onsite Natchez Hills Winery.

4580 Rachels Ln, Hermitage, TN  37076
Pre-registration required
$45 members / $50 non-members

Limited 48 people
Guided tour and lunch included with registration
Drive your own Corvette
NCM Truck Parking Lot

Caravan to Attraction as Group – Departing from NCM

 
9:00am – 5:00pm
Stingray 2 Go & Stingray Grill Hours of Operation 
 
9:00am – 4:00pm
Registration Open

Advance Registration credential/shirt pickup
Onsite registration open
NCM CLUB ROOM

 
9:00am – 11:00am
Parking Lot Banner Pickup
 
9:30am – 9:45am
 Artifact Pitstop: Studio X

Located in Studio X
Speaker: Brian Baker – 

Director of Collections & Education

 
(Touring Lap Times Vary)
NCM Event Touring LapsDrive your car on track with four lead/follow laps on track. Bash guests will receive special, event pricing at $99.  Didn't drive your Vette?  No problem!  We have plenty of experiential offering that are sure to fir your schedule and budget.

To Register, Click Here
Located at NCM Motorsports Park

 
10:00am – 12:00pm
Scott Kolecki Book Signing 

Corvette Store Partner Tent

 
10:15am – 11:15am
 A Fast History of Corvette & Michelin Racing Review the history of Corvette Endurance Racing with Michelin and how this relationship has produced innovation technologies for Corvette high-performance street tires.  

Speaker: Dr. Jeffery Anderson and Eric Schmedding
NCM Conference Center

 
11:15am – 12:00pm
 Mobil 1 Tech Talk Mobil 1 welcomes you to join our Tech Talk and learn why Mobil 1 Supercar was specifically formulated for your Corvette.  Come and learn the latest on the newest technology to maximize your Corvette's performance on and off the track.  Owners attending will have the opportunity to interact directly with an ExxonMobil motorsports technical engineer during the popular Q&A segment.

NCM Conference Center
Speaker: Mobil 1 Sales, Marketing, & Technical Team

 
12:00pm – 12:15pm
 2023 Hall of Fame Inductee Announcement 

Located in NCM Conference Center

 
12:15pm – 12:30pm
 Artifact Pitstop: C8 Full-Size Clay Model 

Located in Driven By Design
Speaker: Brian Baker – 

Director of Collections & Education

 
12:30pm – 1:45pm
Corvette Team UpdateJoin Chevrolet Corvette & Camaro Product Marketing Manager, Harlan Charles, in the NCM Conference Center as he discusses new updates on Corvette.

Speaker: Harlan Charles
NCM Conference Center

 
1:30pm – 3:30pm
Sip n' Paint
A step-by-step beginner art project class in which guests can create unique and original works of art and learn basic creative techniques to apply to at home projects, all while enjoying their favorite wine!

Pre-Registration Required
Registration Fee: $45 Members / $50 Non-Members
Art Supplies and wine included in registration
NCM Board Room (front offices)

 
1:45pm – 2:45pm
 Ambassadors Meeting
 
2:00pm – 2:45pm
 Carl Casper Seminar Curator of Collections and Exhibit Manager, Bob Bubnis, will conduct a cruise through the collection of incredible and colorful creations of Carl Casper, the Custom Car King.

Located in Limited Engagement Gallery
Speaker: Bob Bubnis – 

Curator of Collections / Exhibits Manager

 
3:00pm
2023 70th Anniversary Convertible VIN 00002 4/28/2023

Corvette Blvd
$250.00 Raffle

 
3:05pm
 Event Group Photo

Corvette Blvd
Immediately Following Raffle

 
3:00pm – 5:00pm
Stingray Grill Happy Hour

Small Plates / $1 off Domestics / Bourbon Flights

 
3:30pm
 Corvette Store Gift Card Drawing

Corvette Store Partner Tent
$100 Corvette Store Gift Card

 
4:00pm – 5:00pm
 Winner's Circle Recognition 

By Invitation ONLY
Located in Chevrolet Theater

 
5:15pm
 Cash Bar Opens
 
5:45pm – 7:30pm
BQT1: Winning with WIMNA – Women in Motorsports North AmericaWomen In Motorsports North America is a 501c3 founded by racing legends Lyn St James and Beth Paretta – a community of professionals devoted to enabling opportunities for women across all disciplines of motorsports. Join us Friday evening as we enjoy a panel discussion with our special guest speakers. 

NCM Conference Center
Buffet Meal Included
Pre-Registration Required
Non-Member: $60 per person / Member: $55 per person
Panel Discussion Begins at 6:30pm
Speakers:

Cindy Sisson, CEO of GSEvents
Lauri Eberhart, Partner and Founding Member of Apollo Sports & Entertainment Law Group
Tracy Gaudu
Ken & Kristen Lingenfelter – Lingenfelter Performance Engineering

 

Saturday, April 29th

8:30am – 2:15pm
LT7: Swope's Car of Yesteryears Auto Museum / Back Home Restaurant The Swope's Cars of Yesteryear Museum features an impressive collection of vintage and antique cars ranging from the early 1900's to the 1960's in a variety of makes and models in both original condition and restored condition. Backhome is not just an amazing, southern local restaurant. The restaurant started more than 35 years ago as an antique & crafts dealer. From homemade candies to Candleberry Candles to home decor, come see everything they have to offer.

Pre-Registration Required
Members $35 / Non-Members $40
1080 N Dixie Hwy, Elizabethtown, KY 42701
Drive Your Own Corvette
NCM Truck Parking Lot
Caravan to Attraction as Group – Departing from NCM
Limited to 48 people

 
9:00am – 3:00pm
Stingray 2 Go & Stingray Grill Hours of Operation 
 
9:00am – 4:00pm
Registration Open

Advance Registration credential/shirt pickup
Onsite registration open
NCM CLUB ROOM

 
9:00am – 11:00am
Parking Lot Banner Pickup
 
9:00am – 11:00am
 Ladies Garage By women for women – an opportunity to learn about basic Corvette (cars in general) maintenance and how to be a smart consumer of automotive services. Presenters are knowledgeable in all areas of Corvettes from Powertrain and engineering to high performance driving so bring your questions and ask the experts.  

Located in NCM Conference Center
For Women Only
Presented by Ladies of the Corvette Team

Saski Greenway – BGA Area Manager
Jenni Druen – BGA Quality Operations Manager
Julie Wheetly-Gann – BGA Material Launch Manager
Emma Mikalauskas – Creative Designer
Breann Voss – Supplier Quality Engineer
Devon Blue – Program Manager

 
9:00am – 11:00am
Caravan Captain's Meeting
Captains & Co-Captains only, please RSVP with Caravan Chairman Frank Sancineto at [email protected]

Gardner Mattson Board Room

 
9:00am – 11:00am
C8 Classroom Session with Paul KoernerQuestion and answer on the new C8 generation. Very interactive class where you will be able to ask Paul any and all of your questions about your personal Corvette. Pre-registration is Required.

$80 registration fee
GM Certified Technicians Paul Koerner
Limited to 10 registrants (spouse or your guest invited to sit in)
Chevrolet Theater

9:30am – 3:30pm
LT8: General Jackson Showboat – Nashville
Take the 2.5-hour General Jackson Showboat Midday Lunch Cruise for an afternoon of entertainment along with a delicious buffet lunch! Enjoy the comedy, audience interaction, and catchy tunes from the band while cruising along the Cumberland River and tasting a mouth-watering Southern-style buffet prepared by the General Jackson's very own sous chef.

Pre-Registration Required
$75 Members / $80 Non-Members
Drive your Own Corvette
Limited to 58 people
2812 Opryland Dr, Nashville, TN 37214
NCM Truck Parking Lot
Caravan to Attraction as Group – Departing from NCM

10:00am – 2:00pm
Newly Expanded Corvette Car Show 

Open to registered participants only
Window Placard located in Wendell Strode Club Room
Located in Gate B

10:00am – 12:00pm
Scott Kolecki Book Signing 

Corvette Store Partner Tent

11:00am – 12:00pm
The All Season Tire Like No Other: Michelin's Custom-Designed Pilot Sport All Season 4+ ZP for Corvette E-RayAn In-depth review of development and performance of new Pilot Sport All Season 4+ ZPs on Corvette's new 2024 E-ray.  

Speaker: Dr. Jeffery Anderson
NCM Conference Center
Tire Raffle Giveaway – MUST be PRESENT to win

12:00pm – 12:45pm
CERV 1 Replica Demonstration Drive

Located at NCM Logo Circle
Speaker: NCM Collections Team

12:45pm – 1:15pm
1975 Corvette Donation Ceremony

Speaker: Brian Baker –  

Director of Collections & Education

Located at NCM Logo Circle

1:30pm – 1:45pm
Trooper Island Check Presentation Join us for the check presentation to Kentucky State Police Trooper Island Director Jonathan Biven for Trooper Island participation in the MiM 1 Lap of Kentucky Program.

Located at NCM Logo Circle

2:00pm – 3:00pm
Elfi's Silver Pearl Sisterhood Meeting

Gardner/Mattson Board Room

2:15pm – 2:45pm
Car Show Awards Presentation 

Pictures taken of Winner's
NCM Logo Circle

3:00pm
2023 Torch Red Corvette Convertible 4/29/23