Though his tenure did not last nearly as long as that of Bill Mitchell or Zora-Arkus Duntov, few can deny the significance of Larry Shinoda's contributions to GM design and development, especially that of the Corvette. Without Shinoda's efforts, the Corvette world would likely have gone without the C3, in its now iconic form, as well as several of GM's most infamous prototypes.
In His Blood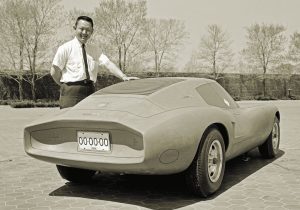 When looking back on Larry Shinoda's early days, it is no wonder that he went on to find immense success as an automotive designer. From childhood, Shinoda was naturally artistic, and had an overwhelming inclination toward all things hot rod. Growing up in California, Shinoda watched as the newly developing automotive scene came of age.
In 1942, Shinoda, who was of Japanese descent, along with the remainder of his family, was forced to relocate to the Manzanar internment camp for Japanese-American citizens, as tensions built with the onset of WWII. However, it was during this period that the young designer's prowess began to show. During his two year stay at Manzanar, Shinoda spent much of his time drafting and designing furniture, which he would ultimately construct from salvaged wood, which he sourced from orange crates.
Though much of his family moved to Colorado upon their release in 1944, Shinoda instead remained in California. As a young adult, Shinoda attended the Art Center College of Design in Los Angeles, though he would later be expelled over his lack of attendance. At the same time, he was gaining a reputation in the Los Angeles automotive scene, largely for his successes on the street and track. Behind the wheel of his then signature 1924 Ford Roadster, Shinoda placed first in the Fuel Eliminator class, at the inaugural NHRA U.S. Nationals in 1955.
A Career Begins
After his expulsion from college, Shinoda took a job with Ford Motor Company, after being recruited by Gene Bordinat, who would later become the company's Vice President of Styling. However, after only one year with Ford, Shinoda left to join Studebaker-Packard. It was there that the young designer met an equally ambitious colleague, John Delorean.
Within short order, both Delorean and Shinoda realized that Studebaker-Packard was in a nosedive, with little hope of recovery. In a bid to find a solid place to land, both designers transitioned over to employment opportunities at GM.
The Shinoda Years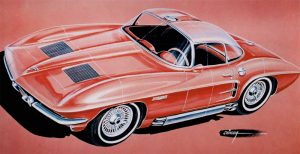 In his initial years at GM, Shinoda was often tasked with designing standard passenger vehicles, to which he was not overly fond. Many early drafts and renderings of these vehicles included performance-related equipment, and more than once, a racing stripe or two thrown in for good measure. Though it appears as if none of these off-script design features ever made it into production, Shinoda remained set in his thinking.
By most accounts, the story of how Shinoda finally gained Bill Mitchell's trust, and a coveted spot as his right-hand man in the specialty design studio, is a rather colorful one. It is often recounted that Shinoda came out on the better end of an impromptu after-hours drag race with Mitchell, leading to a level of mutual respect between the two.
In the years that followed, Shinoda was instrumental in the design of numerous concepts that would go on to heavily influence C3 design and development. Some of the most notable of these conceptual vehicles included the 1959 Stingray Racer, the experimental CERV prototypes, and the Astro series of show cars.
Shinoda is perhaps best known for his instrumental work in designing both the Mako Shark and Mako Shark II concepts, each of which were direct precursors to the Corvette's third-generation design. Both of these two concepts featured distinct body lines, and aggressive styling, with the latter of the two showcasing the same pronounced front fenders that would later go on to become a key feature of the C3 Corvette.
After years of subsequent design efforts, Shinoda was tasked with what was perhaps his most significant feat while employed at GM, developing a string of prototypes into a completely redesigned Corvette. This was a task that the famed GM designer faced head-on, as he pulled heavily from a decade's worth of conceptual experimentation to design the C3 Corvette. In its new form, the Corvette took on a look of sleek, yet powerful aggression, captivating the minds of consumers from the very date of its release.
A Legacy Left Behind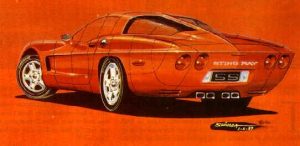 In 1968, Shinoda's time at GM would draw to a close, as he would follow friend Bunkie Knudson from General Motors to Ford. During his time at Ford, he would go on to design the 1969 Boss 302 Mustang, before resigning from his position one year later.
The years that followed would see Shinoda go on to form his own private design firm, allowing him to finally gain the creative freedom that he had continually strived for during his time of employment with numerous manufacturers.
In 1997, Larry Shinoda passed away from a heart attack, while battling kidney disease. Even in his death, the famed designer is remembered for his role in changing the course of subsequent design efforts of two individual performance car lines, the Corvette and the Mustang.
Shinoda was inducted into the Mustang Hall of Fame in 1995, followed by his induction into Corvette Hall of Fame three years later.