As time marches on and new Corvettes get even more expensive (a 2024 Z06 now starts at $112,000), collectors and enthusiasts alike are looking for deals on "lightly used" examples. The definition of lightly used can vary, but no fifth-generation Z06 in CorvSport's updated Top 5 is over 6,000 miles. For the purposes of this Top 5, we did not include highly modified Z06s (supercharged, turbocharged, track-specific, custom, etc.)
I was watching this 2003 1600-mile auction in real-time, and the excitement in the last two hours as a flurry of bids poured in was palpable. With a handful of hopeful bidders clicking away, the bid amount quickly rose from $34,000 to $40,000, when the seller chimed in to generate even more hype, noting that his reserve had been met. He then promptly went on to announce, "Don't hold anything back folks, this one going to a new home. Thank you everyone."
The seller's encouragement wasn't falling on deaf ears, because by that time the listing had over 5,500 views and 718 watchers.  So, how did our 1600-mile feature Z perform? Without further ado, here is the new 10/23/2023 BaT Top 5.
Number 5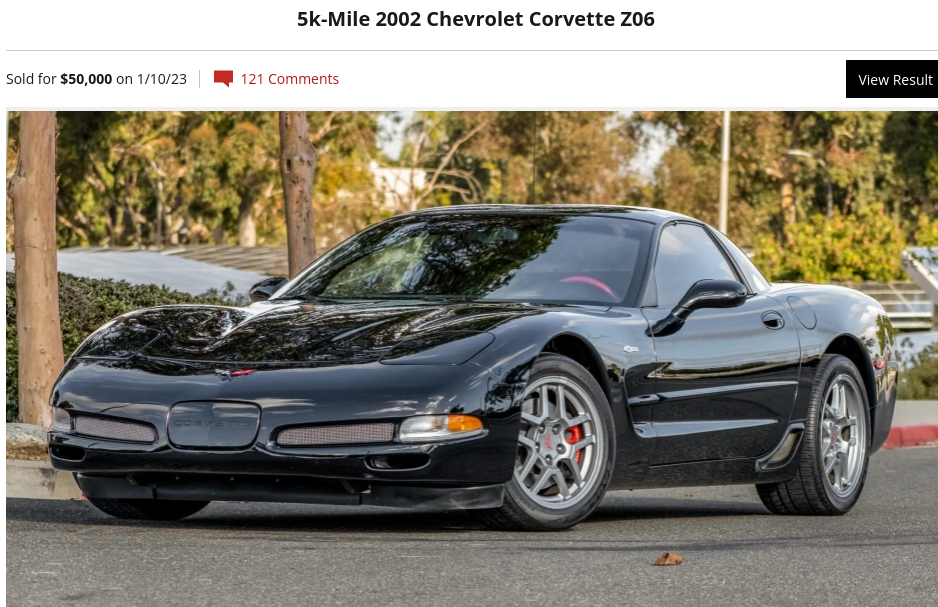 This well-preserved Z06 with the mod-red interior was previously 4th place in our April 2023 top 5.
Number 4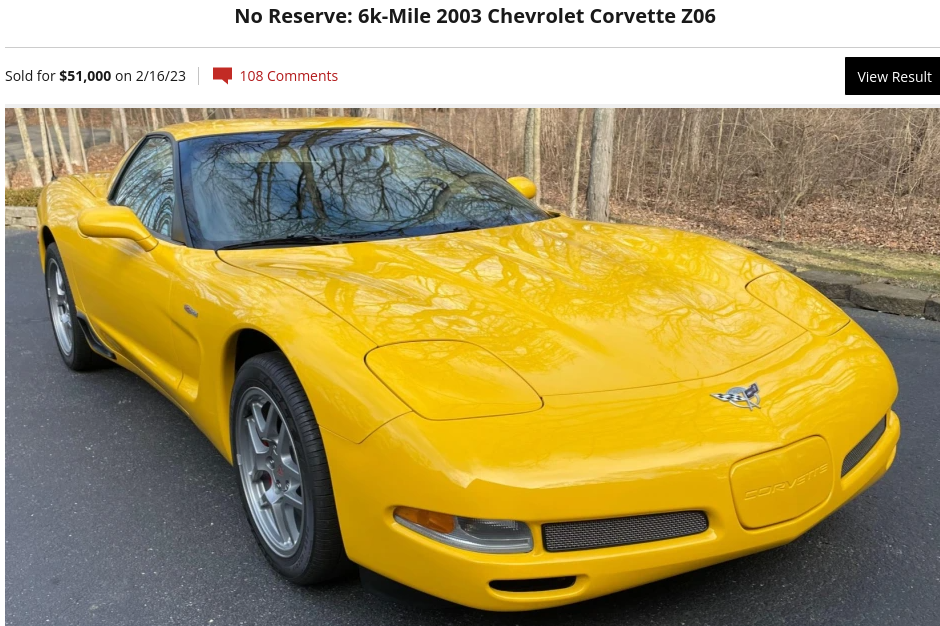 The MSRP on this Millennium Yellow example was $52,690. It was no muss no fuss pricing back then for GM, with limited available options, which is very contrary to the "Porsche-like" list of high-dollar options available on today's Z06.
Number 3
Almost 2nd place for our featured Z06!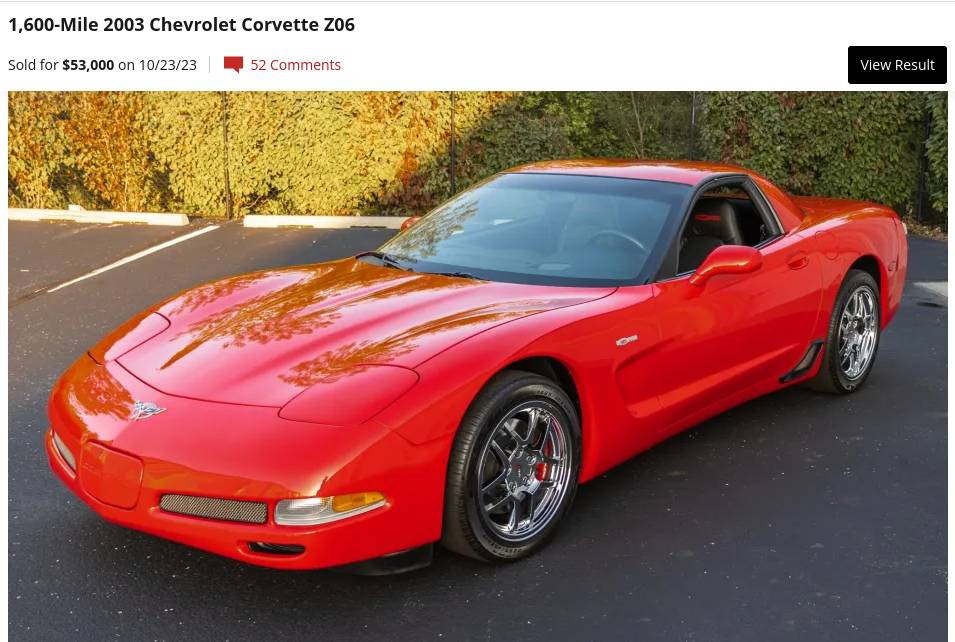 As bidding rose from $34,000 to $42,000, mkgupta1908 attempted to throw a knockout punch with a $5,000 raise to $47,000. Not to be outdone, his main rival, markh56, got off the mat and raised him to $48,000. But the "paltry" $1,000 bid indicated he was bloodied and shaky, and mkgupta1908's next $5,000 blow showed he meant business. It worked, and he was left standing with this gorgeous $53,000 Torch Red Z06.
As a former used car dealer who has bid on 1000s of vehicles, this auction certainly brought back fond memories of what happens when you mix ego with desire, and was a blast to watch in real-time!
Number 2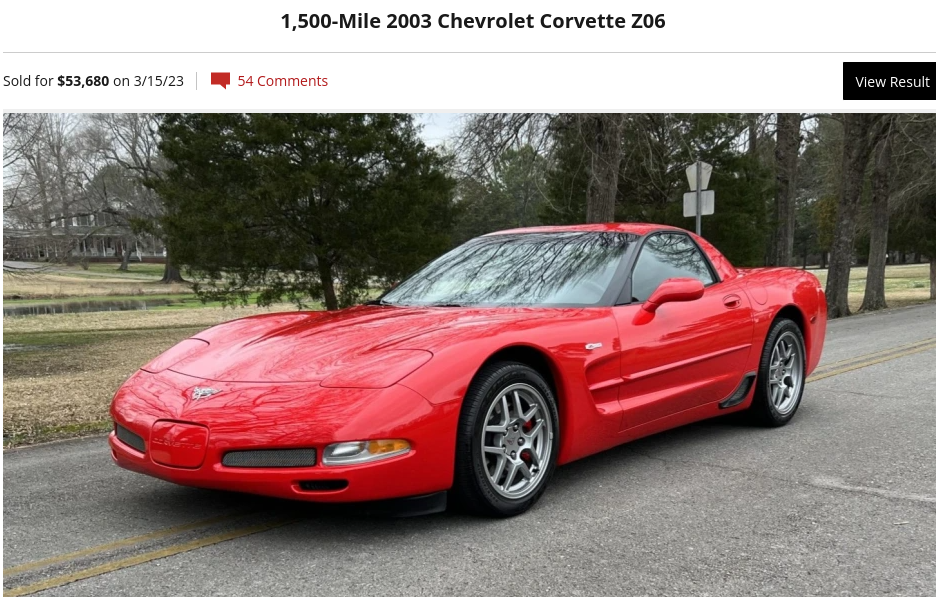 The base MSRP for a Z06 20 years ago was a "mere" $51,295, and if this trend continues I think we will see more C5 Z06s surpassing their original sticker prices. These Torch Red 2003s bring back some great memories, as I traded in my 2001 Coupe for a brand new one during the height of my "must have the newest and best Corvette" addiction.
Number 1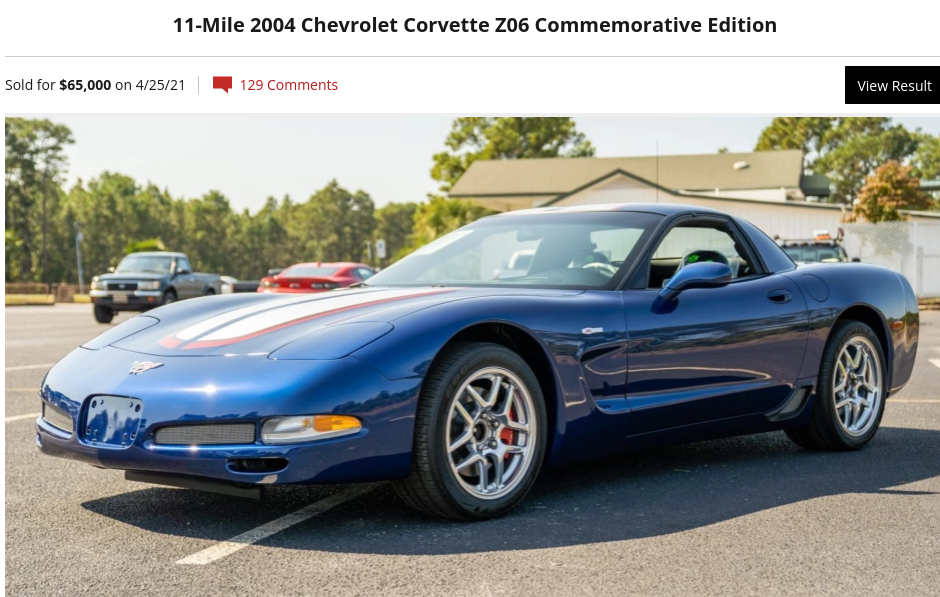 Our reigning champion is still this uber-low mileage 2004 Commemorative Edition Z06.
What was the milestone?
For the first time, all five Z06s in our BaT Top 5 are now in the $50,000 club!
Honorable Mention: Three of the Top 5 are above their original MSRPs (see below)!
Could this milestone have happened without the Covid-Era surge in Corvette pricing? Are these lightly used C5 Z06s getting too pricey for your checkbook? We have the fastest-growing Corvette community on our Facebook page, with over 158,000 followers (39,000 since January!). Come join other hardcore enthusiasts and say hello, Douglas B.
Click here to see this newest edition to BaT's Top Five
All images credited to Bring a Trailer
We now have THREE C5 Z06s in the BaT Top 5 which are over MSRP!