Making the Baggage Fit
So, one of the features of the C8 Corvette, that was talked up quite a bit by the engineers are the cargo areas. There's a rear trunk and a front trunk or frunk in the C8 Corvette. Both can be used for storage, and if you're taking a road trip, you'll need to. The C8 Corvette features 2.4 cubic feet less cargo space than the C7 Corvette. However, pure volume doesn't tell the whole story. 
The guys at Autoblog decided to do a closer look at the cargo space of the car to see how usable it really was. Using standard luggage, the publication saw how much it could pack into the car.
First up, the frunk. The small suitcase fit in the frunk easily enough, but the medium suitcase did not. There was no way a large suitcase was going to fit. The frunk has some shape to its floor and the top of it prohibiting the medium suitcase to fit.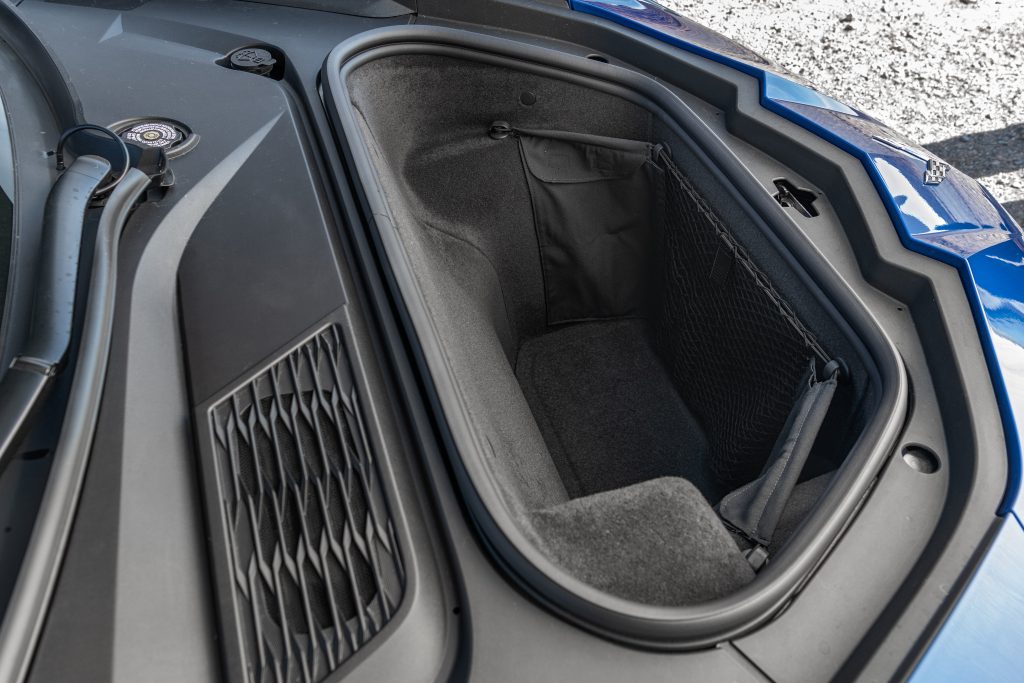 Then there's the rear trunk. This fits the small suitcase easily obviously. It fit two medium suitcases. The large suitcase did not fit. So, what all this means is that you can fit three carry-on bags inside the new Corvette. This is pretty good for a car that only carries two people.
It's worth noting that Chevrolet designed the rear trunk to be able to fit a large golf bag. That certainly fits and with a little bit of room to spare. It's also worth noting that if you had backpacks or duffle bags, you'd be able to more easily fit bags in both cargo areas. This means you could get more in the car.
Structured rectangular suitcases pose an issue and don't let you fully use the available cargo space, so if you have a lot to bring along, it might be worth it to invest in some leather or canvas duffle bags and make the most of the C8's trunk space for those road trips.