A True Beauty in Orange
The renderings of the C8 Corvette have us wishing the car was ready for the public. However, it seems Chevy still has some work to do on the model. It's a good thing, then, that forum user Chazcron over a MidEngine Corvette Forum has been working diligently on something for us to look at. Recently, the images of the latest renderings were posted to the forum site.
As you can see, each time Chazcron creates a new rendering the design and styling become more detailed and refined. We've featured his work before. This is some true art, and we expect the real C8 Corvette will look a lot like these renderings. The renderings were made up after some of the latest spy shots of the new C8 Corvette. That would suggest that they're highly accurate.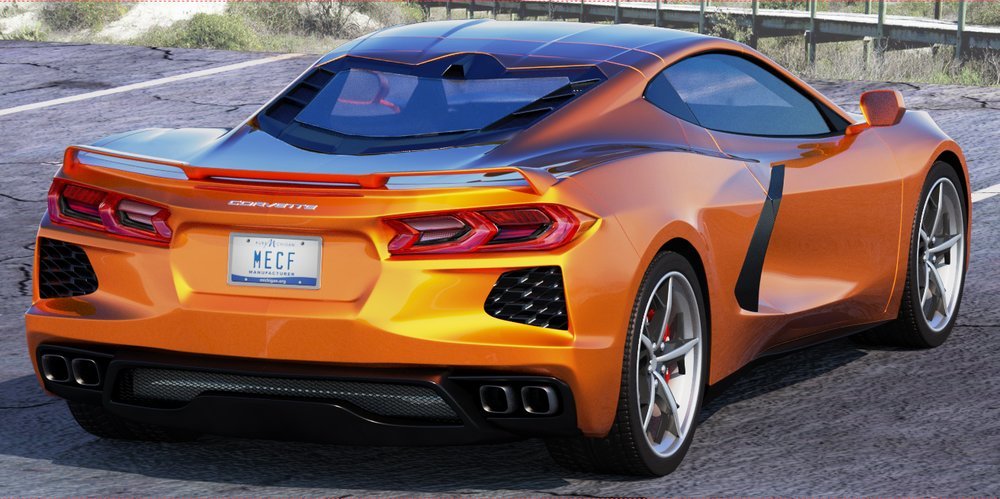 We particularly like the rear shot shown above. Chazcron has masterfully stripped away the camouflage on the mid-engine Corvette to reveal what he believes the rear end of the car will be. It looks darn good to us. The slope and taper of the roof, the spoiler, the exhaust pipes, and rear vents— it all looks right to us.
It will be interesting to see how close Chazcron is to the real deal. At the moment he's still taking some liberties. You can't tell everything from the spy shots floating around out there, and some of the smaller design elements are little more than informed guesses. With that said, we like what we see and look forward to the real thing.