Thankfully it's not a regular occurrence but occasionally we enthusiasts will run across an abandoned Corvette, usually in a parking garage, and often very dusty and dirty. This bizarre phenomenon leaves bystanders befuddled and asking, how could somebody let that happen? Just the other day I saw a dusty C4 in a downtown Orlando parking garage, and I'll admit one of the first thoughts was, gee I wonder if I could track down the owner and get it for a deal?
Well, that's exactly what an enlisted Navy California man did when he saw this abandoned 2007 Corvette on his San Diego base. Tyler C. had seen enough neglect and decided to seek out the owner, and you're probably asking the same questions I was, how much of a deal would it take to tackle this project, and exactly what would that project be?
The answer to the first question is much lower than I would have guessed, and kudos to Tyler for snagging her up for a great deal. He scored the base model 6-speed manual C6 for $800, but as expected for somebody willing to let their Corvette go to waste, it wasn't quite that easy. Because along with many parts, this C6 was missing the title and keys as well. Tyler comments, "after 5 trips to the DMV I got a clean title in my name, and I'm all in for $1650."
And oh, did I mention this is Tyler's first Corvette? Sorry to bury the lead, but I think most of us can recollect much more conventional first Vette purchase stories. And even Tyler admits about the purchase, "crazy story honestly, but I've always wanted a Corvette and this is a hell of a project for my first one lol."
Yes Tyler, I think most of the readers here will agree with you!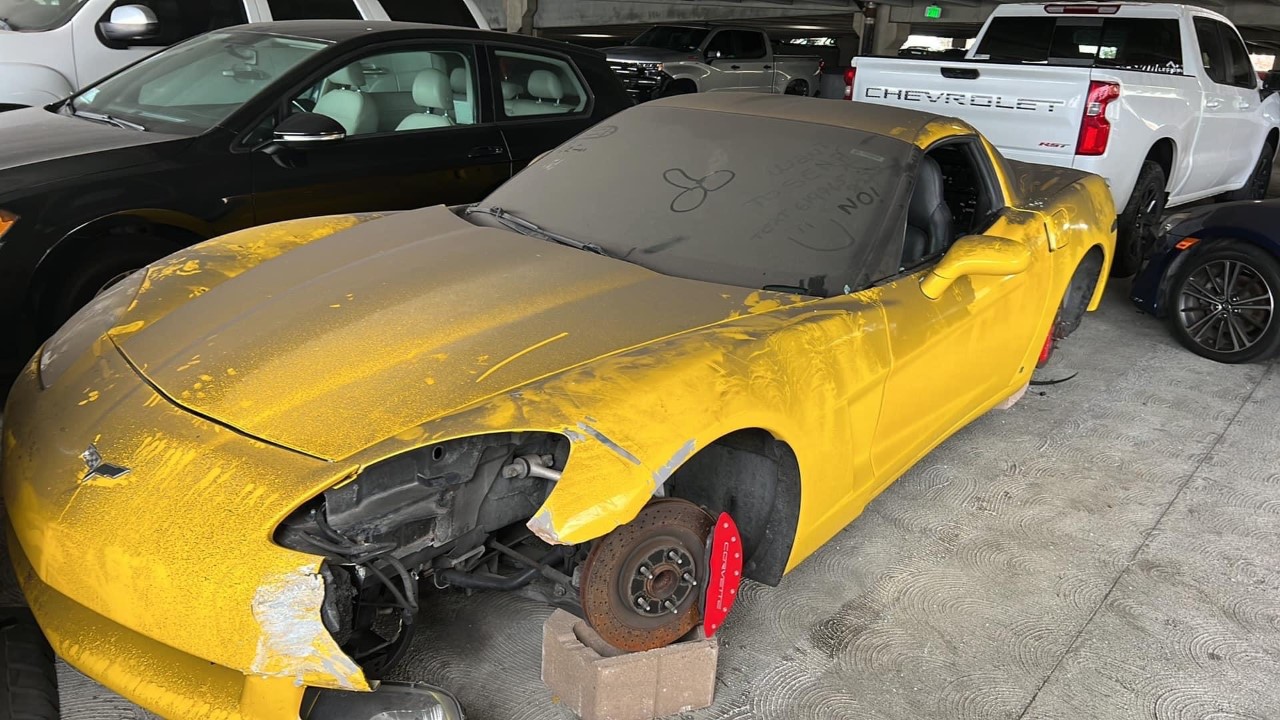 Okay, so all in at this point for $1650, still not a bad deal, but is there an engine under that dirty hood?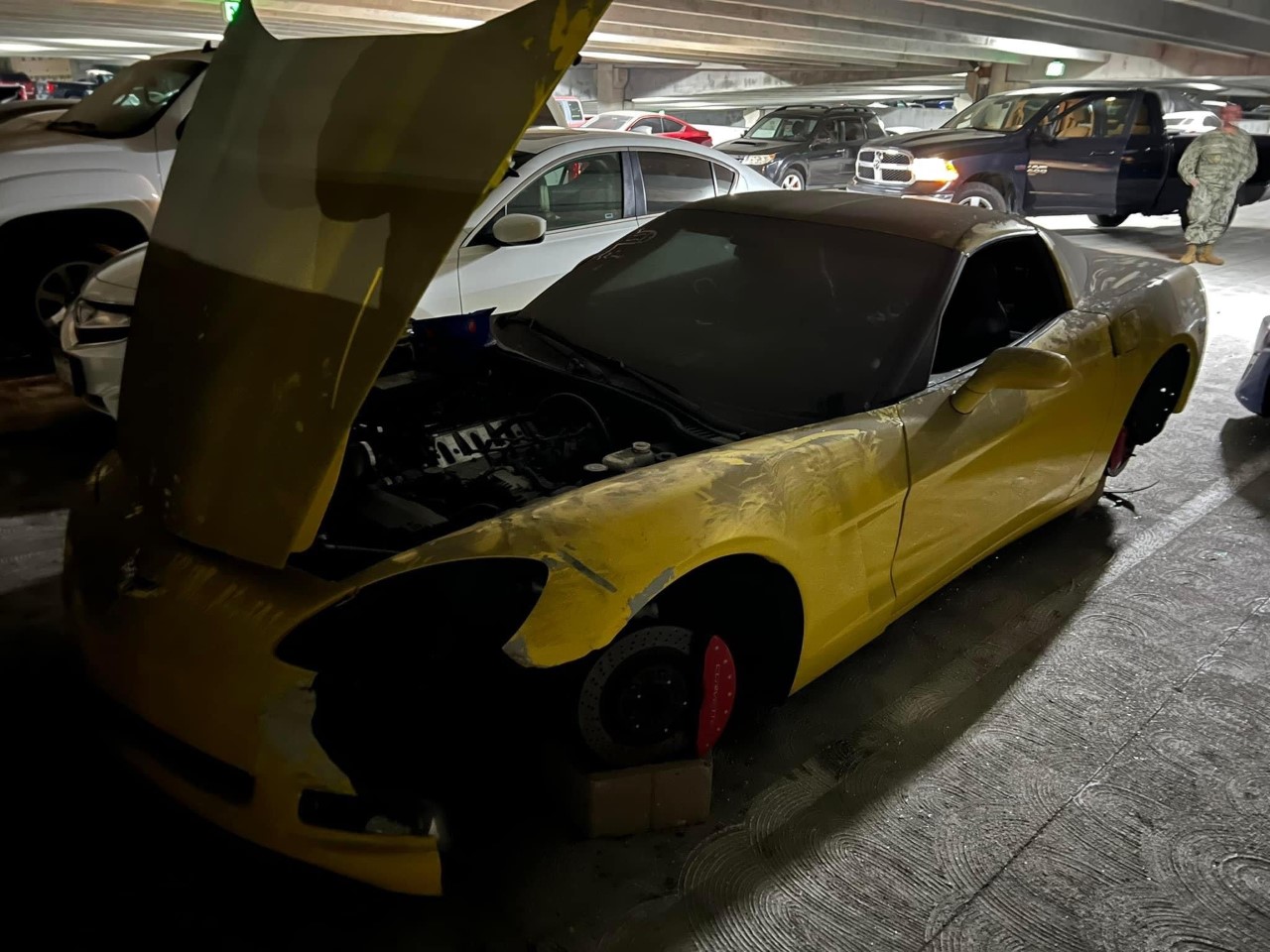 Well yes there is, and now after a big sigh of relief, how many parts is that LS2 missing?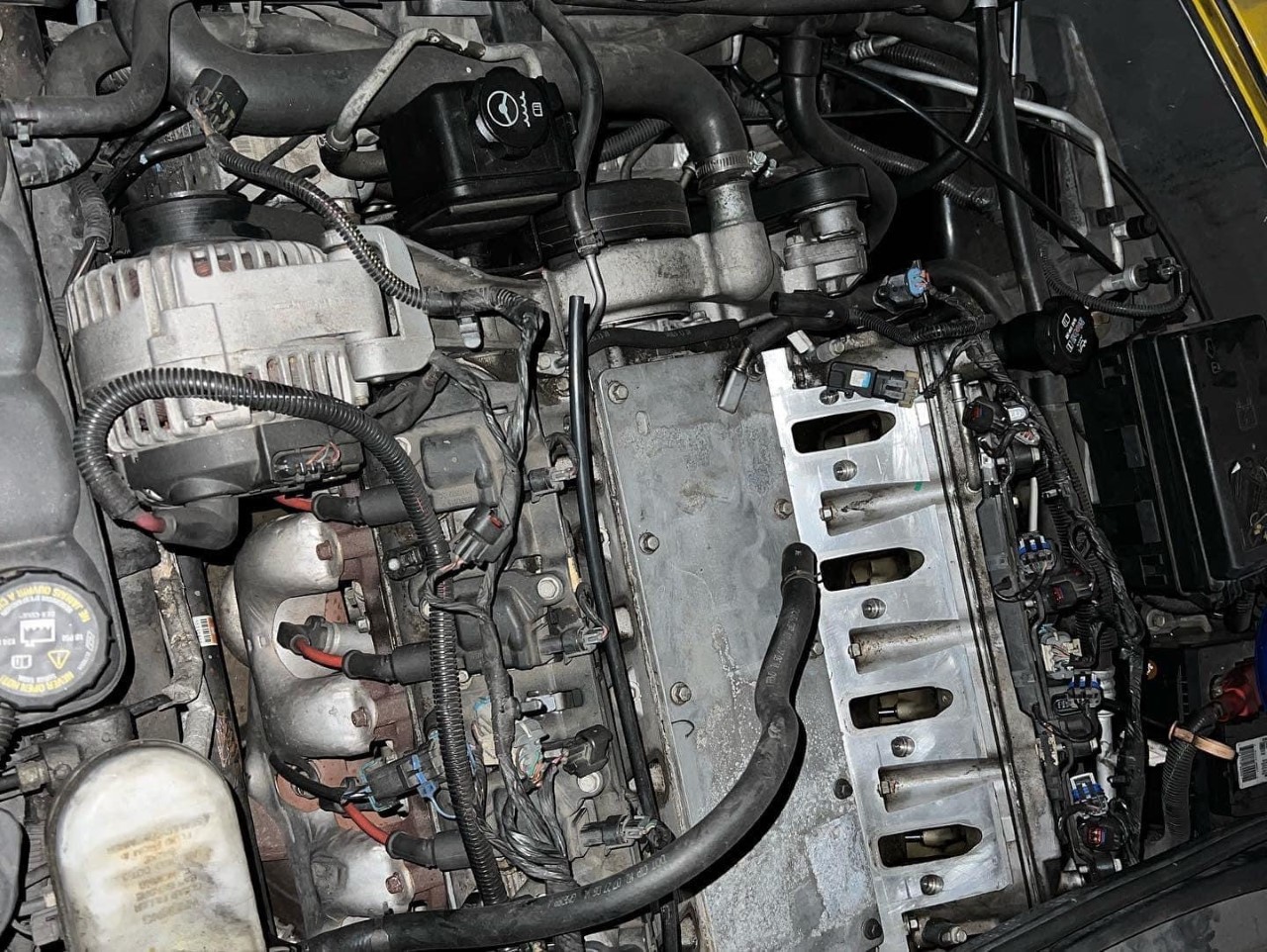 Alright, the best I can tell is it's just missing an intake manifold. Not too bad, but has the interior been stripped?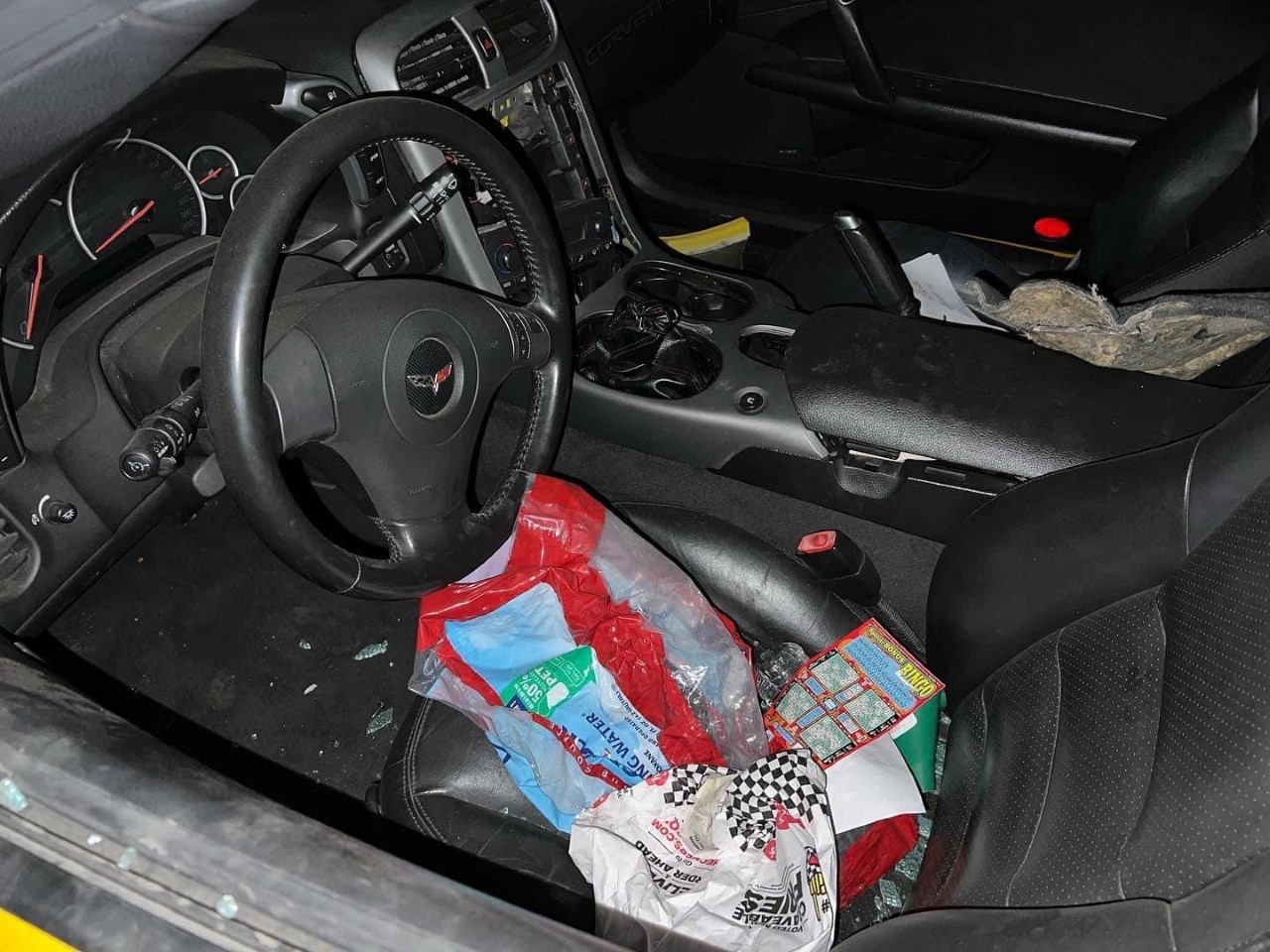 Nope, looks like most of the expensive items like the seats, dash, airbags, and other trim pieces are there. I do find it odd that the shifter was stolen, but then remind myself that a lot of the C5 guys upgrade to the C6 shifter. So that $1650 is still looking like a deal, especially when we get to that second question.
If you scored a C6 like this for well under $2000, exactly what would your project be? My first thought with this one, buy a fender, bumper, some sweet aftermarket wheels, and some go-fast engine bits and get it back as close to original as possible. But Tyler had bigger grander ideas, especially after noting every panel except the hood and rear deck lid had damage to them.
First, he had her towed off to his garage and cleaned it up, where the paint actually did not look too bad.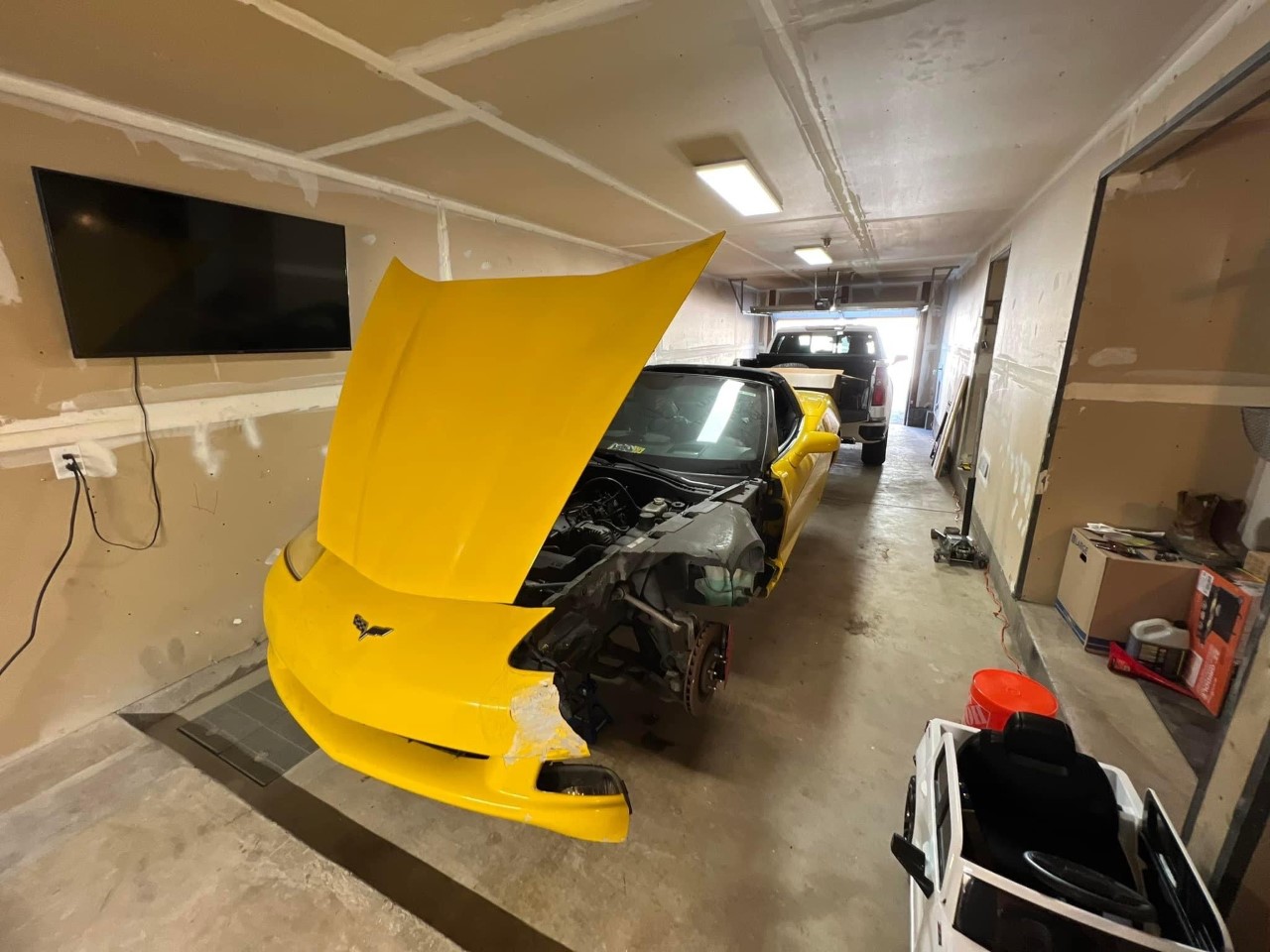 Then he started to strip her down and netted $1100 selling the remaining salvageable body parts, making his deal look even more stellar. And it looks like the kiddo is involved, forming memories both Tyler and the kid will remember for many years to come!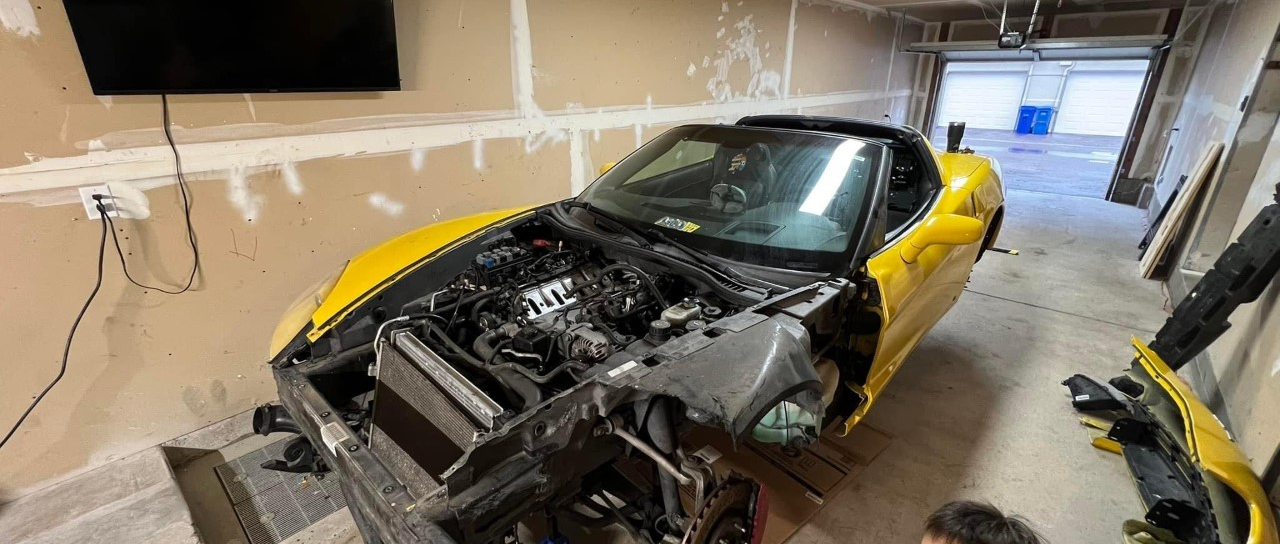 So what is Tyler's vision for this formerly abandoned 2007 C6? Well without further ado, this is what he hopes to build.
I can't speak for my readers Tyler, but your vision gets a big thumbs up from me! And we've seen versions of this before, most notoriously with Cleetus McFarland's C5 "Corvette Kart" (video below). Tyler's version may not be as infamous as Cleetus's (yet!), but it will surely bring many smiles to him (and the kiddo) and make for a great story when showing it off at car shows or the race track.
The last question I was burning to ask Tyler was, why did this guy abandon this Corvette? Well turns out, the once beautiful C6 started to get vandalized while the previous owner was on deployment, then life and service got in the way and he just gave up on it.
I'm keeping in touch with Tyler and will post updates on his build. We often have vibrant discussions on our Facebook page, I would love to hear your thoughts on the revival of this Corvette.  Douglas B.