A Dramatic Third Place Finish for the No. 63 Corvette
Garcia, Magnussen, Taylor climb Le Mans podium in GTE Pro Division
LE MANS, France (June 18, 2017) – The Corvette Racing team experienced many highs and lows during its 18 appearances at the 24 Hours of Le Mans.  America's premier GT racing team added to their legacy with a dramatic third-place finish in the GTE Pro category.  Although not the finish they hoped for, the driving team of Antonio Garcia, Jan Magnussen and Jordan Taylor climbed onto the podium together for the second time in four years.
The No. 63 Mobil 1/SiriusXM Chevrolet Corvette C7.R came back from an early-race puncture and clawed its way back into contention before barely missing out on its ninth class victory at Le Mans since 2001.
The No. 64 C7.R Corvette Team Makes a Costly Mistake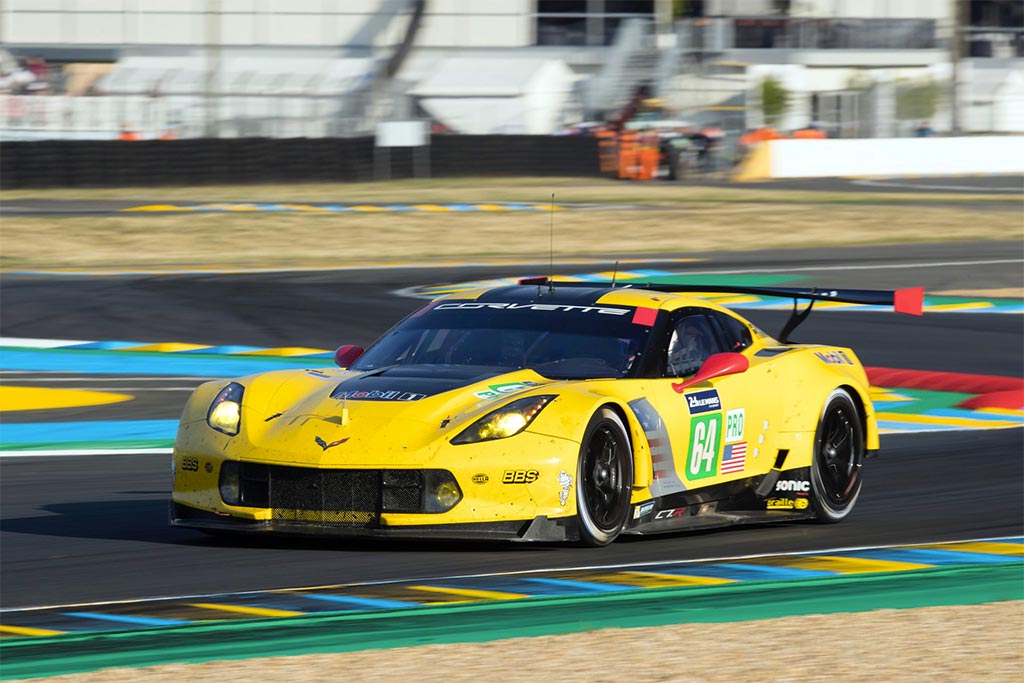 The other Corvette of the two car team did not fare as well during the event.  Oliver Gavin, Tommy Milner and Marcel Fässler placed eighth in the No. 64 Mobil 1/SiriusXM Corvette C7.R. The trio attempted to claw their way back into contention after Milner lost a wheel in a high-speed corner while running second.  While the incident only cost the team three laps, it still proved to be s costly mistake as the GTE Pro race was as much as a seven-car fight into the last six hours.
"The GTE Pro battle was intense and certainly garnered the most attention of any race that I can recall," said Jim Campbell, Chevrolet U.S. Vice President, Performance Vehicles and Motorsports. "While our goal is always to win, it occurred to me that the Corvette Racing team has a never-give-up attitude. That element has been critical in many of the eight class wins in our Le Mans history. Jan, Antonio, Jordan and the entire 63 crew held together strong as a team and demonstrated incredible heart and determination all race long. I also want to thank the Corvette owners and fans around the world for the support they have been giving Corvette Racing at Le Mans from 2000 until today."
The No. 63 Corvette Makes a Phenomenal Comeback
The early puncture for the No. 63 Corvette set the stage for a phenomenal drive back toward the front of the pack by the driving trio, the crew and engineers. The crew performed a perfect brake change near the 10.5 mark – it took approximately 75 seconds to do all four wheels – and the engineering team got the car back on the same pit strategy as the other race leaders just after dawn Sunday.
From then on, the No. 63 Corvette Racing team asserted itself and cycled through the lead up until the final hour.  As the race neared its final push, Magnussen and Taylor alternated single stints for the remaining three-and-a-half hours.  As a time savings measure, the Corvette Racing team elected to take fuel only and change to Taylor in order to gain track position over the final 46 minutes.
Lead Lost on Final Lap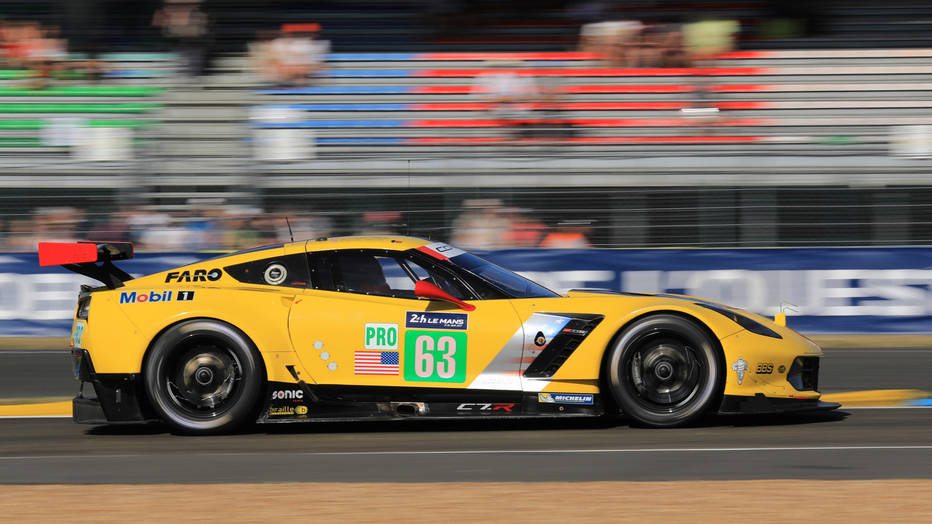 Jordan Taylor was one lap from adding a 24 Hours of Le Mans victory to an incredible 2017 season that has seen him take five consecutive wins in the IMSA WeatherTech SportsCar Championship, including the Rolex 24 At Daytona and Mobil 1 Twelve Hours of Sebring.
Taylor's final laps had felt like the world's most high-stakes game of keep-away from the No. 97 Aston Martin Vantage of Jonny Adam. Adam was practically tailgating the Corvette in spots, forcing Taylor to respond with clever defensive moves to prevent the Aston from passing.
But then, disaster struck the No. 63 Chevrolet Corvette C7.R. On the final lap,
Shockingly, with just over two and a half minutes left in the race, Adam's pressure on Taylor's rear bumper paid off.  Taylor locked up his brakes and took a shortcut across a gravel trap in a chicane, damaging the front of the Corvette. Additionally, Taylor's right rear tire was punctured, forcing him to surrender the lead — and the class victory — in the GTE Pro class to Jonny Adam in the No. 97 Aston Martin.
Taylor limped the car home to take a third-place finish for himself, Magnussen and Garcia,  trailing behind the Aston Martin and the UK-based No. 67 Chip Ganassi Racing Ford GT.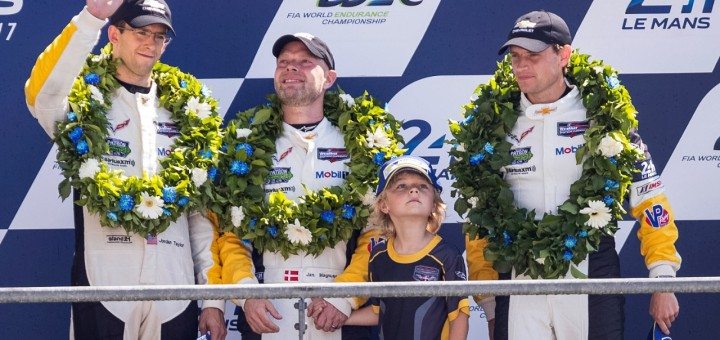 The 24 Hours of Le Mans – In the Drivers Own Words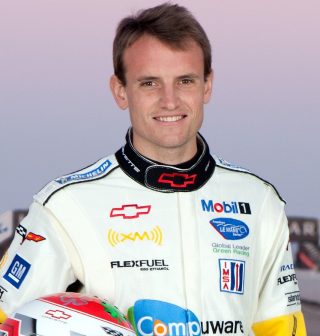 ANTONIO GARCIA, NO. 63 MOBIL 1/SiriusXM CHEVROLET CORVETTE C7.R – THIRD IN GTE PRO:
"That is this race. If you have a small mistake, your plan changes and this turns into a catch-up race. That's what happened to us. It took us 18 or 19 hours to catch back up to the leaders after the small puncture in my first stint. Another small puncture took out the opportunity for us to win this race. We had two of them at exactly the wrong moments. It's a shame. After all the good work and strategy calls we made today, it's disappointing. We were in the right spot to win. It was a fair fight with the Aston Martin. We had a chance but it didn't happen. We come here to win this race. There is no other place we want to be. It's a shame for the entire team. We all worked very hard in preparation. Both Jan and Jordan did fantastic jobs driving. There were just a number of things that went against us."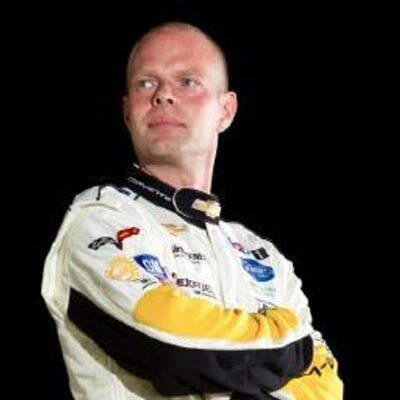 JAN MAGNUSSEN, NO. 63 MOBIL 1/SiriusXM CHEVROLET CORVETTE C7.R – THIRD IN GTE PRO:
"The race was one where everyone was so close and so evenly matched. When Antonio had a cut tire and had to come in early (in his second stint), that put us behind everybody and on a different strategy. That also meant that we would not be catching the slow zones in the same everyone else and that really started to bite us. So we fell further and further back. Until we got back on the same strategy as everyone else, it was an uphill fight. But the car was good and the team worked fantastic the whole time. Antonio and Jordan drove perfect throughout the whole race. When we perform like this as a team, it's difficult not to be disappointed with the outcome. A podium at Le Mans is pretty decent; it's just not what we came for."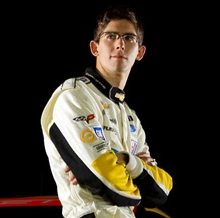 JORDAN TAYLOR, NO. 63 MOBIL 1/SiriusXM CHEVROLET CORVETTE C7.R – THIRD IN GTE PRO:
"Obviously it was a disappointing finish. But if you look at the whole 24-hour race, we weren't always up front. So leaving with a podium finish is something we can be proud of. When you come so close, extremely close, that is the frustrating part. I think we showed a never-give-up attitude. We went two minutes down early in the race and fought back from there. A lot of people doubted that we could bring it back. I think everyone executed well and unfortunately it just wasn't our day."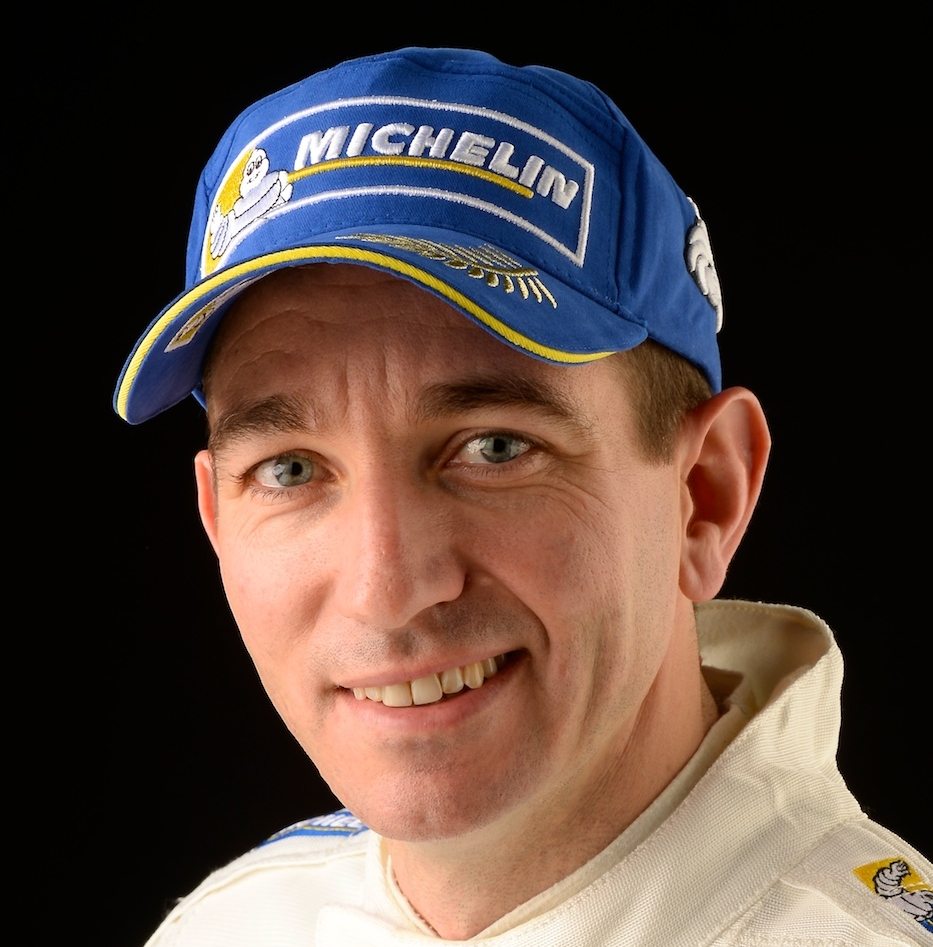 OLIVER GAVIN, NO. 64 MOBIL 1/SiriusXM CHEVROLET CORVETTE C7.R – EIGHTH IN GTE PRO:
"It was one monumental battle in GTE today, whether we were dealing with the conditions, the competition or the traffic. We were right up there when we had our incident which cost us four-and-a-half laps and basically ended our race. The competition in GTE is so tight it's impossible to catch up that kind of delay. At Le Mans you can't but recognize the efforts of everybody involved with Corvette Racing, especially the guys of the 63 car. I feel terribly sorry for them to have lost the race in this way."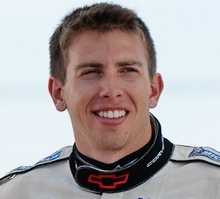 TOMMY MILNER, NO. 64 MOBIL 1/SiriusXM CHEVROLET CORVETTE C7.R – EIGHTH IN GTE PRO:
"This was a race all of us at Corvette Racing had high hopes for. But those hopes fell just a bit short. For us, I'm disappointed to have had the problem we did, which put an end to our race. I'm super bummed for the No. 63 guys to have come that close to a win. But they did a great job all race long. Everyone at Corvette Racing can hold their head up high as this has been one of the greatest GT races Le Mans has ever seen. It's always a pleasure to come to Le Mans with Corvette, and this result makes you want to start to prepare for next year starting tomorrow."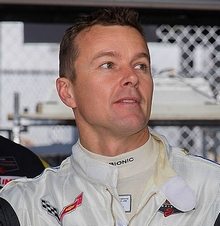 MARCEL FÄSSLER, NO. 64 MOBIL 1/SiriusXM CHEVROLET CORVETTE C7.R – EIGHTH IN GTE PRO:
"I enjoyed the race and the Corvette really a lot. We had great overall speed, all three of us, and I think we would have had the chance to fight for the win or a podium finish like the sister car had we not had our issue. But Le Mans decides for you and it cost us four laps – the same four laps we were down on the winners at the end. I also feel sad for the sister car which had the puncture on the last lap. Even though it was a tough race, I enjoyed the event and the team enormously."
DOUG FEHAN, CORVETTE RACING PROGRAM MANAGER:
"Just as predicted this may have been one of the most epic GT races in Le Mans history. To have all the manufacturers so closely matched is a testament to all the hard work of the ACO and the FIA. We saw an event over the past 24 hours in which all of the 13 cars entered in GTE Pro were capable of leading and winning. That's good racing and we couldn't be more proud to have been part of it."
GARY PRATT, CORVETTE RACING TEAM PRINCIPAL:
"Whenever you have a great race like that… it's always nice to win, but you can't feel bad about having a great race like that and it coming down to the last lap of a 24-hour race. It's just fantastic racing and hats off to those guys. They did a good job and we were one lap shy."
The next event for Corvette Racing is the Sahlen's Six Hours at The Glen on Sunday, July 2 from Watkins Glen International in Watkins Glen, New York.