C4 Corvette ZR-1
The C4 ZR-1 Corvette, even some 30 years after its initial year of production, carries indisputable performance merit, the likes of which few can deny. In fact, the ZR-1 is often cited as the car which helped fend off threats, both foreign and domestic in origin, to the Corvette's elite performance car status. However, after only 6,939 ZR-1 Corvettes were built, and 6 years of production had passed, the program was terminated, falling victim to corporate decisions regarding pricing and the mirror-like restyling of base model Corvettes of the era.
While the ZR-1 was somewhat unceremoniously pulled from production, these robust racers are still renowned today for their brutish power and exemplary engineering.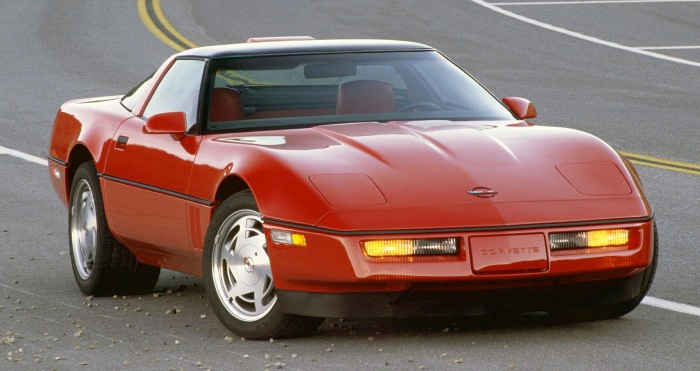 Photo: Haggerty.com
Performance Reimagined
Although the first C4 ZR-1 did not become available for purchase until the Corvette's 1990 model year, the ZR-1's history dates back to the early days of the Vette's fourth generation. Corvette Chief Engineer, Dave McLellan, was adamant from day one that the C4 needed a noteworthy power plant to accompany its clean-sheet design.
McLellan felt that the all-new Corvette would never live up to the expectations of critics without bolstering its output to levels that met, or exceeded that offered by pre-emissions Corvettes. In more ways than one, McLellan likely had a point, as the mid-1970s had seen the Corvette become but a crippled shell of its former self, in regards to the realm of performance, and recovery from these trying times had proven to be a long road to travel.
McLellan petitioned Director of Powertrain Engineering, Rus Gee, to solve the dilemma at hand, and to restore the Corvette's legacy as America's true performance car. In response, Gee set out to engineer the next iconic engine that would reside under the Corvette's hood.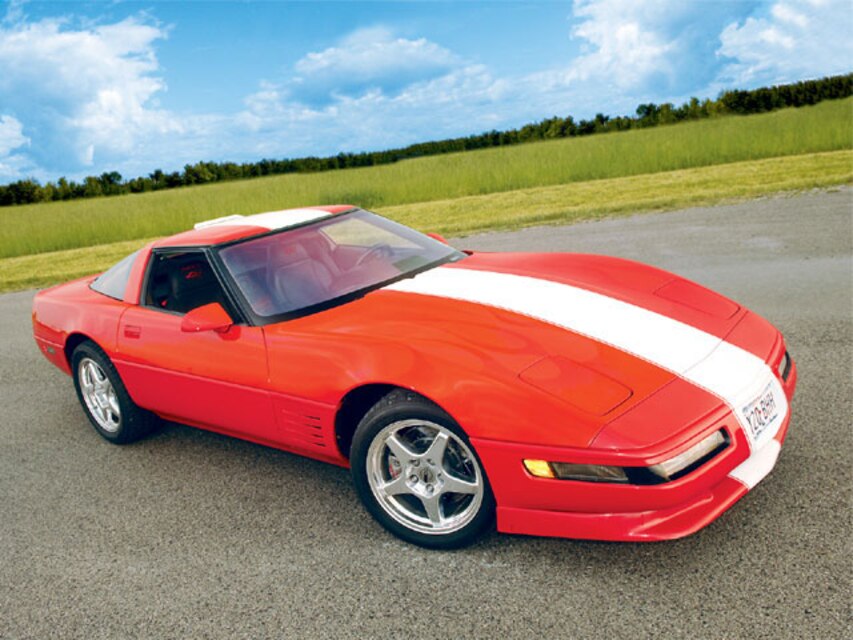 Photo: superchevy.com
At the time, GM was conducting significant research into the viability of varying forms of forced induction, especially that of turbocharger use. Gee, likewise, initially chose to forge down the path of forced induction when attempting to design the Corvette's new power plant, in turn, building a number of turbocharged V6 and V8 prototypes. However, this venture proved to be cost-prohibitive and was ultimately nixed by then-GM President Lloyd Reuss.
Rus Gee then reached out to Lotus engineer Tony Rudd, as he recalled a prior conversation from 1984 when Rudd described, in detail, a 350 horsepower DOHC 4.0L V-8 which he had been involved in the development of. Because this engine closely matched that which he had intended for the Corvette, Gee poised the idea of fitting Lotus designed 4-valve/cylinder heads to the Corvette's traditional 350 cubic-inch block. However, this was proven to be an insurmountable task due to valvetrain/camshaft fitment issues, and plans for an all-new engine were hatched.
Lotus, which was under GM ownership at the time, engineered a new DOHC engine, with the intent of placing it into future Corvettes. Originally, this engine was intended to produce 400-hp, though GM's insistence on keeping 4.4" cylinder bores, as opposed to those of 4.55" that were proposed by Lotus, reduced the engine's output to 375-hp and 370 pound-feet of torque.
This ambitious project was green-lighted in August of 1985, and the first LT5 engine roared to life on May 1, 1986. Twenty-five engineless Corvettes were subsequently shipped to Lotus for the purpose of fitment and track testing.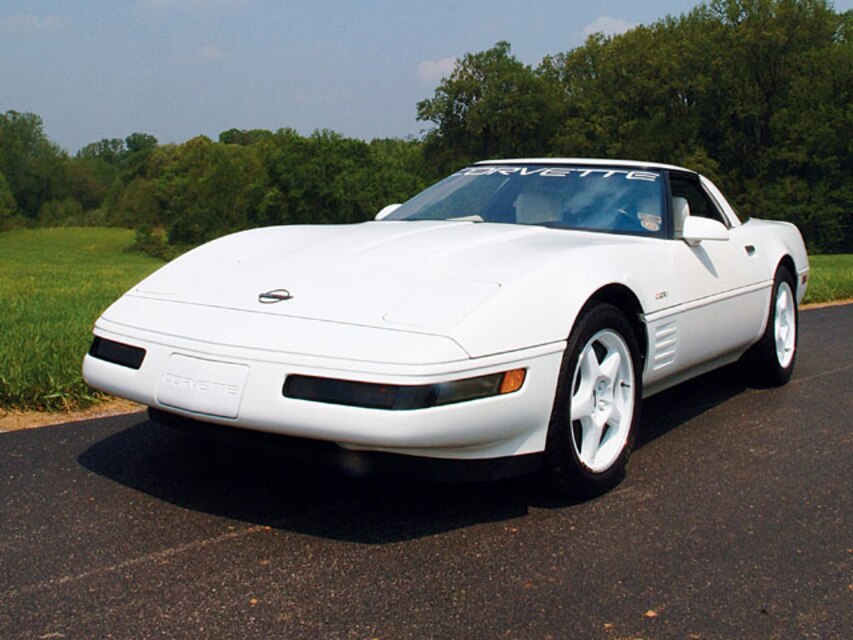 Photo:Superchevy.com
Though the earliest LT5 engines were hand-built by Lotus in England, it was later decided that further production would be contracted through Mercury Marine, and all LT5 engines would be produced at the company's plant in Stillwater, Oklahoma.
Throughout the process, the GM design department had drafted the idea of only outfitting a limited number of Corvettes with the new Lotus designed LT5. Corvettes that were purchased with this option would carry the ZR-1 designation.
While further testing of Phase I and Phase II LT5 engines continued, GM worked feverishly to hone the C4's chassis to perfection. To acquire the necessary data to assist in this process, two showroom-stock Morrison Corvettes were outfitted with heavily modified 500-hp small-blocks. These cars we subsequently raced at Daytona and Sebring in a bid to gather information about the C4 chassis' durability under periods of prolonged stress.
The ZR-1 Is Born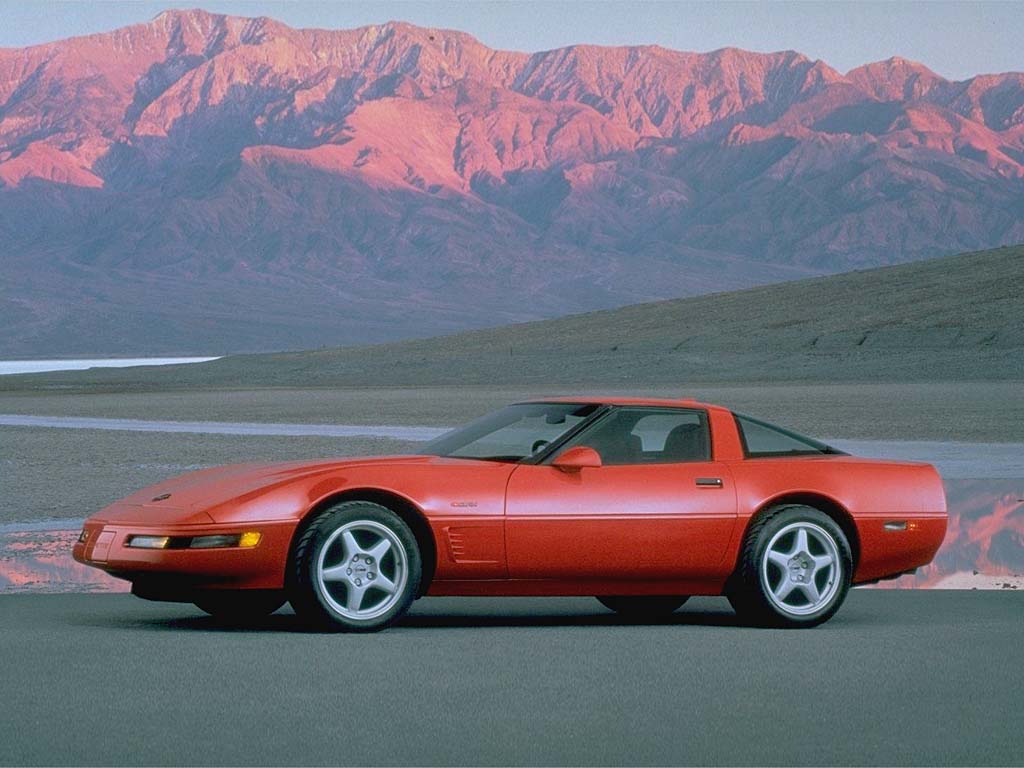 In 1987, the initial batch of ZR-1 pilot cars was built at GM's Bowling Green's Assembly Plant. These prototypes were then made available to the press at Riverside Raceway in June 1988, which spurred a media firestorm of sorts, that saw the ZR-1 become a focal point of varying forms of industry media. Much of the fanfare surrounding the yet to be released ZR-1 centered around its hearty power plant.
With demand building, even before its official release, GM jumped headlong into actual production. However, in a move that would foreshadow later events, the ZR-1's production was halted, to ensure that the production of all base model Corvettes for the 1989 model year was completed as scheduled. This would not be the last time that GM's insistence on prioritizing the line's base model would place the ZR-1 on the backburner.
Due to this halted production, any 1989 ZR-1s that had already rolled off of the assembly line were restricted from being sold to the public. As a result, the bulk of these early ZR-1s were converted into test and tune vehicles, while others found specific uses elsewhere. Some of the most notable of these repurposed ZR-1's included "Conan", a car modified by California builder Ryan Falconer, which was fitted with a V12 racing engine, and John Heinricy's modified "Snake Skinner".
Perhaps the most well known of these pre-production cars was Tommy Morrison's LT5 equipped ZR-1, which broke the 24-hour speed endurance World Record at a test facility in Fort Stockton, Texas, in March 1990. This car was nearly stock in nature, with only minor modifications made to reduce weight and enhance driver safety.
Finally, the ZR-1 became available to the public in 1990. Aside from its obvious differences under the hood, the ZR-1 featured several cosmetic variances over its base model counterpart. Some of the most notable included a convex tail, signature square taillights, and special ZR-1 badging below the right rear light. The ZR-1 also featured 11" wide rear tires fitted on 17" rims.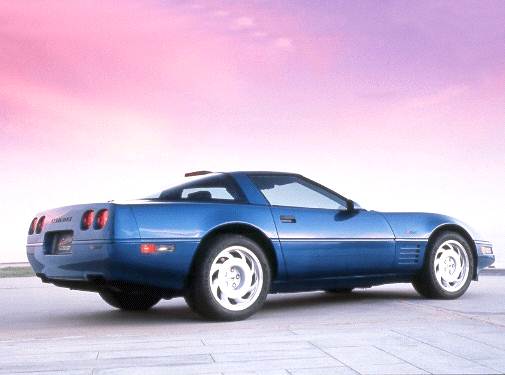 One of the most unique features of the ZR-1 was its use of a Valet Key. In the first of the key's two settings, the LT5's secondary intake ports were disabled, which limited its output to approximately 200-hp. Once switched into its second functional mode, the Valet Key enabled full engine operation.
In the realm of performance, the ZR-1 matched or exceeded the expectations of most. The LT5 engine at the heart of the ZR-1 relied upon 32 valves (4 per cylinder), four overhead camshafts, and an 11:1 compression ratio to churn out 375 bhp. The ZR-1 was capable of 4.3 second 0-60 MPH pulls, and could cover ¼ mile in a mere 13 seconds.
What Could Have Been
Though the ZR-1 received high-praise from critics and Corvette enthusiasts alike, a mix of questionable corporate decisions and instances of less than ideal timing ultimately doomed the ZR-1. Though 5,0933 ZR-1 Corvettes were sold during the first two years that the package was offered, sales soon dwindled.
Much of the ZR-1's plummeting sales can be attributed to its hefty price tag. Throughout its run, ZR-1 ownership had always commanded a sizable expenditure, which surpassed $72,000 in 1995. While pricing alone tended to be a limiting factor in sales, this was further compounded by the fact that little difference remained between the ZR-1 and Corvette base model by 1992, aside from its powerplant.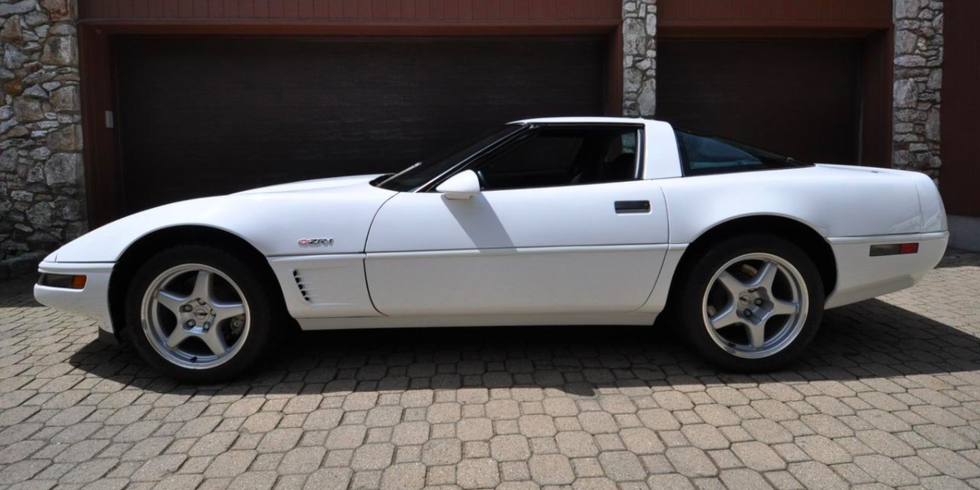 In a bid to further promote the line's base model, even the ZR-1's signature square tail lights had become a mainstay of the base Corvettes of the era. At approximately the same time, the base LT-1's output was boosted to 300-hp, further bridging the gap between the two packages. This left consumers feeling conflicted as to whether the ZR-1 was worth the price which it commanded.
Perhaps the final nail in the ZR-1's coffin came at the hands of the LS1, which was under development during the LT5 equipped ZR-1's final year of production in 1995. This new engine platform carried a promise of increased performance potential and overall versatility, which effectively made the LT5 obsolete in the eyes of many.
Finally, the ZR-1 program was canceled prior to the 1996 production year, ending a six-year run which had effectively renewed the Corvette's credibility as a street-ready racer. In its absence, the ZR-1 has left behind a legacy, through which it has often been portrayed as a key player in the Corvette's return to prominence, both in the streets and on the track alike.