There exists two schools of thought in North America about muscle and sports cars. The first is that said car has been designed, engineered, and produced to be the best it can be from the factory, and that it should be enjoyed as it was originally intended to be. The other school of thought, however, sees the car itself not as a complete unit, but as a foundation to tune, personalize, and modify to the nines.
That "built, not bought" school of thought is what applies to our featured 2007 Corvette C6 Z06 today. In a project that has taken multiple years, Bobby M has turned what was a great sports car into an absolute power monster, capable of demolishing pretty much anything on the local dragstrip while also being able to do a lap of any road course you can name.
Of course, there has been some personalization thrown in—but to understand the time and effort that has gone into the car, we first of all need to start with how Bobby got his C6 Z06.
Why the C6 Z06 Was Almost Fated to Be Bought
Originally, Bobby had never intended to buy an American car, let alone a Corvette in 2011. He was instead looking to pick up a Type 997 Porsche 911 Carrera 4S. He found one, vintage 2006, at a dealership in Milton, Ontario, Canada, part of the Greater Toronto Area, and went in fully intending to walk out with the keys to a great German sports car. However, it was then that fate intervened.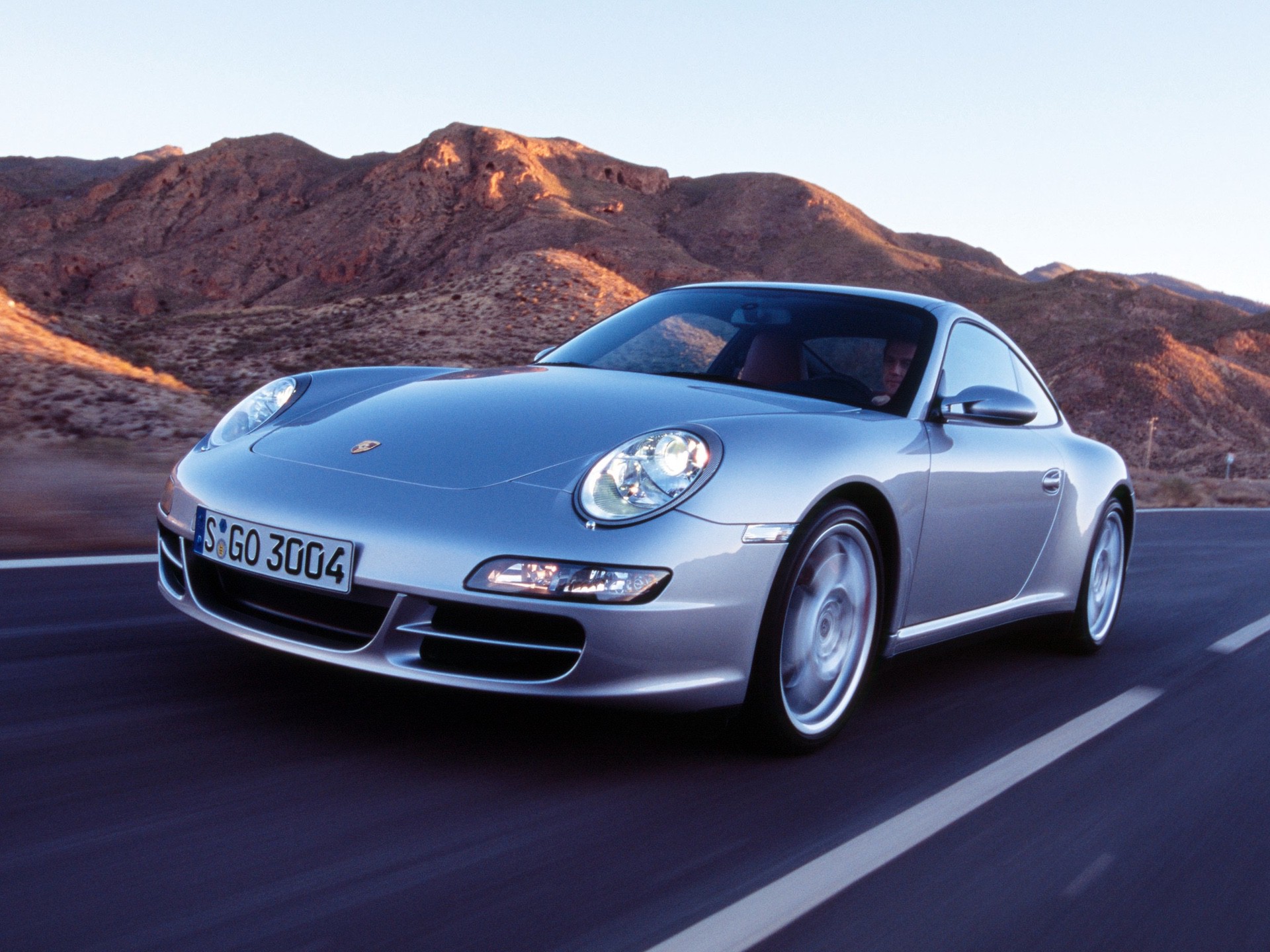 When Bobby walked in the door, he saw the 911 Carrera 4S, and it looked to be in great condition, but out of the corner of his eye, at the very back of the showroom, a black Corvette C6 Z06 sat. It was in absolutely mint condition, and had been sold to the dealership against a new car the original owner bought there.
In the four years of ownership, that owner had only put just about 1,000 KM (around 600 miles) on the car. It had been a garage queen its entire life. It was flawless.
So instead of taking the Porsche out for a test drive, Bobby M instead took the Z06 out, and within the first kilometer, he knew he had found his car. That day, because the light was shining off of perfect black paint on a car at the back of the showroom, he walked out of the dealership with keys for a 2007 Corvette C6 Z06 instead of a Porsche.
A Snowball of Modifications to Bobby's Z06
In order to protect that perfect condition paint, Bobby's first modification was to have the car completely wrapped in matte black. He loved the aesthetic of the black, and so he also had the rims powder coated to match. As he himself states, "it just snowballed from there."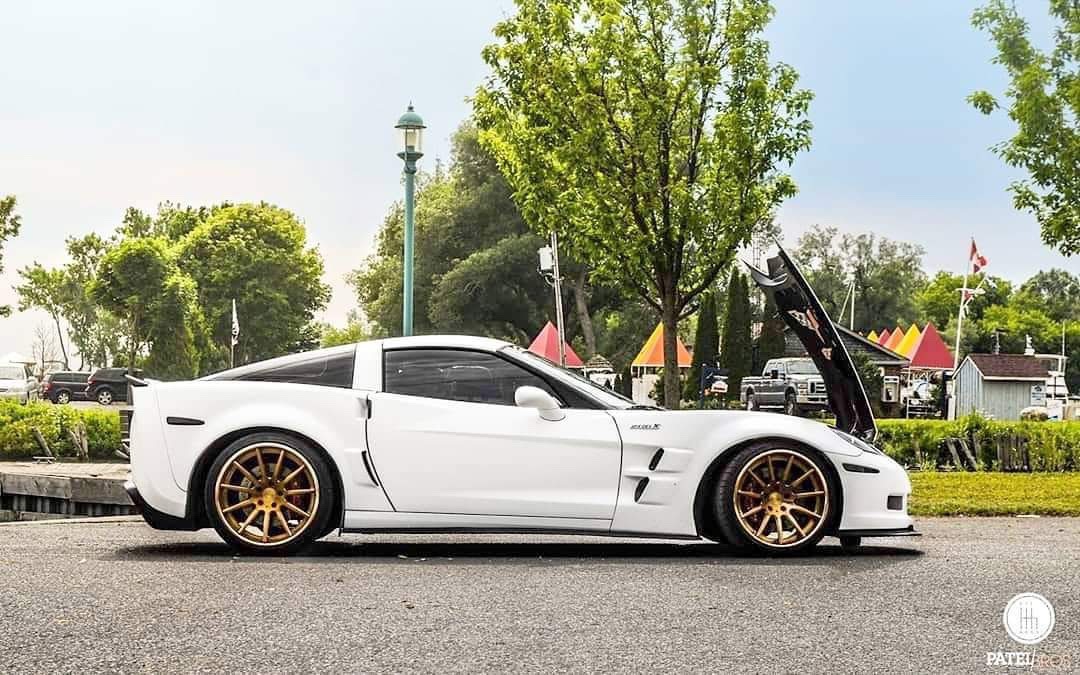 In 2012, he replaced the stock exhaust with a high-flow one, and got addicted to the sound it made when the go-faster pedal met the floor. From there, the floodgates opened and the next 9 years were spent, as he states, "improving the performance and aesthetics of the car".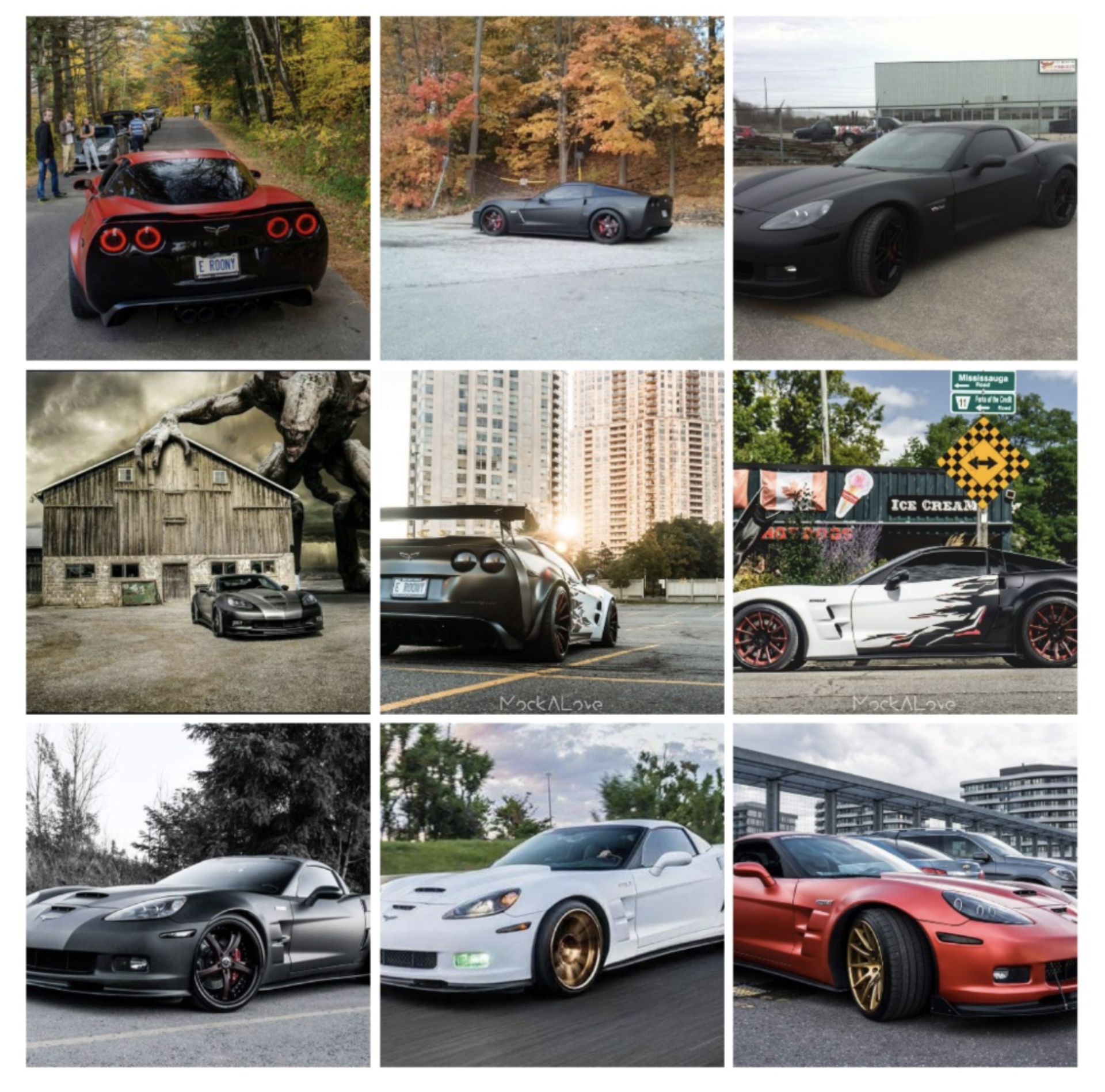 While a fully accurate timeline is not available, as Bobby himself has forgotten when certain bits were bought and installed into the car, the mods list itself is akin to one of those sport tuner magazines from the 1990s, where a full page with a picture of the car at the top was dedicated to just listing out the mods. Not performance figures, not costs, nothing like that, just the mods. So we'll go in the traditional order of those magazines, namely engine, transmission, interior, exterior.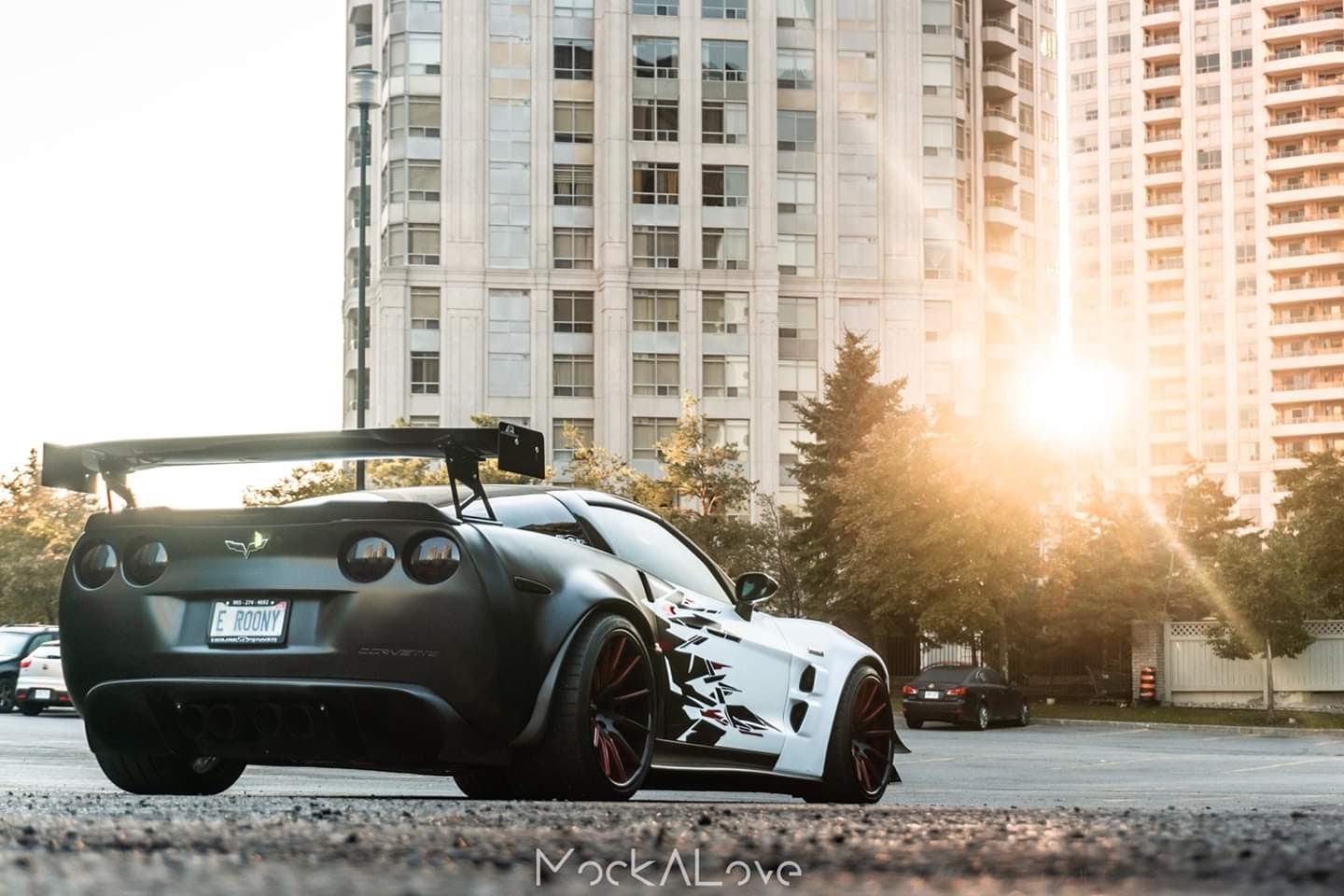 Engine Mods
Under the hood, the LS7 has been stripped to bolts and built back up by Beatty & Woods Performance out of Mississauga, Ontario, using fully forged internals and slapping a ProCharger DS1-SC supercharged on top. Running at 12.5 lbs of boost, Bobby was impressed but wanted more power, so a full meth system was also added.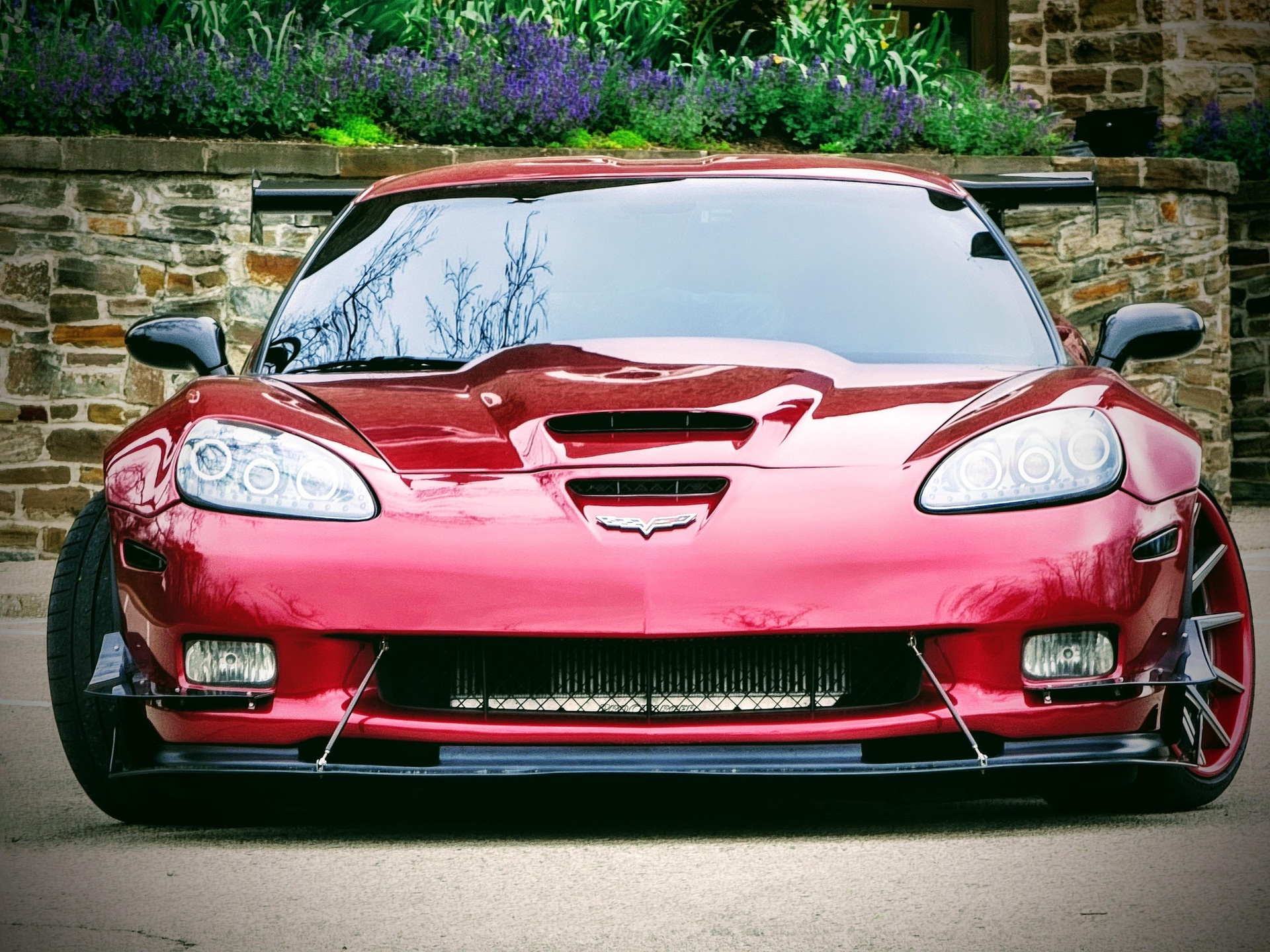 To handle the boost and the meth, some of the engine mods include a new 102mm ported throttle body to feed that hungry supercharger as much air as possible. The ProCharger sits on an LSx intake manifold, and the gas/meth are shot through 850cc/min injectors, up from the stock flow rate of about 400cc/min. The cams have been replaced with CAM-MOTION cams designed to work with the DS1-SC, and a ProCharger blow off valve was fitted.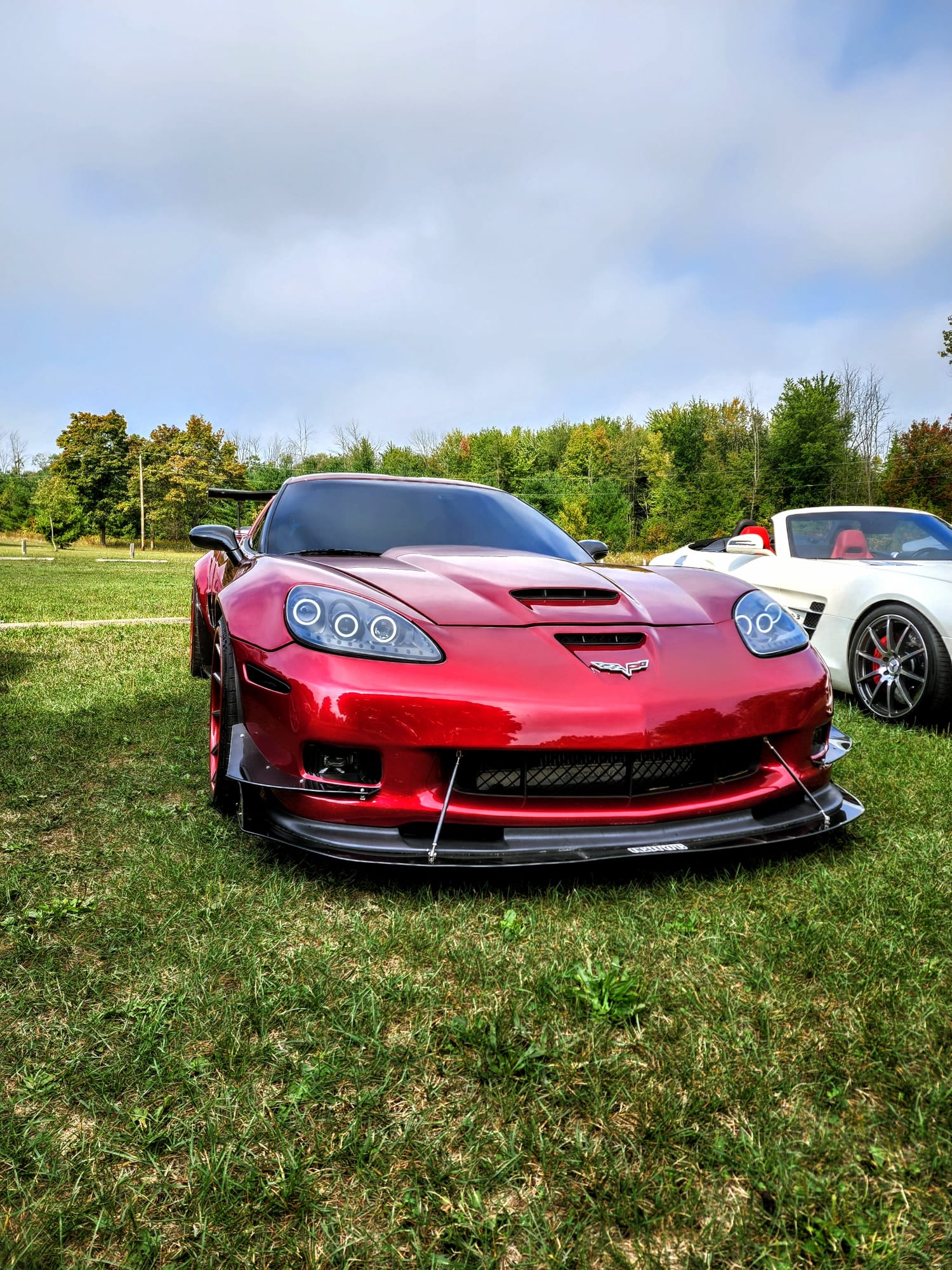 On 94 octane pump gas, the result is an engine that puts out 850 HP and 800 lbs-ft of torque at the rear wheels. It's closer to almost 1,000 HP and 940 lbs-ft at the flywheel.
Transmission
That flywheel, a lightened McLeod one which is mated to a McLeod dual-disc clutch, then connects to a bought-new-from-the-factory Tremec TR6060 six speed transaxle. A short shifter is fitted to make throws nearly instant, and the stock limited-slip differential has been beefed up to handle the torque the engine throws out.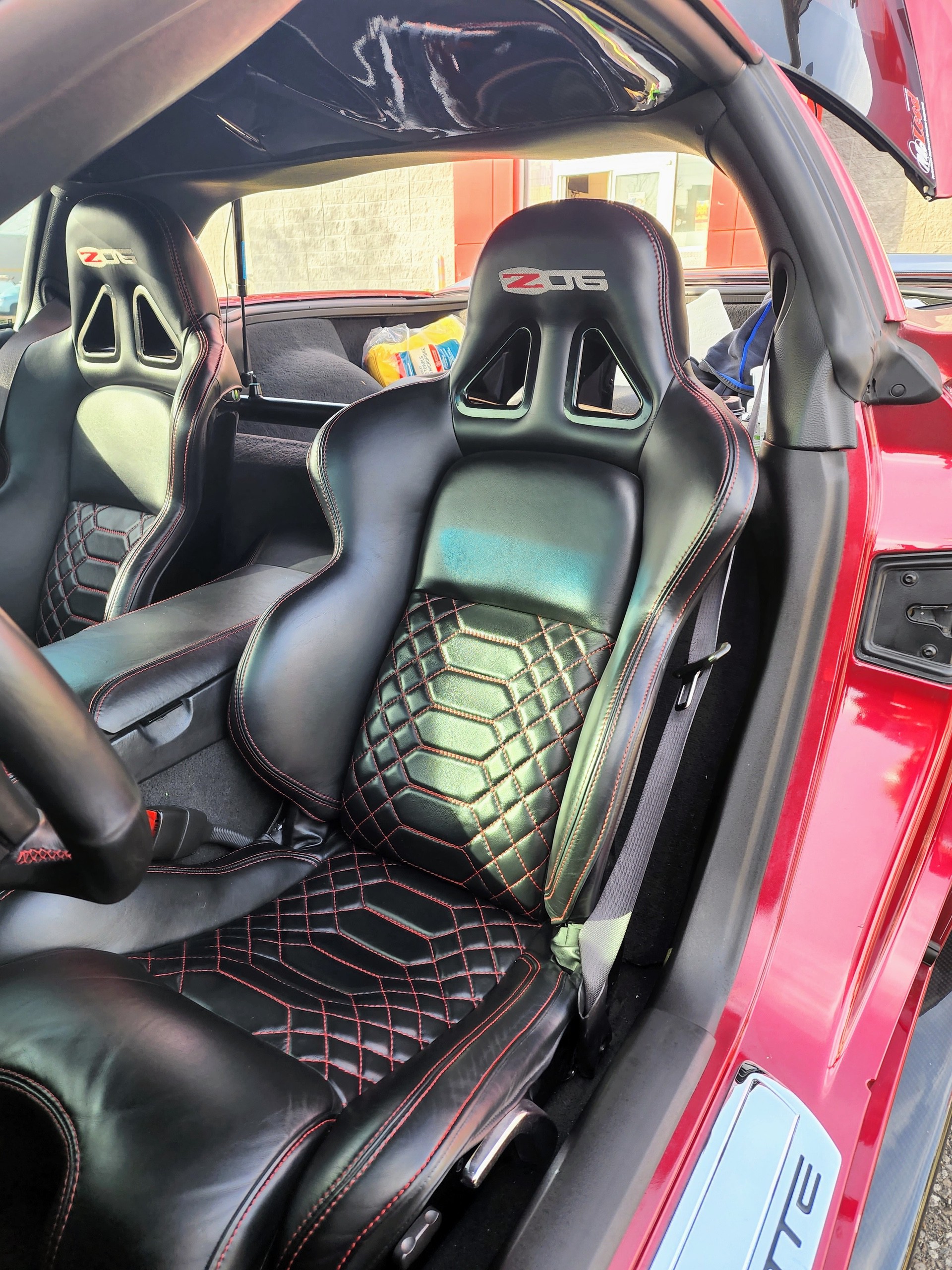 Interior
The interior has been fully modded, with the modifications being performed by Caravaggio Corvettes from Vaughan, Ontario. This includes custom leather seats, console rewrap, liner replacement, and customized floor mats and interior badging. Chrome kick plates have been fitted, and instead of the Corvette skull on the steering wheel, Bobby opted to have a Punisher-esque skull instead.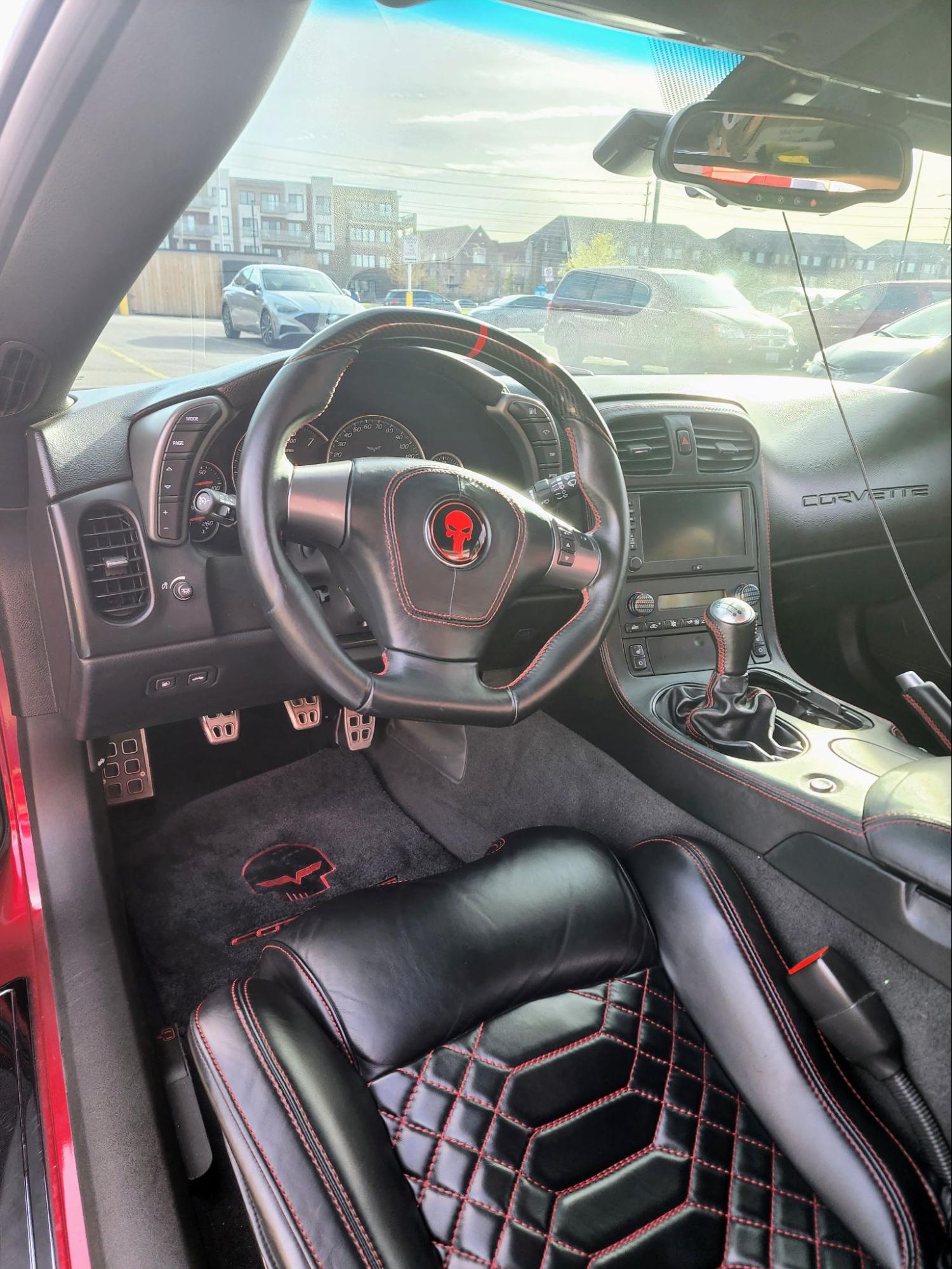 Exterior
On the outside, the car has undergone several wraps, from red/black combined, to solid white, to white fading to black, and so on. After a while on stock wheels, probably the biggest exterior mod was performed, with a custom widebody kit from Supervettes to fit over custom three-piece forged concave rims by Velos Design Werks out of Miami, Florida, at 19×10.5 inch fronts and 20×13 inch rears.
It was also at this point that Bobby decided to no longer wrap the Z06, and instead had an all-parts-and-panels-off strip to primer and respray, choosing Candy Black Cherry Red as his Z06's new glossy color.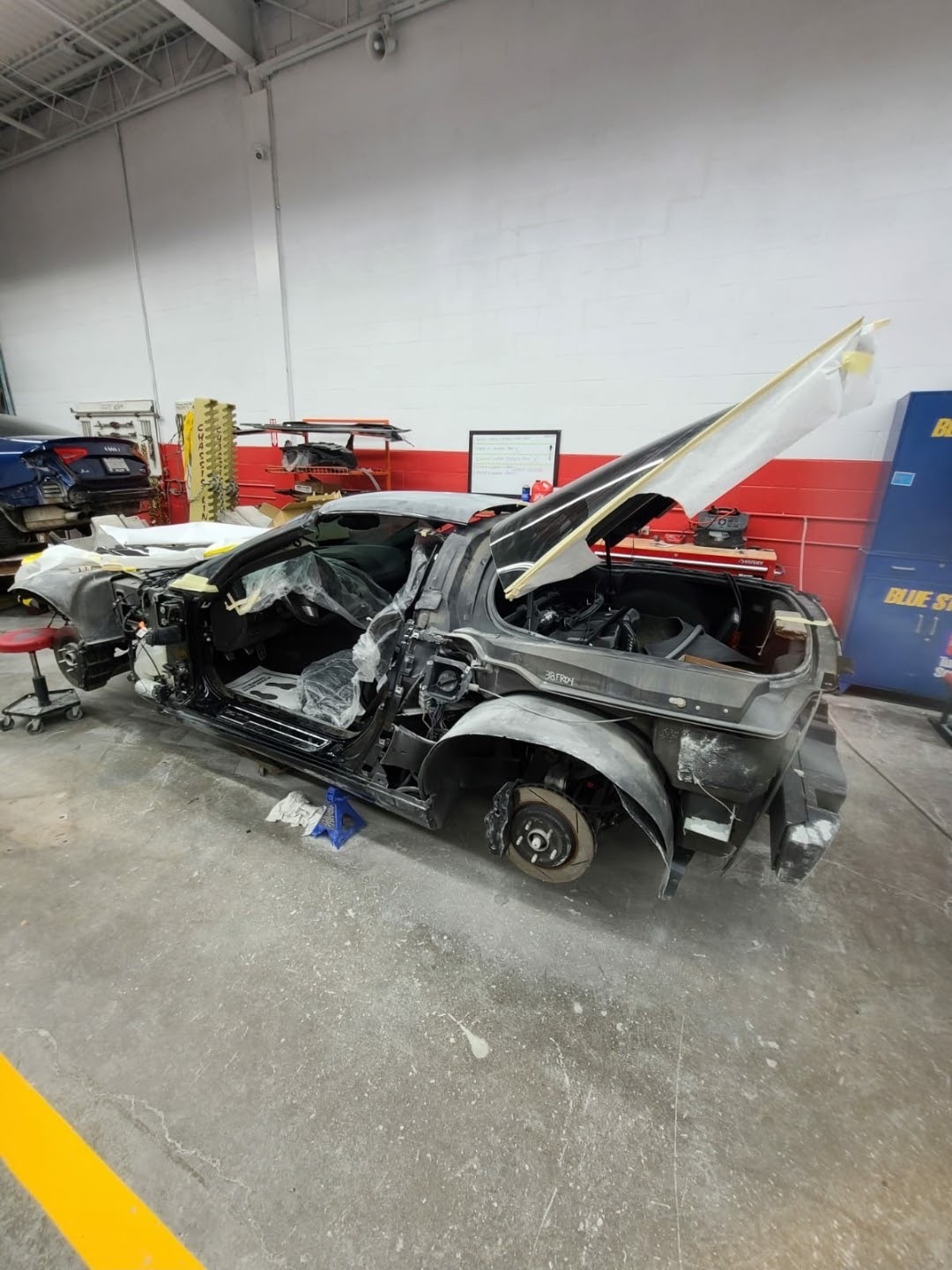 Performance Enhancements
As part of the widening of the car and the new rims, the running gear has also been upgraded. LG Motorsports GT2 coilovers are fitted to all four corners, coupled with new swingarms and LG Motorsports sway bars to stiffen the car to near-race car levels. As can be seen in the pictures so far, this has resulted in the Z06 getting a meaty drop of almost ¾ inch, "because race car" as the saying goes!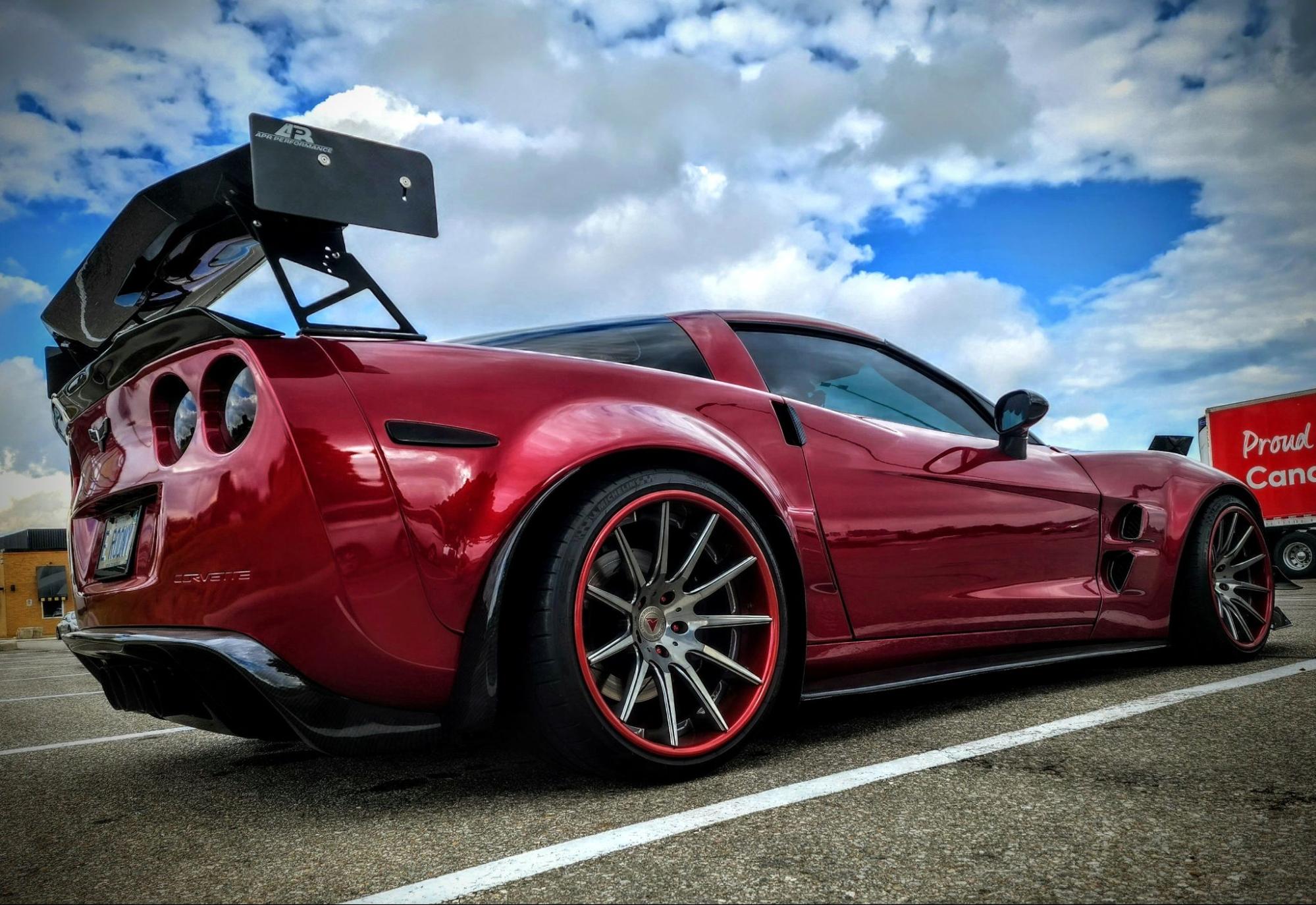 Customized halo headlights, and fully customized tail lights, come from Vettesthetics. The rear wing is an APR Performance GT500 racing wing, while the front splitter and dive planes are custom to this Z06, and are fully functioning, with the rear wing also being adjustable for either drag strip or track usage, depending on what Bobby feels like doing that particular day.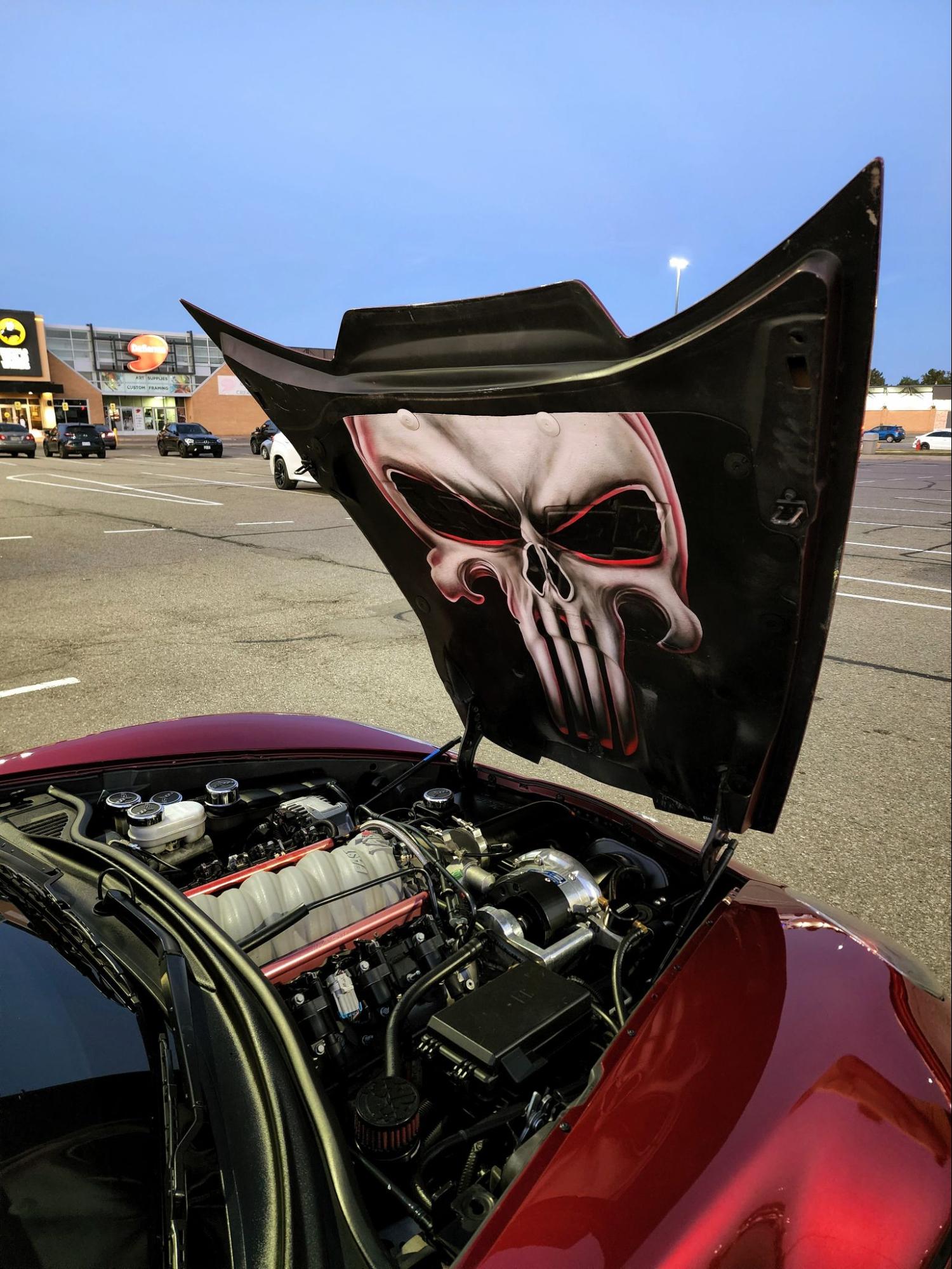 A final touch, specifically for concours and modded car shows, is that the underside of the hood features another Punisher-esque skull, fully treated to resist oil, heat, and road debris so it will look as good as the day it was painted for years to come.
Times & Speeds in Bobby's Z06
As one can see, that initial little snowball of modifications became a full on avalanche, but it's at the part now where it's running down the valley instead of dropping down the mountainside. Bobby's Z06 is now his dedicated track car, and after all of the work, money, and time put into it, it is a seriously fast machine.
Specifically, the car can do a standing half mile on tarmac at just about 250 KPH (155 MPH). On the day he did the half mile "Race The Runway" event at Smith Falls, Ontario, Bobby's Corvette was beating a Ferrari F12 and a Lamborghini Aventador SVJ.
There was also a top-speed one mile run at that event, and Bobby's humble (but heavily modified) Corvette, with the boost turned up, meth wide open, rear wing flat, and 94 octane pump gas, broke both the 300 KPH barrier, and the 200 MPH barrier that every supercar sold today needs to beat. His record for that run was 328 KPH, or 203 MPH, verified by GPS.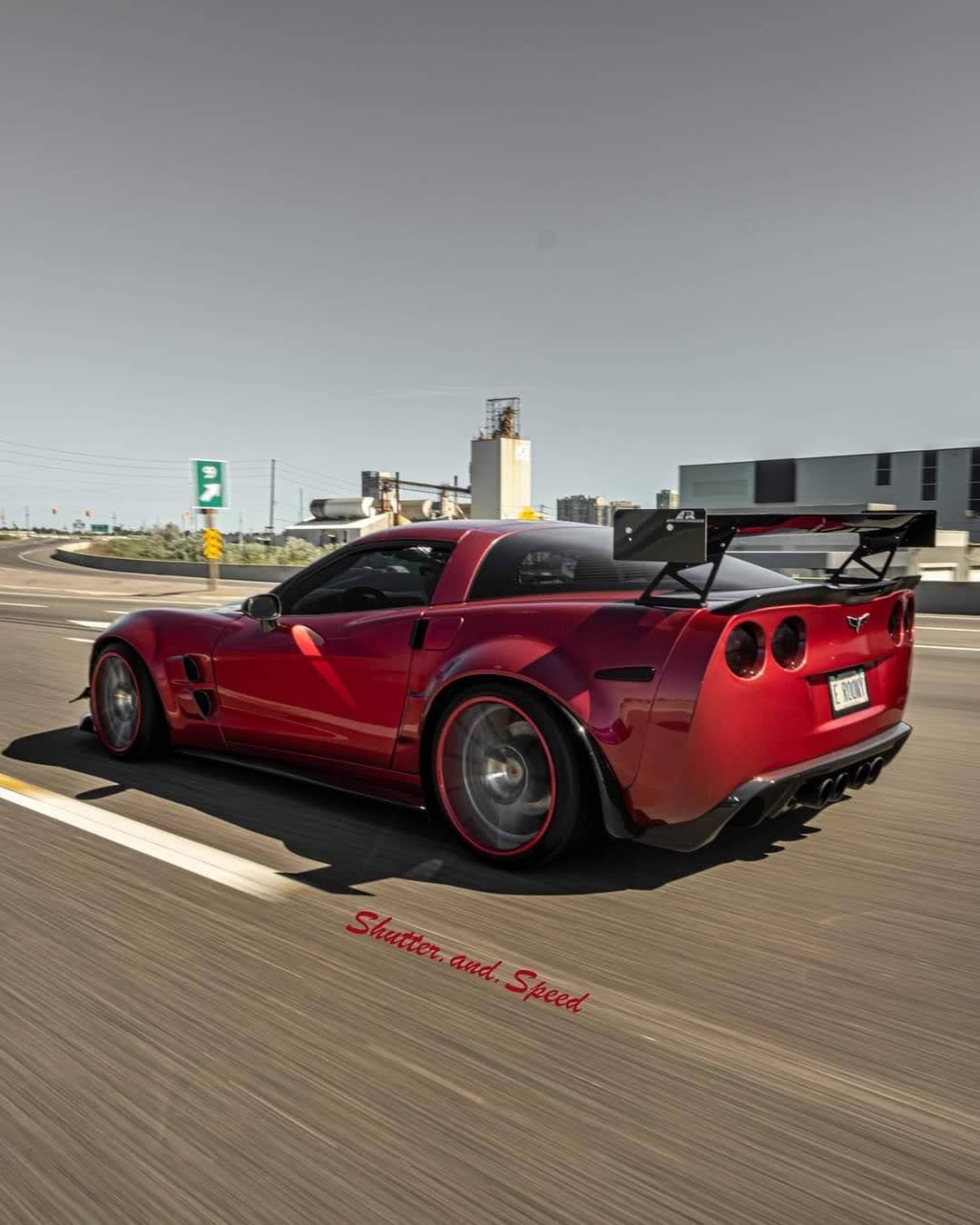 The Z06 can also tear it up at the drag strip. At St Thomas Dragway in St Thomas, Ontario, during a less-than-perfect-run, the car crossed the quarter mile beam at dead on 11.00 seconds, meaning the Corvette had managed to touch 200 KPH (124 MPH) from a standing start.
Consider that Bobby is rowing his own here, without a launch mode to guarantee maximum grip and power. On top of that, compare his feat in the Z06 to a modern version of the original car he was interested in (a Type 992 2022 Porsche 911 Carrera 4S with a PDK dual-clutch transmission, all-wheel-drive, and launch mode) and it breaks the beam at 11.3 seconds.
The Future of Bobby's Z06
Despite moving the Corvette C6 Z06 to be his weekend toy, Bobby doesn't just sit down and pootle about during the week! He founded the GTA Motorheads Car Club in 2012, which welcomes almost everyone that loves cars and loves modding them. He notes that there is a huge variety of cars, from a Camaro RS to an R35 Skyline GTR pushing 1,600 HP at the wheels. It's very non-denominational, so anything from a modded mid-90s Honda Civic to a McLaren Senna is welcome, in a very Canadian way.
As to what Bobby drives as his daily now? In his own words, "I also own a 2019 Mercedes-Benz C63 S AMG Coupe as my daily. Lowered on H&R springs, fully wrapped in matte paint-protection film." It seems that as one avalanche has finally run its course, another looms on the mountainside, and all it takes is one little snowball…