These are the best exhausts for 1997-2004 C5 Corvettes. The installation of a custom exhaust provides a great way to enhance the C5's naturally-aggressive exhaust tone, while potentially increasing overall horsepower as well.
Find Your Next Exhaust
We vetted the market so you don't have to!
Our exhaust recommendations are weighted based on a combination of performance, build quality, and value for money.
Entry-Level
Priced under $1800.
Mid-Range
Priced $1800-2600.
High-End
Priced Over $2600.
About Our Exhaust Recommendations
Founded in 2014, the CorvSport team has been 'Vette obsessed' for as long as we can remember. While we've spent nearly a decade writing about all things Corvette, we've been driving them for much longer than that!
When creating our Corvette mod lists, we focused on three areas:
Performance – Any exhaust worth having should be free of any unnecessary restrictions, thereby overall exhaust pressure, and enhancing the C5's output.
Build quality – A good exhaust kit should showcase superior craftsmanship, free of lackluster welds, and other obvious structural defects.
Value for money – We are especially excited to recommend any exhaust that provides consumers with plenty of bang for their buck.
CorvSport is funded by our audience. Our recommendations and reviews may contain affiliate links that earn us a small commission if you make a purchase after clicking them. This is the primary way we fund our website and pay our review team (and comes at no additional cost to you). Where appropriate, we disclose our relationship with brands or manufacturers for transparency.
Best Entry-Level C5 Exhausts
Priced under $1800.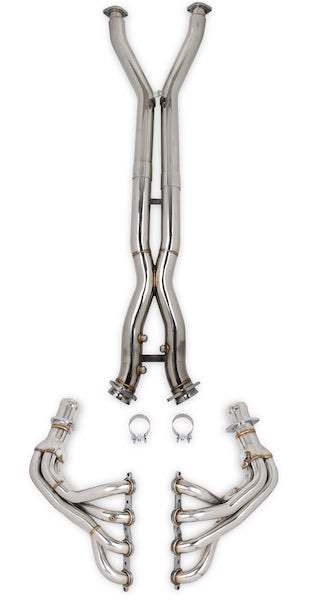 Flowtech Long Tube Headers + Off-Road X & Mid-Pipes
Price: $1373
Where to Buy: Holley
Why?
The Flowtech Long Tube Header Exhaust kit is among the most cost effective exhausts currently available for the C5 Corvette. This kit comes complete with TIG-welded 304 stainless steel primary tubes and collectors, as well as Flowtech's signature Off-Road X-Pipe. The geometry of this tubing provides maximum ground clearance, while also allowing for direct fitment of all stock axle-back components.
Key Specs & Features
3/8" steel flanges
Polished 304 stainless steel primary tubes
Tube geometry designed for maximum ground clearance
Includes Off-Road X and Mid-Pipes
Fitment
97-04 C5 Chevrolet Corvette with 5.7L engine
Best Mid-Range C5 Exhausts
Priced $1800-2600.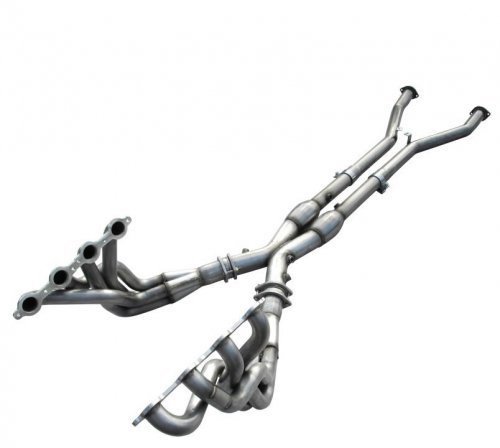 American Racing Headers Long Exhaust System
Price: $2030
Why?
American Racing Headers' Long Exhaust System affords a significant degree of variability to consumers. This kit can be ordered in a number of configurations, to include primaries of three distinct sizes, from which motorists can choose. Both catless and catted versions of the American Racing Headers Long Tube Exhaust System are offered as well. Additionally, premium Grade 8 hardware is also included within this kit.
Key Specs & Features
Manufactured using the highest quality 304 stainless steel
Requires no modifications to install
Grade 8 hardware
More than 50 extra HP gains
Fitment
1997 – 2004 C5 Corvette
Best High-End C5 Exhausts
Priced over $2600.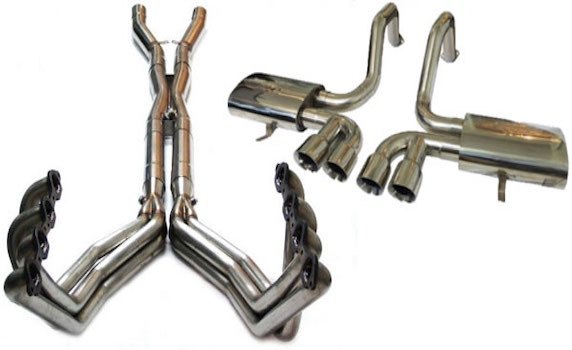 LG Motorsports Super Pro Headers and Big 3 Complete Exhaust Package
Price: $2606
Why?
The LG Motorsports Complete Exhaust Package includes everything the average C5 enthusiast needs to achieve enhanced exhaust flow and optimal performance. In fact, LG Motorsports reports average performance gains of 10 RWHP with the installation of this kit, as verified through dyno-testing. From Super Pro Headers to Big 3 Mufflers, this kit has plenty to offer.
Key Specs & Features
Made of stainless steel
10+ HP rear wheel gains
Maximizes power output
Optional Cat Converter add-on
Fitment
C5 1997-2004 Corvette Base/ Z06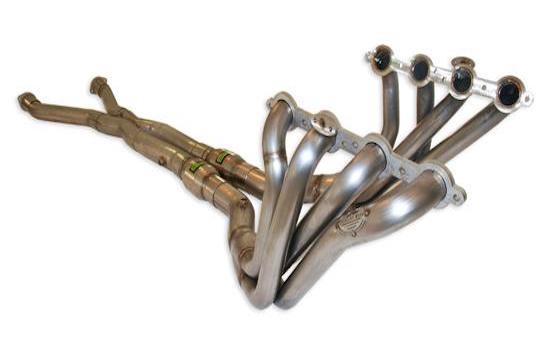 Stainless Works Headers/X-pipe Exhaust Systems
Price: $2869
Why?
Stainless Works C5 Exhaust System features premium 304 stainless steel tubing, CNC laser cut flanges and TIG-welded joints, for optimized durability and build quality. Furthermore, the installation of this kit has yielded performance gains of up to 40 RWHP under ideal circumstances. The Stainless Works system can also be ordered with, or without catalytic convertors.
Key Specs & Features
Bolt on assembly
CNC laser cut flanges
Gains of 40+ HP
Tig-welded headers
Fitment
1997-2004 C5 Corvettes