These are the top full exhausts for 1984-1996 Corvettes. The installation of a custom exhaust provides a great way to enhance the C4's naturally-aggressive exhaust tone, while also potentially increasing overall horsepower as well.
Find Your Next Full Exhaust
We vetted the market so you don't have to!
Our Exhaust recommendations are weighted based on a combination of performance, build quality, and value for money.
About Our Exhaust Recommendations
Founded in 2014, the CorvSport team has been 'Vette obsessed for as long as we can remember. While we've spent nearly a decade writing about all things Corvette, we've been driving them for much longer than that!
When creating our Corvette mod lists, we focused on three areas:
Performance – Any exhaust worth having should be free of any unnecessary restrictions, thereby overall exhaust pressure, and enhancing the C4's output.
Build quality – A good exhaust kit should showcase superior craftsmanship, free of lackluster welds, and other obvious structural defects.
Value for money – We are especially excited to recommend any exhaust that provides consumers with plenty of bang for their buck.
CorvSport is funded by our audience. Our recommendations and reviews may contain affiliate links that earn us a small commission if you make a purchase after clicking them. This is the primary way we fund our website and pay our review team (and comes at no additional cost to you). Where appropriate, we disclose our relationship with brands or manufacturers for transparency.
A Very Limited Market
In truth, at the current moment, those in search of a complete C4 exhaust package are left with relatively few options. For reasons seemingly unknown, this market appears to have never truly materialized, as it did in regard to other generations of Corvette production. The only manufacturer that has reliably produced packages of this nature over the past decade is American Racing Headers.
While other companies, such as OBX and Stainless Works do produce a limited selection of headers and other exhaust-related components for the C4, only ARH produces a complete, ready-to-install kit. Though we, at Corvsport, would love nothing more than to see a broadening of this market, with the C4's aging status, it seems at least somewhat unlikely that many additional manufacturers would feel compelled to devote time and resources to such efforts.
For the reasons listed above, our list of the Best Full Exhausts For The C4 Corvette is relatively short. Nonetheless, we still feel compelled to detail that which is offered by American Racing Headers, and their current full-length C4 exhaust kits.
Current Best, and Only C4 Full Exhaust Widely Offered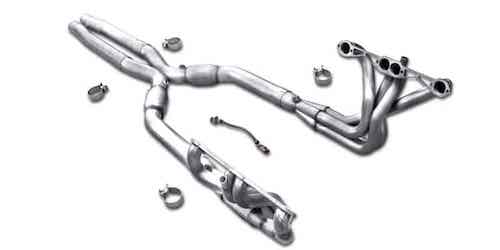 American Racing Headers C4 Corvette 1984-1991/1992-1996 Long Tube System
Price: $1884–$2376
Why?
American Racing Headers offers long tube exhaust kits for most any C4-specific application. These kits are composed of U.S. made, mandrel-bent 304 stainless-steel tubing, and feature meticulously engineered merge collectors with scavenger spikes. Consumers can opt to purchase an American Racing Headers C4 Long Tube System with, or without, cats included.
Most consumers would also be pleased to know that the American Racing Headers C4 Long Tube System is designed to bolt in place, with only minimum modification. American Racing Headers states that one can, "expect minimum gains of 25 RWHP", with the installation of this kit.
Key Specs & Features
Constructed of 304 stainless steel
3/8″ thick flanges with hand ported inlets
Minimum gains of 25 RWHP
Merge collectors with scavenger spikes
Fitment
C4 Corvette 1984-1991, 1992-1996