I've searched all the closed listings on the popular go-to collector/specialty auction site Bring a Trailer to find the top five. So Corvette enthusiasts, as the Covid-Era market insanity continues did this gorgeous low-mileage 2004 Torch Red example hit the $50,000 club?
More on that in a moment, but just to give you some context on how crazy the Corvette market has gotten during this Covid phenomenon, our own Scott Kolecki did a piece on this 2004 Commemorative Edition Z06, with only 11 miles, which sold on Bring a Trailer in October 2020 for $45,750 (all the numbers cited do not include the small BAT buyer's premium). And keep in mind, the CE Z06 typically brings more money since it's a special edition with even lower production numbers than the already rare C5 Z06.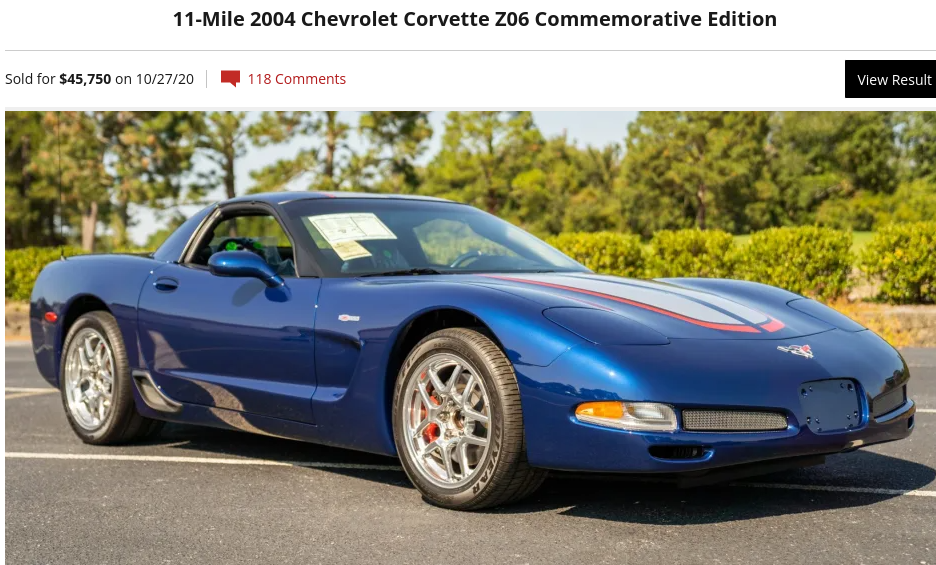 Did that price seem a little low for only 11 miles? I thought so, and this beautiful in-the-wrapper CE Z06 knocked itself out of the top five to take the helm on the leaderboard, selling just 6 months later for a whopping $65,000, with all but the last to make the $50,000 club. For the purposes of this search, I did not include modified Z06s (supercharged, turbocharged, track-specific, etc.)
Number One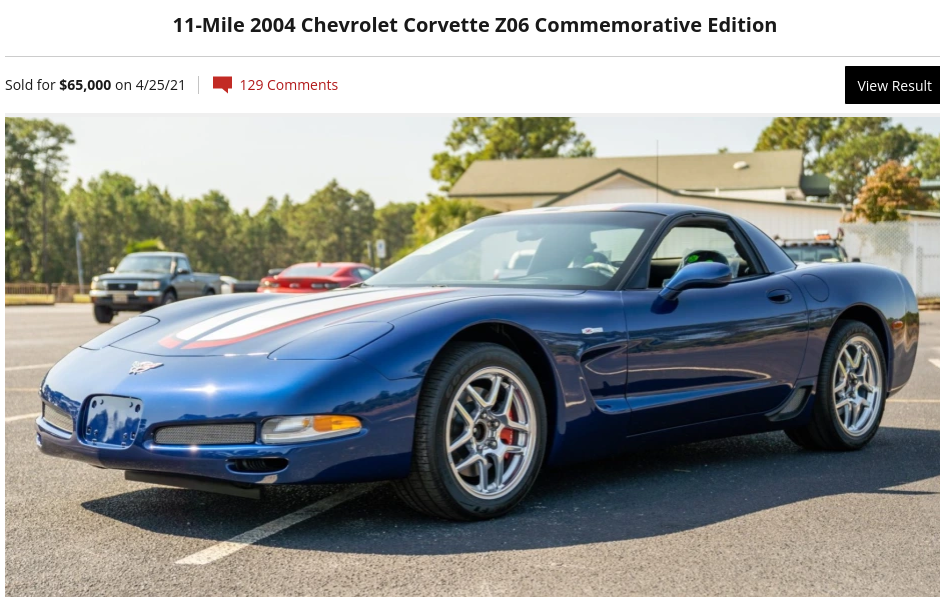 One odd thing to note about this sale is that the Elizabethtown, North Carolina dealer (eugeneanderson) sold the Z06 both times. I wonder, did the October buyer sell it back to the dealer? Did the buyer back out or not make payment? In any event, the time delay obviously worked out extremely well for the dealer.
Number Two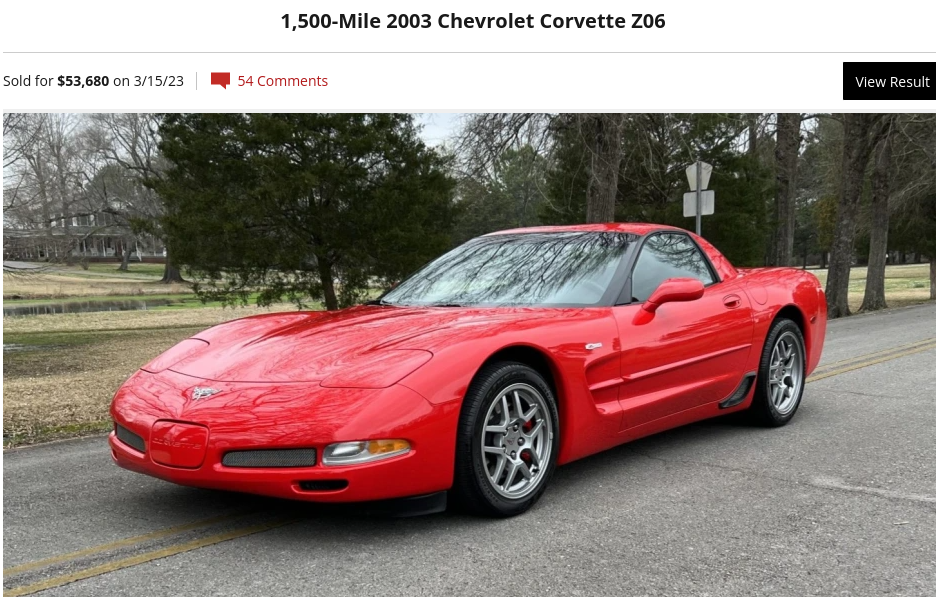 It's worth noting that only these top two eclipsed their original MSRPs, with the one above beating it by a nice round $1000. The MSRP for a Z06 20 years ago was a "mere" $52,680, and if this trend continues I think we will see more C5 Z06s surpassing their original sticker prices. This Torch Red 2003 brings back some fond memories, as I traded in my 2001 Coupe for a brand new one during the height of my "must have the newest and best Corvette" addiction.
Number Three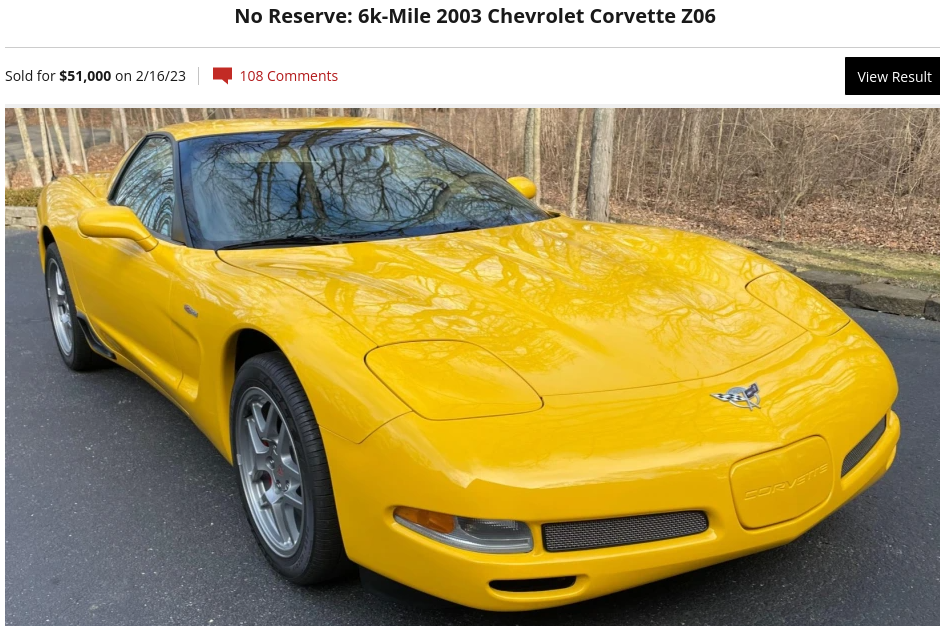 The MSRP on this Millennium Yellow example was $52,690, only $10 more than the other 2003 model. It was no muss no fuss pricing back then for GM, with limited available options, which is very contrary to the "Porsche-like" list of high-dollar options available on today's Z06.
Number Four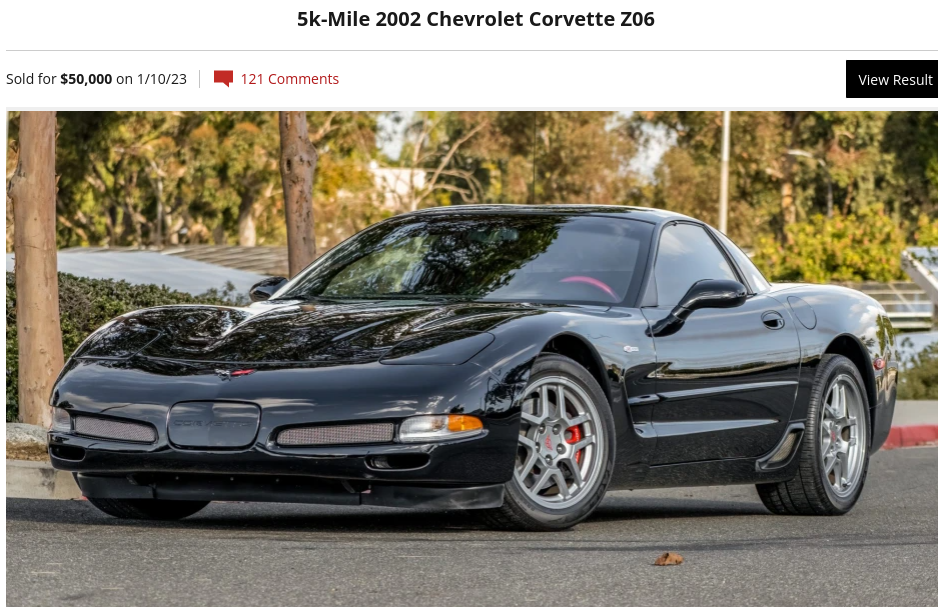 I will say they are a pain to keep clean, but the black Z06s do look so awesome. This example had the rare "mod-red" interior, making it pop even more.
And without further ado, here is the 6000-mile Torch Red beauty that led us off.
Number Five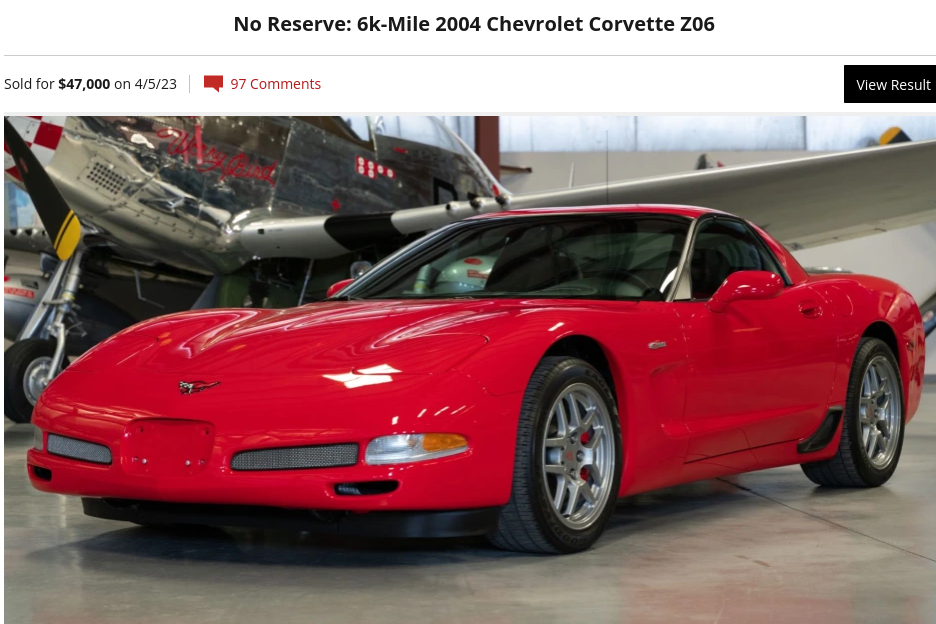 At first glance, I thought the $47,000 was a bit high, given this Z06 had a small crack underneath the corner light on the front bumper and was on outdated original Goodyear supercar tires. I watched the auction from the onset and about three days out it stalled at $35,000, which wouldn't have been too bad of a deal. But after seeing similar miles bring over $50,000 I'd say it was well bought, but certainly not a steal.
It is definitely safe to summarize that the Covid-Era craziness is continuing as we witness these collectible C5 Z06s pass that pivot point where the hammer price passes the original MSRP. Which one is your favorite, and what do you think about these prices? We often have vibrant discussions on our Facebook page, I would love to hear from you!  Douglas B.