With a whopping 107 Corvettes offered on the block, this year's Mecum Dallas auction (held September 20th-23rd at the Kay Bailey Hutchison Convention Center) proved the old saying that things are always bigger in Texas. How did the Restomods do at Dallas, considering they fell relatively flat on our Mecum Monterey analysis? Are there any surprise generations that over-achieved? There is much to cover, so let's get after it!
Most-Sold Generation
♦ C3 with 28 examples
Least-Sold Generation
♦ C7 with 1 example
Most-Offered Generation
♦ C3 with 34 examples
Least-Offered Generation
♦ C7 with 3 examples
Best Sales Ratios by Generation
#1) C4: 93.3% (Sold: 14 Offered: 15) Wow, only one no-sale for the C4!
#2) C5: 87.5% (Sold: 7 Offered: 8) Great ratio for the C5 but not many units.
#3) C3: 82.4% (Sold: 28 Offered: 34) A strong showing for the C3!
#4) C6: 71.4% (Sold: 5 Offered: 7) Offerings were light for the C6.
#5) C2: 57.1% (Sold: 8 Offered: 14) An average showing for one of the more popular generations.
#6) C1: 50% (Sold: 8 Offered: 16) Given their age and limited production, not a bad showing.
#7) C8: 50% (Sold: 5 Offered: 10) A respectable ratio given how new and "common" they are.
#8) C7: 33.3% (Sold: 1 Offered: 3) The two ZR1s were a bust, with a Z06 selling.
Cheapest Hammered Price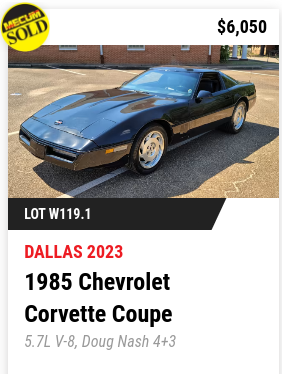 And now, without further ado, here are the top dogs!
Mecum Dallas Top Ten Sales
#10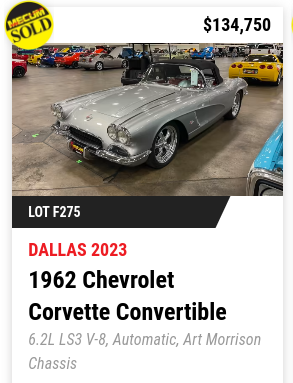 #9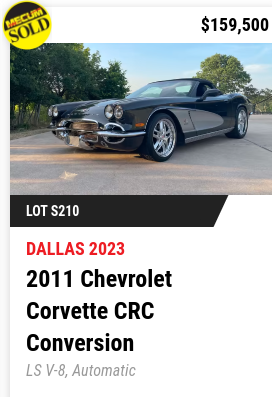 #8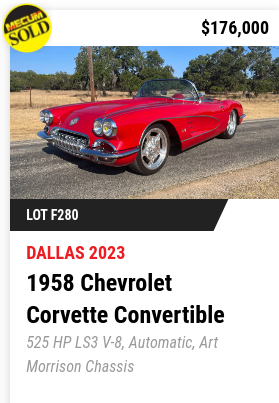 #7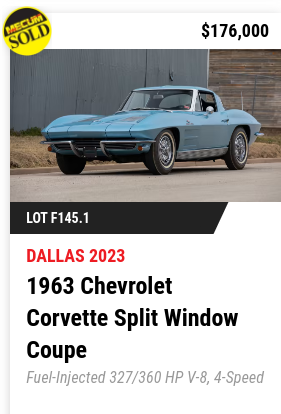 #6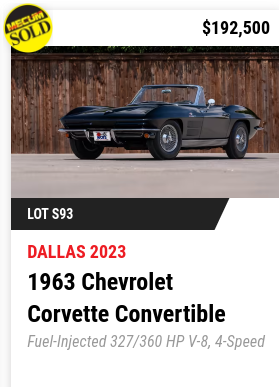 #5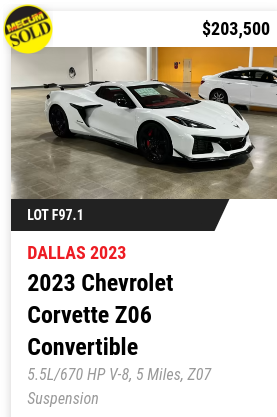 #4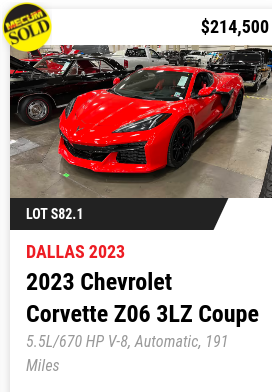 #3
(8th overall out of 1,397 offerings!)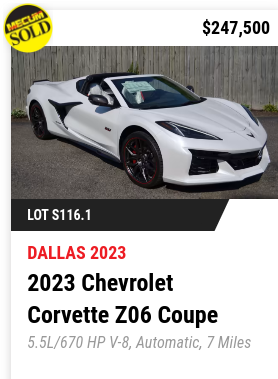 #2
(6th overall out of 1,397 offerings!)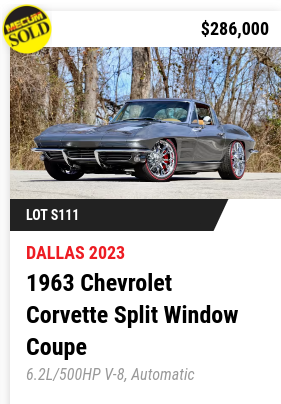 #1
(4th overall out of 1,397 offerings!)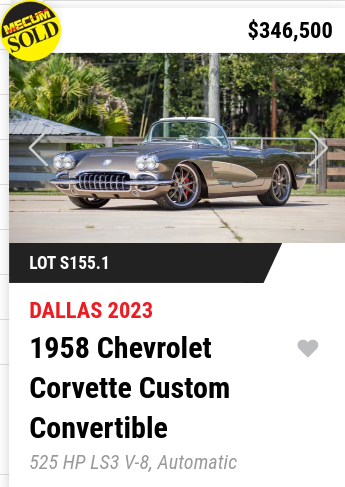 I hope you have enjoyed this analysis of the Mecum Dallas auction. As noted above, the Corvettes had three examples in the top ten overall, which is pretty impressive given Mecum offered 1,397 vehicles this year at the 2023 Dallas event. It's also crazy to note that out of these top ten, three were 2023 C8s and three were 1963 C2s. Talk about domination by one model year for those two generations.
So, what results really stand out for you? We have the fastest-growing Corvette community on our Facebook page, with over 153,000 followers (34,000 since January!). Come join other hardcore enthusiasts and say hello, Douglas B.