Those with sensitive hearts and minds when it comes to Corvettes, we recommend you turn away now.
A few 2022 Corvette C8 customers are about to receive a bit of bad news. On Tuesday night, around 9 PM, a car hauler pulled into a parking lot/rest area about 30 minutes North of Nashville, Tennessee, to investigate a small issue the truck was having. Within minutes of parking, the hauler suddenly burst into flames and took at least six, if not more, Corvette C8's with it.
This was captured by Corieblue Fickes, who posted the video to his Facebook page. There is some explicit language in the following clips (with good reason, we believe)
By the time the first video starts, the hauler has already burned at least three entire cars to cinders, with the last car on the top row of the truck portion just starting to get licked by the flames. For reference, the picture below, courtesy of CorvetteBlogger, shows what a non-burning hauler looks like loaded up with fresh new C8's.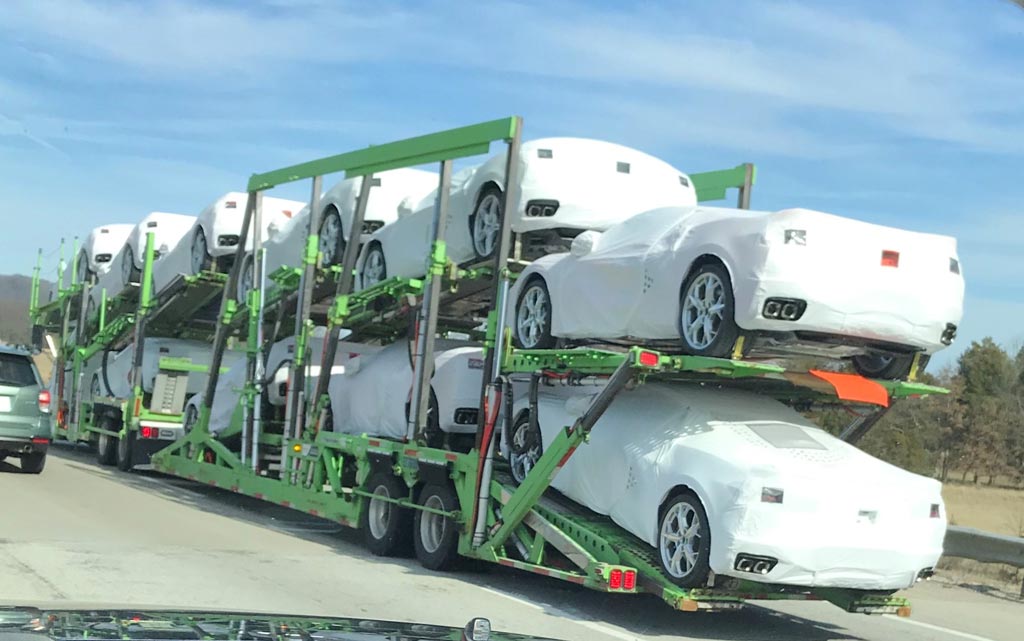 You will also see firefighters arriving in the first video, and trying to combat the blaze in the second video. There is a minor explosion from the top rack of the second video that sends a bit of debris sailing through the air.
Not much else is known about the event so far, as people and cars were evacuated soon after the second video ends. The trailer portion may have survived with minimal if any damage, although the front two cars of the trailer are likely to have heat warping or melting damage. Of the ten cars on the hauler that would leave only four C8's not affected.
The tricky thing with hauling cars is that every shipment that is transported this way is insured by the total value of all the vehicles on the hauler, not individual vehicles. Even if those last four cars are perfectly roadworthy, without any debris or heat damage, it is more than likely that the entire shipment may be written off, in which case there is over $900,000 worth of total loss in this one fire alone, not including the hauler itself.
Adding in the hauler, if you ever wanted to see what a $1 million or more insurance case looks like, there you have it. We knew that the Corvette C8 was a hot commodity, but we never expected them to actually catch fire on the market quite so literally.
Note: Through a little extra research, we can happily report that the driver of the hauler was not hurt, injured, or burned at all. As soon as the fire started, he got well clear of the area and called emergency services to report the fire.