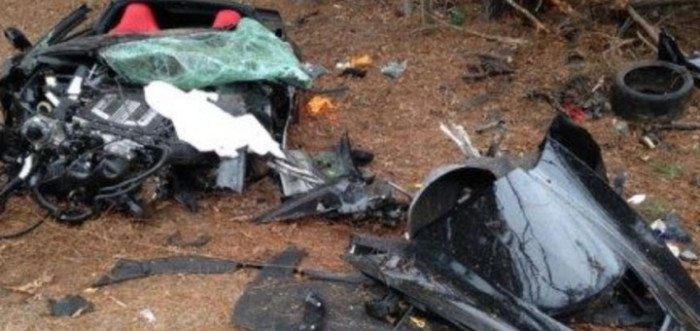 Article by Sean Szymkowski and originally published by gmauthority.com)
Admittedly, the 2015 Corvette Z06 is incredibly confidence inspiring and capable, but it still takes one with proper respect for the vehicle to keep the car under control at all times. In any case, the local track is the best place to strut what any vehicle has to offer, and not local roads.
Unfortunately, an individual took to some local Arkansas backroads and pushed the Z06 past its limits. A report from a local news station notes a Corvette Z06 was moving at extremely high rates of speed on highway 365. The driver lost control of the vehicle and in a failed attempt to regain control, spun into a group of trees.
The wreck left the Z06 nearly unrecognizable apart from the red seats. Authorities say the driver was ejected from the vehicle where the individual was pronounced dead on impact. A passenger sustained injuries from the accident, but reportedly survived. No word on whether the driver was wearing a seatbelt.
Positive thoughts go out to the individuals affected by the tragic accident, and in any case, always buckle up. And please take this as a reminder to drive safely and smartly.
Read more: http://gmauthority.com/blog/2015/02/2015-corvette-z06-wreck-results-in-fatality/#ixzz3Qq69ARWT