Chevrolet LS7 (Z06) Engine Ultimate Guide
Few small-block engine platforms carry such a rich history as that which pertains to the GM "Mighty Mouse" V8. GM's small-block masterpiece served as the saving grace of the Corvette and has continued to power America's sports car in various reincarnations for numerous decades. As the new millennium approached, the Mighty Mouse underwent a coming of age, transitioning into the now-iconic LS family of small-blocks.
Many engines within the LS platform has risen to notoriety for their production of immense power, which has far exceeded the output of those engines tapped for production by competing manufacturers, on a fairly consistent basis. Of these remarkable powerplants, few have mustered as much raw power as the third-generation LS7.
LS7 History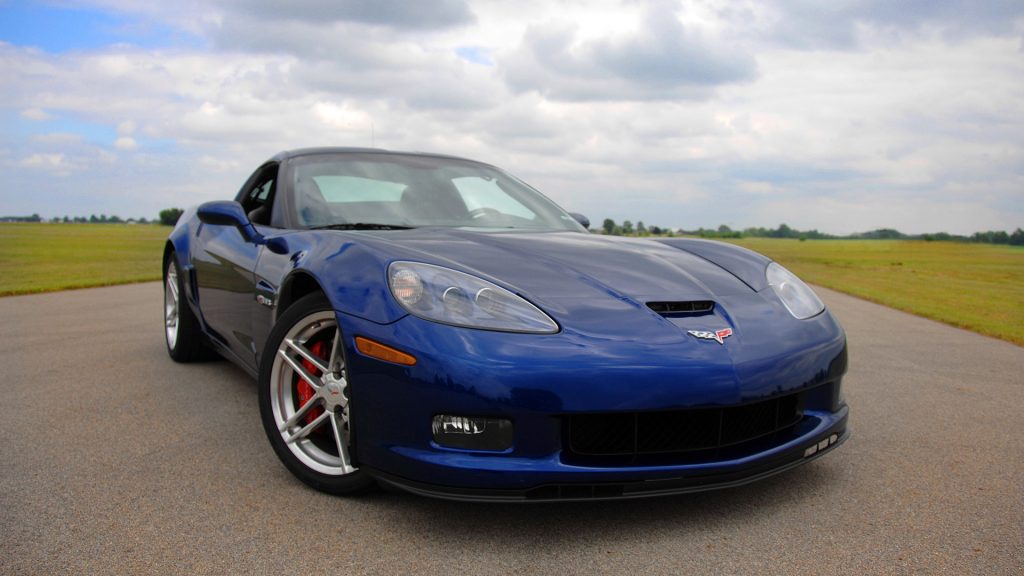 Throughout the Corvette's nearly 70 year history, GM has set a precedent of placing new, racing-inspired powerplants beneath the hood of special edition versions of their flagship performance car. This was a trend that continued with the inception of the C6 Z06 Corvette in 2006. In the midst of the Z06's development, those on the Corvette design team knew that something truly remarkable would be needed to best the base Corvette's 400 horsepower LS2.
Then Corvette Chief Engineer, David Hill, knew exactly where to turn for inspiration. Hill had already established an excellent rapport with the Corvette race team, as he had been a strong proponent of the program since its inception. Therefore, the upcoming Z06, in many ways, was designed in parallel with the teams C6.R. This was a fact that became evident when taking stock of the Z06 and C6.R's powerplants, which were each rooted in standard LS architecture.
In its production form, this new small-block V8 came to be known as the LS7. The LS7 was nothing short of all-powerful, featuring a displacement of 427 cubic inches (7.0L), and featuring a rated output of 505 horsepower.
LS7 Specifications and Technical Configurations
The LS7 was manufactured by hand at GM's Performance Build Center in Wixom, Michigan. The high-performance small block featured an aluminum block, with ultra-thin pressed in liners, which allowed for a pronounced bore and stroke of 4.13×4.00 inches (104.8×101.6mm).
Within this block, resided a forged-steel crankshaft with forged-steel main bearing caps. Attached to this crankshaft were lightweight, yet robust titanium connecting rods, with forged and flat-topped pistons. This rotating assembly achieved a compression ratio of 11.0:1.
Atop the engine's block, sat a pair of all-aluminum cylinder heads, which featured 2.2-inch titanium intake valves, and 1.6-inch sodium filled exhaust valves. The engine's pushrods and valve springs were also constructed of titanium. The LS7's intake efficiency was enhanced by modifying the engine's valve angles from 15 to 12 degrees. Valve lift was also increased to 0.591-inch.
The LS7 also featured a new CNC-machined intake manifold, which featured minimal restrictions, and allowed incoming air to flow in a less restrictive manner. A redesigned 3.5-inch diameter throttle body was also installed, to maximize inflow rates.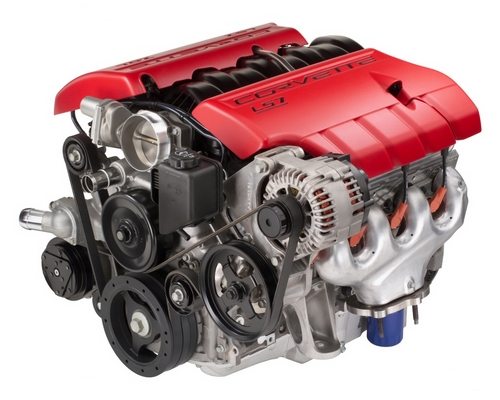 Also of note, was the LS7's highly refined exhaust system. This system featured hydroformed "four-into-one" headers, which emptied into sizable 3-inch exhaust pipes. Exhaust gases were then routed through a vacuum-actuated Bi-Modal muffler system.
When cruising below 3,500 RPM, exhaust flow was directed through a single outflow chamber. At higher RPMs, exhaust gases are routed through a secondary straight-pipe style chamber that immensely reduces backpressure.
Engine lubrication was facilitated through the use of a new dry-sump oiling system. This system prevented oil starvation during acceleration/cornering and featured an 8-quart remote reservoir.
The LS7 was perhaps best known for the phenomenal amount of power that it produced. The highly refined small-block conjured up 505 brake horsepower at 6,200rpm, and 475 lb./ft. of torque at 4,800 RPM. The LS7 equipped Z06 posted 0-60 MPH times of only 3.5-seconds, and was capable of completing a ¼ mile pull in just over 11-seconds.
LS7 Specs Index

Horsepower: 505 hp @ 6,200 RPM
Torque: 475 lb./ft. @ 4,800 RPM
Compression Ratio: 11.0:1
Displacement: 427 cubic-inches (7.0 L)
Cylinder Bore: 4.13 inches (104.8 mm)
Stroke: 4.0 inches (101.6mm)
Additional LS7 Uses
Outside of its use in the C6 Z06 Corvette, the LS7 was also found under the hood of the Z/28 Camaro from 2014-2015. Today, General Motors continues to offer the LS7 as an available crate engine.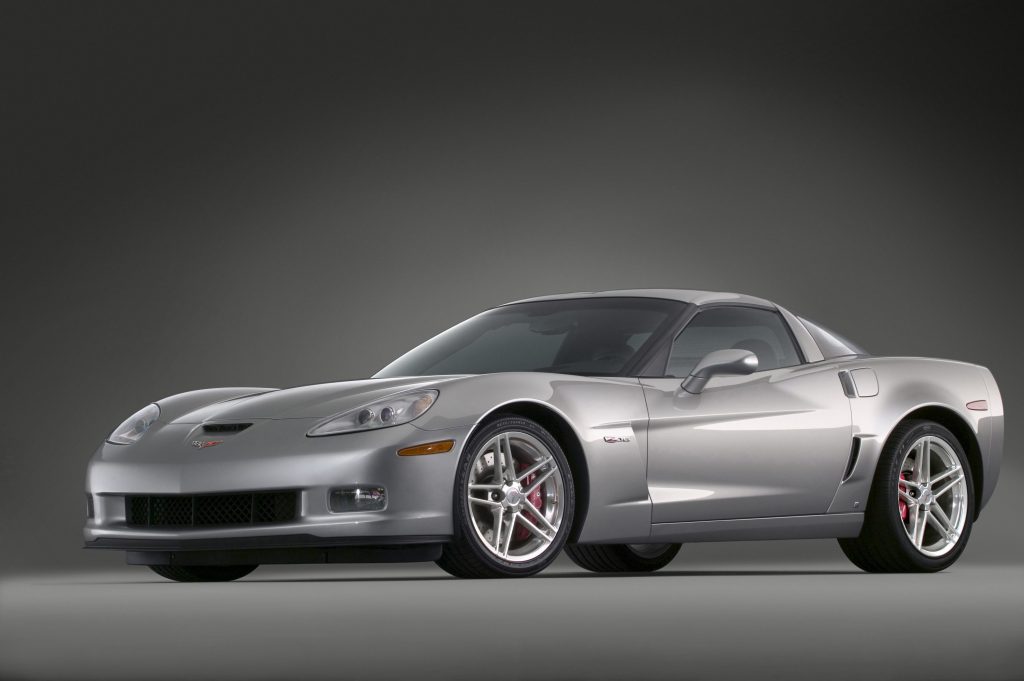 Additional LS7 Facts
A variant of the LS7 was utilized in the Corvette Race Team's C6.R racer, to a phenomenal degree of success. The LS7.R came to be known for its incredible durability and innately reliable characteristics.
In its racing format (LS7.R), the LS7 would go on to claim Engine of the Year Honors from Global Motorsports in 2006.
Legendary Performance
Today, the LS7 is remembered as one of the most fearsome small-blocks of its era. This 427 cubic-inch power plant was not only powerful beyond compare, but was also equally reliable, which is quite the anomaly for engines of such a high rated output. One can also easily classify the LS7 as a forerunner to many of the highly efficient Corvette powerplants that followed it. In any event, the LS7 bolstered the C6 Z06's performance to hair-raising levels and provided timeless entertainment for yet another generation of Corvette enthusiasts.