Despite the limited number of units produced in 1997, there was no question that the new C5 Corvette was anything less than a phenomenal success.  Enthusiasts and critics alike praised the car for its outward appearance, improved ergonomics, impressive drivability and handling, uncompromising performance capabilities, and its complete feeling of precision and quality.  General Motors had hit a home run from the very start, leaving many questioning with eager anticipation how the C5 could possibly be improved upon.
See more: 1999 Corvette research center.
1999 Corvette Owners User Manual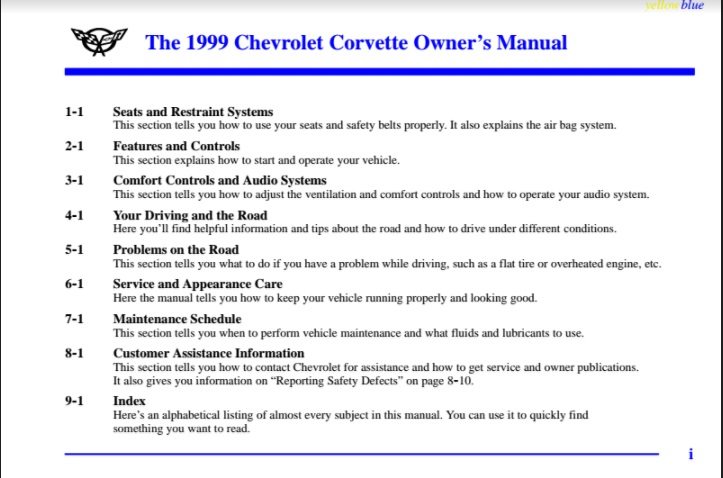 You can download for free this exclusive 1999 Corvette User Manual for more information about the car.
Download 1999 Corvette Owners User Manual
See Also
Source Material:
The Pocket Book of the Corvette: The Definitive Guide to the All American Sports Car – Copyright 2003, Barnes & Noble
CORVETTE: Sports Car Superstar – Copyright 2005, PIL – Publications International, Ltd.
Corvette Black Book – Copyright 2009, Michael Bruce Associates, Inc.
The Complete Book of Corvette, Every Model Since 1953 – Copyright 2005, Mike Mueller – MBI Publishing